Members of the Crow Patrol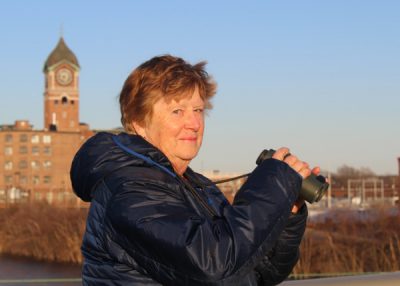 Dana Duxbury-Fox became fascinated by birds at the age of eight; a fascination that continues today. Over the years, she has travelled widely to see birds, led bird trips, written articles about them, given talks, joined many ornithological organizations, and monitored many species of concern including the Common Loon, Eastern Whip-poor-will, Purple Martin and Common Nighthawk.
Over the past few years, a winter crow roost in a neighboring town caught her fascination. This past winter she and her husband, Bob Fox, with the help of Craig Gibson have monitored and documented this roost. As a result, she has written an article about crows and this roost, raised awareness about the roost and promoted extensive media coverage.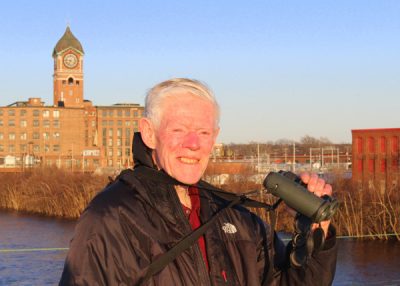 Bob Fox also developed a keen interest in watching birds at an early age. Throughout his life he has been an active bird watcher. Since retirement, he and Dana have travelled the world to see birds. He was the co-author on the Birds of New Hampshire which documented over 100 years of bird sightings in that state. He has also become a member of many ornithological groups, led trips, given talks, and monored species of concern.
At the Greater Lawrence Roost, he has become the official note taker and crow counter.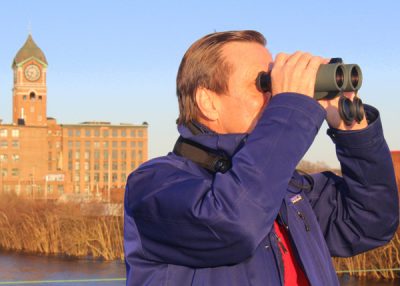 Dana Duxbury-Fox, and her husband Bob, encouraged Craig to join them in the fall of 2017, as they spent more time observing the winter crow roost phenomenon in Lawrence, MA along the Merrimack River. In the weeks that followed, the three met many nights to observe, monitor, and photograph the winter crow roost. Craig has been observing and monitoring the local nesting peregrine falcons nearby, and maintains a blog tracking the annual life cycle of the peregrines. He is a well-known local bird photographer, and a member of many birding clubs. Craig is always working with conservation groups, and providing bird images to help them better communicate and advance their mission. His images regularly appear in newspapers, magazines, and books.