Members of the Crow Patrol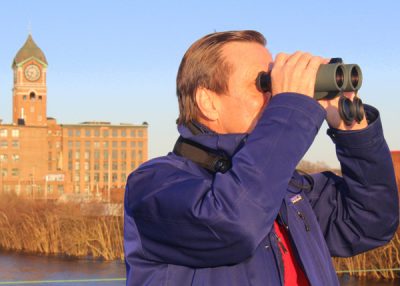 Craig Gibson is a well-known bird and conservation photographer. His current focus is on expanding awareness about the Winter Crow Roost in Lawrence, MA, the extended Merrimack Valley area, and Eastern Massachusetts. Craig designed and launched the blog and continues to oversee all editorial content. He has also been the lead on initiating and coordinating a range of activities and events with local arts, education, and community groups as well as working with a growing number of conservation and environmental organizations. He wrote and published a comprehensive 14 page report to recap the 2018-2019 winter season. Overall, his efforts have raised much greater awareness of the Winter Crow Roost, and he has been a catalyst for new citizen science initiatives.
In the fall 2017, Craig worked together in close collaboration with Bob and Dana to form the Crow Patrol in the Lawrence area. Over the past two winter seasons, they have documented more than 250 observation nights, while monitoring, documenting, and photographing the overnight staging and roosting of American and Fish Crows. Craig has made over 200 Crow Roost specific postings to eBird, an especially important data portal for open access citizen science projects around the globe.
Craig has worked closely with Cathy McLaurin, Executive Director of the Essex Art Center in Lawrence, MA to establish the "Celebrating the Winter Crow Roost" art exhibit in 2019. The exhibit was a big success with record turnouts and a lot of media coverage. The EAC is hosting the exhibit for a second year in 2020, with an expanded group of participating artists. He is working closely with staff at El Taller Cafe and Bookstore in Lawrence, MA in preparation for a Crow-themed art exhibit scheduled for February 2020.
Craig's Crow photos and articles have appeared in the Essex Art Center exhibition; Bird Observer, the bi-monthly birding journal; a number of Mass Audubon Society publications, the local Eagle Tribune newspaper, the Cornell Lab Bird Academy's new online course, "Anything but Common: the Hidden Life of the American Crow," Muse an award winning magazine for students; a feature article in MassWildlife Magazine, a feature article in Bird Observer, as well as in a new Peterson's Guide series book on bird behavior coming out by well-known author and naturalist John Kricher. He is also a frequent speaker and presenter on the Winter Crow Roost phenomenon.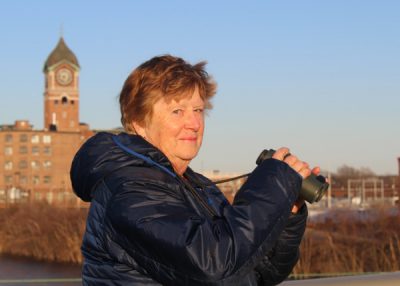 Dana Duxbury-Fox became fascinated by birds at the age of eight; a fascination that continues today. Over the years, she has travelled widely to see birds, led bird trips, written articles about them, given talks, joined many ornithological organizations, and monitored many species of concern including the Common Loon, Eastern Whip-poor-will, Purple Martin and Common Nighthawk.
Over the past few years, a winter crow roost in a neighboring town caught her fascination. During the past two winter seasons, she and her husband, Bob Fox, with the help of Craig Gibson have closely monitored and documented this roost. As a result, she has written an article about crows and this roost, raised awareness about the roost and with Craig's help has promoted media coverage.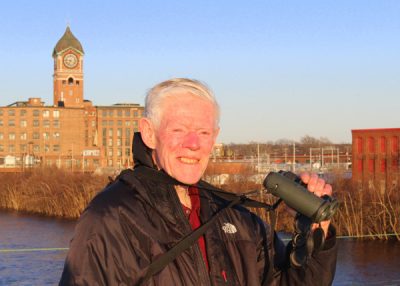 Bob Fox also developed a keen interest in watching birds at an early age. Throughout his life he has been an active bird watcher. Since retirement, he and Dana have travelled the world to see birds. He was the co-author on the Birds of New Hampshire which documented over 100 years of bird sightings in that state. He has also become a member of many ornithological groups, led trips, given talks, and monored species of concern.
At the Greater Lawrence Roost, he is central to all activities and has become the official note taker and crow counter for nightly observations.