The  winter crow roost in Lawrence, MA has provided a practical opportunity to collect ejected crow pellets. Each night in the winter months, the crows gather for the overnight roost along the Merrimack River.  As part of the final steps in the staging process, they are seen in growing numbers on the ground of a truck depot parking lot and in an adjacent lot at the National Grid substation next door.  As the crows assemble on the ground at each location, they regurgitate pellets from feeding earlier in the day.  These pellets may be bright orange to dark brown, and all colors in between.  This year, as last year, there are many mornings where the crows have left behind a large number of pellets which makes collection a much easier task.  Here is one of the pellets with a ruler for sizing comparison.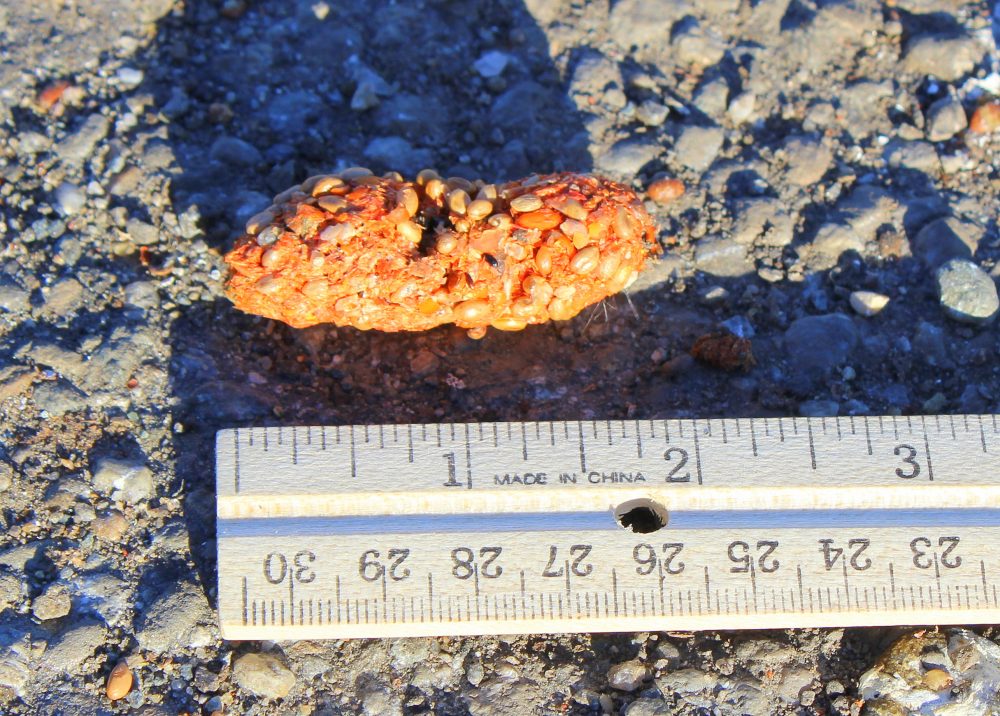 In the realm of written research on crow pellets, there are only a few research papers that delve into the topic. In 2012, a paper was published by staff members from the USDA National Wildlife Research Center. The paper was published in Northeastern Naturalist. This publication is a peer-reviewed journal that publishes original articles focused on natural history research related to all aspects of the biology and ecology of terrestrial, freshwater, and marine organisms and the environments of the northeastern portion of North America.
The article is titled "Crow Pellets from Winter Roosts in Lancaster, Pennsylvania." The paper came out of a longer study of behavior around a long-time winter crow roost. This pellet collection project resulted in a solid analysis of collected pellets and a quantitative description of pellets for both American Crows as well as Fish Crows.
Highlights include the following:
Pellet casting is found within at least 18 orders of birds
Pellets usually contain indigestible parts of prey items
Prior studies showed major food items and mammal remains
Effort to understand more about pellets from both species
Methods included:

Collected 113 pellets; Nov through Jan 2005 – 2006
Collections from various proximate locations
Each pellet: date and location recorded; placed in individual bags, and frozen
Measured length and width with digital calipers
Pellets placed in drying oven and then weighed
Composition analysis: crushed/sifted using series of sieves
Each pellet: material separated into 4 categories

Grit, seeds, vegetation, other

Fish Crow pellets captured from captive birds in FLA (measured length/width)

Results

Composition: grit and fine material
Size: mean width – .66 inch; mean length – 1.28 inch
Fish Crow pellets smaller
Based on width measurements, Fish Crows pellets were close to 9.7%

Discussion

Crow pellet availability diminishes outside winter season
Disgorged pellets on lawns, parking lots keep pellets intact for collection
Collection within 24 hours is important
Bulk of food items were vegetation; weed seeds most common
Bones/teeth of small mammals occur
References cited:  Annala, Mary; Tillman, Eric A.; Backus, Gregory A.; Keacher, Kandy L.; and Avery, Michael L., "Crow Pellets from Winter Roosts in Lancaster, Pennsylvania" (2012). USDA National Wildlife Research Center – Staff Publications. 1092. https://digitalcommons.unl.edu/icwdm_usdanwrc/1092