The full Crow Patrol was back on duty tonight!  Dana Duxbury-Fox and Bob Fox were already making initial initial sightings on the south side of the Merrimack River in the South Canal Street area.  Got started at 5:15PM with a 5:57PM sunset time, under clear skies, wind from west at 10MPH, and temp at 44F. While heading to meet them, stopped by the Washington Mill Loft apartments located at 270 Canal St., and scanned in all directions. Crows seen heading in west direction; made way to west end of Methuen St, and pulled in to rear parking lot of Heavenly Donuts; noticed over 100 Crows, both Fish and American; raiding the plastic bags overflowing from top of dumpster.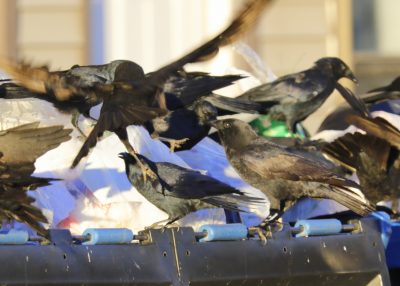 It was mayhem as they all raided the overflowing garbage bags. Then, looking around, there were lots of Crows perched on many surrounding rooftop edges, as well as on nearby utility wires.  According to an article in New Scientist, "for crows and other birds, suburban and urban environments provide rich, relatively predictable sources of food. Dumpsters, trashcans, or the unattended grocery bag all make for easier scavenging than the comparatively bare countryside. But while the leftover french fries and donuts a crow would find at these sources may be fine for adults, they can have a detrimental effect on growing young crows."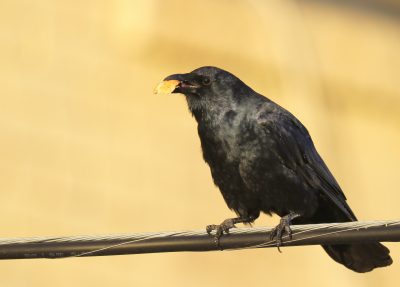 Amusing to watch a number of the smaller legged Fish Crows raid the dumpster and then move just a bit away to enjoy the new snack!  This Fish Crow made an endless number of balancing adjustments on the wire, even though the wind was not that strong.  It would bow forward, lean back, and always made tail adjustments.  In Sibley Guide to Birds, Second edition, he notes that the Fish Crows "often perch on wires, American rarely does." Very interesting tidbit to keep in mind!  A photo of Dana and Bob, the fearless leaders of our Crow Patrol!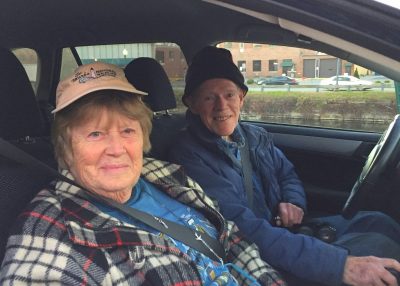 From the dumpster, drove to the west side of the Casey Bridge for a better view of overall area, including the Court House and surroundings.  This location on North Canal Street provided a better view of the small numbers of Crows streaming in from the NW. More than 200 Crows seen milling around; just before 6pm most Crows lifted off into air and headed in SE direction.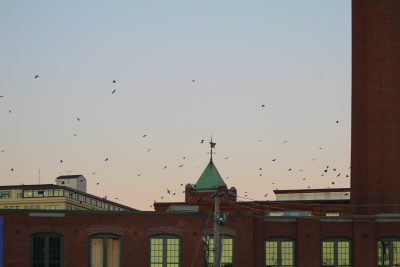 We then moved to South Canal St. near CubeSmart building and observed well over 500 Crows perched on rooftop of Washington Mill Loft building; 100's more streaming in from the east over the Merrimack River!  The final count for the night after watching the endless numbers of Crows streaming in from the east over the Merrimack River, turned out to be well over 2000 in total!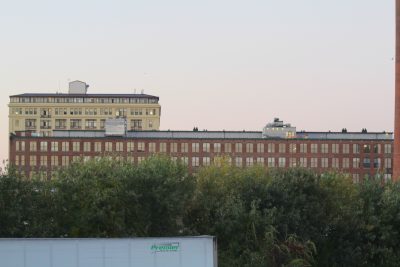 Reference cited: Campbell, MacGregor; New Scientist;   https://www.newscientist.com/article/dn17278-junk-food-gives-crow-chicks-a-weight-problem/