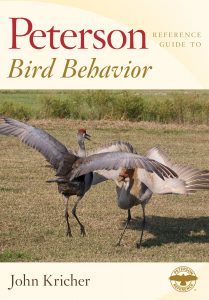 A fascinating look at what birds do and why they do it! Here's a description from the publisher:
Both casual and serious birdwatchers can take their skills to the next level with this detailed consideration of bird behavior. This book makes it possible to move beyond identifying birds to understanding some of the underpinning and meaning to what birds do, how they do it, and why they do it. Written in an easy-to-understand style, with an abundance of photos illustrating the behaviors, the book shows how flight, molt, migration, feeding, predation, social behavior, courtship, and nesting shape birds' behaviors. Birds are everywhere, and easy to observe; this introduction to elements of bird behavior will connect readers more intimately with these remarkable and beguilingly perceptive animals.
In Chapter 11,  John explores the social behavior of birds. In the second paragraph of this chapter he writes about how "Crows are among the most social of birds and the formation of large overnight communal roosts are a reflection of that intense social nature." He goes on to explain the staging process and thoughts behind factors that drive roosting behavior among members of the Crow family. On page 48, he includes two photographs from the oversized Winter Crow Roost in Lawrence, MA!
The Peterson Reference Guides, published by Houghton Mifflin Harcourt, offer authoritative, comprehensive information, including detailed text, maps, and superior illustrations and photographs. Always written by expert authors, the guides are an unparalleled resource for understanding specific groups of animals. In this informative new book, each chapter provides a concise view of a particular category of bird behavior.  This new addition to the Peterson Reference Guide Series is also sponsored by the Roger Tory Peterson Institute and the National Wildlife Federation.
JOHN KRICHER is Professor Emeritus of Biology at Wheaton College, Norton, MA, where for 48 years he taught ecology, ornithology, and vertebrate evolution. He is a Fellow in the American Ornithologists Union and is past president of the Association of Field Ornithologists, the Wilson Ornithological Society, and the Nuttall Ornithological Club. He has served on the board of the American Birding Association.