The Crow Patrol was out in full force tonight with Dana and Bob leading the way. We were pleasantly surprised to be joined by Dennis Hlynsky, Professor and Dept Head of the Film/Animation/video Department at the Rhode Island School of Design. His dazzling work will be featured at the upcoming Crow exhibit at the Essex Art Center in Lawrence, MA. Link to one of his latest crow videos: https://vimeo.com/304142836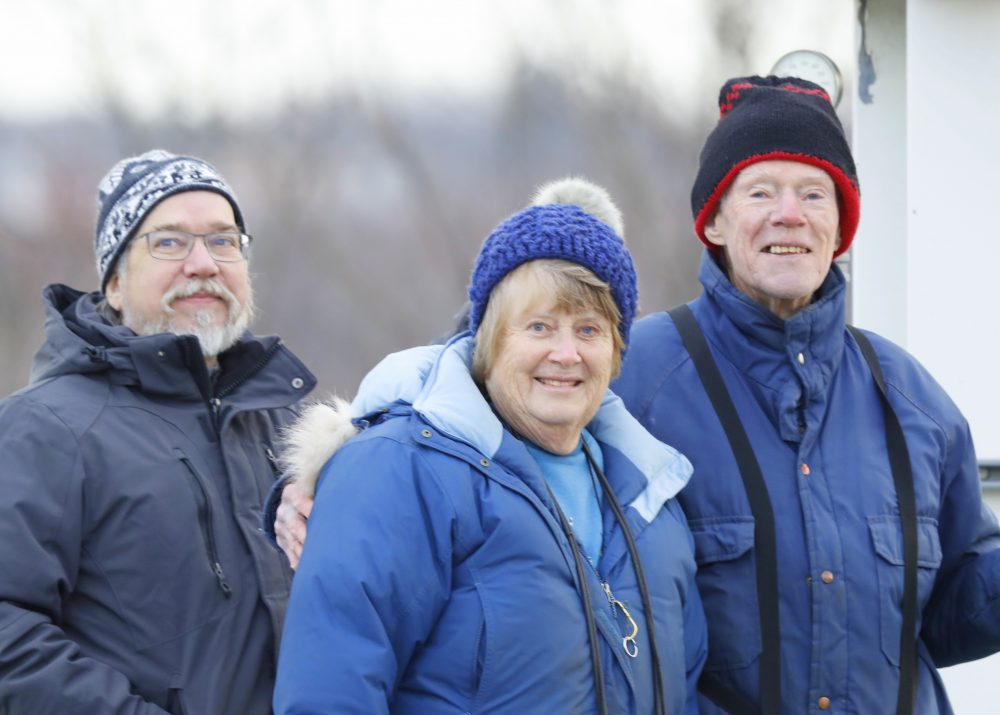 Sunset time was 4:24PM under mostly clear skies, late day haze, wind SW 8MPH, temp at 47F….
Made a pass by the west end of the Lawrence Municipal Airport and observed over 2,000 Crows staging on the ground and in nearby trees. Met up with Dana and Bob at the New Balance parking lot. The Crows were already streaming in. Moved up to top of parking garage and found Dennis already filming. Streams and swarms of crows came in from the east, from Tower Hill, off to our WNW, and later from almost all directions.  Here is view to WNW and Tower Hill: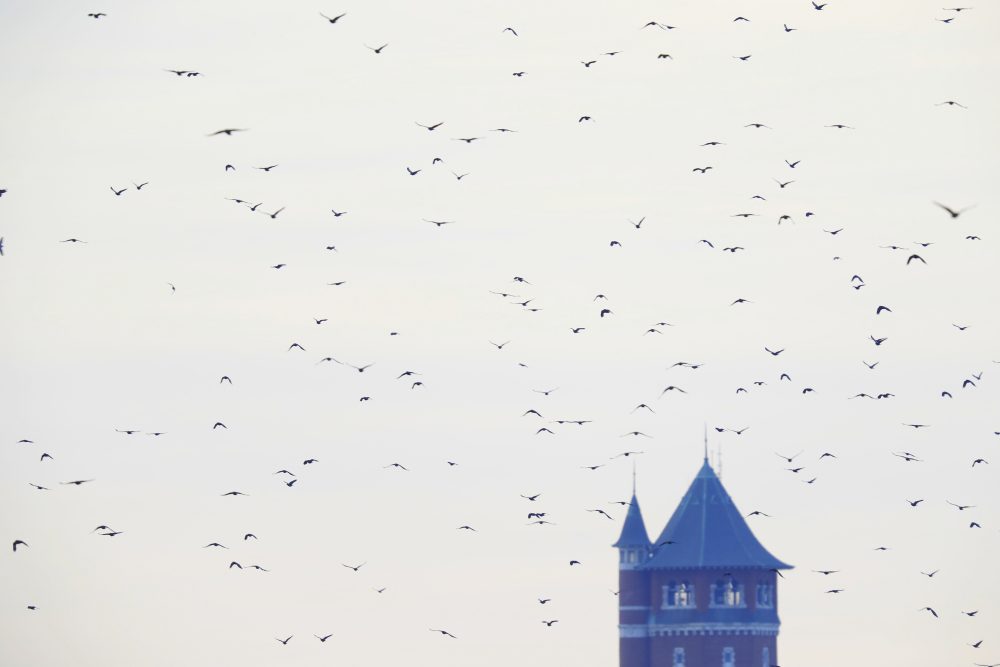 The trees on South Common loaded up with staging Crows before most of them moved to the B&D rooftop.  The Crows perched atop most of the trees on South Common and on nearby rooftops along Market and Portland Streets, as well as in more trees a bit farther off to the SE.  The noise level just went higher and higher as more Crows arrived into this staging location.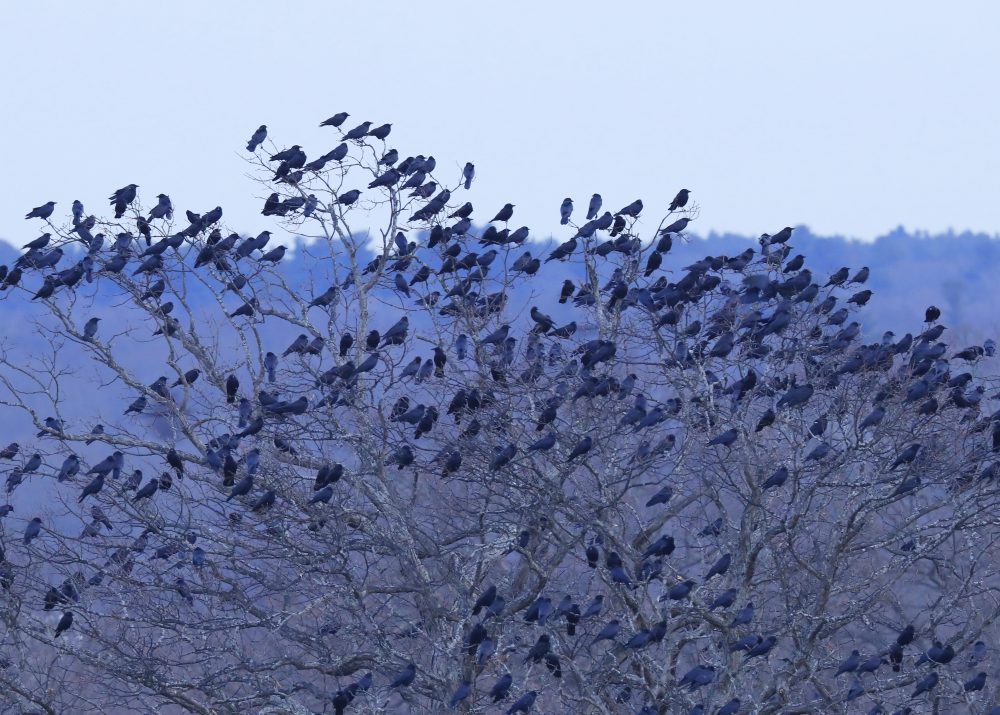 Just after one of the trains came along and let out a huge horn call, many of the Crows lifted off in big numbers en route to the nearby rooftop of the B&D Advanced Warehousing building complex along Merrimack Street just west of the interaction at Merrimack/South Union.  These liftoffs are spectacular to watch and really take your breath away!  They are combined with all kinds of vocalizations that add to the excitement while watching all the action…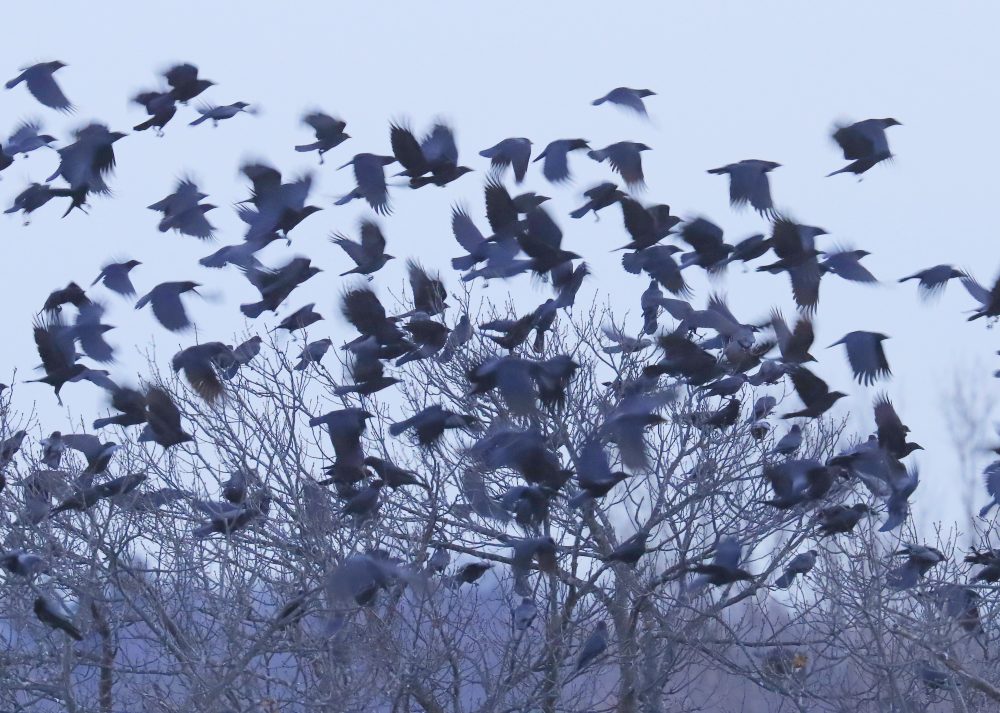 The Crows delayed until after sunset time before landing on the B&D rooftop.  Quickly the numbers started to expand and after 30 minutes the numbers swelled into many thousands of Crows.  Here is a look at the Crows on the rooftop almost 25 minutes after sunset.  The numbers expanded for another 15-20 minutes.
Then about 30 minutes after sunset, the Crows began to move in flight from the B&D rooftop over to the final roost area in the National Grid substation and and into the final roost trees along the Merrimack River…..WOW!!  Here is a look at mostly Fish Crows along the utility wires inside the substation; well worth looking closer at how tightly they are packed in along the third and final grouping of wires towards the bottom and left side of the photo.