Heavy overcast with fog and mist, wind SE 3MPH, 52F; sunset time 4:32PM
Out on solo Crow Patrol as twilight was turning into night, starting almost 45 minutes after time of sunset. Made initial scan of trees along side New Balance building and no Crows seen or heard; next stop around Ferrous Site at east end of Island St. with a few Crows; next stop behind the Riverwalk building complex. Large numbers of Crows (2,000+) seen both mulling around on the ground and in trees along edge of Merrimack River; appeared this was final overnight roost location. Photo above shows Crows on ground, in trees along the Merrimack River, further back, and white "CITY OF LAWRENCE" water tower on Prospect Hill, all the way back.
This is an image with new pair of high powered night vision binoculars with capability for both photos and videos.  This will be an invaluable tool for tracking Crows at night, especially after dark. This shows the crows perched on trees looking from the rear of 280 Merrimack St. towards the NW.  Photo below shows similar type image. The background building is Union Crossing, a mixed-use development project of Lawrence CommunityWorks. LCW is a 501(c)(3) non-profit community development corporation which has been empowering and transforming the city since 1999. The growing community at Union Crossing supports an effort to grow our creative development in Lawrence.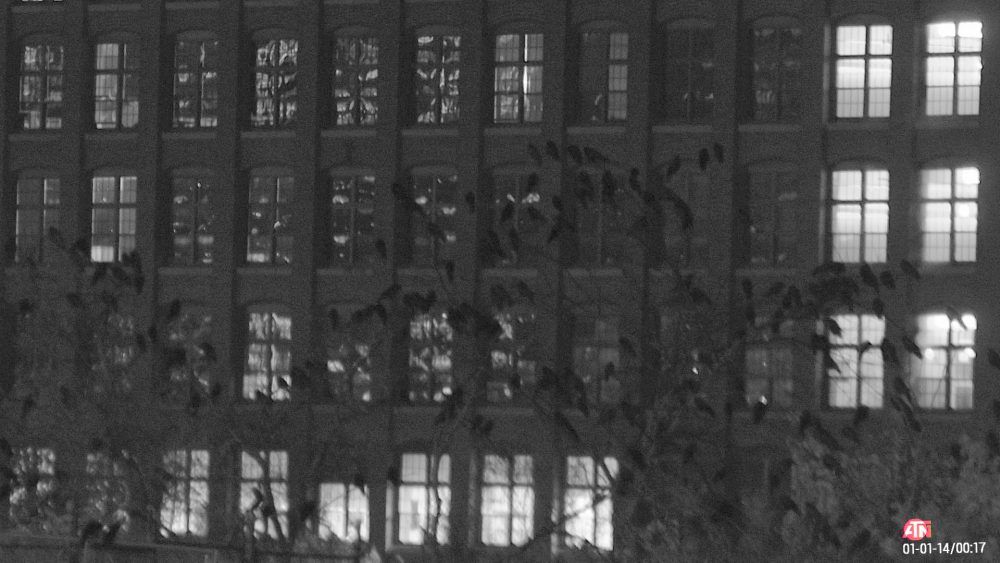 Union Crossing offers a creative home for artists, innovators, and organizations in the Merrimack Valley. With their Island Street Studios featuring 27 loft-style creative work spaces & over 10,000 sq ft. of ground-floor commercial space, they offer a variety of options to grow all types of creative work. Located in a former Lawrence mill, Union Crossing is situated right off of Exit 46 on I-495 & within walking distance of the commuter rail. The spaces overlook the Merrimack River & Ayer Mill Clock tower, and are situated next the Essex Art Center and a variety of local shops and cafes!
Welcome Back Crows – Sunday Nov. 17 starting at 2:30PM at Spicket River Brewery!
List of photo equipment used for this outing:
Canon EOS 80D; Lens: EF-S 18-135mm f/3.5-5.6 IS   
ATN BinoX 4K 4-16x Day and Night Smart HD Binoculars
Blog post and photos by Craig Gibson, 2019 Crow Patrol, Lawrence, MA