2019 Crow Patrol posting by Craig Gibson
Sunset time 5:04PM under mostly cloudy skies, wind E at 6MPH, temp at 32F.
Headed out on Crow Patrol after receiving phone call update from Dana and Bob Fox.  They already had many Crow sightings from their location at Riverfront Park. First stop just after 5:15PM, was at small pull off area at north end of O'Leary Bridge/Rt.28/South Broadway on the west side of the bridge; Riverfront Park approximately .34 miles to the SSE; large numbers of Crows seen on the ice outside of the curved impoundment area on the south side of the Merrimack River; large numbers already perched in nearby trees located just west of the Wall Experiment Station.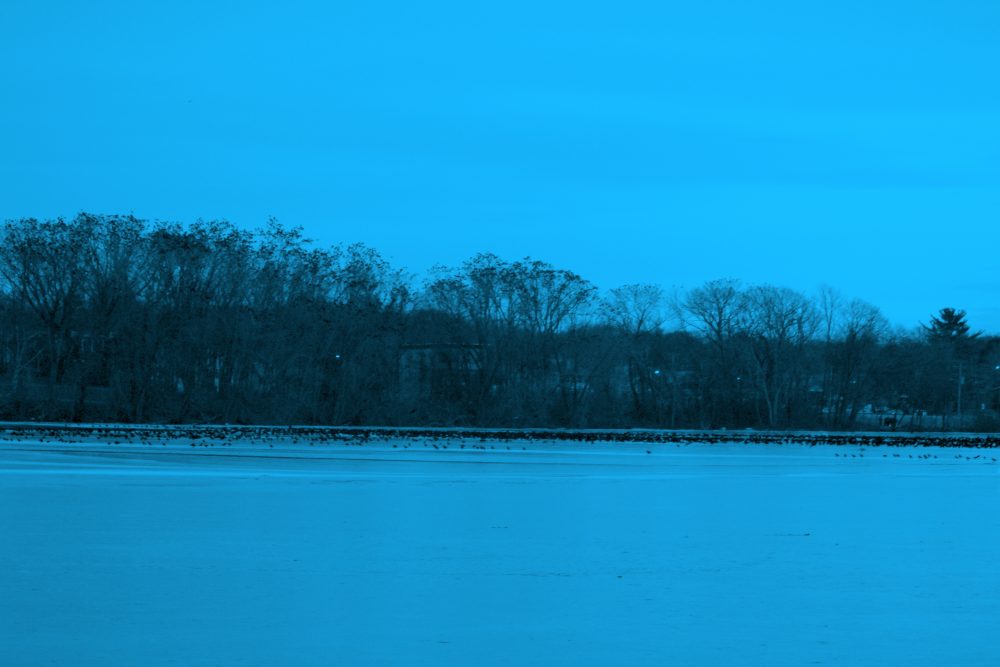 Quickly moved on to the Lawrence Hydroelectric Power Plant facility located at 9 South Broadway at the south end of the bridge; great elevated vantage point looking west out over the river just above the Dam, and with nice views upriver. Crows on ice, in trees, and lots of flight movement all around.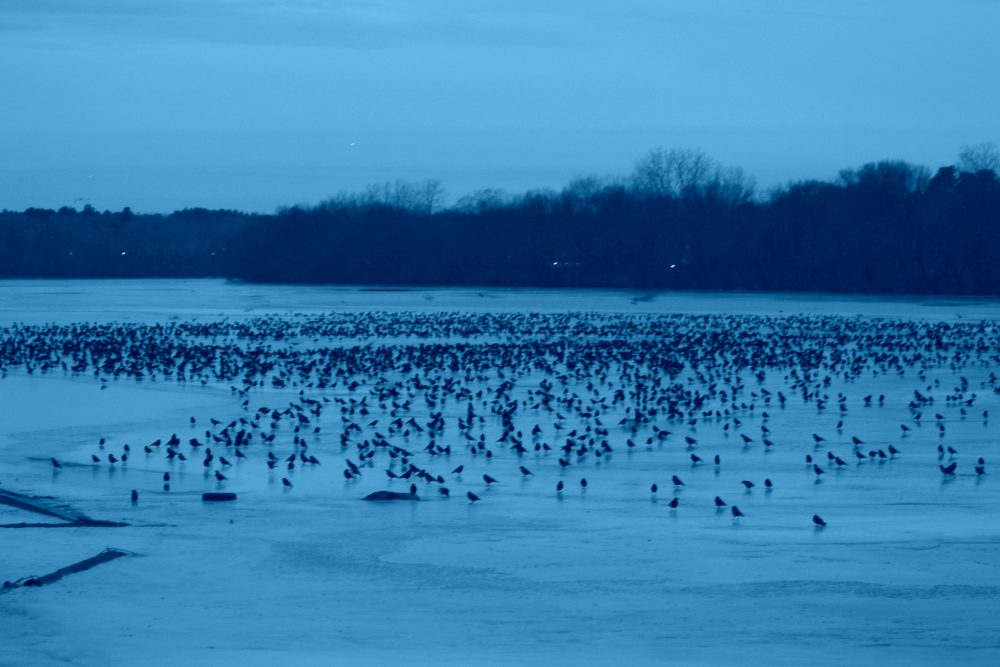 Riverfront Park approximately .20 miles to SE. Crows settled into well over 2 acres/11,000 square yards of mature trees just west of Experiment Station parking lot area, along Shattuck Street.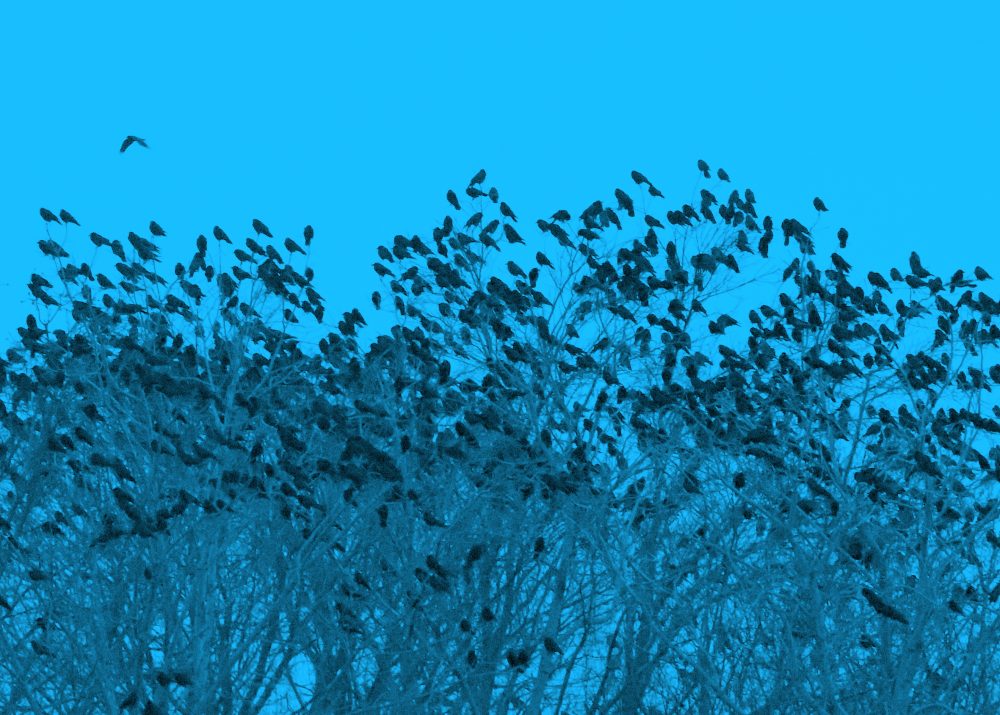 Many of the Crows lifted off to the south and circled a bit before landing in the trees on the south side of the Merrimack River.  The Great stone Dam is home to many gulls during the winter months. It is quite a sight with a rich history! The Great Stone Dam was built between 1845 and 1848 on the Merrimack River in what became Lawrence, Massachusetts. The dam has a length of 900 feet (270 m) and a height of 35 feet. Today the dam is the site of a hydroelectric plant, completed in 1981, which is owned by Enel (now parent company of the Essex Company, which still owns the dam) and the Lawrence Hydroelectric Associates.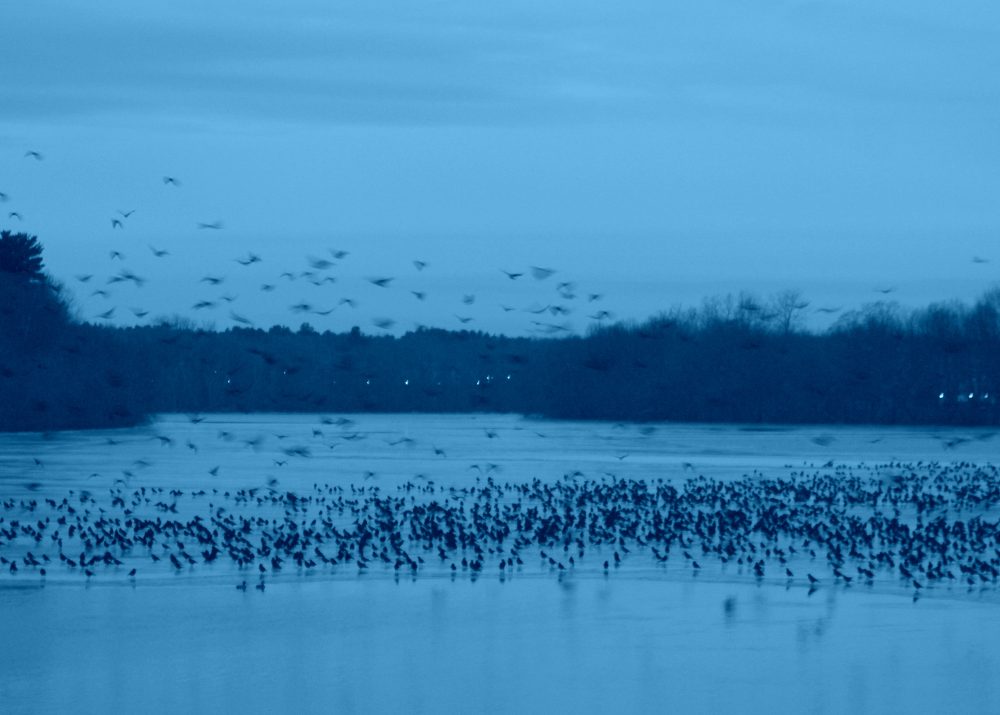 The Lawrence Experiment Station, now known as the Senator William X. Wall Experiment Station, was the world's first trial station for drinking water purification and sewage treatment. It was established in 1887 in Lawrence, Massachusetts. A new, 22,000 square foot building opened in 1954 at 37 Shattuck Street. In 1975, it was added to the ASCE List of historic civil engineering landmarks. In 1993, the facility was renamed after state senator William X. Wall, who had lobbied for the construction of the new station in the 1950s.