Conditions: clear skies, wind SW 5MPH, 54F; sunset time 4:14PM
Out on solo Crow Patrol with most viewing from the end of North Main St. in North Andover.  It was nice to be out in warmer conditions. The first Crows dropped into the roost at 4:10PM, in very small numbers. Others started streaming in about 15 minutes after sunset. Almost all of the arrivals were streaming in the east and they just kept coming in as part of long steady streams as seen in cover photo above taken about 20 minutes after sunset.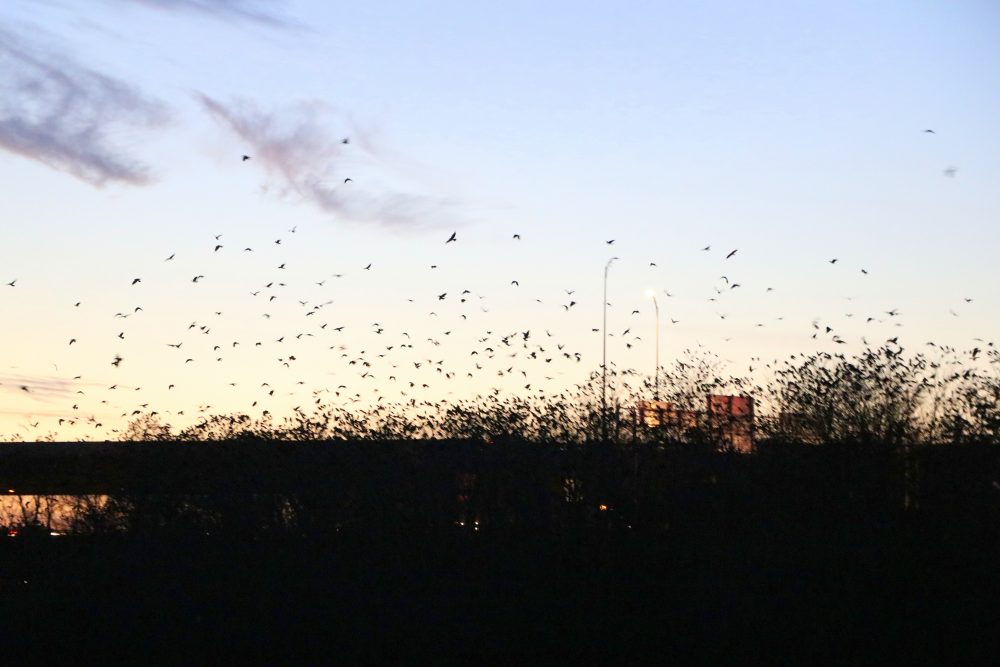 As the Crows arrived at the roost, most would land into a perch, and many would circle around a number of times.  Lots of jostling and rearranging as normal. At a number of times, smaller numbers would break off and fly to the SW over the Merrimack River to perch in tress along the south side of the river, only to return later as the night sky darkened.  This image shows the normal mayhem around settling into the roost. Drivers going by must have had quite show!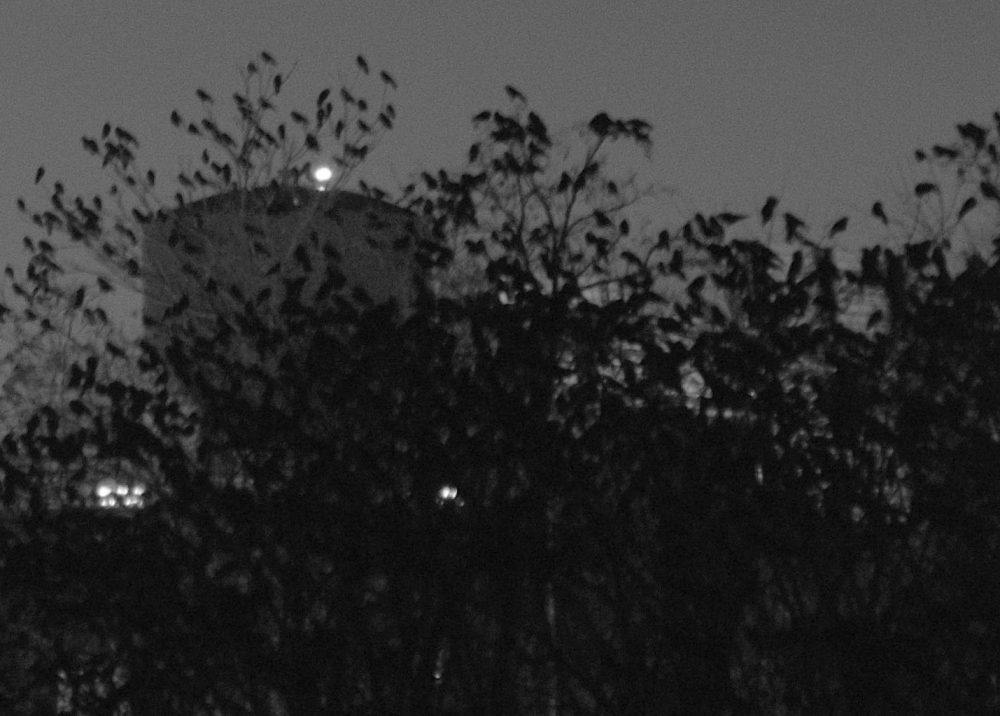 This image taken with night vision optics, show the Lawrence Water Tower in the background. It was taken almost 50 minutes after sunset as the distant horizon lighting was fading away.  It provides a sense of how dense the roost can be with Crows packed tightly together, much more so than what we might see through regular binoculars. This is a wonderful new tool that helps better understand elements of the mysterious roost!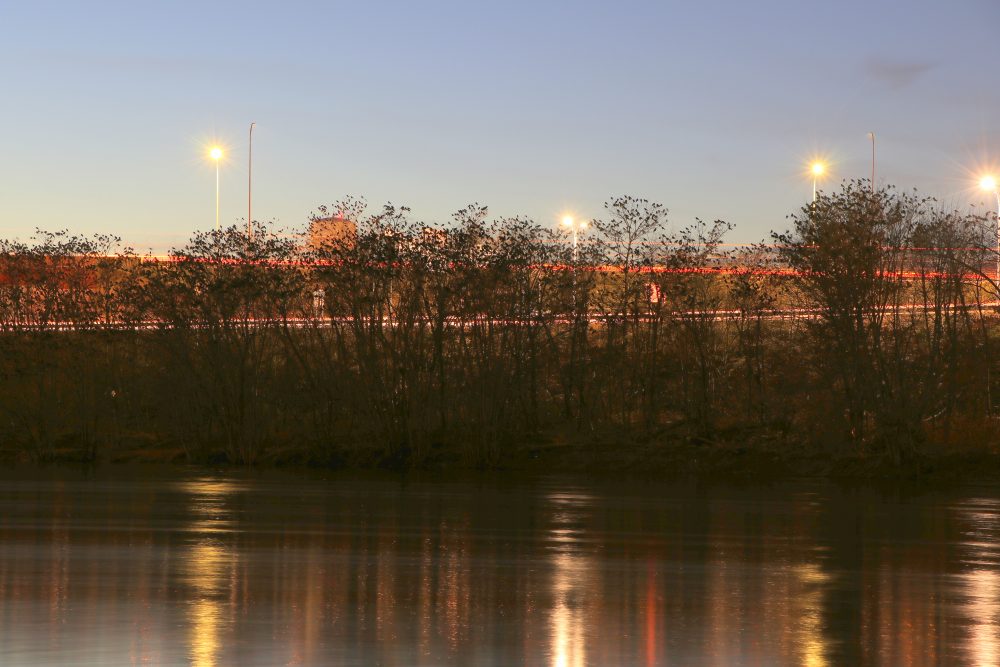 A few minutes later, had a nice opportunity to capture this long exposure image, with a 30 second exposure time, using the Canon 80D and a tripod. Long exposure photography is an artistic technique of using a slow shutter speed (long exposure) to capture time passing – in one image. This approach allows you to the velvety sense of water flowing by and amy other types of images that are unique and artistic. This image, again, provides a better sense of Crow density in the roost after all has settled down!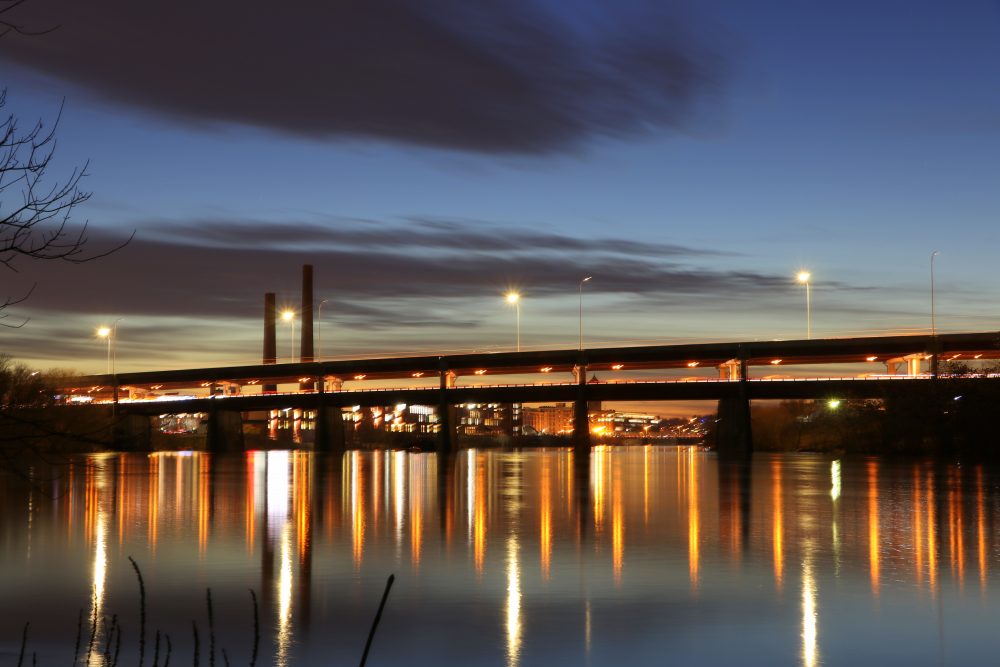 It was a beautiful evening and a bit warmer than the last number of nights.  The wind was very light and the river was flowing gently by. The traffic going over Rt. 495 provided a constant din of noise and nice light trails. Looking upriver at the City of Lawrence, the fading light and clouds in the distant night sky, and the dazzling reflections…..all provided a golden glow well worth capturing, again with a long exposure image…..enjoy!
List of photo equipment used for this outing:
Canon EOS 80D; Lens: EF-S 18-135mm f/3.5-5.6 IS   
ATN BinoX 4K 4-16x Day and Night Smart HD Binoculars
Blog post and photos by Craig Gibson, 2019 Crow Patrol, Lawrence, MA