Sunset time 5:31PM under overcast skies, with wind much lighter from the W at 5MPH, and temp at 21F with wind chill at 14F….brrrr!
At about 4:45PM, started out on solo Crow Patrol tonight, still wondering about where all the Crows were last night? Headed west along Haverhill St. towards area of last night's roost; not a Crow to be found, not a Crow to be heard…hmmmm! Made my way down to look out over the Merrimack River by the Boys and Girls Club on Riverview Place. Just a few Crows seen well off to the SW going behind the boathouse. Proceeded to boathouse and more Crows seen heading to the west. Drove to Simpson's on International Way and jackpot!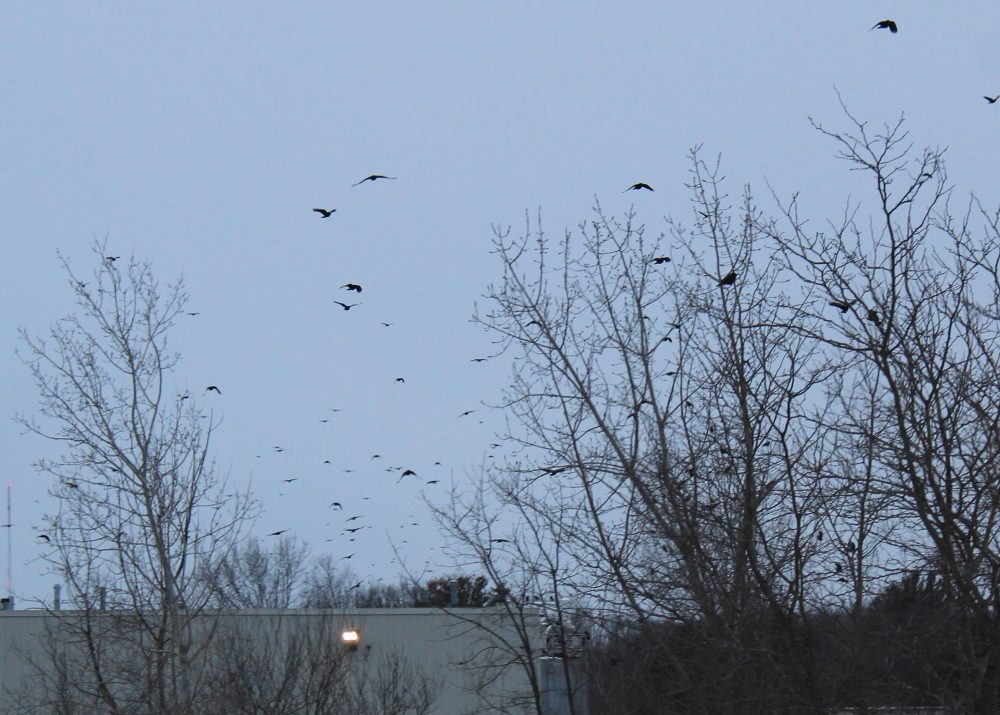 Streams of loud noisy Crows coming in from SSE in large numbers, about 15 minutes before sunset time, and settling into marshy swamp between Simpson's and Affinity Infusion.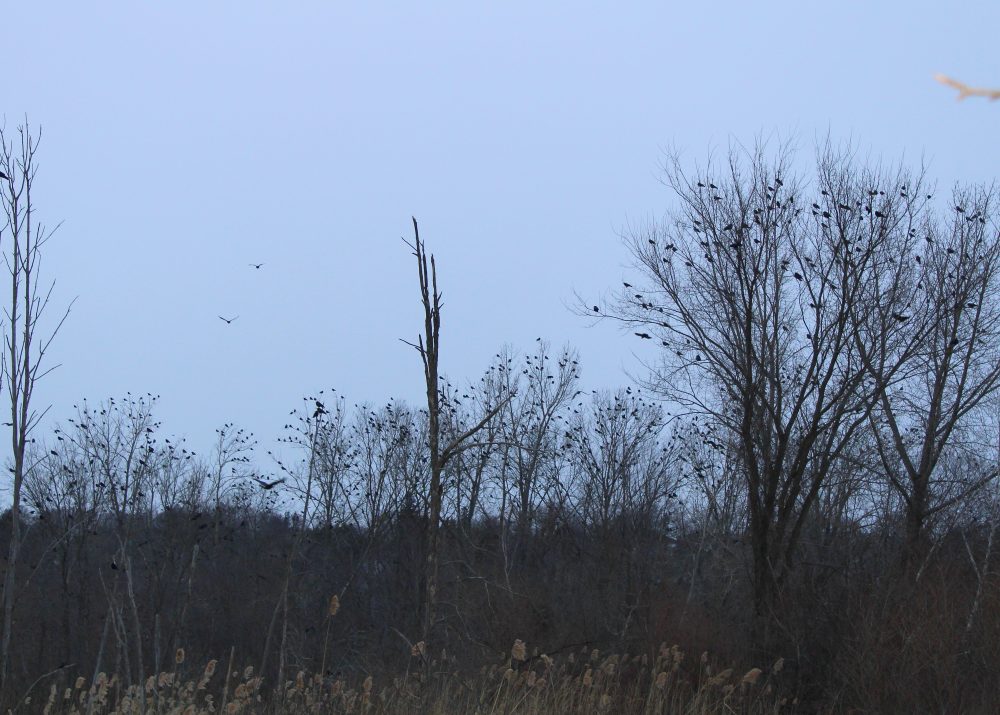 This marshy area between Simpson's and Affinity, was a regular staging area last winter and the entire area is almost 70,000 square yards. The action picked up considerably as did the intense vocalizations.  The image below was taken from the edge of a parking lot at Andover Place apartments, looking east over marsh/swamp area, with Crows on ice below, perched in trees in and around the perimeter area, and swirling in from all directions.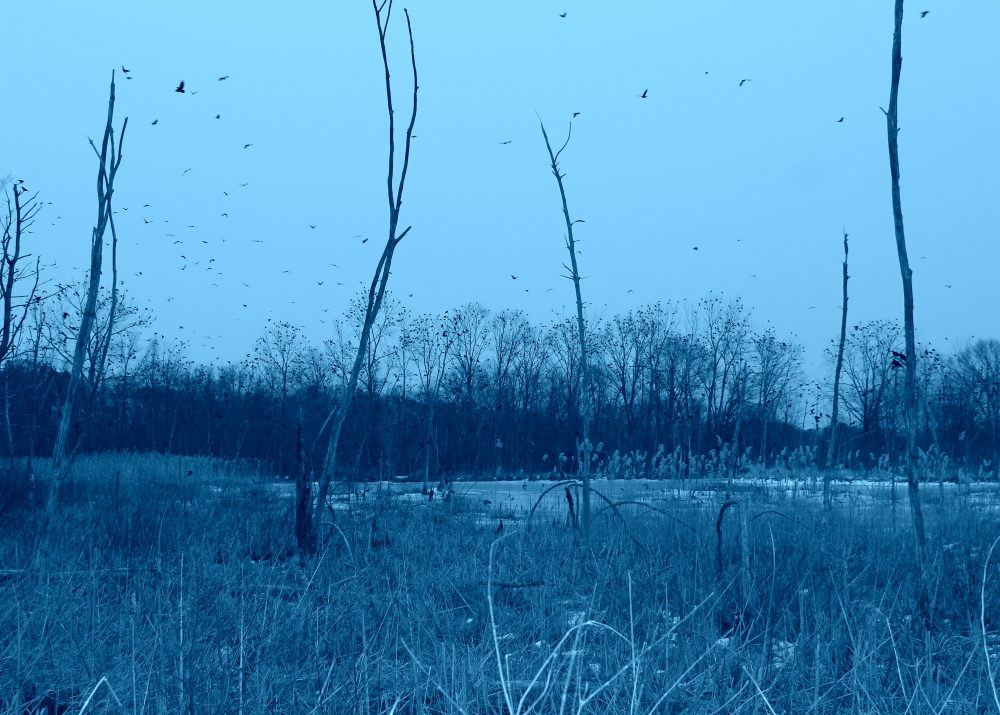 About 5 minutes before sunset time, a massive number of Crows lifted up and swirled around, at and just above tree height, and then they all settled back down;  the intensity and loudness of the vocalizations increased substantially.  Typically, the vocalizations will be begin to escalate for a moment, and then a massive upswell and swirling around, or big movement takes place.  Keeping an ear open for changes in vocalization patterns is very important while observing these dynamic roosts!  The following photo provide a sense of the action, which moved from left to right, and lasted just over a minute!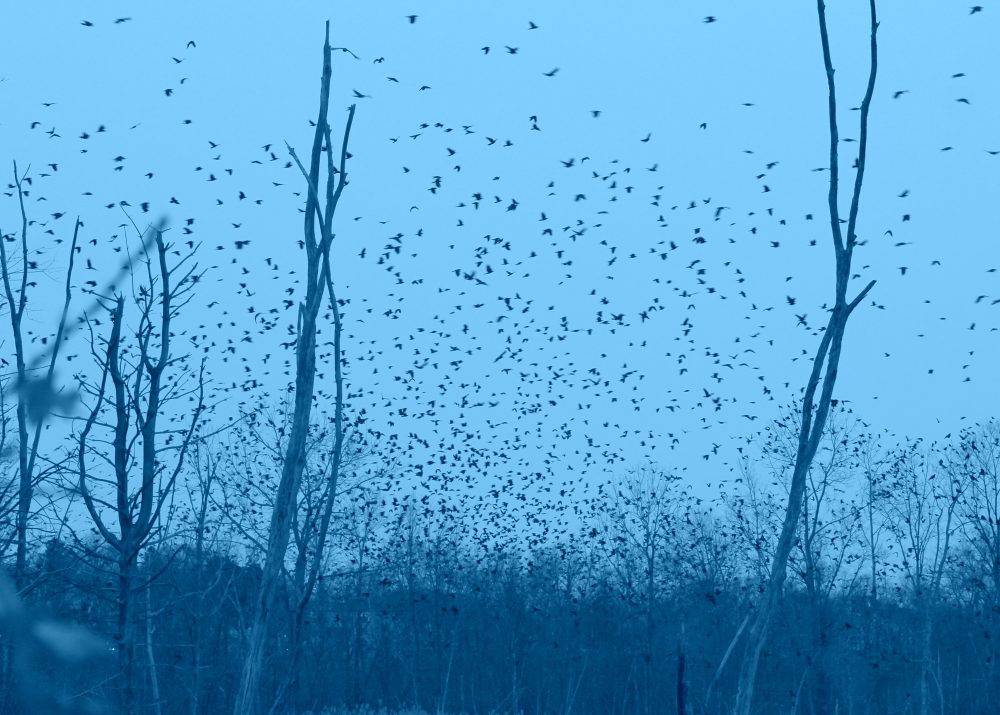 Just a bit later, at about ten minutes after sunset, they starting moving north closer to the river, and farther out of sight.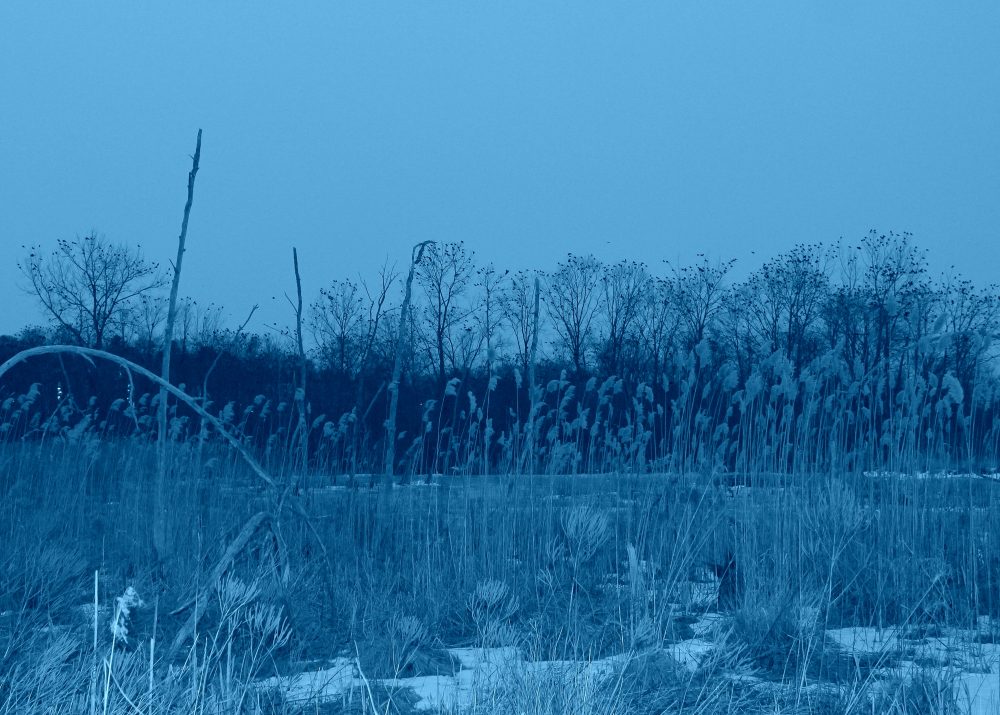 Doubled back to the boathouse, and with just a whisper of light left, was barely able to see huge numbers of Crows roosting on the trees on the north side of the Merrimack River along Riverside Drive, in Methuen, just west of the Riverside Apartments…..the total group tonight looked to be close to 20,000!  A quick map is posted below to help with locations.  The roost tonight moved just over 4/10 of a mile in a SW direction….the Crows always keep us on our toes!