Conditions: clear skies, wind SW 9MPH, 49F; sunset time at 5:26PM
Started at 5PM, duration 90 minutes; primary location: south side of Merrimack River, near North Main Street
Bigger Crow Patrol outing with 50+ attendees from planned gallery tour and talk event at Essex Art Center, followed by field trip to south side of Merrimack River at downriver location from the Rt. 405 Bridge. We were joined by 20 more Crow Patrol enthusiasts for total of 70 to participate in nightly Crow Patrol activities!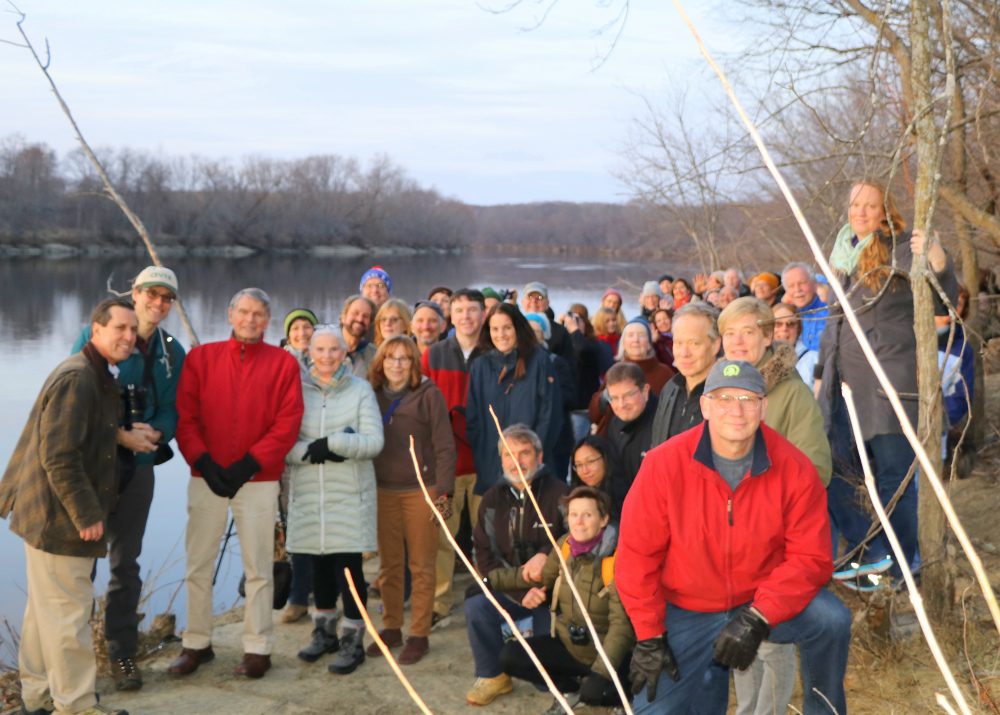 This image above includes over 70 attendees out along the Merrimack River on the south side to see and enjoy the Crows converging into the overnight roost! The image below shows the enthusiastic members of the Groundwork Lawrence Green Team. The Green team members were a welcome addition to the riverside outing!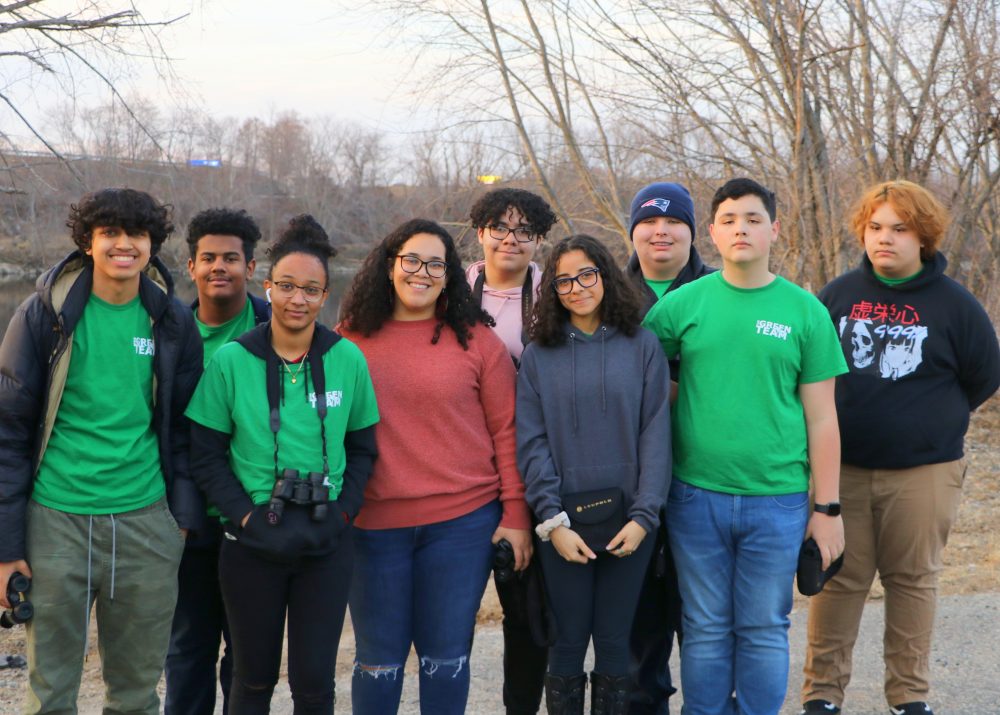 Upon arrival we observed Crows streaming overhead and over the river, heading in easterly direction towards the airport area. Around 17 minutes after sunset time, an initial swarm of Crows surged upriver. They seemed to divert in large numbers to trees along the south side of the river, just east of the pump house at end of North Main Street.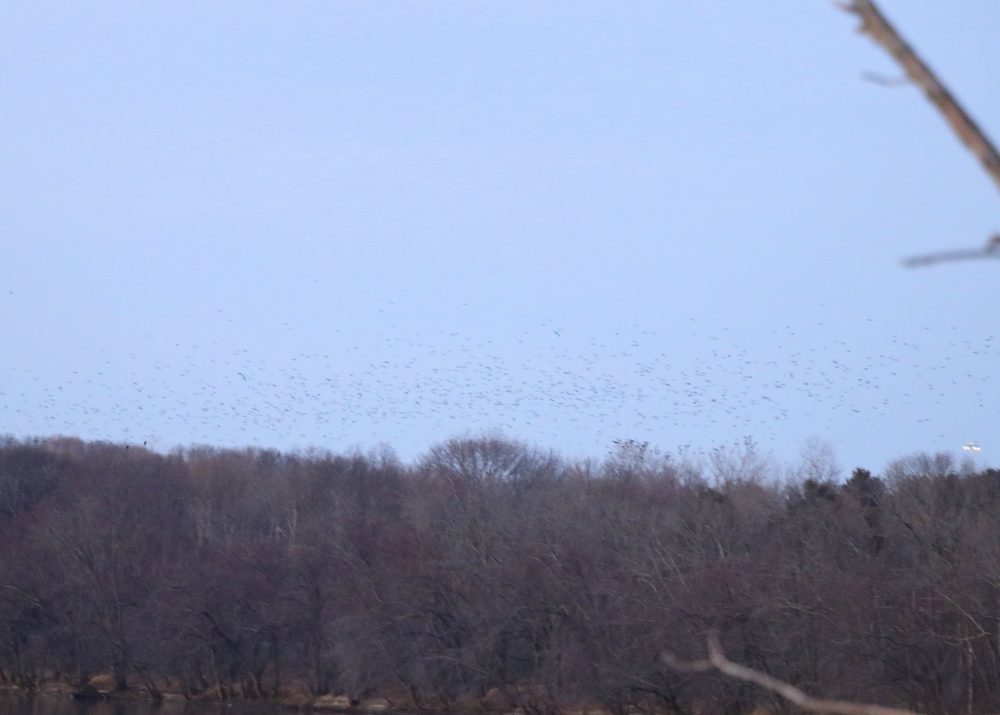 Over next 5-10 minutes the swarms of Crows in flight grew in leaps and bounds. Large swarms moved forward towards the roost. Initially, it looked like the Crows were going to assemble on the north side of the river, but then they diverted tot he south side and just downriver from our viewing location. This image shows the flight movement out over the river. They redirected to the south side minutes later.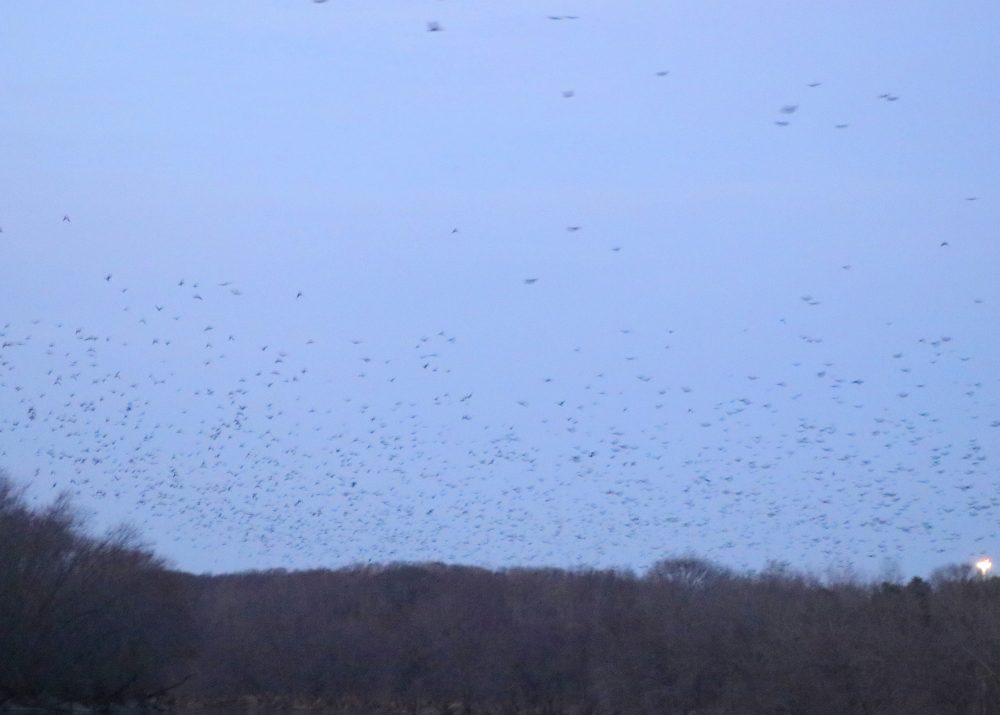 The Crows then started to fly directly into the roost and perched in roost area trees. We were all able to observe massive numbers of Crows streaming towards the roost. They incoming flight stream was directly across us on the north side of the river and made for great viewing as image below shows!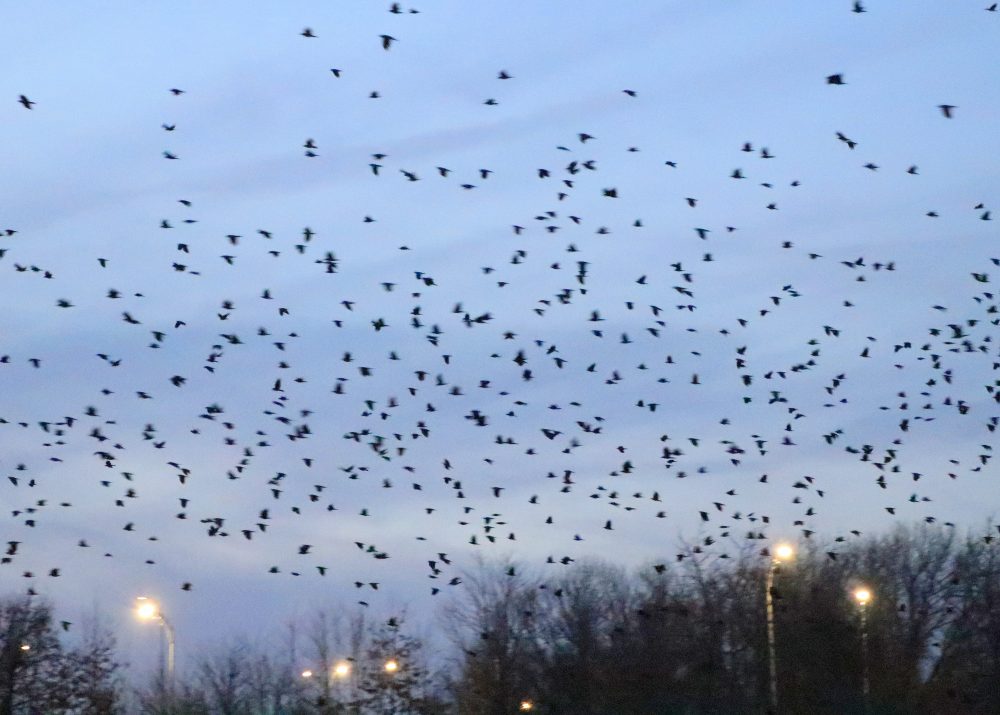 This is a pattern change from last few nights. The inbound flight convergence continued until 40 minutes after sunset time. The vocalizations subsided and the roost quieted down by 55 minutes after sunset. The image below, using the long exposure technique, was taken almost one hour after sunset time and portrays and much calmer and serene setting for the overnight roost with wispy background clouds, twinkling and reflecting city and highway lights, the gently flowing river below and the Crows all settled in for the night.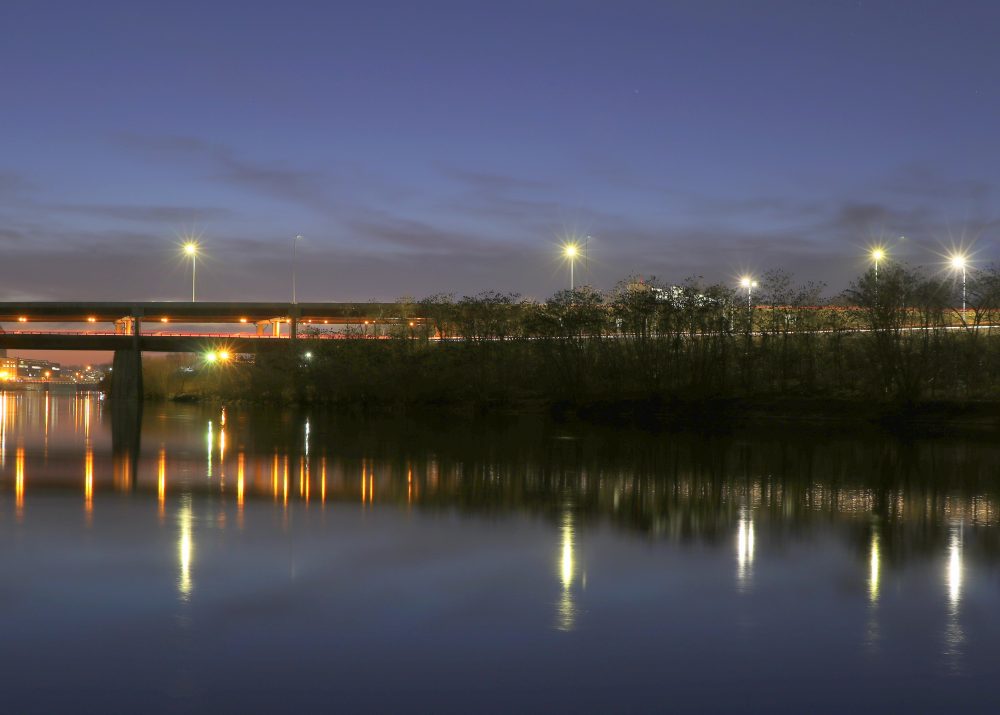 The last image was taken while driving northbound over the Rt. 495 Bridge, looking NE, just above and out over the overnight roost tree tops. This image also was taken with long exposure technique 64 minutes after sunset. The nearby ambient lighting makes all the difference in picking up details, as this technique does not involve any flash gear!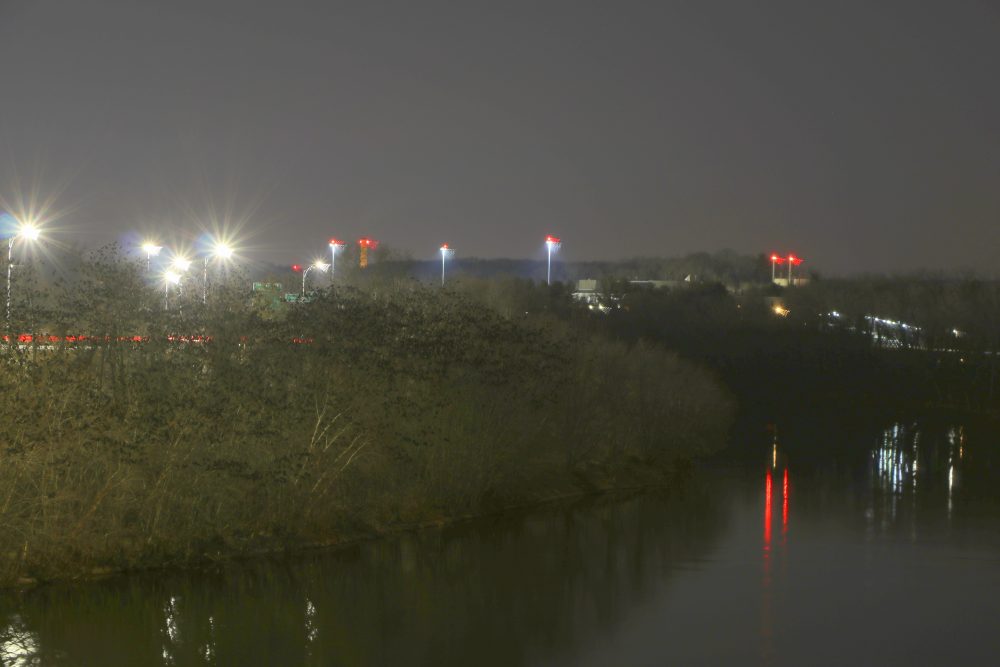 For all of us out tonight, another dazzling and enjoyable Crow Show!
Photo gear used for this outing:
Canon EOS 80D; Lens: Canon EF-S 18-135mm f/3.5-5.6 IS   
Canon 1DX MK II; Lens: Canon EF Telephoto Zoom 100-400mm f/4.5-5.6L IS II USM
ATN BinoX 4K 4-16x Day and Night Smart HD Binoculars with photo and video
Follow us on Instagram: wintercrowroost
Follow us on YouTube: birdsoftheair1
Blog post and photos by Craig Gibson, 2020 Crow Patrol, Lawrence, MA