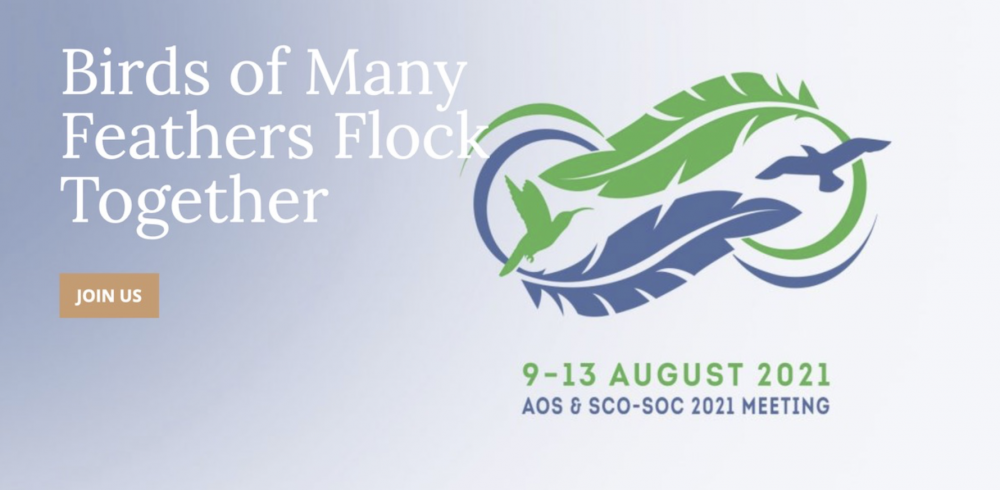 The Crow Patrol presented at the American Ornithological Society (AOS) Virtual Meeting, August 9-13 2021!
The Crow Patrol flocked together with attendees last month for the 2021 AOS/SCO virtual meeting! The meeting, August 9-13, featured an amazing line-up of keynote and plenary speakers, workshop, symposia, discussions, and social events. The meeting theme, Birds of Many Feathers Flock Together, aimed to harness the power of all the individuals who study, conserve, and educate about birds. The Crow Patrol was very excited to be one of the presenters in the Drone Applications in Ornithology Roundtable, and also to participate and engage in plenaries, symposia, roundtable discussions, contributed papers, virtual posters, and a meet and greet social hour.
Link to presentation video: https://vimeo.com/586505445#t=2750s
The American Ornithological Society
The AOS is an international society devoted to advancing the scientific understanding of birds, enriching ornithology as a profession, and promoting a rigorous scientific basis for the conservation of birds. As the largest ornithological member-based society in the world, AOS produces scientific publications of the highest quality, hosts intellectually engaging professional meetings, serves ornithologists at every career stage, and informs public policy on issues important to ornithology and ornithological collections.
The AOS is distinguished by its tremendous collective expertise, including eminent scientists, conservation practitioners, early career innovators, and students.
The Society of Canadian Ornithologists
The Society of Canadian Ornithologists, or Société des Ornithologistes du Canada, is an ornithological non-profit organization serving Canada's ornithological community. It was founded in 1983, and is a member of the Ornithological Council.
The goals of the Society are to encourage and support research towards the understanding and conservation of Canadian birds, serve as a professional society for both amateur and professional Canadian ornithologists, represent Canadian ornithologists within professional ornithological societies, publish information about Canadian birds, and recognize excellence in research, conservation and mentorship in the Canadian ornithological community
Roundtable: Drone Applications for Ornithology
David Bird and Rick Spaulding co-organized a Round Table Discussion (RTD) for this year's joint virtual meeting of the American Ornithological Society and the Society of Canadian Ornithologists. David Bird, PhD., is an Emeritus Professor of Wildlife Biology at McGill University, and Founding Editor of the Journal of Unmanned Vehicle Systems. Rick Spaulding is a Certified Wildlife Biologist, Chair of the Drone Working Group for the Wildlife Society, and Senior Wildlife Biologist at ManTech Advanced Systems International in Bainbridge Island, Washington.
Panelists
David Bird, McGill University: Drones Becoming a Popular Tool for Ornithologists
Rick Spaulding, ManTech International: The Wildlife Society Drone Working Group
Susan Ellis-Felege, University of North Dakota: Breeding Waterfowl Responses to Drone Surveys
Lindsay Young, Pacific Rim Conservation: Using Thermal-imaging Drones to Survey Cryptic Burrow-nesting Seabirds
Craig Gibson and Will Bicks, The Crow Patrol: Using a Drone to Monitor a Winter Crow Roost
Page E. Klug, USDA APHIS WS NWRC: Drones as a Tool for Managing Birds in Conflict with Agriculture
Jared Elmore, Mississippi State & USDA: Systematic Map Effort of Using Drones to Monitor Birds
Elston Dzus: Conventional vs. Drone-assisted Nest Checks of Bald Eagles in Northern Saskatchewan, Canada
Morgan Pfeiffer, USDA APHIS Wildlife Services, NWRC: Considerations for using UAS in bird dispersal
Ornithologists are relying on an ever-increasing suite of tools to answer questions and solve problems related to avian ecology. The use of unmanned aerial vehicles, or drones, has exploded in popularity in ecological studies in general, and in ornithology in particular. Drones have many advantages over traditional research techniques. They eliminate safety risks associated with fixed-wing and helicopter surveys, reduce cost and disturbance, increase accuracy, and allow the collection of high-resolution data over large or otherwise inaccessible areas. Some of the major areas of application of drones that have emerged in avian ecology include, but are not limited to: 1) population surveys, including breeding colonies and non-breeding aggregations and the use of different types of sensors (e.g. visible, thermal IR); 2) individual nest inspections; 3) radio-tracking surveys involving the use of radio telemetry sensors; (4) acoustic surveys, involving the use of song-recording sensors; 5) avian habitat research and monitoring involving high-resolution 2D and 3D mapping and multi- and hyperspectral imaging; and 6) bird dispersal, either for nuisance birds or to deter birds from hazards. This Roundtable Discussion provides highlights of the use of drones in avian ecology and a forum for discussion among both experts and potential users of drones that may result in future research collaborations between ornithologists in academic, government, and private sectors.
Using Drones to Enhance Observations and Drive Outreach: A Case Study of an Overnight Winter Crow Roost in Lawrence, MA
Link to presentation video: https://vimeo.com/586505445#t=2750s
Abstract: Over the last 15 years, Unoccupied Aircraft Systems (UASs) have advanced to such a degree that stable, high definition aerial photography and videography is available for use in citizen science projects. This presentation explores the utility of such systems for wildlife research by examining the methods utilized and results obtained from a multi-year citizen science project focused on observing a large overnight winter crow roost in Lawrence, Massachusetts. Our experiments explore how an aerial perspective, in combination with low light and infrared photography, can be utilized to count large numbers of densely packed roosting birds with increased accuracy. In contrast to existing methods, by conducting surveys once the birds have entered the roost for the night, our analysis shows that we are able to quantify the population with significantly improved accuracy, allowing us to contribute reliable data-backed counts to the National  Audubon Society's Annual Christmas Bird Count. In addition, we have demonstrated these same aerial capabilities can be valuable tools in producing engaging photo and video content to drive community outreach targeting local students, environmental and conservation groups, the extended community, and beyond.