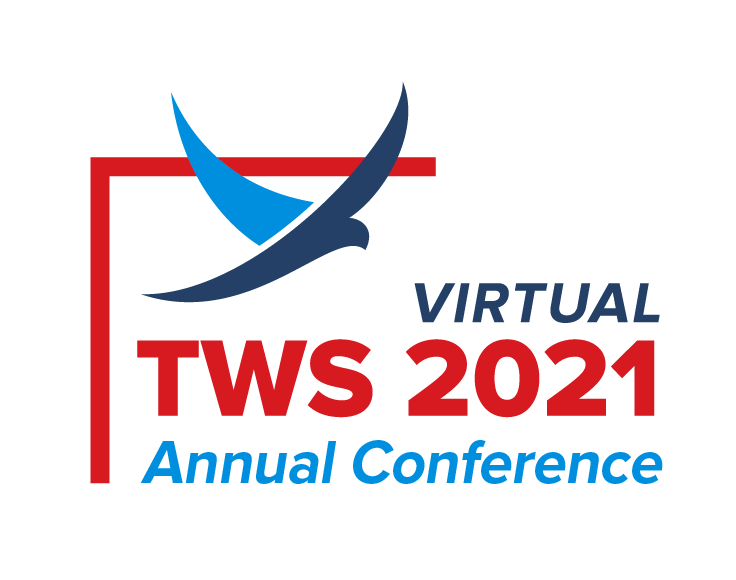 The Wildlife Society (TWS) recently hosted its 2021 Conference and extended an invitation to the Crow Patrol to participate!
The Wildlife Society's Annual Conference is one of the largest gatherings of wildlife professionals and supporters in North America. For more than 25 years, TWS has hosted this unique and informative event that provides endless networking opportunities through working groups, meetings and receptions as well as more than 1,000+ educational opportunities that encourage discussion and collaboration.
The Wildlife Society's 28th Annual Conference was held virtually during the first week of November. The Wildlife Society (TWS) conference is where wildlife professionals and students meet with their colleagues, present groundbreaking science and enhance their interdisciplinary skills. This conference is an opportunity to learn, network, and engage with other members from across North America and beyond.
The Wildlife Society is an international member organization committed to addressing issues that affect the current and future status of wildlife in North America and throughout the world.  More than 11,000 members include:
Scientists, managers, educators, technicians, planners, consultants, and others who manage, wildlife populations and their habitats.
Students who are pursuing degrees/experience that will enable them to become the next generation of wildlife professionals.
Supporters who help spread the word and take action on important wildlife and habitat issues.
2021 TWS Conference Profile
2,500 attendees from

30+ countries
All 50 U.S. States
10 Provinces & Territories of Canada
Attendees include: executives, researchers, professors, land managers, decision-makers, policy analysts, students, and more
From all sectors: state, provincial and federal agencies, tribal nations, non-governmental organizations, universities, & for-profit businesses
Symposia were available on-demand for the duration of the conference, with each session having a live Q&A with presenters at a prescheduled date and time.
Additionally, viewers were able to interact with content and presenters by leaving comments on discussion boardsor by messaging presenters directly through a new in-platform chat feature. They encouraged everyone to take advantage of these features for the most engaging experience
There were 20 on-demand sessions for the symposia presentations. Here is the link for titles, then click on title for full information
https://twsconference.org/symposia/
Here is an overview of the symposia that we participated in:
Drone Applications for Wildlife Research, Management, and Conservation
Organizers: Rick Spaulding, ManTech International Corp.; David Bird, McGill University
Supported by: TWS Drone, Military Lands and Spatial Ecology & Telemetry Working Groups
Wildlife biologists are relying on an ever-increasing suite of tools to answer questions and solve problems related to wildlife ecology, management, and conservation. The use of unoccupied aerial vehicles, UAVs or drones, has exploded in popularity in ecological studies in general, and in wildlife biology in particular. Drones have many advantages over traditional research techniques. They eliminate safety risks associated with fixed-wing and helicopter surveys, reduce cost and disturbance, increase accuracy, and allow the collection of high-resolution data over large or otherwise inaccessible areas. Some of the major areas of application of drones that have emerged in wildlife ecology include, but are not limited to: 1) population surveys, including breeding colonies and non-breeding aggregations and the use of different types of sensors (e.g. visible, thermal IR); 2) nest monitoring; 3) radio-tracking surveys involving the use of radio telemetry sensors; (4) acoustic surveys; 5) wildlife habitat research and monitoring involving high-resolution 2D and 3D mapping and multi- and hyperspectral imaging; and 6) bird dispersal, either for nuisance birds or to deter birds from hazards. This symposium provides highlights of the use of drones in wildlife ecology and a forum for discussion among both experts and potential users of drones that may result in future research collaborations between wildlife biologists in academic, government, and private sectors.
Investigating Nocturnal UAS Flights in An Applied Context to Prevent Gulls from Nesting on Rooftops
Morgan Pfeiffer, Craig Pullins, Scott Beckerman, Joshua Hoblet, Bradley Blackwell
Drone-Based Infrared Thermography to Study the Health of Large Whales
Gina Lonati, Daniel Zitterbart, Sebastian Richter, Natasha Hynes, Carolyn Miller, Peter Corkeron, Michael Moore, Kimberley Davies
Using Drones to Enhance Observations and Drive Outreach: A Case Study of An Overnight Winter Crow Roost in Lawrence, MA
Craig Gibson, Will Bicks
Drone Type Impacts Detection Rate of Bats during Acoustic Surveys
Kayla Kuhlmann, Amélie Fontaine, Émile Brisson Curadeau, David Bird, Kyle Elliott
How Drones Are Being Used to Help Wildlife Today
David Bird, Paul Pace, Kyle Elliott
AI Meets UAV: An Autonomous Egg-Oiling Drone
Tim Shields, William Boarman
Changes to USFWS Regulations Affecting UAS Use in Wildlife Studies
Stephen Earsom
Use of Drones to Advance and Scale Invasive Species Eradications on Islands
David Will, Jose Luis Cabello, Richard Griffiths, Tommy Hall, Chad Hanson, Baudouin des Monstiers
Using Thermal Imaging Drones to Survey Burrow Nesting Seabirds
Lindsay Young, Dena Spatz, Eric VanderWerf, Matthew McKown
Use of Data Mule UAS to Remotely Download Camera Trap Data on Military Lands
Dave Delaney, Jean Pan, Zane Mountcastle, Martin Slosarik, Aaron Alvidrez, Martin Ruane
Monitoring Raptor Nests with Drones: The Case of the Endangered Chaco Eagle in Argentina
Diego Gallego, José Hernán Sarasola
Classifying Wildlife from Aerial Imagery Using Deep Learning Neural Networks
Meilun Zhou, Jared Elmore, Morgan Pfeiffer, Bradley Blackwell, Sathishkumar Samiappan, Raymond Iglay, Kristine Evans
An Autonomous Pest Bird Deterring System for Agriculture Using Unoccupied Aerial Vehicles
Zihao Wang
Using Unoccupied Aerial Systems to Manage Natural Resources in Complicated Landscapes with Dynamic Uses
Susan Cohen, Troy Walton, Anthony Rodriguez, Justin Ridge
Advances in Drone Radio-Tracking Technology for Improved Wildlife Research, Management, and Conservation
Debbie Saunders, Josh Bobruk
Un-Crewed Aerial Vehicle Population Survey of Three Sympatrically Breeding Seabird Species at Signy Island, South Orkney Islands
Mike Dunn
Systematic Map Effort of Using Small Unoccupied Aircraft Systems (sUAS) to Monitor Animals
Jared Elmore, Kristine Evans, Sathishkumar Samiappan, Meilun Zhou, Morgan Pfeiffer, Bradley Blackwell, Raymond Iglay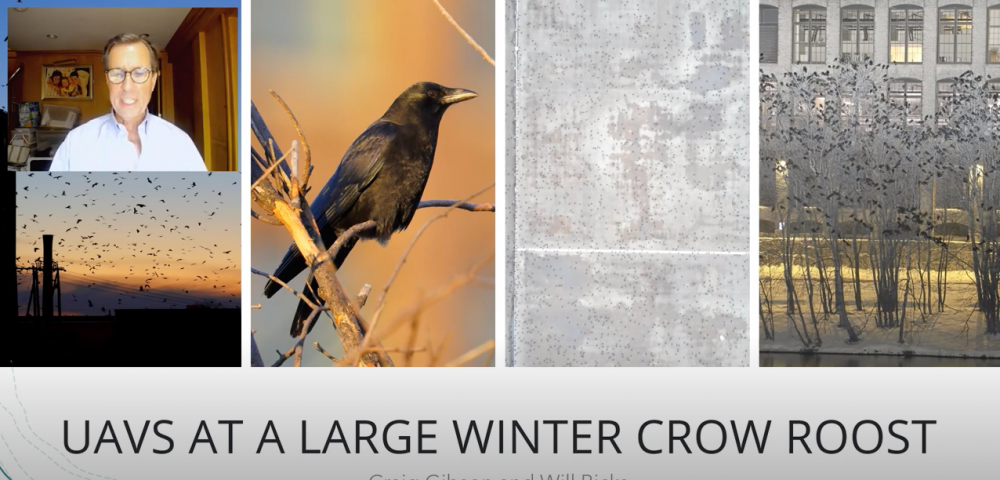 Here are the details from the symposia abstract for our presentation:
Using Drones to Enhance Observations and Drive Outreach: A Case Study of an Overnight Winter Crow Roost in Lawrence, MA
Over the last 15 years, Unoccupied Aircraft Systems (UASs) have advanced to such a degree that stable, high definition aerial photography and videography is available for use in citizen science projects. This presentation explores the utility of such systems for wildlife research by examining the methods utilized and results obtained from a multi-year citizen led project focused on observing a large overnight winter crow roost in Lawrence, Massachusetts. Our experiments explore how an aerial perspective, in combination with low light and infrared photography, can be utilized to count large numbers of densely packed roosting birds with increased accuracy. In contrast to existing methods, by conducting surveys once the birds have entered the roost for the night, our analysis shows that we are able to quantify the population with improved accuracy, allowing us to contribute data-backed counts to the Audubon's annual Christmas Bird Count. In addition, we have demonstrated these same aerial capabilities can be valuable tools in producing engaging photo and video content to drive outreach targeting local students, the community, and beyond.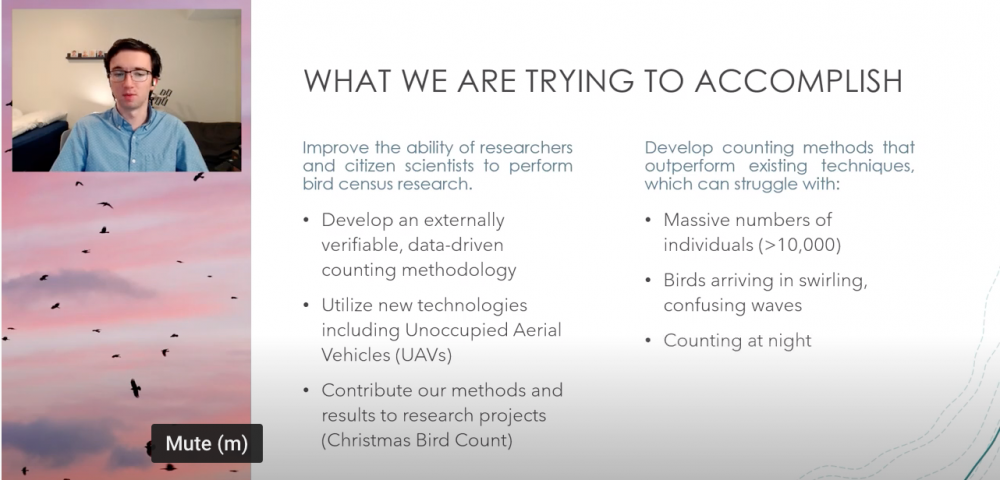 All of the presentations were excellent and well received by conference attendees! It was quite an honor for us to be involved with so many well informed presenters and the fascinating range of topics in this exciting new area of conservation biology. Again, we express deep appreciation and gratitude to David Bird and Rick Spaulding for their encouragement and full support!