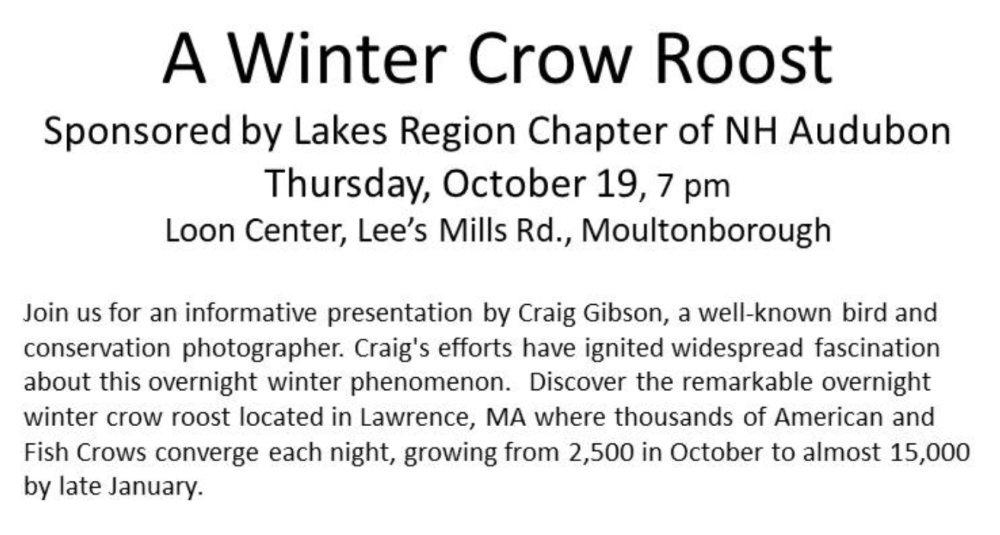 My heartfelt gratitude goes out to Jane Rice and other leaders for the wonderful opportunity to speak tonight at the Lakes Region Chapter of the New Hampshire Audubon Society's program on the Winter Crow Roost in Lawrence, MA. It was a pleasure to share my passion for this fascinating topic with such an enthusiastic audience.
The event on Thursday, October 19, at the Loon Center in Moultonborough, NH was truly memorable. The engagement and interest from the attendees were remarkable, and I was inspired by the dedication of the Lakes Region Chapter to regional environmental conservation and education issues.
We had a robust discussion on the winter roost phenomenon, along with endless questions from the attendees, both young and old, and the chance to connect with many fellow bird enthusiasts. Hats off to Jane Rice for her hard work in organizing the event, and I'm grateful for the opportunity to contribute to further educating members on yet another fascinating bird topic.
Thanks again to the NH Lakes Region Audubon members and friends for inviting me to be part of this very enjoyable evening!