Sunset 5:40PM under partly cloudy skies, wind from NW at 15MPH, and gusts to 25MPH, temp at 21F and wind chill 9F…..bone chilling cold, especially with wind off the water; post and photos submitted by Craig Gibson
Before meeting up with others out on Crow Patrol; made a pass by Bodwell Street and Guilmette School area. This location has been used as an overnight roosting area but a few weeks ago. There were small numbers of Crows scattered in a number trees over a half mile radius. Then moved down along Water Street looking for incoming Crows, again light numbers. Stopped at Boys and Girls Club, again light numbers scattered in nearby trees. Made further stops at Riverfront State Park, Bashara Boathouse, and the the International Way area, again light numbers. Here is a Fish Crow on the ground in the late day sun!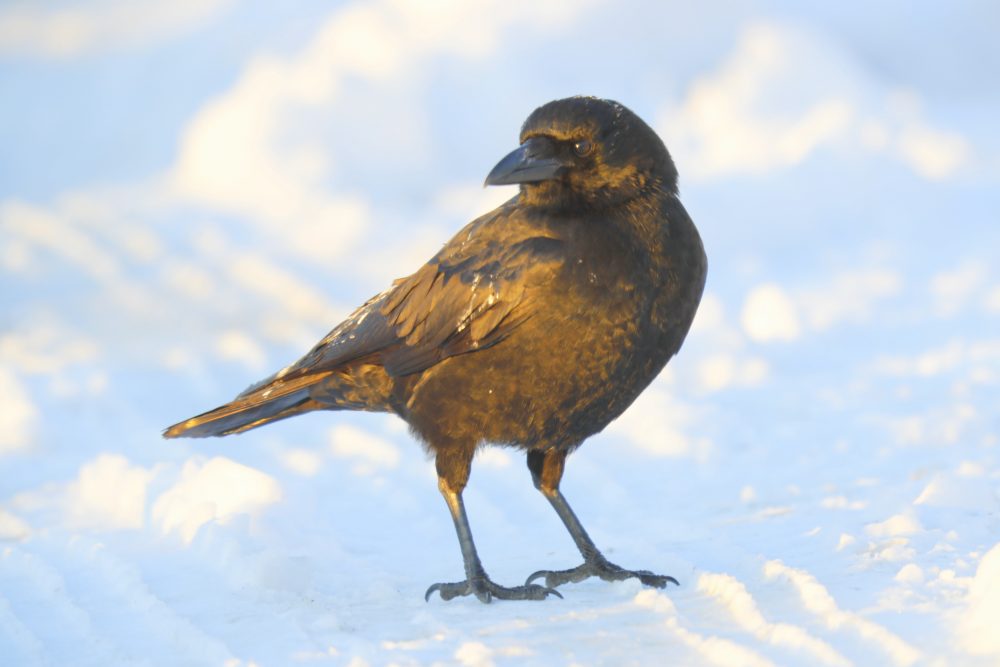 Met up with avid birders Kathy Foley and Michael Fager, along with Bob and Dana Fox at Riverfront State Park. The numbers overall were light, and then shortly after 5:30, the numbers started to grow, from all directions. The Crows seemed to be heading into the extended area around the Bodwell Street where they have roosted in the past, especially on nights with strong and gusting NW winds.  Typically, the numbers will start to fall off this time of year as the migrants slowly make their way back to breeding grounds located from 100 to over 500 miles away and to the north and northeast of Lawrence, MA!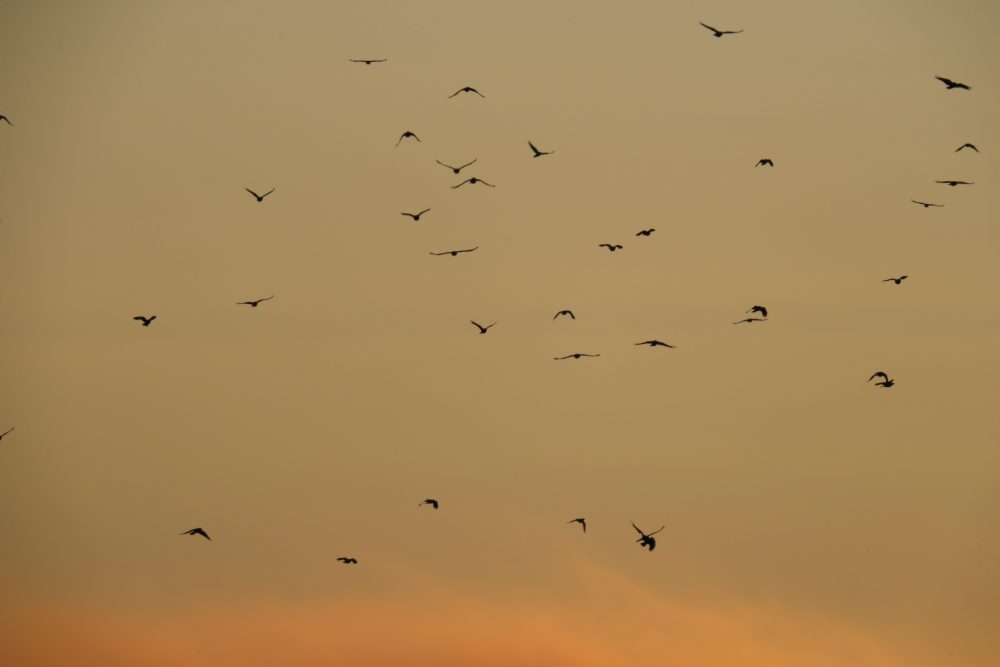 Here's the report from Kathy and Michael, "we drove toward Floral Street heading for Van Doorne Park as Craig had directed us. We got to the V intersection of Bodwell and Richmond St. It is a neighborhood on a hill of houses but there is also a Lawrence Fire Department Building of some sort and a school. There were hundreds of crows streaming over our head and landing in the big trees in this neighborhood, along roof lines of a couple of the houses, on the fire department building and the school (both of which were flat roofs.) There was also some uplifting and back and forth from trees at the corner of Bodwell and School St. There were thousands but not 10's of thousands. We watched for a while and it was maybe 6:15 and dark. Seemed like they were settled for the night. We did continue on to Floral St and the little park but we did not see any other crow gatherings. On our way back we checked again where they had been and they were still there in that same neighborhood. There were cars parked in driveways under some of those trees. I am sure they had a surprise clean up job when they came out this morning! We were wondering if they had used this area as a roost before. It was definitely less windy up there by the time we got there. Also we wondered if it represents the beginning of the breaking up of the gigantic roosts you saw all winter. Next year we are coming in January!