Crow Patrol report for Wednesday night, Feb. 13, 2019 submitted by Craig Gibson.  Cover photo taken Riverside State Park over 10 minutes after sunset!
Sunset time at 5:13PM under overcast skies, wind W 14MPH, 37F wind chill 28F; snow squall close to 5:30PM
Out on Crow Patrol solo tonight; first observations at 4:55PM, made at Bashara Boathouse with loads of Crows in flight and settling into trees on north side of the Merrimack River NNE of boathouse parking lot; lots of incoming Crows from downriver and from the west; as more Crows arrived, observed numerous swarming upswells, with many Crows returning to original trees and others moving downriver to the east;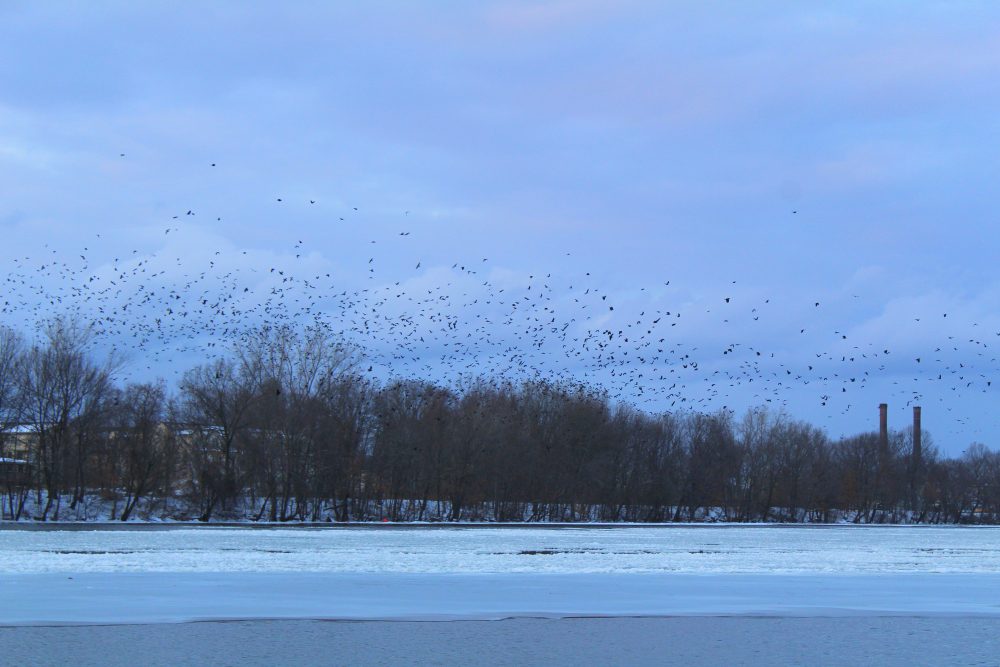 then moved observation post down to Riverfront Park after 10 minutes; walked up and down walkway along river edge; swarms of Crows coming in from east/west and again many uprising and resettlings; 1000+ Crows seen on the ice near the very south side of river by Experiment Station, all but a few departed by 5:25PM, and made their way towards final roost, again on north side of the river;
tonight the final roost was located slightly to the west of last night, and in the trees, at the edge of the river, tightly packed in between Caulkins Court and Doyle Street for a distance of about 400 yards. This section of the river, just before the Great Stone Dam now 40+ ice and slush.  This final image shows the Crows settling into the overnight roost!