On Thursday night, received a nice incoming email from Sylvia in Connecticut.  In the email she said she is "a big fan and sometime researcher at the Hartford crow roost, I'm coming up to see your roost and the show at the Essex Art Center tomorrow with a parrot researcher friend. I'll be taking off from home around 10 am, but if there's anything I should know, besides your revised crow roost directions and blog info, I'd love to hear. I plan to arrive in Lawrence around 2 pm, to go to the museum and then go on a drive to see where your roost is that evening!"  Dana has been in contact with Sylvia for some time, and both have worked overtime to schedule a visit.  Of course, the visit happens when Dana and Bob are in Peru!!!  We welcome fans both big and small, and make every effort to accompany all of you out in the field on Crow Patrol!  Here is a photo of Sylvia and Irene….they were delightful to spend time with and shared lots of fascinating background information on Crows, avian vocalizations, and the amazing life of parrots!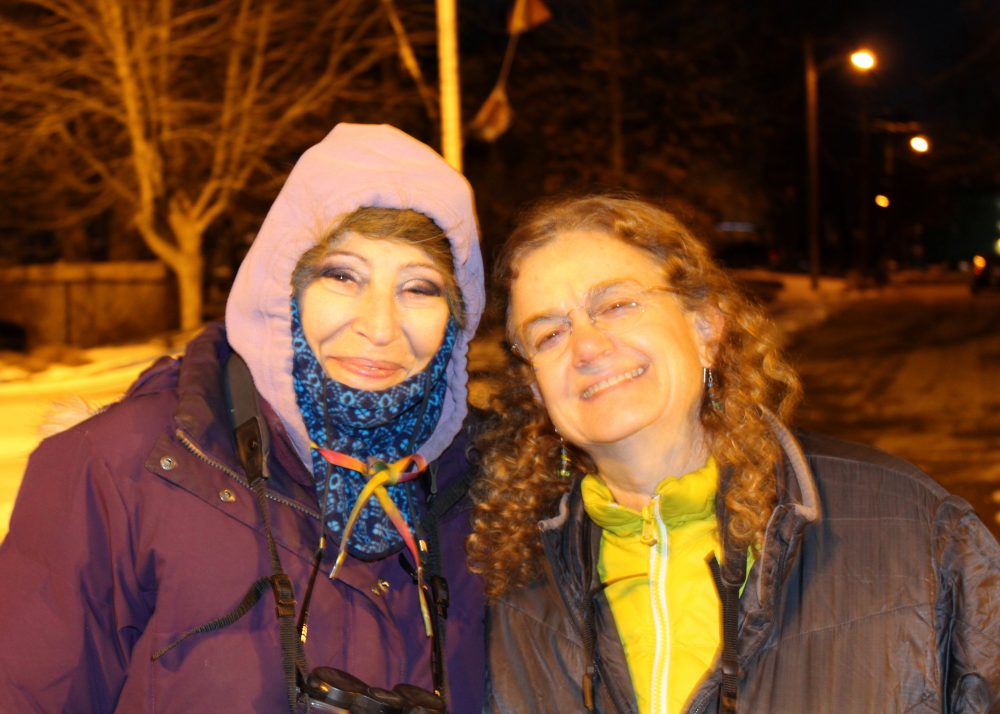 Sylvia Halkin is a biology professor and field biologist with a broad taxonomic background; her research is mainly on animal behavior. In fall semesters, she works with Central Connecticut State University students to study the behavior of Eastern Gray Squirrels: they've found a surprising diversity of ways in which squirrels prevent the theft of the nuts they find and store. Her other major research focus has been how birds use their vocal repertoires. She has worked with CCSU undergraduate and Masters students on a variety of other projects, including the relationship between strangler figs and their hosts, avian foraging niches, winter roosting behavior of American crows, and sources of disturbance at tern nesting colonies. She teaches field courses abroad through the CCSU Center for International Education, most recently in India in Summer 2018 with Dr. Sourav Chakraborty of the CCSU Chemistry Dept. She regularly goes out on Crow Patrol in the extended Hartford area!
Sylvia was featured days ago in an article published in the Hartford Courant about the winter crow roosts in downtown Hartford.  For a look, here is the link:
https://www.courant.com/hartford-magazine/hc-hm-in-our-midst-march-20190224-20190219-vaqf5xy6c5fe5fwvi6bp3ro5yq-story.html
Irene Pepperberg, a Research Associate and Lecturer at Harvard, has been studying the cognitive and communicative abilities of Grey parrots for over 40 years. Her most famous subject was Alex, the grey parrot with whom she worked for decades. He displayed astonishing abilities in learning, communication and feeling. After a brief description of the history of research on avian abilities and of her work with Alex, in a recent talk in Lexington, MA, she presented her most recent findings with her current subjects, Griffin and Athena, showing how their intelligence compares with human children.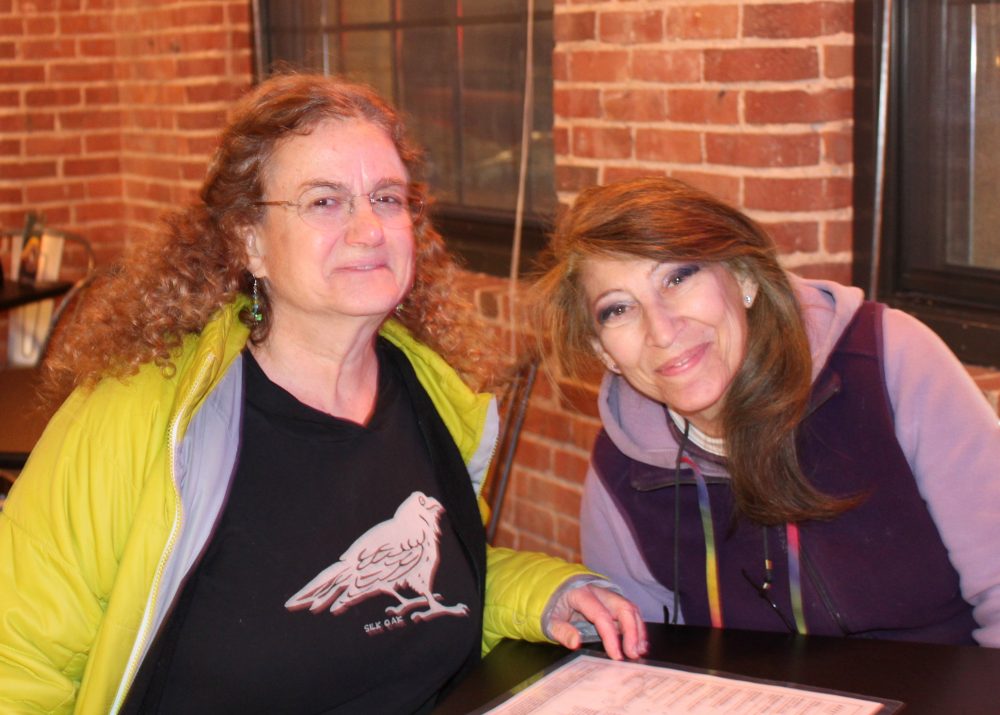 As dark settled in, Sylvia asked about local dining possibilities and the best suggestion was JAPU, a Peruvian fusion restaurant located at 4 Union St., in Lawrence, MA. Had them follow me over, parked together, and stayed just long enough to capture a nice photo!  Here is a recent recap about JAPU! from, Tony, a happy guest: Enjoyed my second meal in two weeks here last night! First time I did their special sushi roll for lunch, it rocked. Yesterday, Kathy has a chicken dish and I had the ceviche, which was out of this world. The staff are friendly, the place is spotless, and the entire experience is relaxing. We had some questions about ingredients and they were all answered, during the conversation about the different types of Peruvian corn we learned that they have a purple corn drink. I said, I'll try it the next time I'm here. Minutes later…BINGO, a taste of their purple corn drink appears. It was awesome, sweet and cinnamony we will surely order it the next time; perhaps spiked with some booze.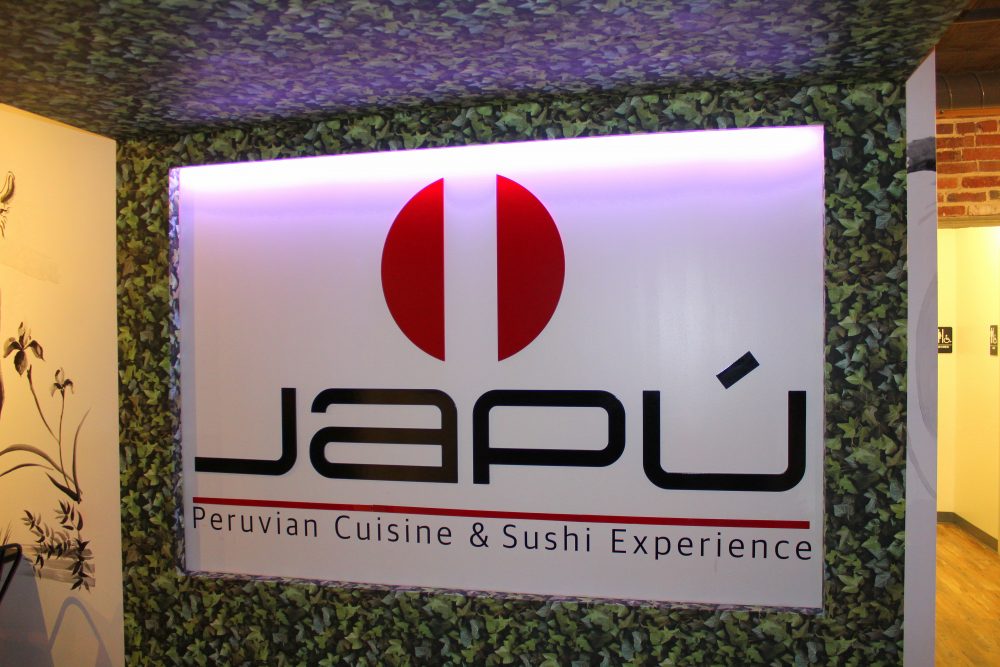 A very thoughtful recap from Sylvia: Yesterday Craig met us at the Essex Center, after we had time to vastly admire and immerse ourselves in his and other photographers' wonderful photos, the great community artist contributions, and Dennis Hlynsky's completely mesmerizing videos. We formed a 2-car caravan to get down to the river, with a few stops along the way to admire landmark Lawrence buildings sometimes frequented by crows, as ranks of crows flew overhead, on their way to the roost. We stopped to see about 30-40 (guess) crows standing on the ice, and others in trees at a riverbank park, and felt like the art we'd just seen was now flying around in front of us. We watched the sky turning sunset colors, and then we drove to the river bank across from the main roost site. We were standing in shallow snow, surrounded by the slushy footprints of crows, as overhead rivers of crows flew in to the roost from upstream and downstream. We told stories of what we do when we aren't watching crows, enjoying Craig's vast store of kindness, knowledge, and enthusiasm, and were impressed by Craig's accounts of all the ways in which the community is getting involved with this phenomenal project. Periodically the already-settled crows would take off from the treetops and circle around, calling raucously, and then settle back in. A pair of mallards swam up to the edge of the ice near us, and a flock of geese flew in, joined after a bit by a honking latecomer, and more geese joined them from somewhere we didn't see, and they swam up too to see if we were the kind of humans that feed waterfowl (not yesterday). The bottom of the sky was orange and pink and yellow, Craig was taking fancy photos, dark was falling, crows were still circling around the roost, and after a while our feet were getting cold, so we called it a night, and Craig guided us to and left us at a great local restaurant for dinner and then departed for his dinner at home. Thank you Craig, and thank you Dana for facilitating our getting together, and thank you Craig's wife for being okay with him spending an extra evening among many away from home, and thank you to the art center for being the nucleus and magnet holding so many excellent activities together!