Crow Patrol report for Thursday morning, Feb. 14, 2019 submitted by Craig Gibson.  Cover photo taken with night vision phone app!
Sunrise time at 6:43AM under fair skies, wind SW at 15MPH, temp at 28F – wind chill 16F
Up and out early this morning to experience twilight dispersal of the Crows from the overnight roost; what an amazing experience! As most know, twilight is the time between day and night when there is light outside, but the sun is below the horizon. Twilight occurs when Earth's upper atmosphere scatters and reflects sunlight which illuminates the lower atmosphere. Astronomers define the three stages of twilight – civil, nautical, and astronomical – on the basis of the sun's elevation which is the angle that the geometric center of the Sun makes with the horizon. The objective this morning was to observe dispersal and to compare against each stage of twilight. Prior observations support full departure by Crows from roost by sunrise.  The cover photo was taken with a night vision phone app one hour prior to sunrise!
This morning's times: Astronomical twilight: 5:02AM  Nautical twilight: 5:50AM  Civil twilight: 6:14AM  Sunrise: 6:43AM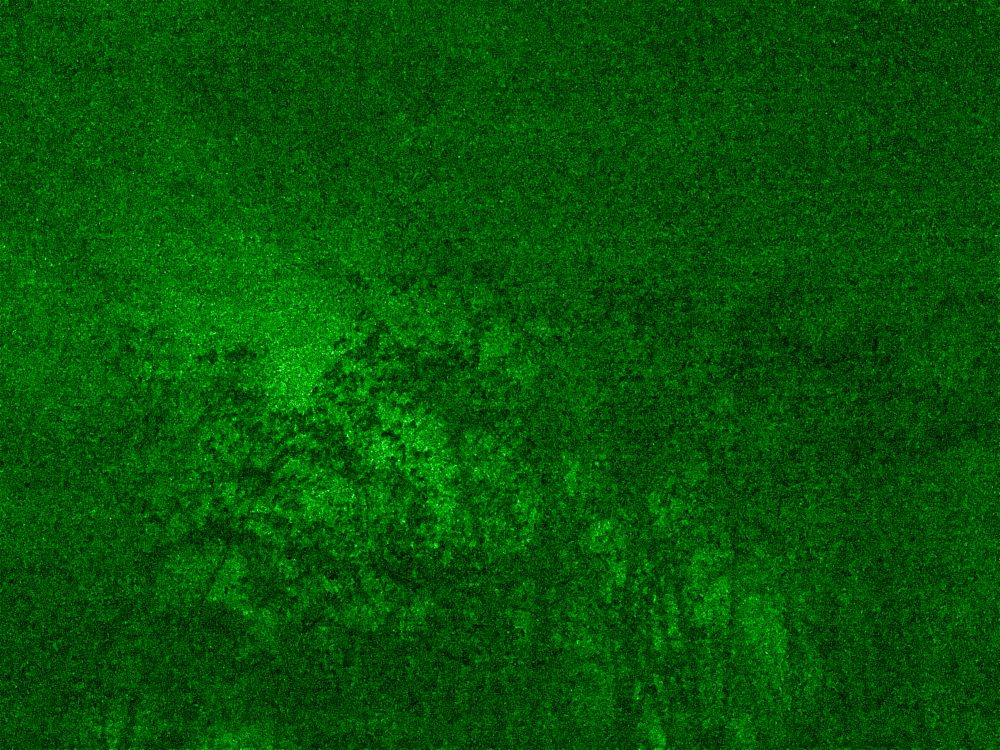 The first stop at 4:50AM, was towards the west end of Nightingale Court; a small number of Crows were seen in the trees with random vocalizations; next stop was just to the west behind the Riverside Congregational Church; many more Crows found in nearby trees; see photo above; next, went to stop at Riverfront State Park and Bashara Boathouse; Crows barely visible in darkness at a distance in tree tops on north side of Merrimack River; returned to Church parking lot, all Crows had departed, but vocalizations were heard nearby.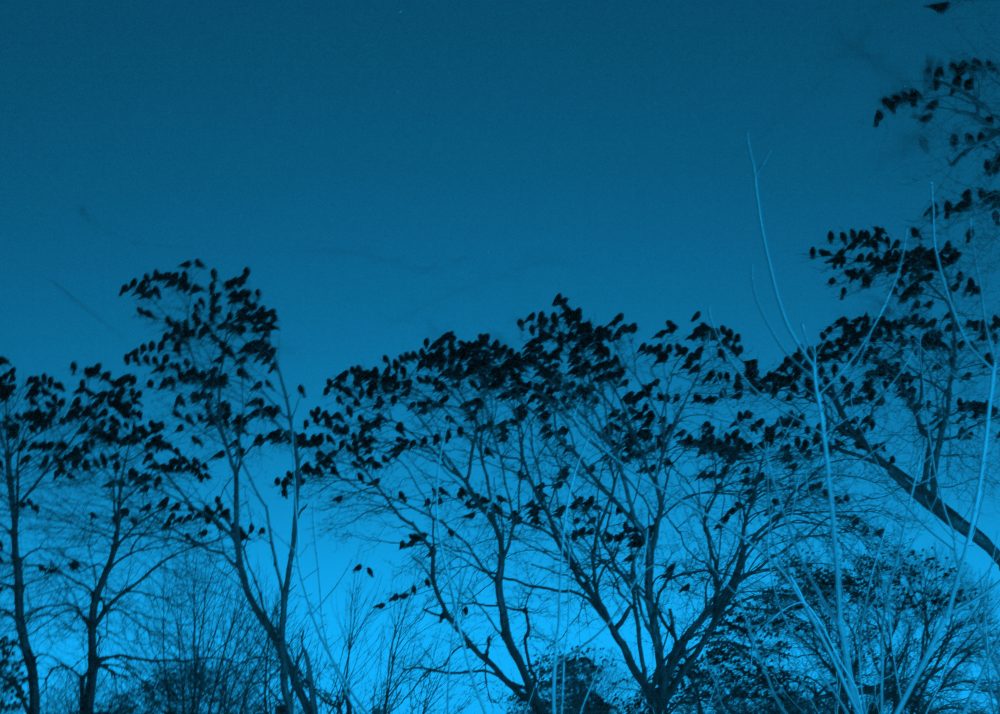 Just after 5:40AM, discovered large numbers of Crows in massive roost area on south side of Hancock Street, in many trees, and around area to the E & SE of the Hennessey School. Quick school stats: Grades: Prekindergarten-2; Students: 387 students; Student:Teacher Ratio: 15:1; Minority Enrollment: 96%……amazing Crow Show with intense vocalizations up until 10 minutes before sunrise, then vocalizations dropped off to almost nothing. Rough estimate of area about 40,000 square yards.  The school is located about 225 yards from the northern edge of the Merrimack River.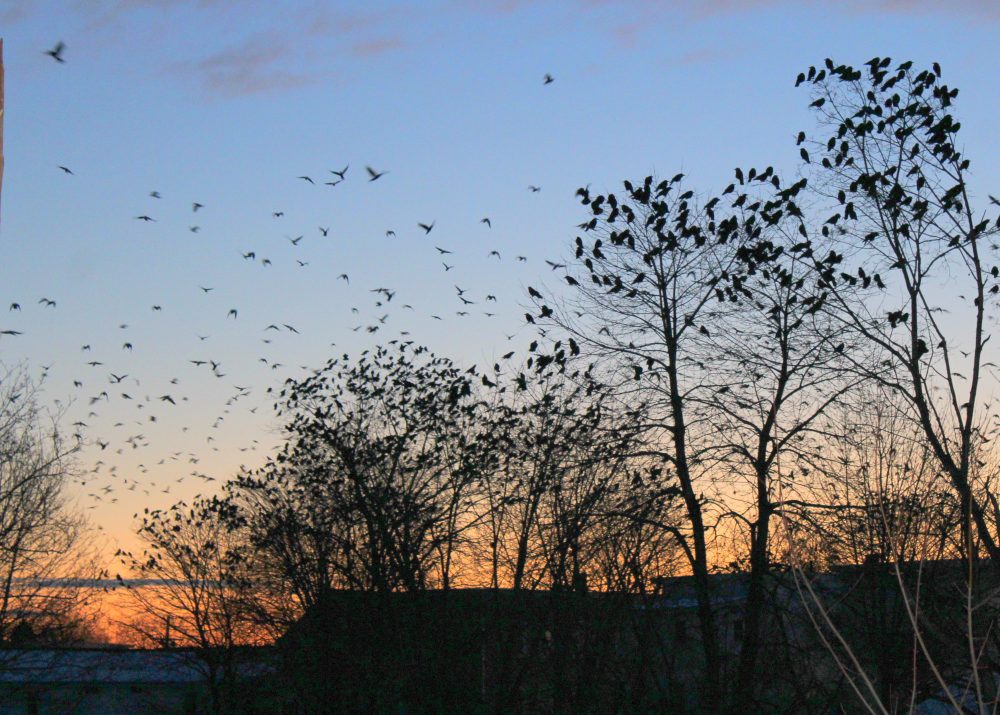 As normally happens, their were large swirls, uprisings, perch shiftings, and many other dramatic movements along with an extraordinary range of vocalizations over the 40 minute dispersal period leading up to time of sunrise….WOW!!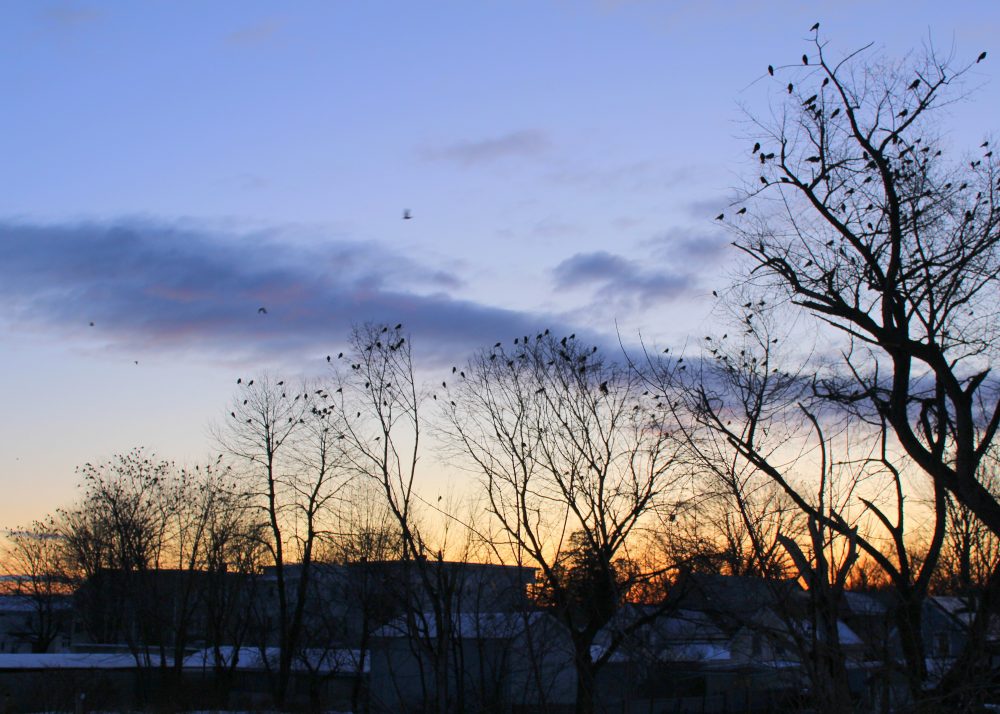 And finally, here is aloof at the empty trees at 6:43, as the sun made it's debut for the day, still out of direct sight from this location, but the Crows know, and are already off to foraging grounds for the day!