Conditions: overcast skies with light snow, wind N at 9MPH, 34F; sunset time 4:20PM
While helping to host the "Welcome Back Crows Event" at the Spicket River Brewery, with the Merrimack River Watershed Council and Groundwork Lawrence, the Crow Patrol as event co-sponsors, made a number of quick trips over 2 + hour period to scout for streaming, staging, and roosting Crows. Largest staging group was observed at the Lawrence Municipal Airport and around the Greater Lawrence Wastewater Treatment Facility on Charles Street in North Andover.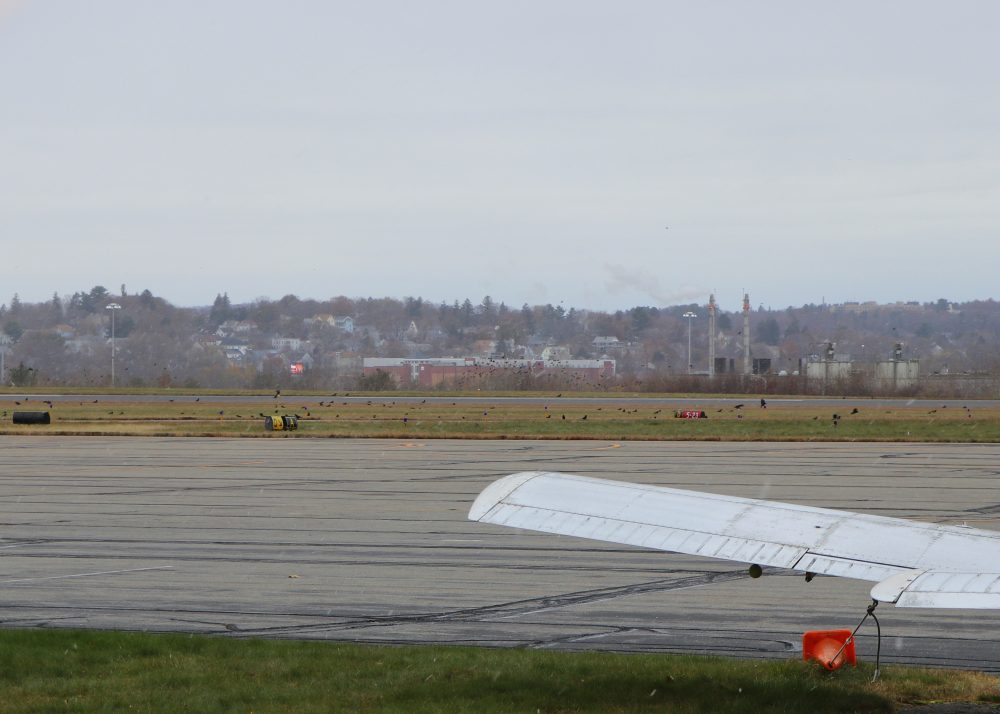 Other Crows were seen staging around the west side of Lawrence General Hospital and along the roof.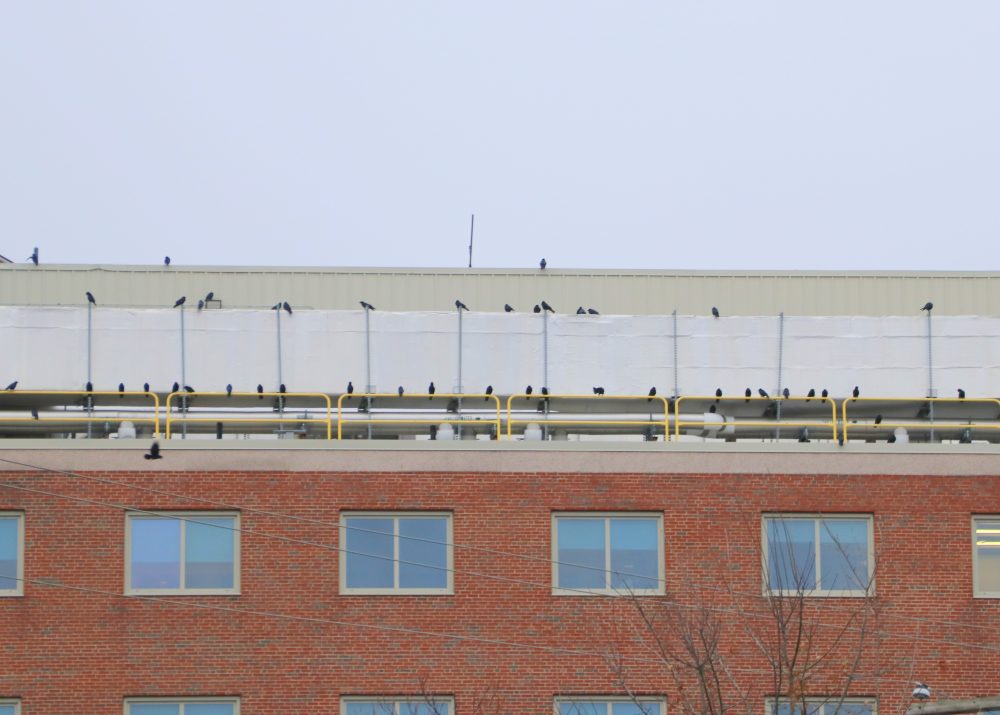 Later, in an all out effort to locate the overnight roost, large numbers of Crows were found roosting in trees along Merrimack River, on the south side, next to the Casey Bridge. Locating roosting Crows after dark is a very challenging task, especially if you haven't been observing all along. The Crows have been observed in this location before, but only a few times. It is very dark with little nearby ambient lighting. It was possible to locate them , but only by using night vision optics.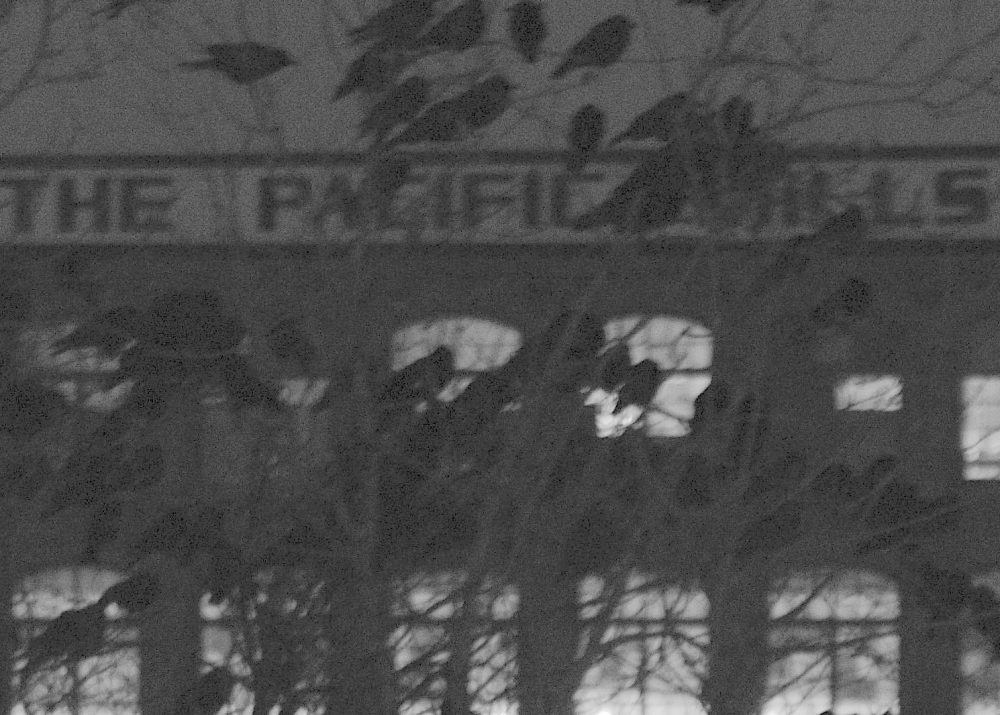 This image was taken from the south side of the Merrimack River, looking north with the Pacific Mills building in the background. It was the parking area between CubeSmart and Simpsons Brothers with the Crows tightly packed in the trees.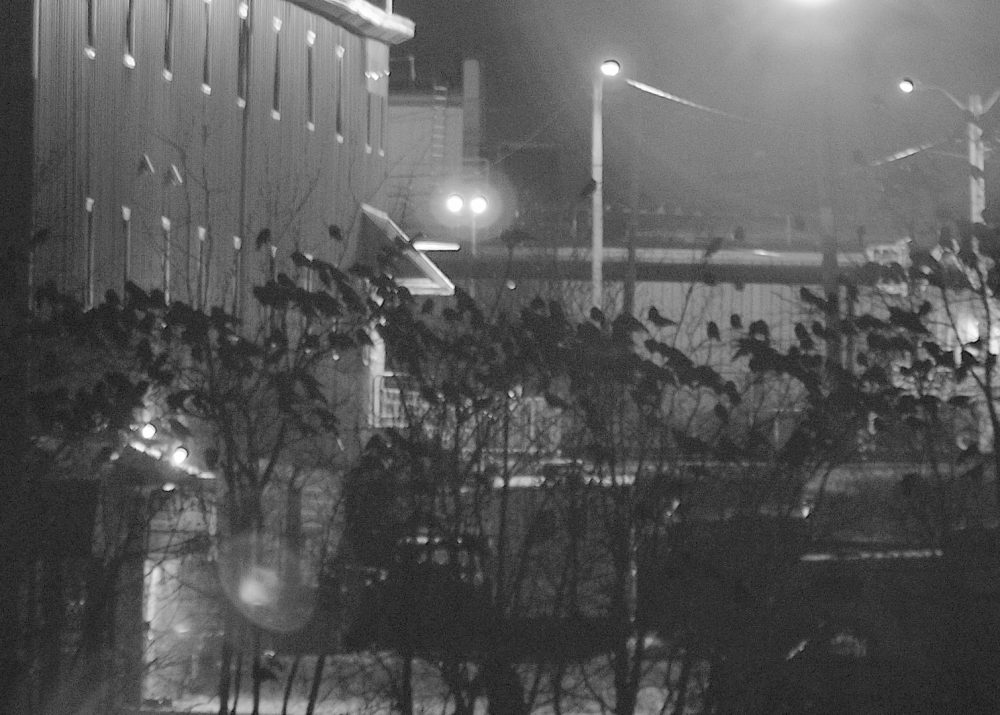 This image is almost the reverse of the prior image. It was taken from the Pacific Mills building area on the north side, looking south, 90 minutes after sunset time, at the Crows in the trees, between CubeSmart and Simpson Brothers.  This image was captured with night vision optics!
Welcome Back Crows – Sunday Nov. 17 starting at 2:30PM at Spicket River Brewery!
Sponsors: Merrimack River Watershed Council, Groundwork Lawrence, Crow Patrol
List of photo equipment used for this outing:
Canon EOS 80D; Lens: EF-S 18-135mm f/3.5-5.6 IS   
ATN BinoX 4K 4-16x Day and Night Smart HD Binoculars
Blog post and photos by Craig Gibson, 2019 Crow Patrol, Lawrence, MA