Conditions: clear skies at dusk, wind S at 6MPH, temp at 49F, sunset time 4:32PM
Observations: first stop on Crow Patrol tonight took place at 4:15 from the roof top of the McGovern parking garage. The Crows were flying in while vocalizing and were landing and gathering in O'Connell South Common, located at the intersection of South Union Street and Market Street. The Common is named for Lawrence native, Private First Class Philip J. O'Connell. Born June 25, 1887, PFC O'Connell was a surgical assistant assigned to the Medical Detachment of the 39th infantry, 4th division, who lost his life on August 1, 1918 during the Aisne-Marne Offensive of World War I. The image was captured about 7 minutes before sunset time.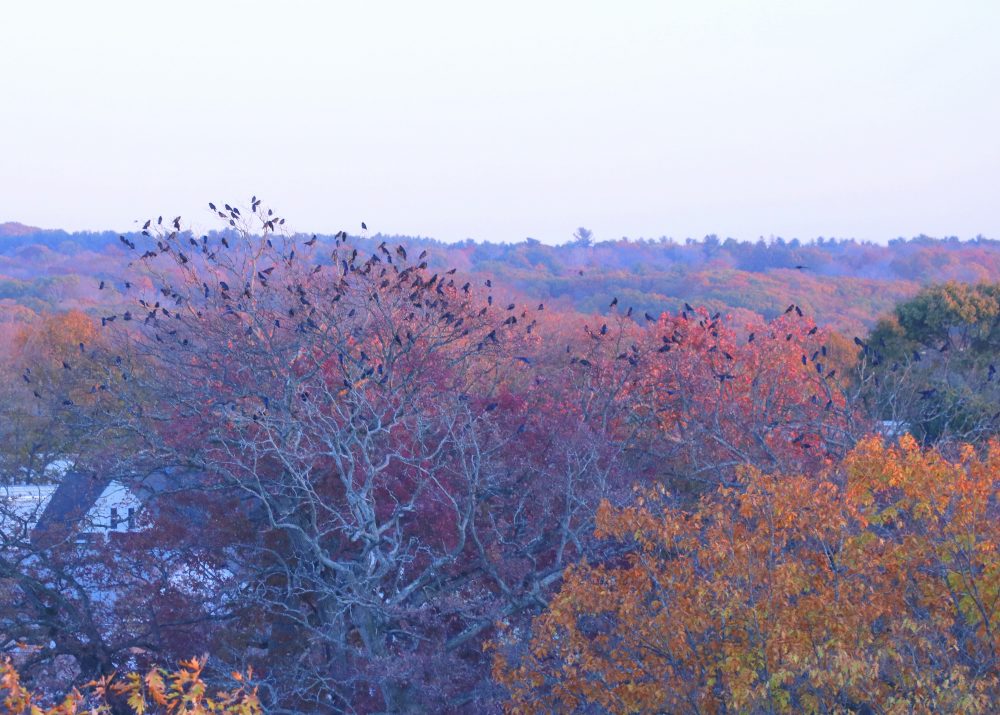 A few minutes later, made the move over along South Canal Street and around the truck depot area. Many Crows were converging in flight and landing on the west end of the extended B&D Warehousing roof top. There was a larger concentration on the roof above the garage door loading dock area.  This image was captured about two minutes after sunset time.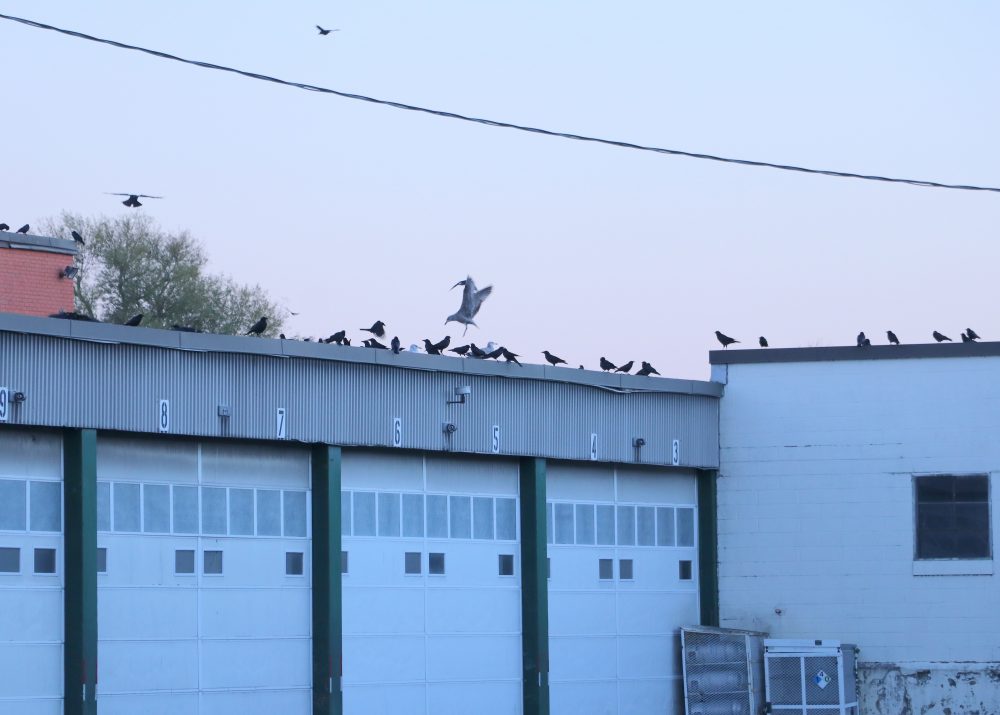 Just after sunset time, made last longest stop for viewing from the Mill240 rooftop.  The views from the roof deck are spectacular and even more so around sunset time and shortly afterwards. The roof deck provide an extraordinary vantage point to observe the Crows in staging mode prior to moving in flight to the overnight roost on the north side of the New Balance building. This image shows the remarkable buildup of staging Crows at the west end of the extended B&D rooftop area. The image was captured about 22 minutes after sunset time!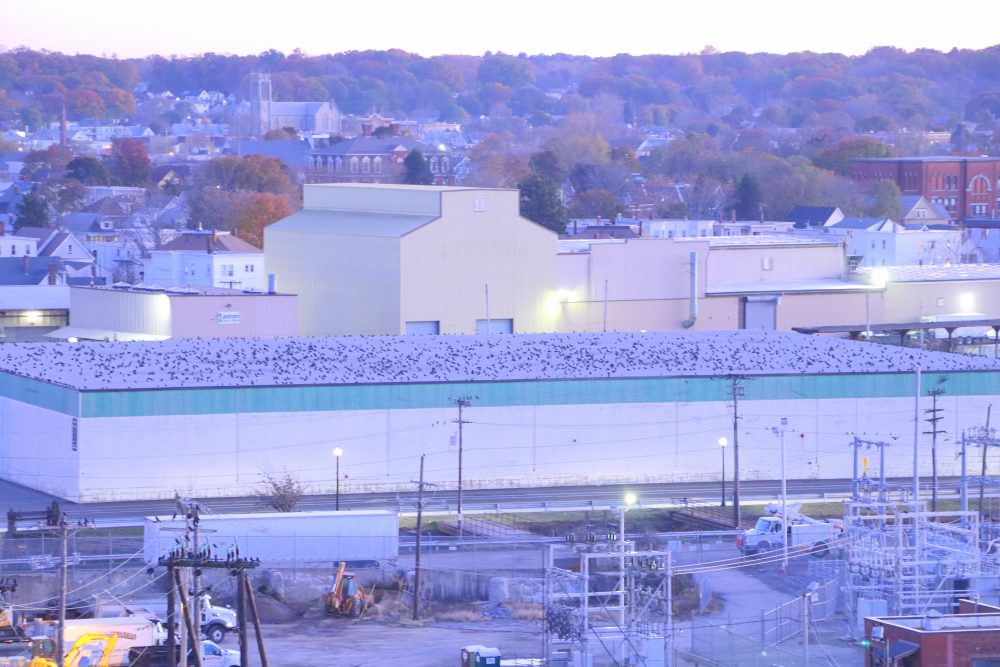 The sky was an amazing shade of blue with a mix of glorious sunset colors while looking to the west and upriver! This image was captured at 44 minutes after sunset time. The sky colors are amazing, especially when there are no clouds in the sky!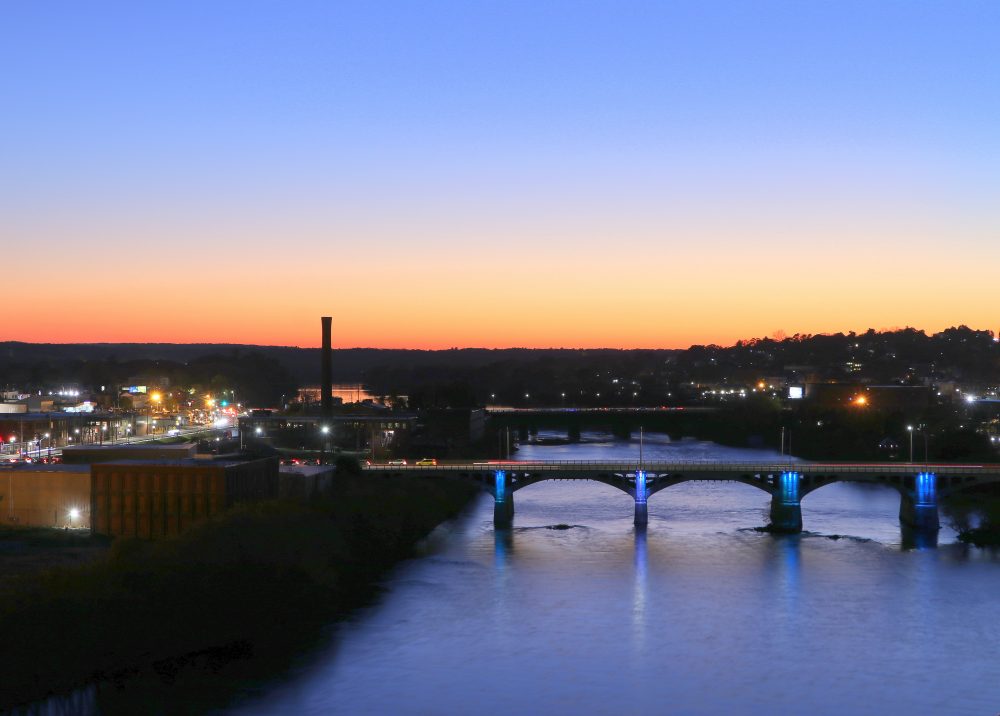 Lastly, a look back from the Mill240 park in the SE direction at the full stretch of the roost along the NB building. It was amazing to scan and see the number of Crows perched in the trees from the west end of the NB building all the way up to the Casey Bridge. Although the greatest concentration is in the trees by NB, there are many Crows farther west in the trees and on the ground to the west. This image below was captured with an infrared camera almost 80 minutes after sunset time with lots of ambient lighting from the NB building and with the river flowing east gently below.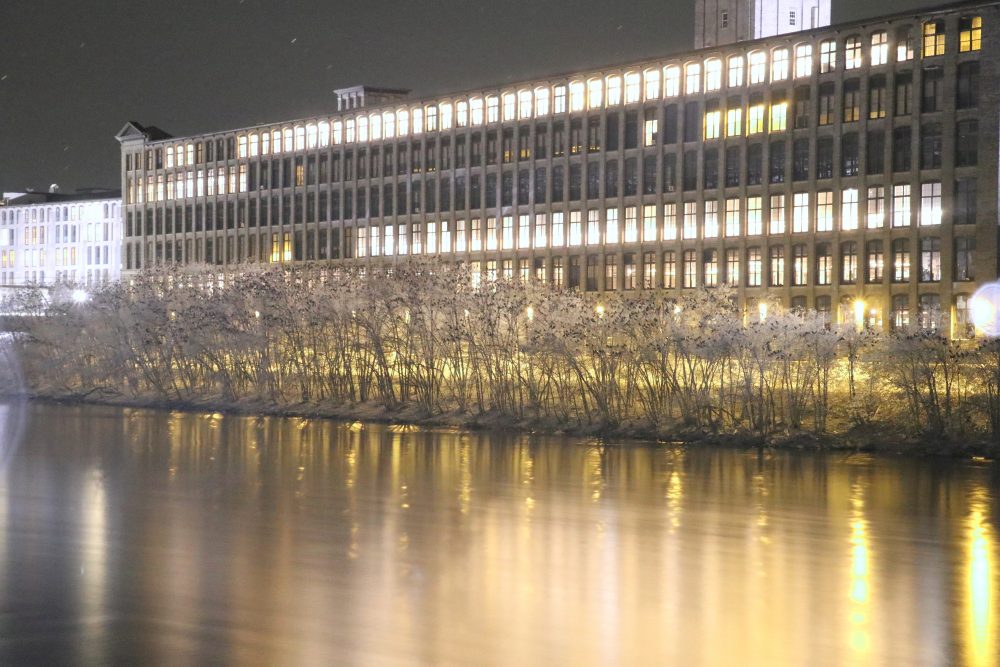 Photo gear used for this outing:
Canon EOS 80D with Canon EF-S 18-135mm f/3.5-5.6 IS 
Canon EOS 80D with Canon EF-S 18-135mm f/3.5-5.6 IS (Infrared)
Canon 1DX MK II with Canon EF Telephoto Zoom 100-400mm f/4.5-5.6L IS II USM
ATN BinoX 4K 4-16x Day and Night Smart HD Binoculars with photo/video
Follow us on Instagram: wintercrowroost
Follow us on YouTube: birdsoftheair1
Blog post and photos by Craig Gibson, 2020 Crow Patrol, Lawrence, MA