Conditions: mostly clear skies, wind NW 12MPH with gusts to 18MPH, temp at 56F; sunset time 6:13PM
Observations: made from roof top of Mill240 building on north side of Merrimack River. Excellent views up and down the river with many Crows streaming in at eye level. Crows gathered in small groupings in multiple nearby locations, and then became concentrated around the national Grid Substation and the adjacent truck depot parking lot. About 12 minutes after sunset time, a large swarm of Crows arrived from the west and swirled around in flight, 100-300 feet above ground level, and above west end of New Balance building.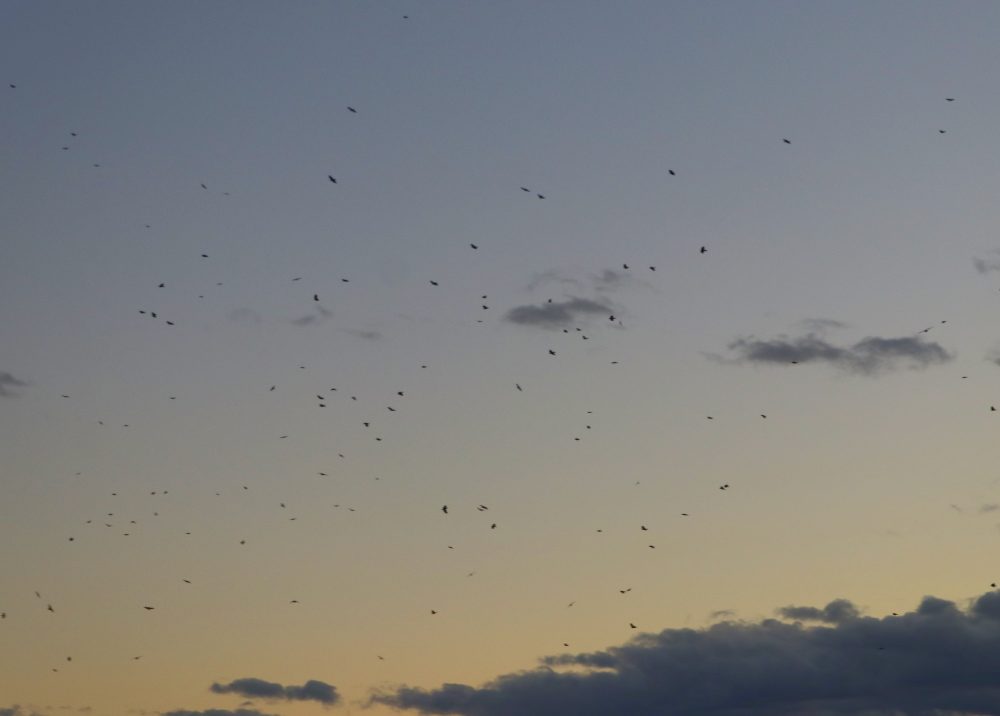 Shortly after, many Crows assembled on a rooftop in the National Grid facility located on the South Canal Street and across the Merrimack River from this vantage point. The National Grid facility is a location used by the Crows for staging in the past winters, and by young Fish Crows during the the recent summer months.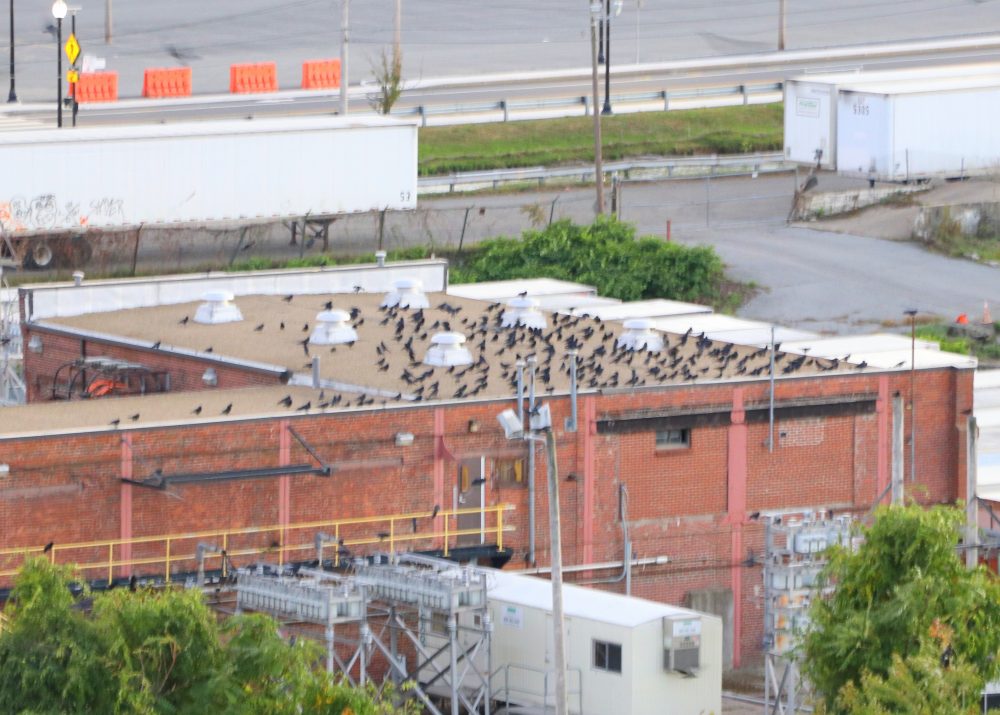 Another group of staging Crows gathered on the ground near the back of the truck depot and next to the National grid facility. the truck depot has been a very regular staging location for the Crows. In this setting they mull around on the ground prior to departing in flight for the overnight roost. This image was captured with an infrared camera almost 30 minutes after sunset time.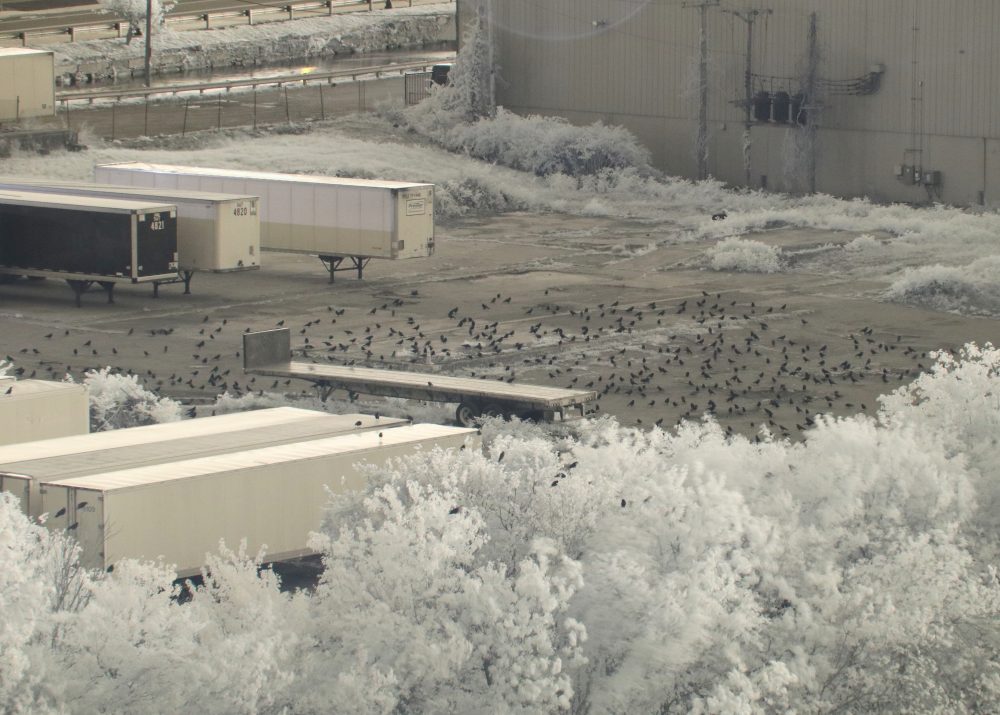 The Crows began to move into the roost just a bit later than prior nights. At end of the observation time, stopped for a moment, again with the infrared camera. Was able to capture a lateral view of the roost, looking SE from the Mill240 park area, at 63 minutes after sunset time! The trees to the right show more Crows, and the trees to the left not as much. The long exposure and higher winds made for challenging conditions. Another loud and raucous adventure out on Crow Patrol!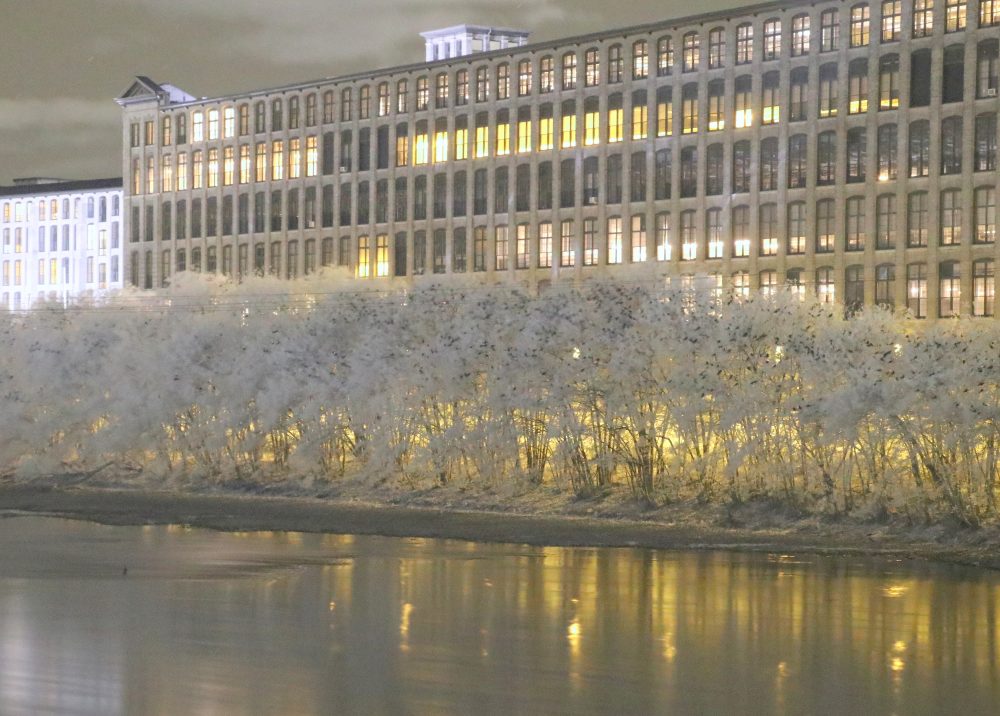 Photo gear used for this outing:
Canon EOS 80D with Canon EF-S 18-135mm f/3.5-5.6 IS 
Canon EOS 80D with Canon EF-S 18-135mm f/3.5-5.6 IS (Infrared)
Canon 1DX MK II with Canon EF Telephoto Zoom 100-400mm f/4.5-5.6L IS II USM
ATN BinoX 4K 4-16x Day and Night Smart HD Binoculars with photo/video
Follow us on Instagram: wintercrowroost
Follow us on YouTube: birdsoftheair1
Blog post and photos by Craig Gibson, 2020 Crow Patrol, Lawrence, MA