While driving south on Rt. 114 after turning off of Rt. 495, noticed streams of crows heading SE over North Andover Mall.  It was overcast skies, with wind from the E   at 8MPH, and temp at 50F. Scanned in every possible direction, and tracked the crows into Holy Sepulchre Cemetery on Waverly Road in North Andover. After driving into the cemetery, the Crows, both American and Fish, were seen all over the back of the cemetery, on the ground, in tress, and swirling in flight!  The photo above shows the chaos!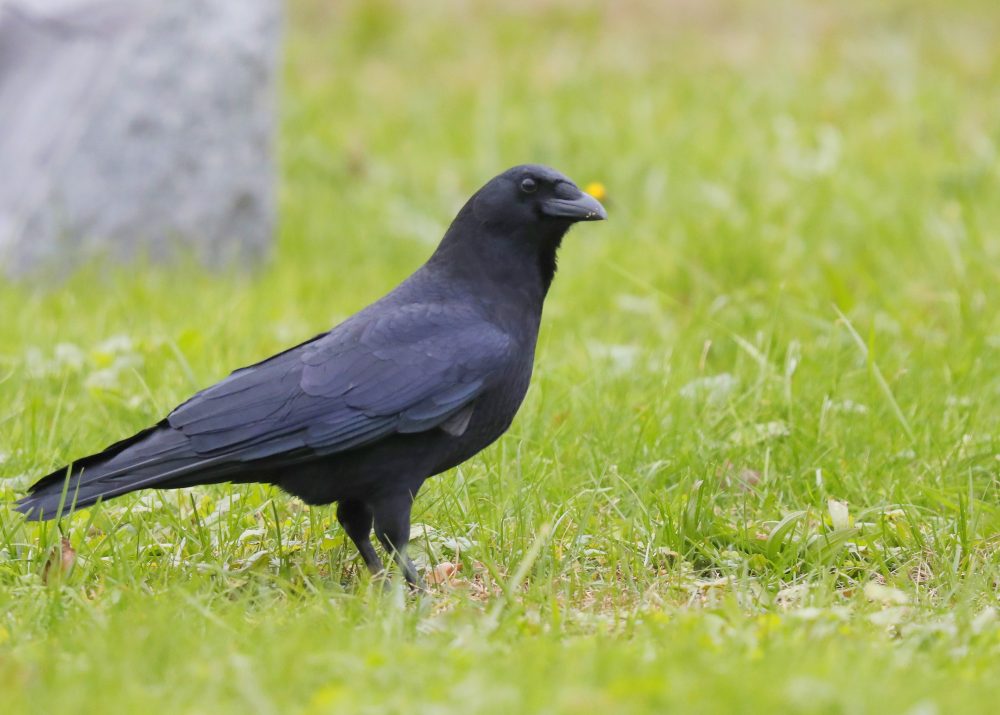 Here is one of the many Crows seen while foraging on the ground. The Crows were also on the Roche Farm property next door.  The Roche Farmstand (located at 600 Waverly Road in North Andover), is North Andover's Seasonal Farmstand. In the Spring, Fall and Winter, Roche Farmstand opens its doors and invites customers to visit a mystical little village and a unique gift shop while they browse through beautiful seasonal items on the outside grounds.  The staff indicated that the crows are seen on a regular basis, in the late afternoon, this time of year!
This location is just under two miles from the overnight roost location.  While looking at Google maps, it is easy to see that this is one of a just a few green open areas within a two mile radius of the nightly roost.  It may be helpful to check this location to see how ofter it is used and in what numbers.  Also, should the location of the final nightly roost begin to shift, as it did last winter, will this staging location continue?  Stay tuned!