This short video shows a left to right panning view of the overnight roost taken from the Duck Bridge!
Conditions: clear skies at dawn, calm, 55F: sunrise time 5:57AM
Observations: made from the west side of the Duck Bridge during nautical/civil twilight for just under 60 minutes. Upon arrival the Crows were tightly packed, on the outer tree limbs, along the Merrimack River on the north side of the New Balance building, and very close to the Duck Bridge. The early morning vocalizations were loud and continuous during the observation period. Mostly Fish Crows with smaller mix of American Crows. The image below was taken with an infrared camera almost 45 minutes before sunrise.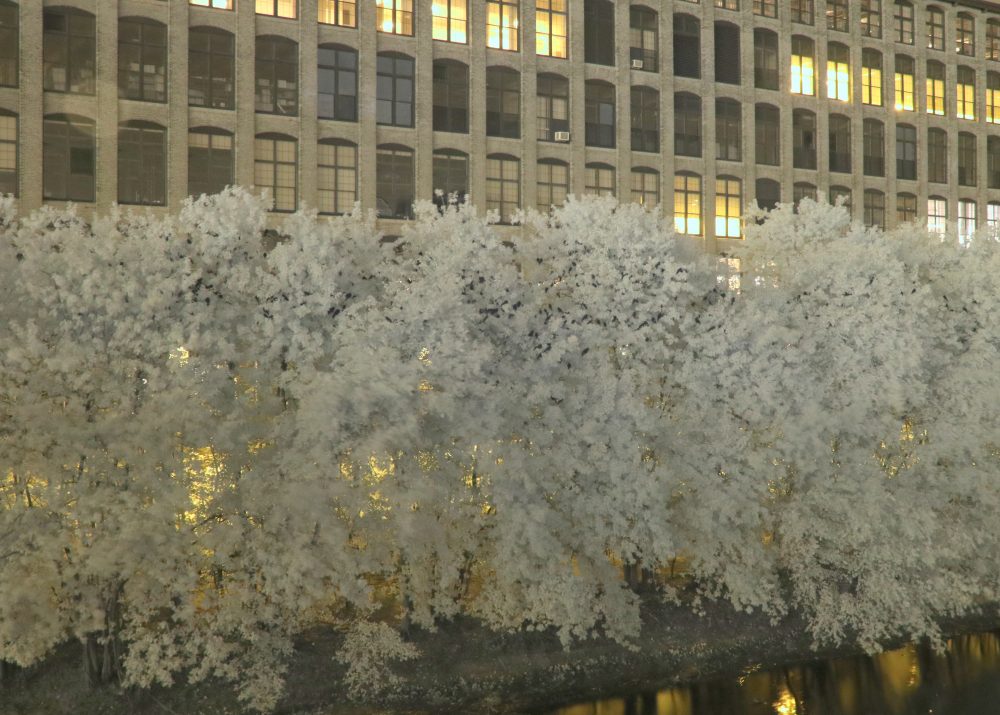 The Crows started to disperse in small numbers just under 45 minutes before sunset and then in a very large grouping of 200+ about 20 minutes before sunrise time.  The image below, taken about 37 minutes before sunrise time, with night vision gear, shows the Crows perched and huddled close together in the roost, with loud vocalizations, prior to departure. The white eye reflections show the bounce back from the infrared illuminator.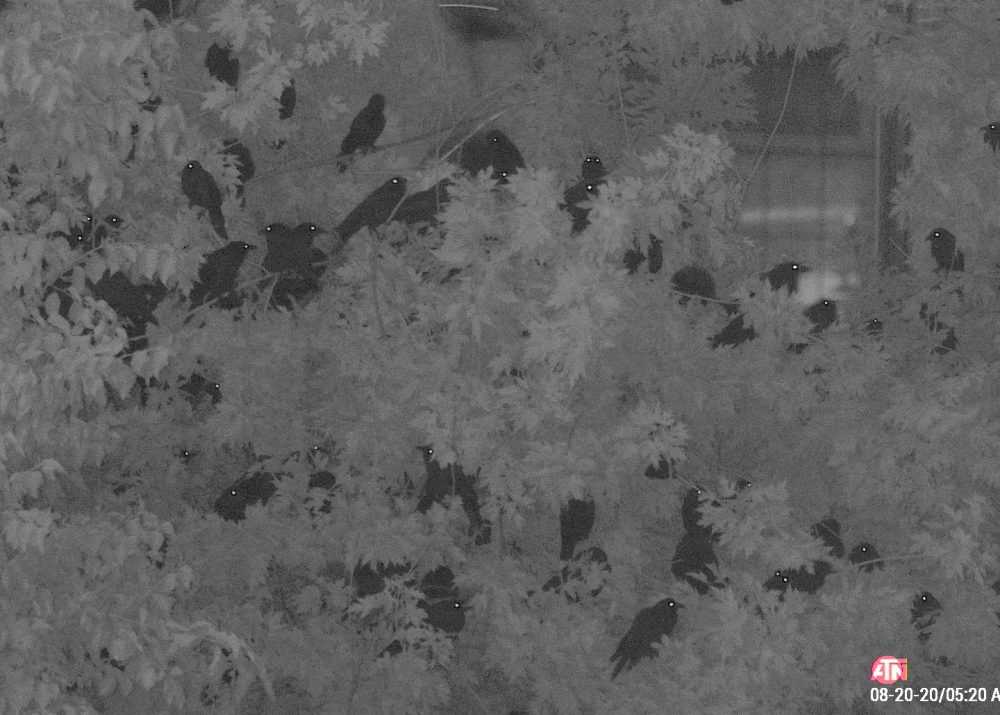 It is amazing and mesmerizing to watch and listen during the morning dispersal.  As we move into the 30 minute time period prior to sunrise, the natural light becomes more pronounced, and the camera gear can be adjusted to capture clearer and sharper photos.  This image below, taken with a regular Canon 80D camera, shows a look at the roost from the Duck Bridge with the Crows still in the roost trees. The contrast between the Crows and the trees, in the pre-dawn light makes it a challenge to separate the Crows!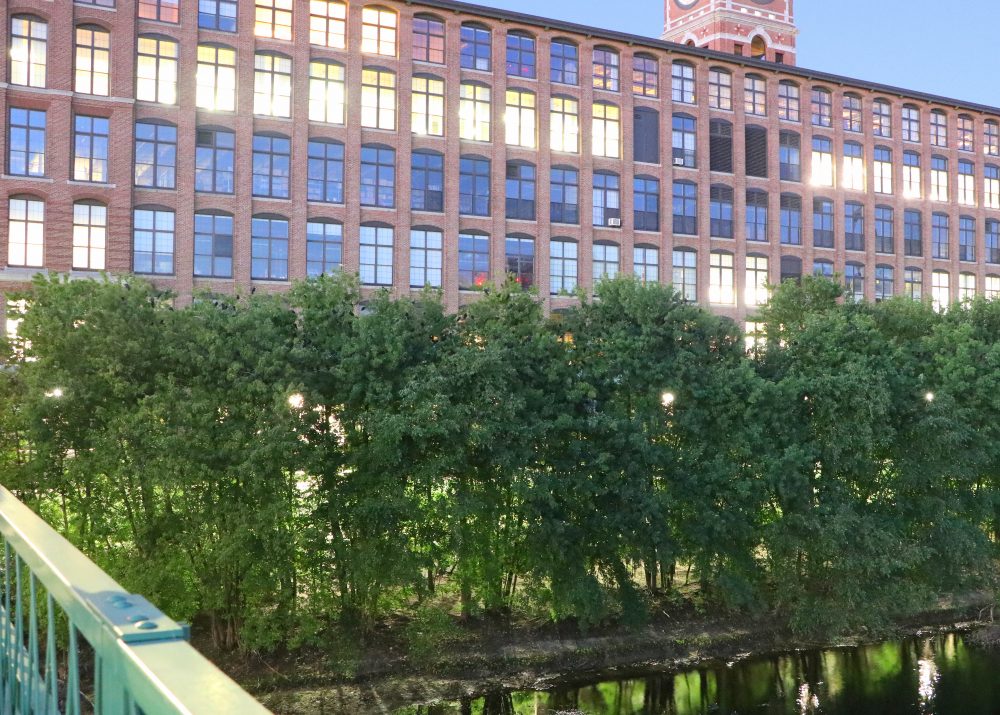 As the pre-dawn light becomes stronger, the Crows continue to vocalize loudly and depart in small and larger groupings. This image below, at about 23 minutes before sunrise time, with the infrared camera, again provides a sharper contrast between the perching Crows and the overnight roost trees.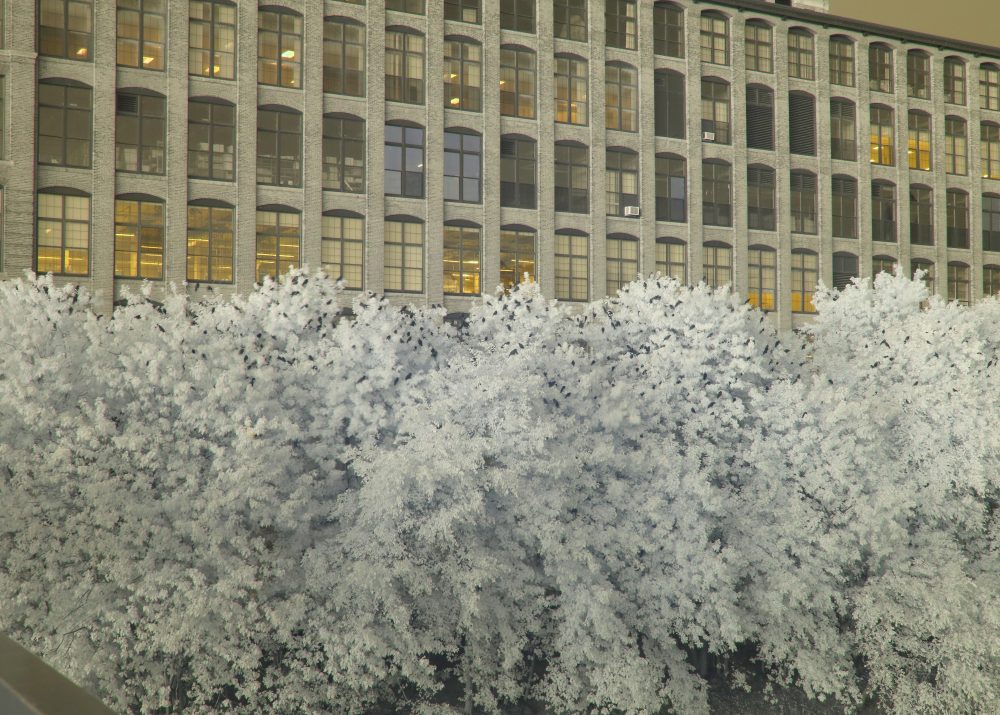 As we continue to utilize better gear with infrared and night vision capabilities, along with infrared illuminators, we're able to significantly expand our ability to document movements and behavior around the overnight roost. For the infrared photos, a tripod is a must as well as the right camera settings for proper exposure, sharpness, clarity, focus, and more.
Photo gear used for this outing:
Canon EOS 80D with Canon EF-S 18-135mm f/3.5-5.6 IS 
Canon EOS 80D with Canon EF-S 18-135mm f/3.5-5.6 IS (Infrared)
Canon 1DX MK II with Canon EF Telephoto Zoom 100-400mm f/4.5-5.6L IS II USM
ATN BinoX 4K 4-16x Day and Night Smart HD Binoculars with photo/video
Follow us on Instagram: wintercrowroost
Follow us on YouTube: birdsoftheair1
Blog post and photos by Craig Gibson, 2020 Crow Patrol, Lawrence, MA