Monday, July 20, 2020: clear skies, bright sun, wind SW 16MPH, gusts to 21MPH, temp 92F; sunset time 8:16PM
Observations: made from South Canal Street by the truck depot; mostly Fish Crows streaming in from south and west starting around 6:15PM in small numbers; This image below shows one of the Fish Crows in flight mode while approaching the staging area.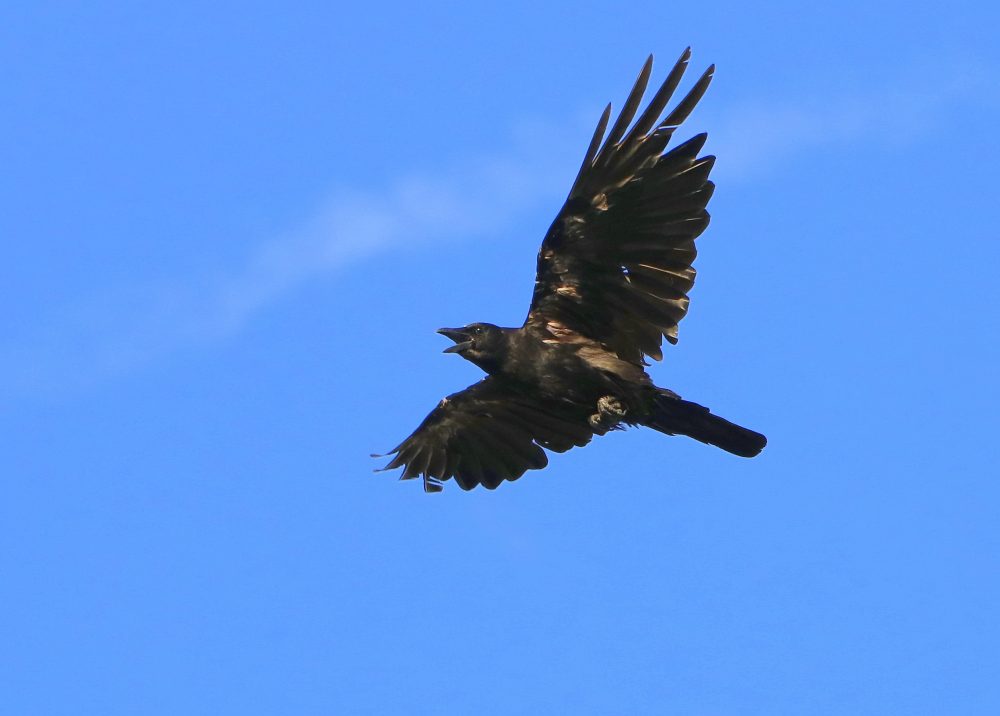 Most of the Fish Crows landed and perched in trees at the rear area of truck depot; this has been a very regular perch location during the staging process this summer; the Fish Crows and smaller numbers of American Crows were all vocalizing while streaming into staging area! This image below shows the Crows perching in the trees.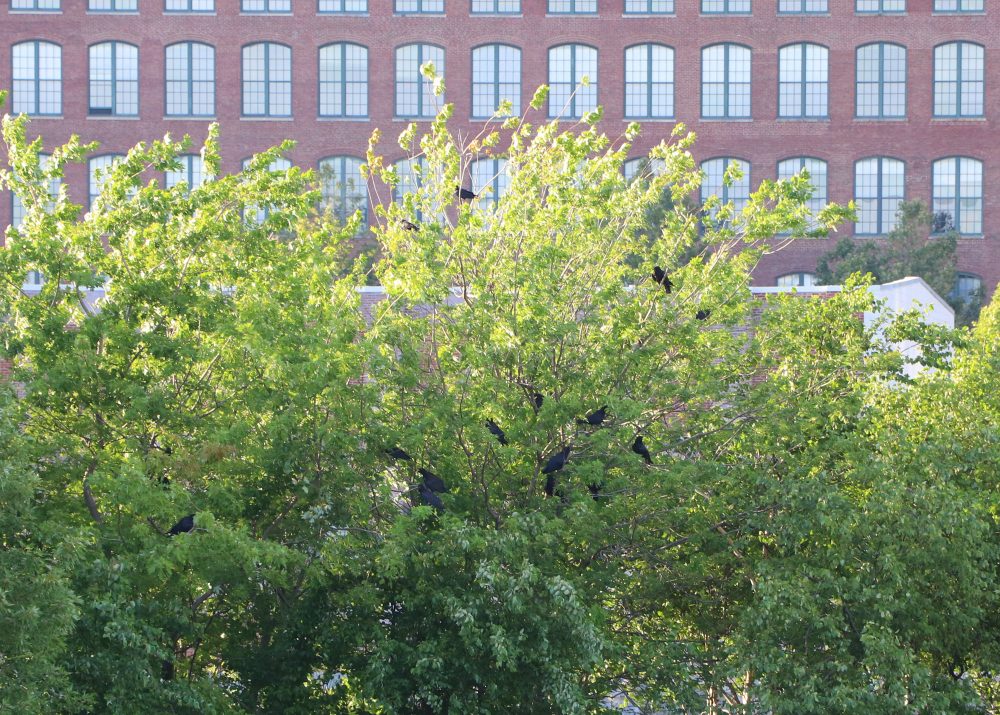 Tues. July 21, 2020: clear skies, wind W at 9MPH, temp at 85°F; sunset time 8:15PM
Observation details: initial vantage point along South Canal St. near truck depot with both American and Fish Crows streaming into staging area from west and south; lots of vocalizations both species; staging action mostly in trees along south side of Merrimack River at rear of truck depot. This image below shows the inbound flight action as the Crows arrived from the SE and crossed behind the NW corner of the extended New Balance building complex.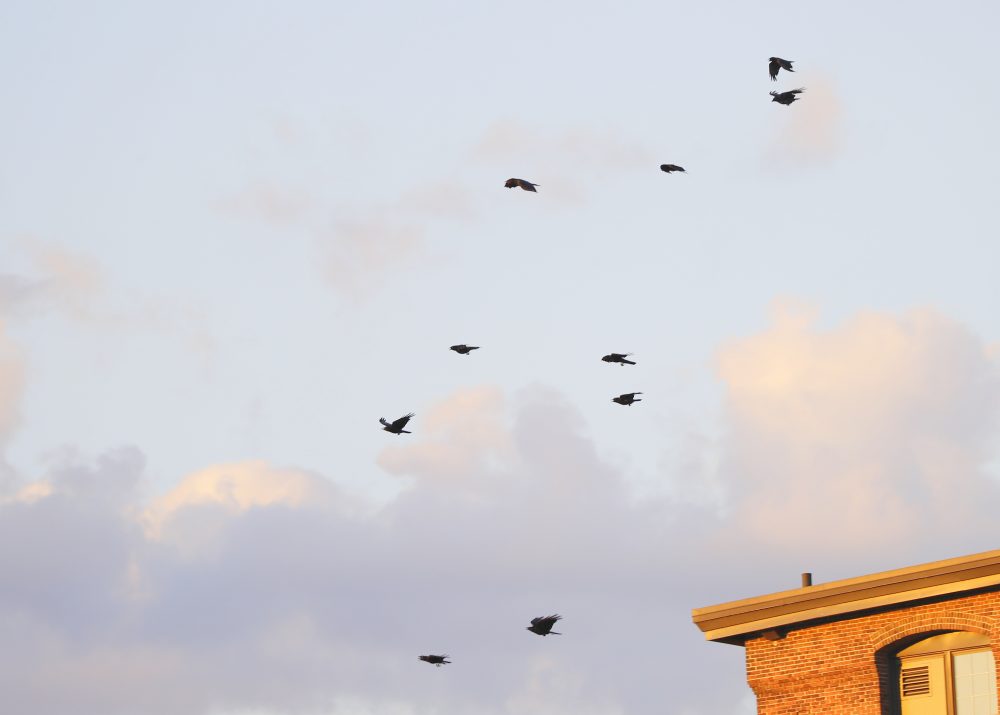 Just before 8PM, moved over the middle of Duck Bridge on west side; the Crows made group stealth flight movement to the overnight roost almost 15 minutes after sunset time, and settled down within 15 minutes after a bit of jostling into final locations; as always quite a sight! The image below, looking WSW from the Duck Bridge shows the movement into the final overnight roost area.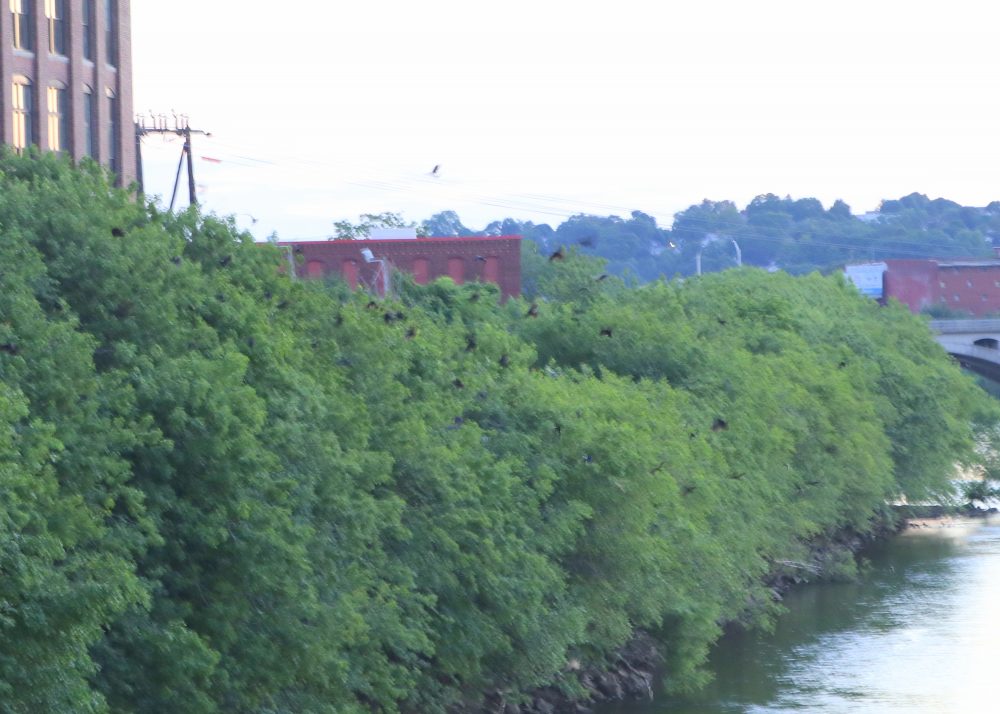 Photo gear used for this outing:
Canon EOS 80D with Canon EF-S 18-135mm f/3.5-5.6 IS   
Canon 1DX MK II with Canon EF Telephoto Zoom 100-400mm f/4.5-5.6L IS II USM
ATN BinoX 4K 4-16x Day and Night Smart HD Binoculars with photo/video
Follow us on Instagram: wintercrowroost
Follow us on YouTube: birdsoftheair1
Blog post and photos by Craig Gibson, 2020 Crow Patrol, Lawrence, MA