Sun. July 26, 2020: partly cloudy, wind SW 8MPH, 83F: sunset time 8:11PM
Observation details: initial vantage point along South Canal St. watching Crows streaming into regular nightly staging area; mostly Fish Crows streaming in from the west and north, in small groupings, descending in altitude and then swirling into a perch location while vocalizing along the way in; around 25 minutes before sunset time, Crows started leapfrog movements towards overnight roost area. The image below shows one of the interim perch locations, at the very rear of the National Grid substation, prior to landing in the overnight roost.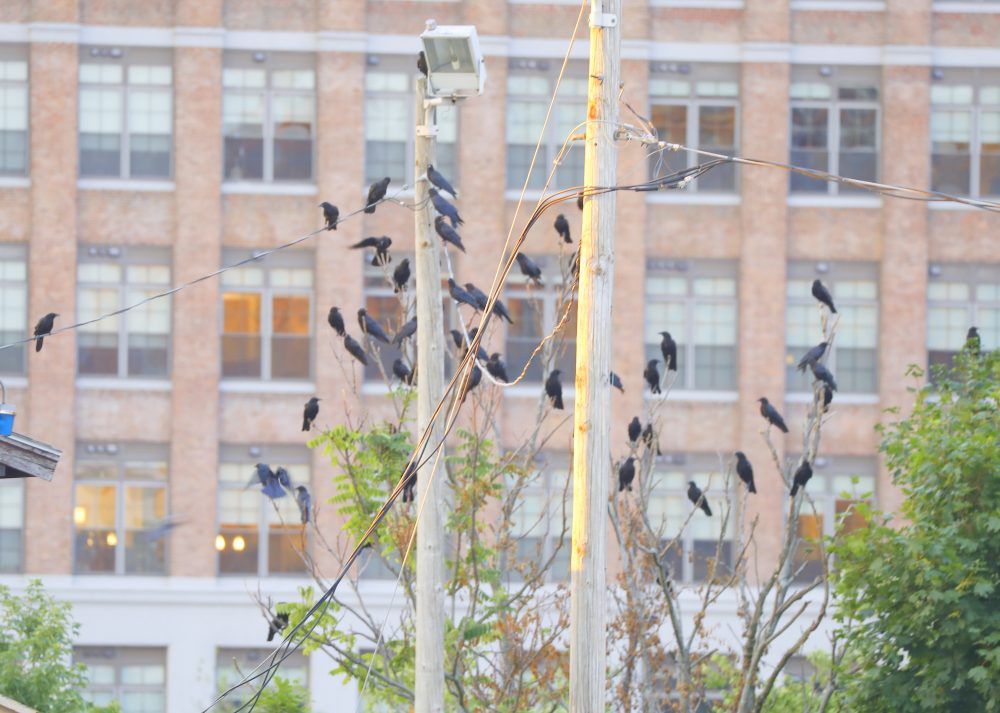 The Crows moved minutes later into the trees along the south side of the Merrimack River, on the north side of the New Balance building, located about 250 yards to the east of staging area. This image below, taken with night vision gear, provides a magnificent contrast between the black Crows and the fully leafed out trees. Upon landing the perch for a while on the outer edges of the trees and then tuck in below, and out of sight for the overnight.
Mon. July 27, 2020: clear skies, wind SW 10MPH, 90F: sunset time 8:09PM
Observations: started to view Crows from South Canal St. near the truck depot as they came streaming in from the S & W in small numbers and with active vocalizations upon arrival; largest grouping was 21 at one time; again it was mostly Fish Crows coming into the staging area among trees along south side of Merrimack River and at rear of truck depot. The image below was captured from the north side of the Merrimack river looking south, from the Mill240 Park.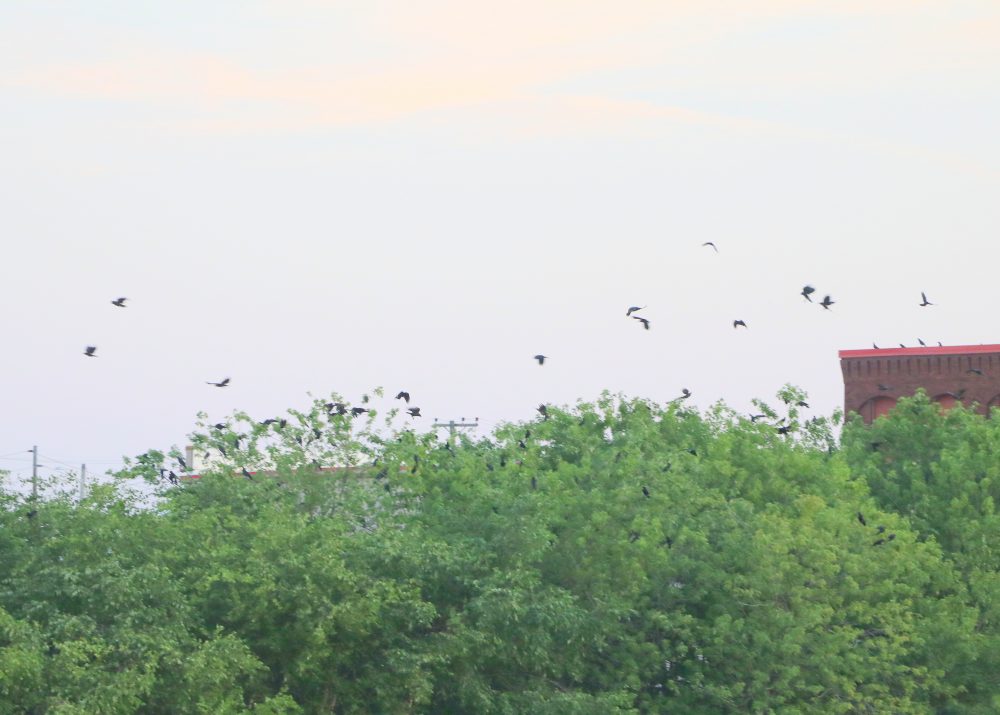 Minutes after sunset time, the Crows began the flight movement towards the overnight roost located in trees on north side of New Balance building about 250 yards away; they were vocalizing while in flight, and flew into the roost just above the treetops; another wonderful spectacle! The image below from the north side of the river looking south shows the movement towards the overnight roost!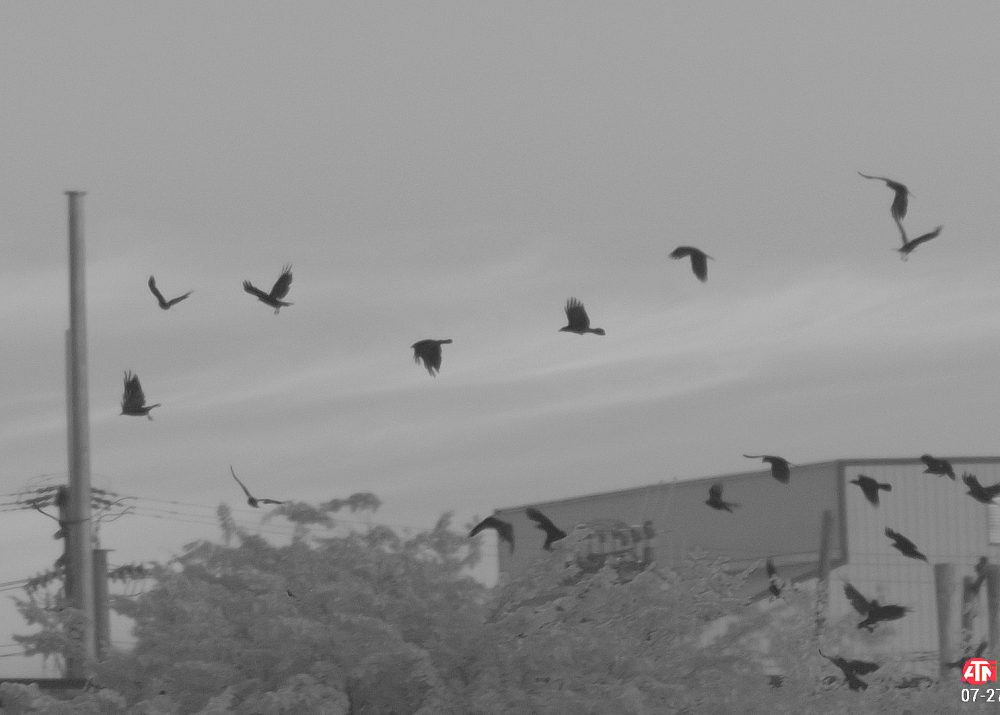 Wed. July 29, 2020: clear skies, wind Sw at 6MPH, 84F; sunset time 8:07PM
Details: initial observations from South Canal St. next to the truck depot as Fish Crows came streaming in mostly from the west and south in small groupings and with active vocalizations;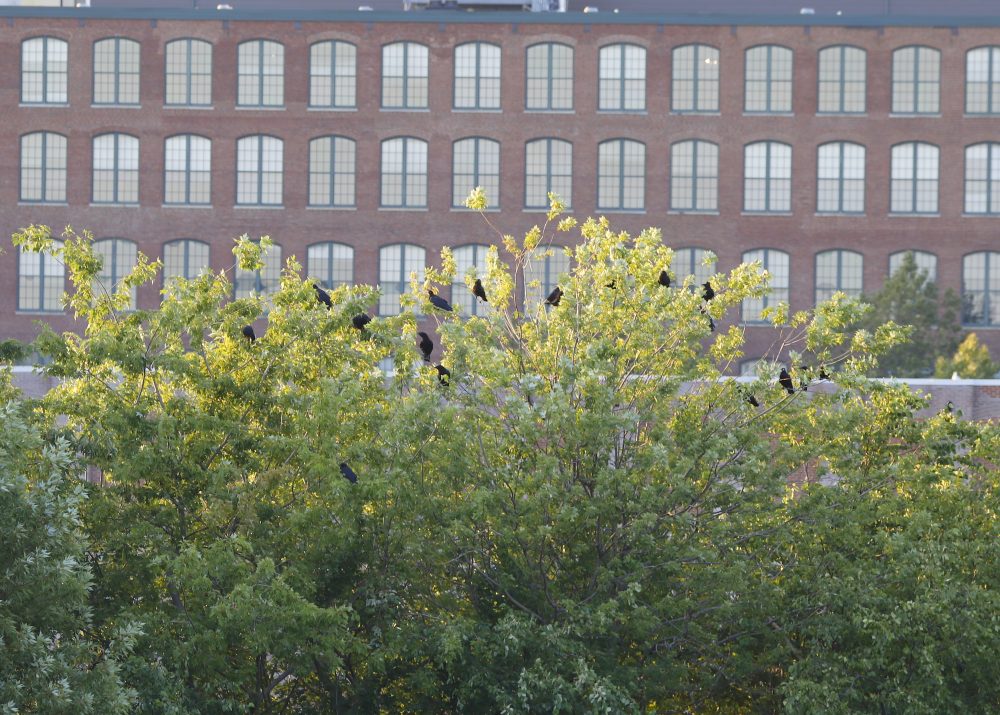 While streaming in and descending, they tend to lower their legs and then go into a tight twisting flight spiral just before landing in nearby trees; more than 200 Fish Crows assembled prior to making flight to final overnight roost to the east! Moved to north side of Merrimack River to observe movement to roost.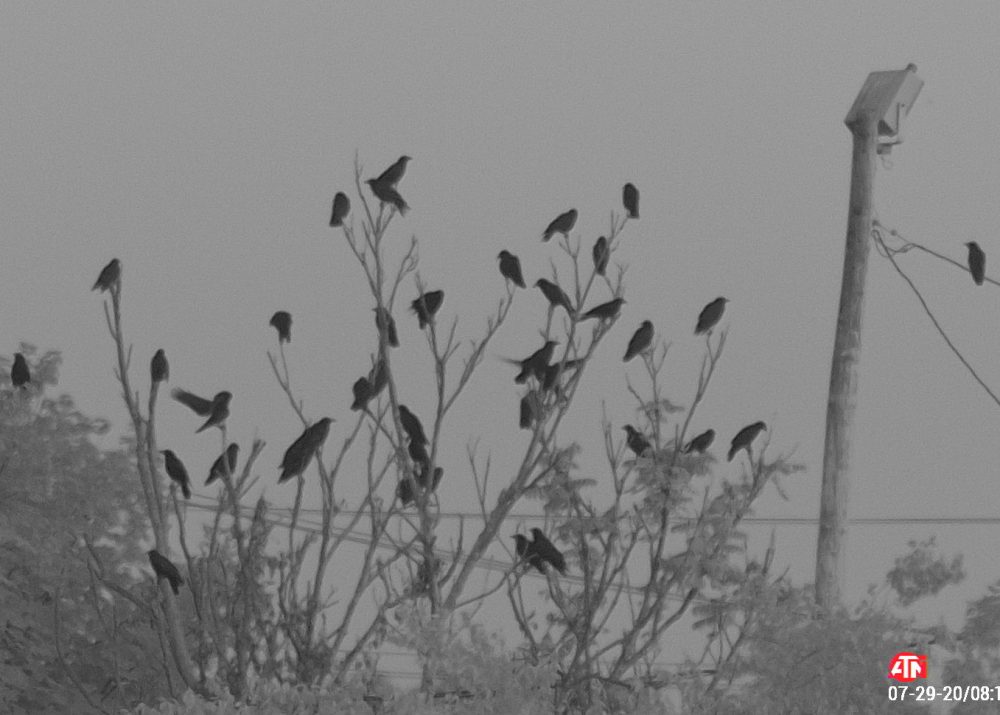 Photo gear used for this outing:
Canon EOS 80D with Canon EF-S 18-135mm f/3.5-5.6 IS   
Canon 1DX MK II with Canon EF Telephoto Zoom 100-400mm f/4.5-5.6L IS II USM
ATN BinoX 4K 4-16x Day and Night Smart HD Binoculars with photo/video
Follow us on Instagram: wintercrowroost
Follow us on YouTube: birdsoftheair1
Blog post and photos by Craig Gibson, 2020 Crow Patrol, Lawrence, MA