This time lapse video shows mostly Fish Crows as well as American Crows mulling around on the ground early evening prior to moving in flight to the overnight communal roost about 250 yards away!
Conditions: partly sunny, wind WSW 6MPH, 91F; sunset time 7:52PM
Observed a mix of mostly Fish Crows along with a smaller grouping of American Crows streaming into the regular overnight staging area along South Canal Street. The streaming Crows arrived in groups ranging from 2-3 at a time up to over 30.  The vast majority came streaming in from the SW, S, and SE directions and then a few from both upriver and downriver directions. They would vocalize quiet a bit a while preparing to land in the trees or on the ground. This image shows one Crow in full flaps up motion while vocalizing to announce its arrival!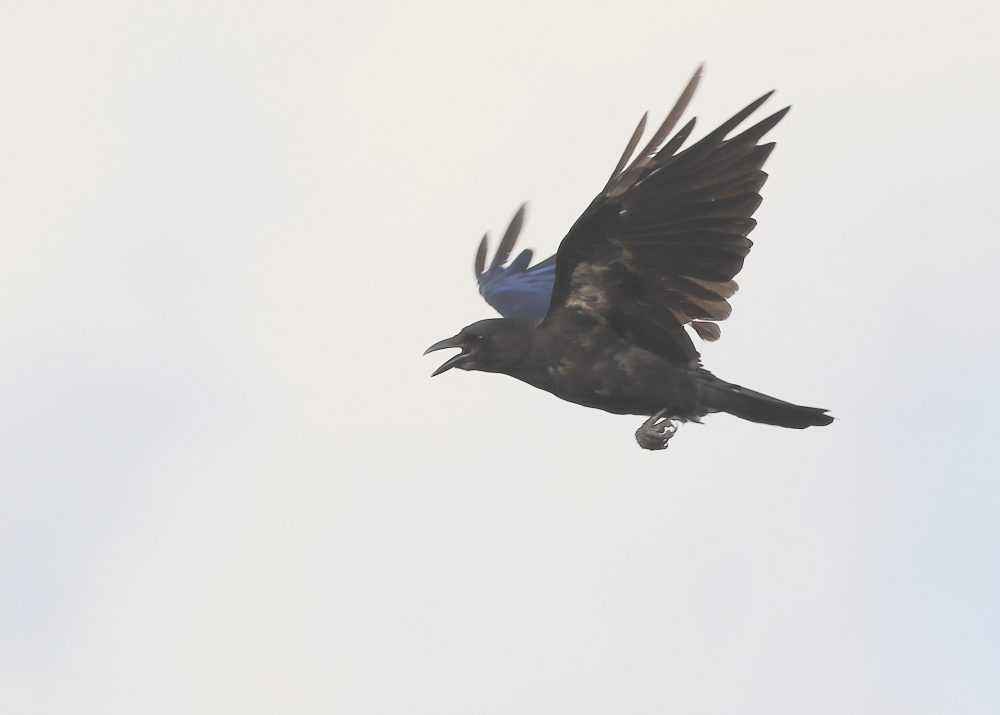 While scanning the skies to the south, the Crows kept coming in, but on an intermittent basis. They would first appear as small dots, in the distance, above the cityscape tree tops. They tended to fly in loosely connected groupings that remained together until close to touchdown in the general staging area. They also maintain a fairly constant heading until touchdown. Here is an image of one group making its way to the staging area, with utility lines in foreground.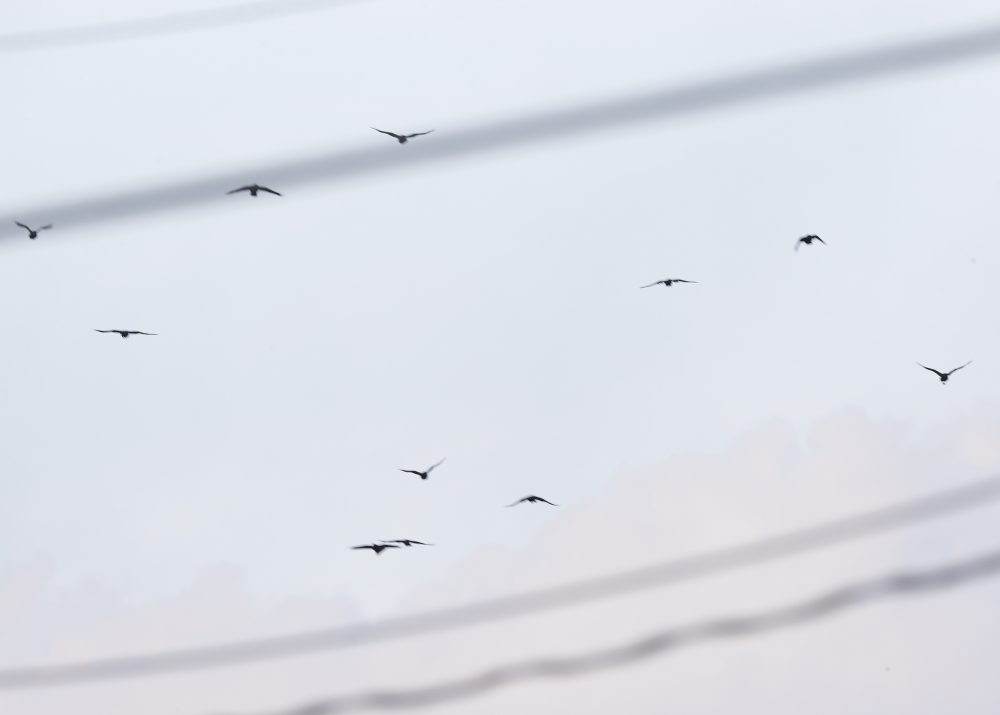 Upon arrival, many of the Crows usually swirl in their final approach, and then elect a landing spot on one of the tree tops in the trees along the Merrimack River, on the south side of the truck depot area. The Crows cluster together but allow for some measured degree of social distancing in the process.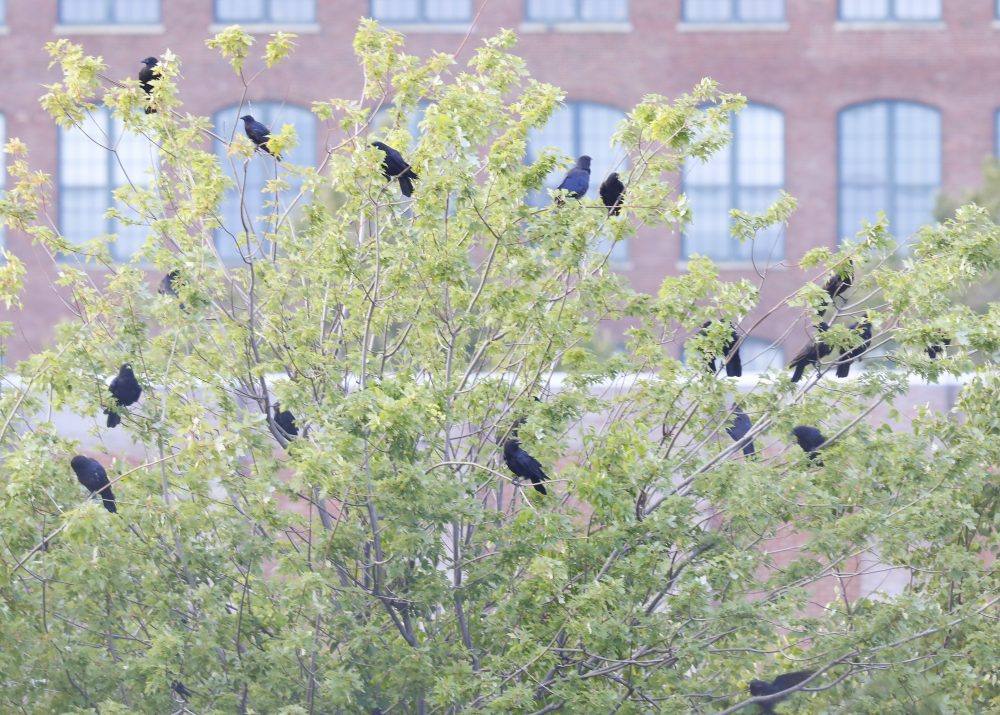 With a number of cameras laid out on the ground near the staging area, there was a need to approach the cameras and wrap up the recording session. While walking slowly towards the deployed gear, the full gathering of Crows rose up in flight over the Merrimack River with lots of vocalizing at the same time. This took place just minutes before sunset. This image below shows over 100 Fish Crows as part of the overall the sky burst!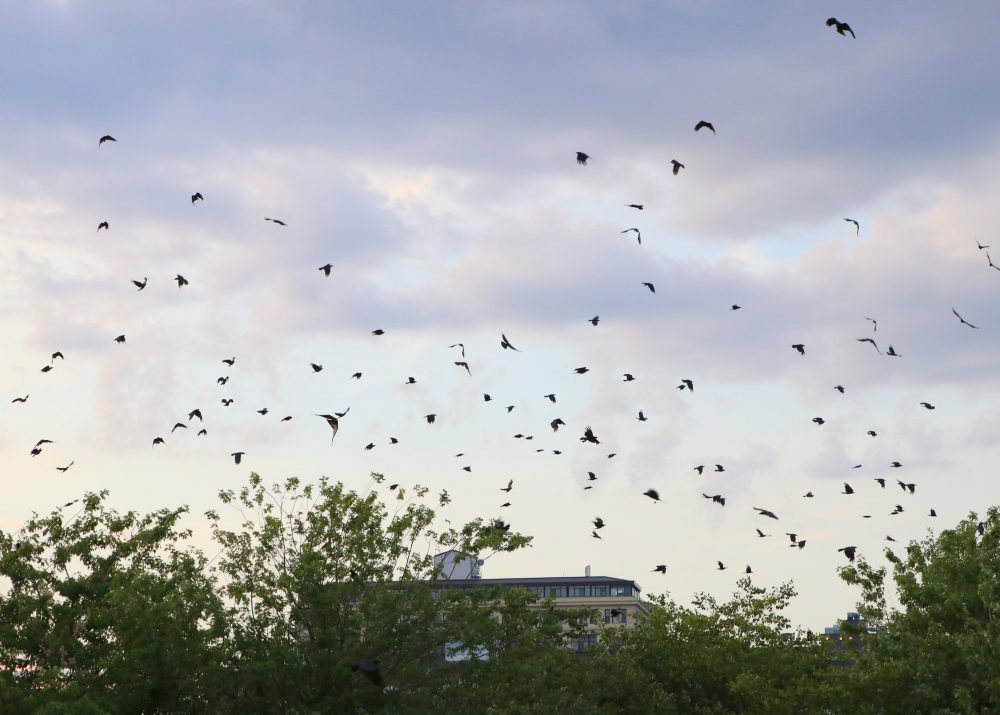 Photo gear used for this outing:
Canon EOS 80D with Canon EF-S 18-135mm f/3.5-5.6 IS   
Canon 1DX MK II with Canon EF Telephoto Zoom 100-400mm f/4.5-5.6L IS II USM
ATN BinoX 4K 4-16x Day and Night Smart HD Binoculars with photo/video
Follow us on Instagram: wintercrowroost
Follow us on YouTube: birdsoftheair1
Blog post and photos by Craig Gibson, 2020 Crow Patrol, Lawrence, MA