Observation details: start time 7PM, observed mostly Fish Crows, along with a few American Crows, with active vocalizations, for over 1.5 hours from three locations (South Canal Street area, Mill240 park, Duck Bridge) with sunset time at 8:25PM
Conditions: clear skies, wind E at 6MPH, temp at 75F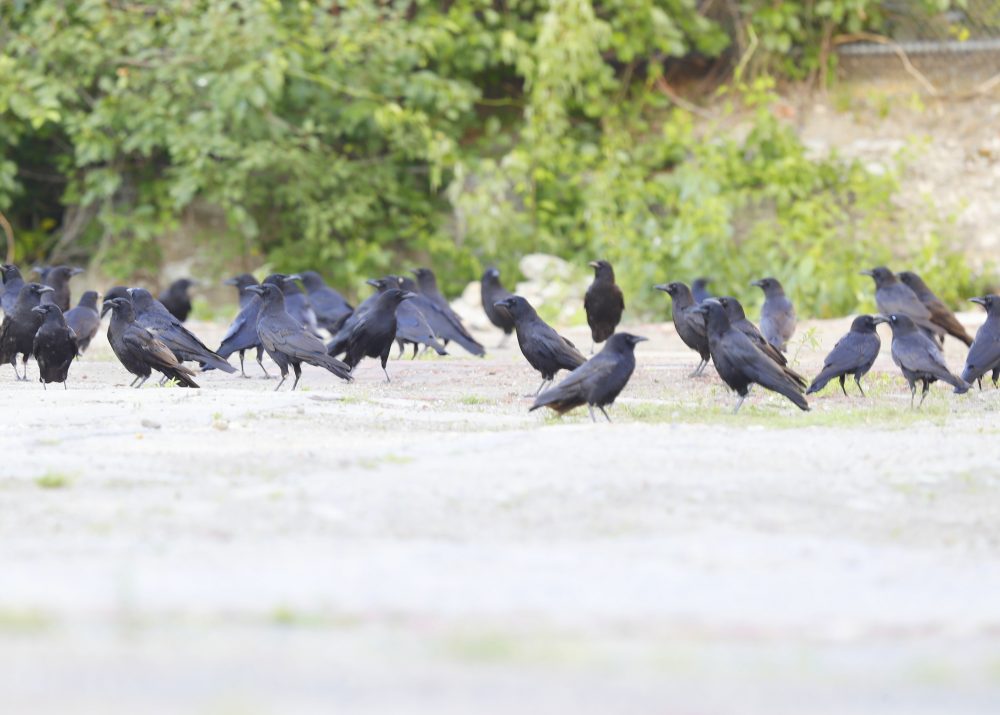 Again, initial observation area was from the truck depot along South Canal Street, west of the New Balance complex. Over 200 FICR's were observed in the general area. At the start, they were milling around on the ground, perched on utility poles and wires, as well as a number of trees on the south side of the Merrimack River, and nearby low level rooftops. They arrived in small numbers from all directions. A number of times, with no obvious reason, they raised their vocalization levels rose up in flight, and then settled back down.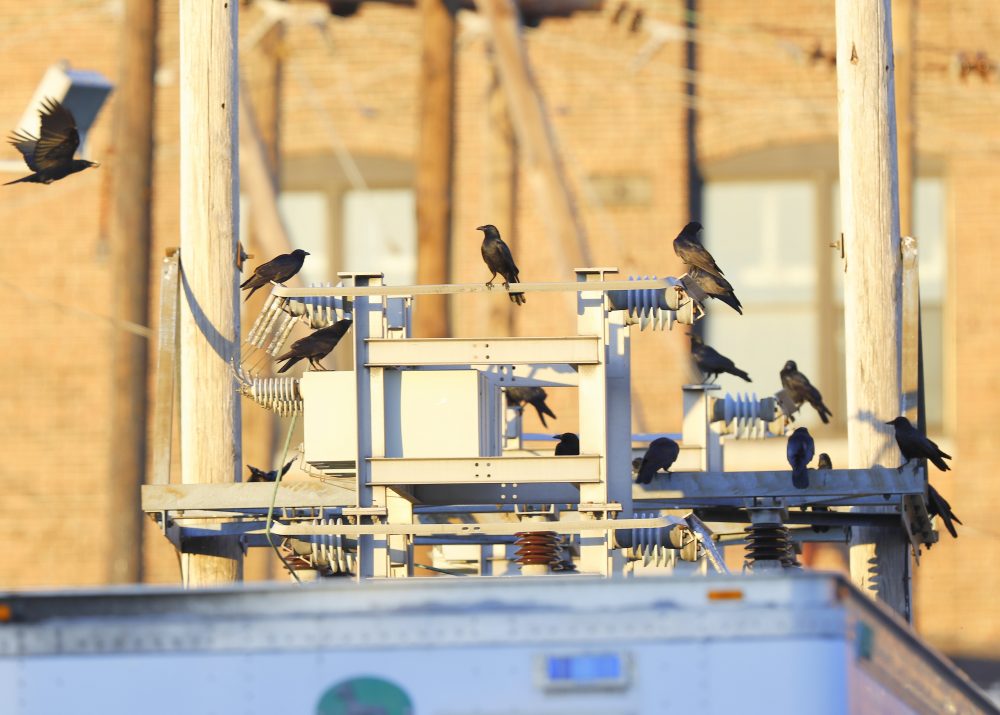 About ten minutes later, the FICR's started to assemble on one of the rooftop assemblies inside of the National Grid substation with lots of vocalizations!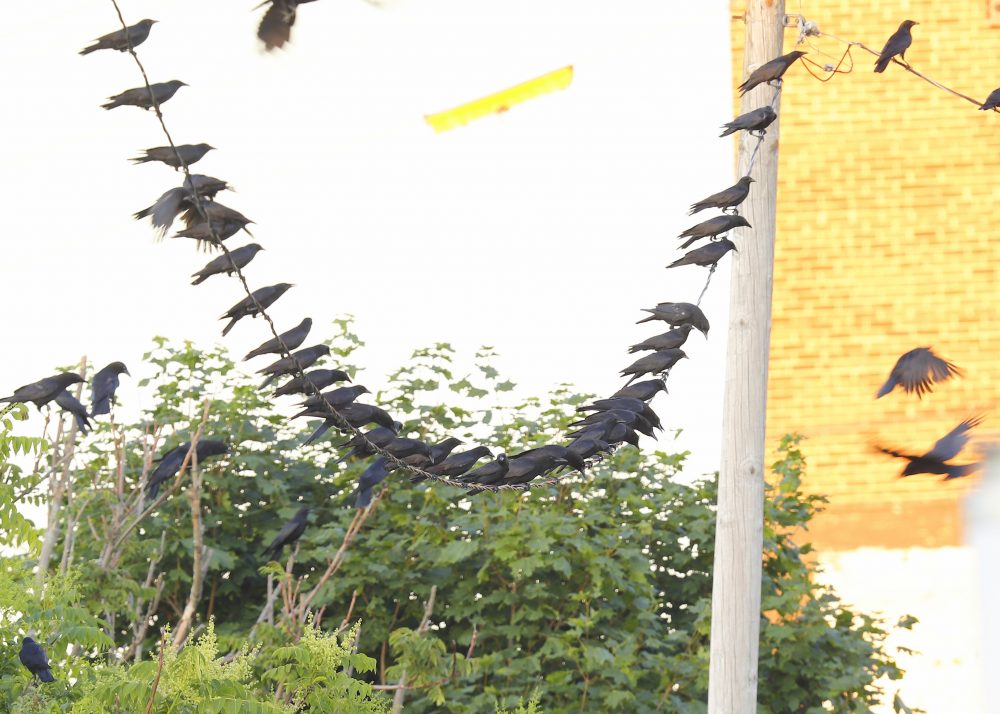 Around 8PM, and about 25 minutes before sunset, the Crows had some fun perching on this drooping utility wire. As usually happens, they perch in a uniformly way with somewhat equal spacing from each other at every location along the wire. This happens when large numbers perch on rooftop edges; always with equal spacing between each bird. The photo above looks like a garland of Crows!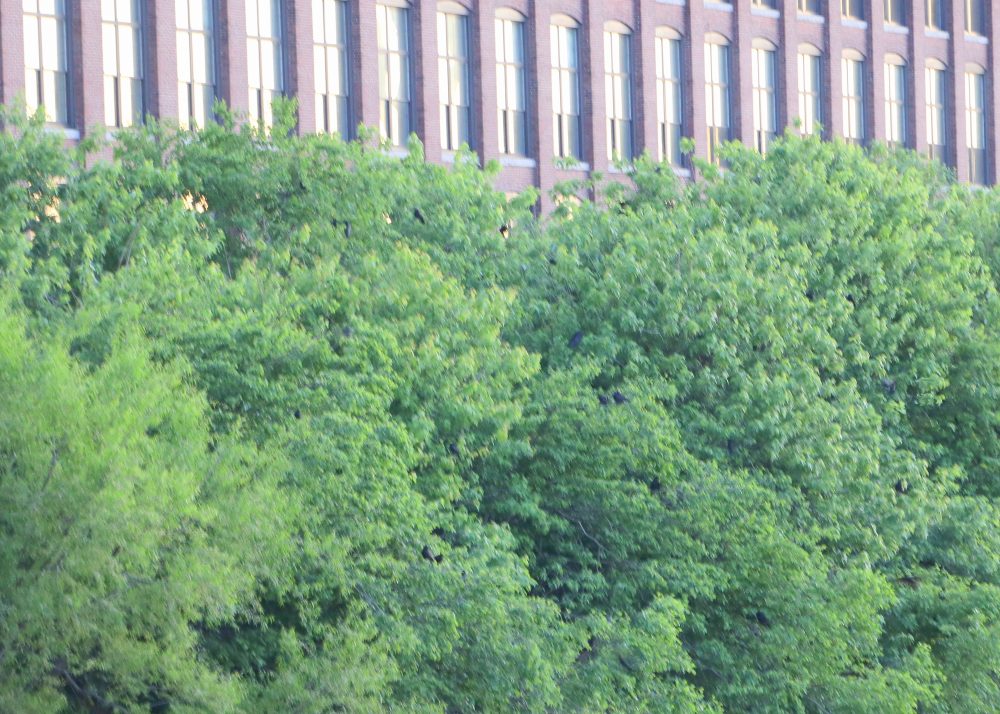 This final image above, taken about 10 minutes after sunset, shows a few of the Crows in the roost area.  They fly into the treetops, and perch for a while, before ducking under the outer canopy from the top of the crown and down the sides, with intermittent vocalizations.
Photo gear used for this outing:
Canon EOS 80D with Canon EF-S 18-135mm f/3.5-5.6 IS   
Canon 1DX MK II with Canon EF Telephoto Zoom 100-400mm f/4.5-5.6L IS II USM
ATN BinoX 4K 4-16x Day and Night Smart HD Binoculars with photo/video
Follow us on Instagram: wintercrowroost
Follow us on YouTube: birdsoftheair1
Blog post and photos by Craig Gibson, 2020 Crow Patrol, Lawrence, MA