Observation details: start time 7:50PM, and observed Fish Crows for about 25 minutes in two locations with sunset time at 8:22PM
Conditions: overcast skies, wind S at 7MPH, temp at 71F
Initial observation area was along South Canal Street, located just west of the New Balance complex. Over 200 FICR's were observed in the general area. They were milling around on the ground, perched on utility poles and wires, as well as a number of nearby rooftops. A n umber of times, they rose up in flight, and then settled back down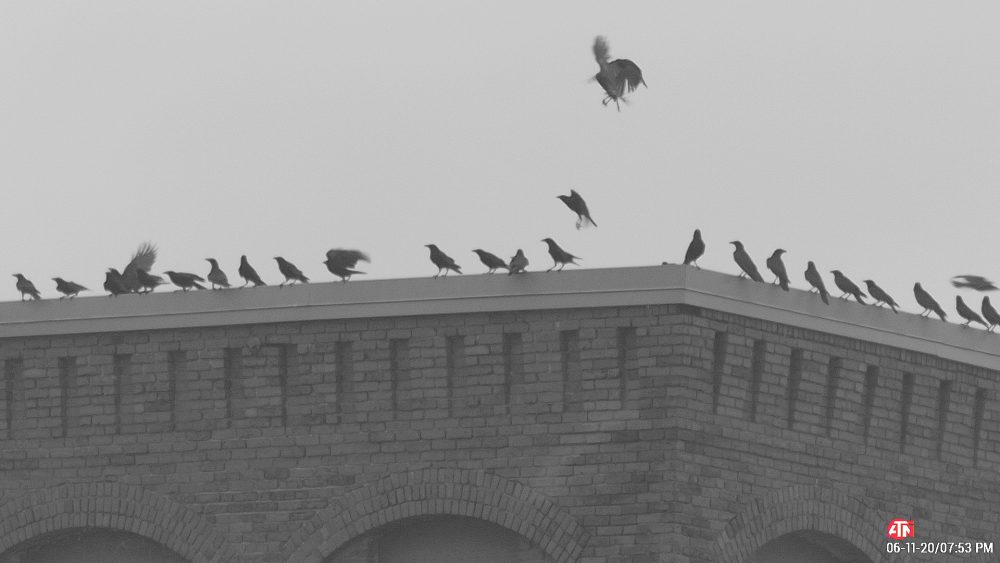 There seemed to be a lot of playful flight action among these young Fish Crows. They look to be one and two year olds, nonbreeding and certainly unattached to others. It makes me wonder what direct family connections might exist and how far they are from natal territories. Many of Crows landed and perched on the lower rooftop of National Grid building. This rooftop has been a popular perch and staging location for both American and Fish Crows during the winter months.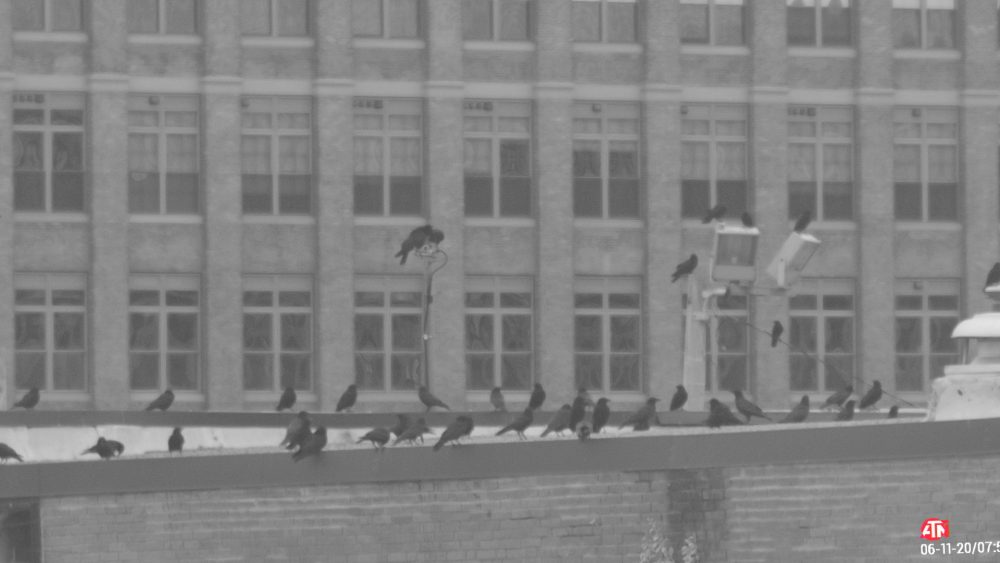 While scanning tree tops along the south side of the Merrimack River on the north side of the truck depot on South Canal Street. The brick building in background is part of the Washington Mills. Formerly a textile mill, Washington Mills Lofts is now a trendy apartment building taking advantage of the mill's tall ceiling heights and large windows. With exposed brick and timber framing, the apartments offer modern amenities with nods to the building's history.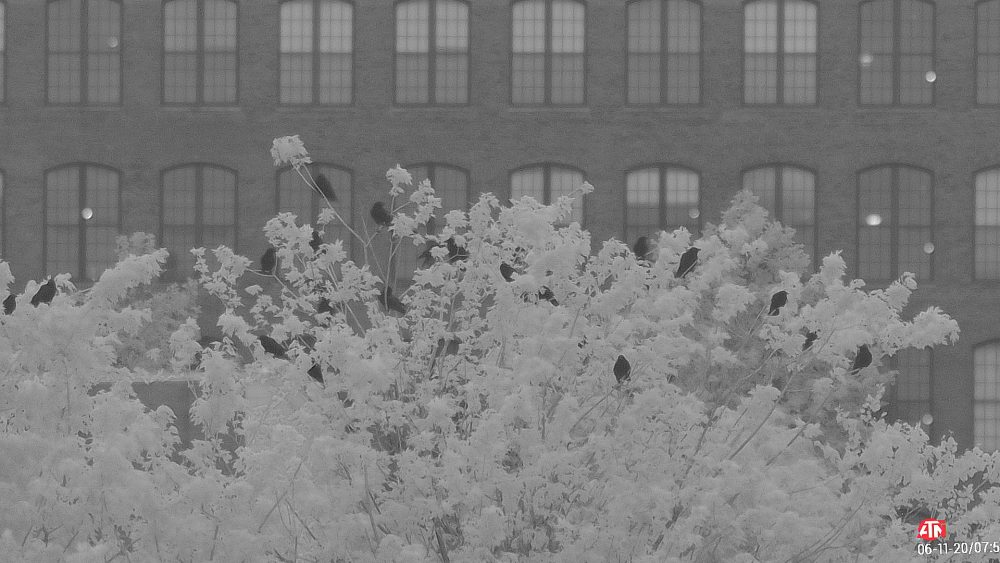 The Crows began liftoff and flight movement to the east, towards the overnight roost, just before 8PM with sunset time at 8:22PM. Over the next number of weeks, we'll be tracking this movement time from staging to final roost. We'll explore variables that might impact movement time, such as overall cloud cover and wind conditions. The photo below shows the Crows initially landing on the leafed out tree tops on the north side of the NB building. The NB building is about 200 yards in length from the Duck Bridge to the west end of the building. The Fish Crows were concentrated about in an area about 14o yards from the Duck Bridge. It is fascinating to observe them land and then move under the outer canopy and into safe cover for overnight.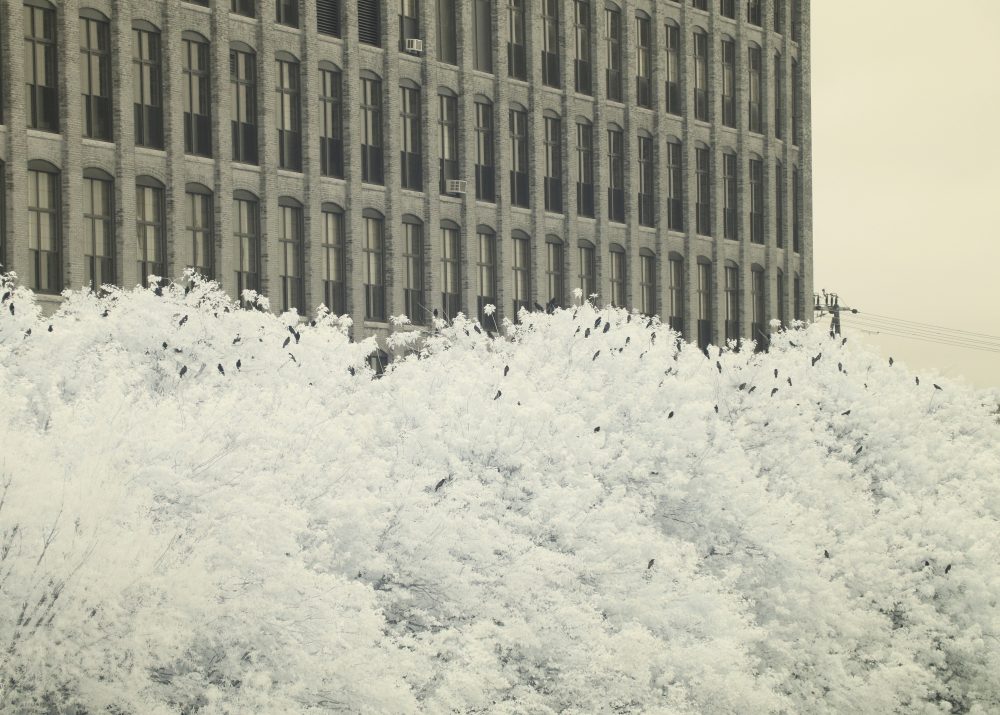 Photo gear used for this outing:
Canon EOS 80D with Canon EF-S 18-135mm f/3.5-5.6 IS   
Canon EOS 80D IR with Canon EF-S 18-135mm f/3.5-5.6 IS 
Canon 1DX MK II with Canon EF Telephoto Zoom 100-400mm f/4.5-5.6L IS II USM
ATN BinoX 4K 4-16x Day and Night Smart HD Binoculars with photo/video
Follow us on Instagram: wintercrowroost
Follow us on YouTube: birdsoftheair1
Blog post and photos by Craig Gibson, 2020 Crow Patrol, Lawrence, MA