Conditions: mostly sunny, winds W at 8MPH, 50F; sunset time 4:35PM
Hunt's Photo Walk: Crows of Lawrence
Hunt's Photo Walks are hands-on workshops that immerse students in different aspects of photography, both technically and aesthetically. There is no better way to learn photography than through a hands-on experience, and these walks provide participants with that opportunity. Their very experienced instructors also give guided help for skill levels from beginner to advanced. Hunt's is one of the country's largest retailers of photo, video and digital imaging products. Visit Hunt's 30,000 square foot flagship store at 100 Main Street, Melrose, or one of its satellite locations.
We had a very nice turnout with a full group of 15 attendees. The group met in the New Balance parking lot.  As co-leader for this walk, Ron Phillips provided introductions and an overview of the afternoon plans, and then we shared background on the Winter Crow Roost phenomenon in Lawrence. Paul Nelson was on the walk to provide high level technical expertise.  Later, we were joined by Crow Patrol leaders Bob Fox and Dana Duxbury-Fox, along with Wayne Petersen and Cheryl Eggert, as well as retired McGill University professor, Dr. David Bird from Canada. Dr. Bird is an expert on the use of drones for conservation biology.  Local drone photographer, Joe Turner and Karen joine dus as well. The Crows were initially seen in light numbers and the streaming and staging patterns were quite different compared to recent observations. The Crows arrived into proximate staging area much later. Here's a view of Crows in flight from the Duck Bridge while looking west close to sunset.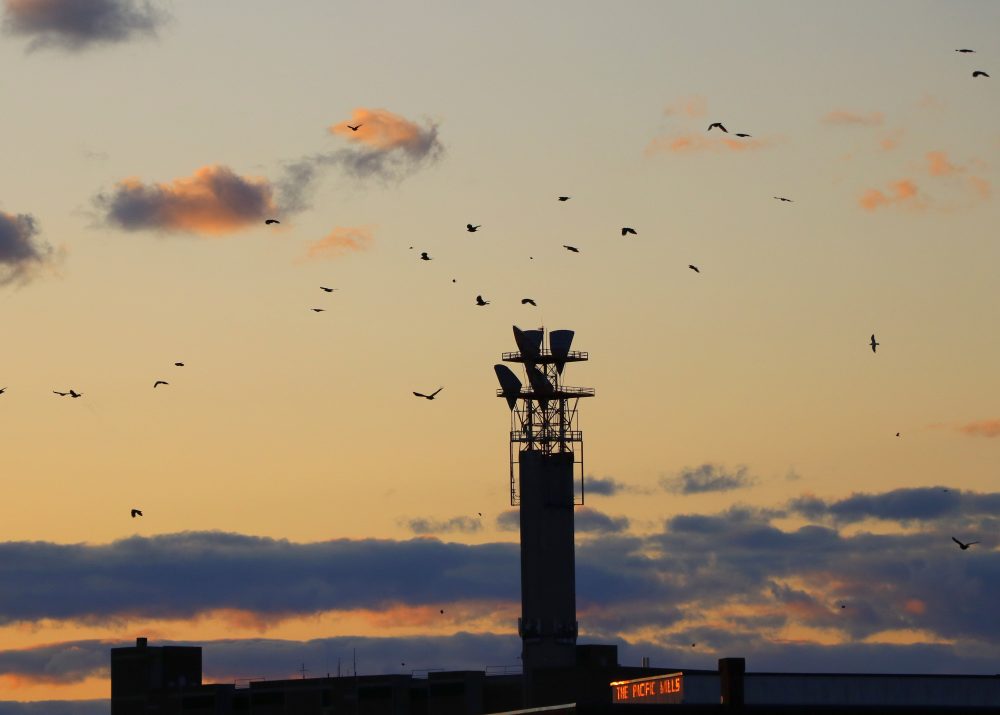 The nearby regular locations, i.e., behind 280 Merrimack St, and around the Ferrous Site did not have staging Crows until about 20 minutes after sunset. While looking downriver, and to the east, we observed a large group of Crows gathering in the trees on the south side of the Merrimack River, around the NXStage building, and on the other side of the river.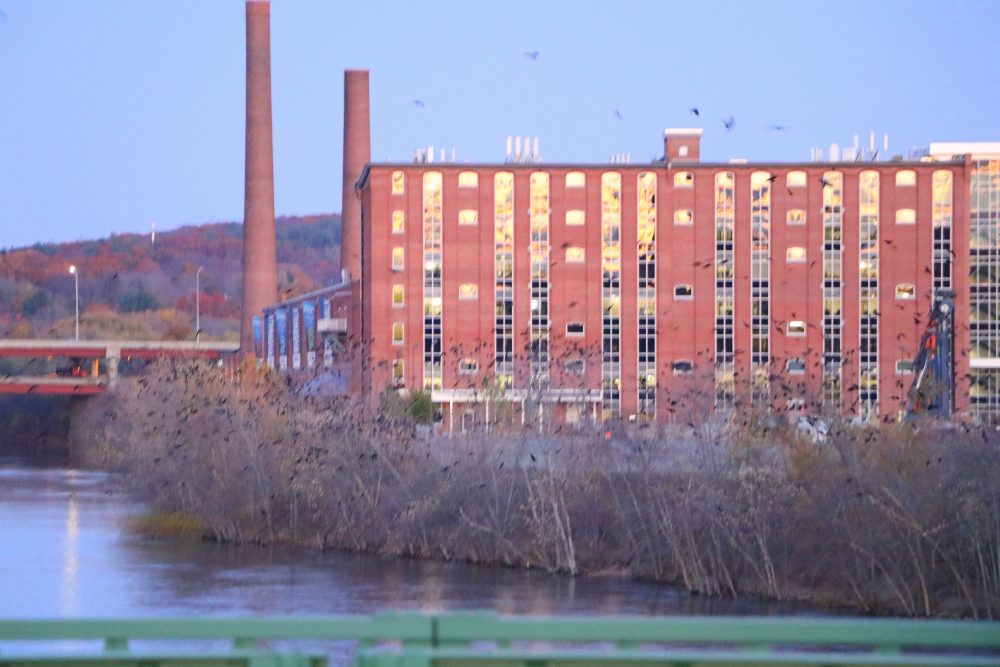 The Crows started to stream into the final roost much later, between 30-60 minutes after sunset, and the final roost shifted a bit to the west. The final roost was located in trees behind the National Grid substation, the truck depot, and CubeSmart, all on South Canal Street. Here is an image of the Crows ready to stream over the Duck Bridge.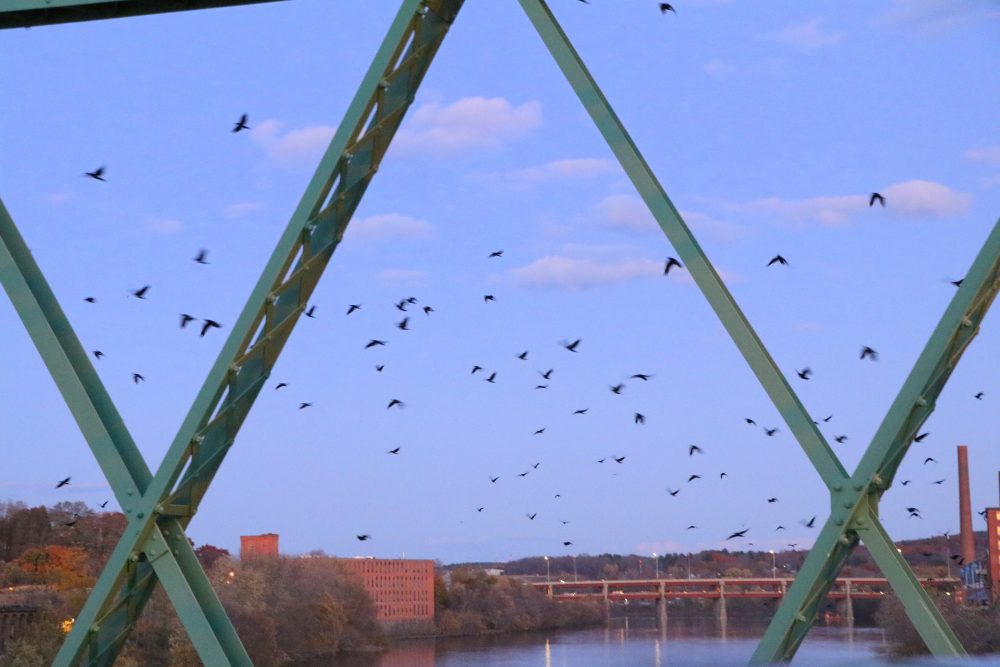 The Hunt's Photo Walk was a big success with oversized thanks to Ron Phillips and Paul Nelson from Hunt's Photo.  Ron is one the most experienced leaders and always provides excellent tips on how to capture dazzling images, especially long exposure captures, under challenging lighting conditions.  Paul Nelson oversees the education outreach and arranges some of the most exciting photo walks in New England and in other countries!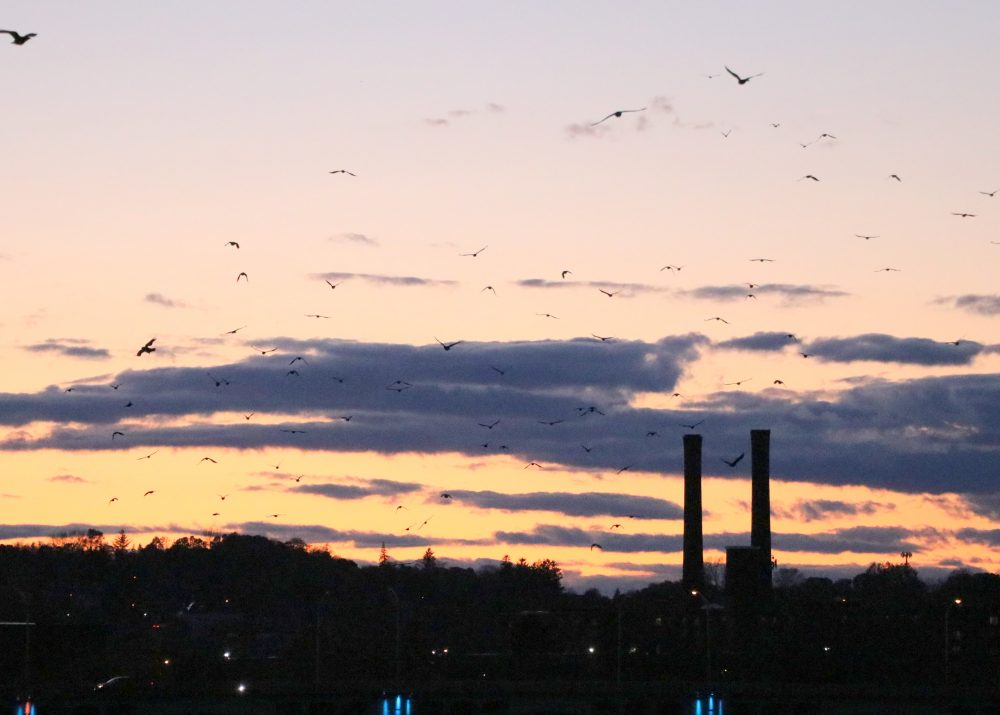 Welcome Back Crows – Sunday Nov. 17 starting at 2:30PM at Spicket River Brewery!
List of photo equipment used for this outing:
Canon EOS 80D; Lens: EF-S 18-135mm f/3.5-5.6 IS     
Blog post and photos by Craig Gibson, 2019 Crow Patrol, Lawrence, MA