Nov. 13, 2022 under overcast skies, wind W at 13MPH, with gusts up to 18MPH, temp 49F; sunset time 4:23PM
Back on Crow Patrol after a week away only to find the Crows had moved the overnight roost location to one of last year's favorite locations, along Marston St., near the intersection of Prospect St and Marston Medical Center. It is always fascinating to observe the incoming flight streams, often times from a mix of directional headings. This image shows a steady incoming flight stream in from the NW direction at 14 minutes after sunset time.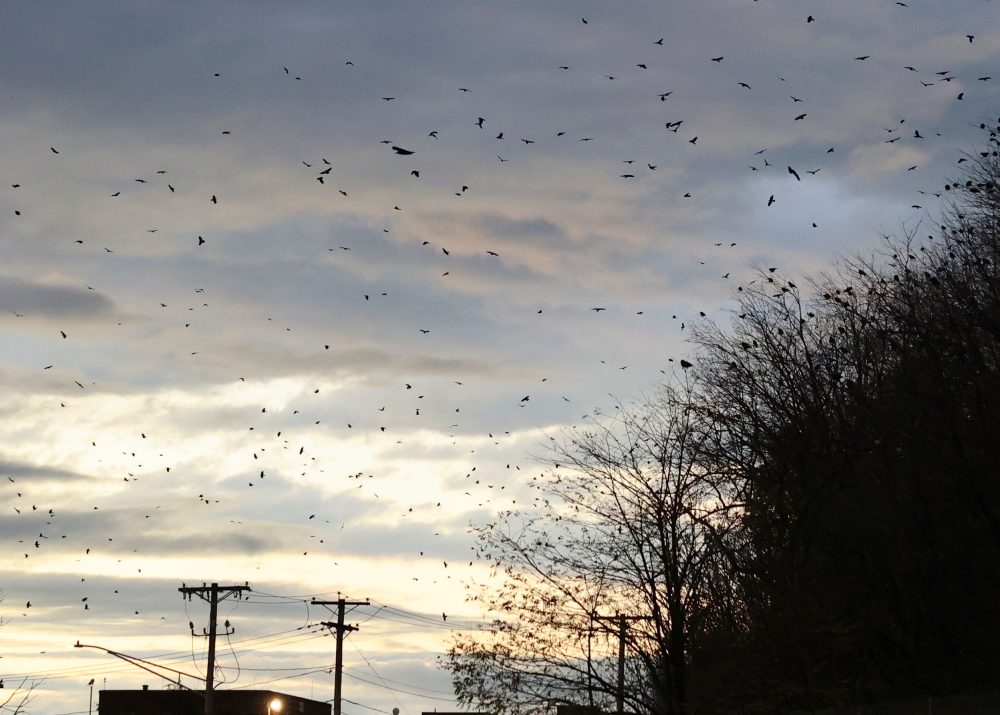 The numbers have grown substantially this past week and tonight the Crows filled the trees in the upper section of the hillside area with just an outline of the white water tower in the background. This area appears to be attractive with abundant ambient lighting from the streets below. This section of the hillside covers just over 3 acres. This image was captured almost 30 minutes after sunset time.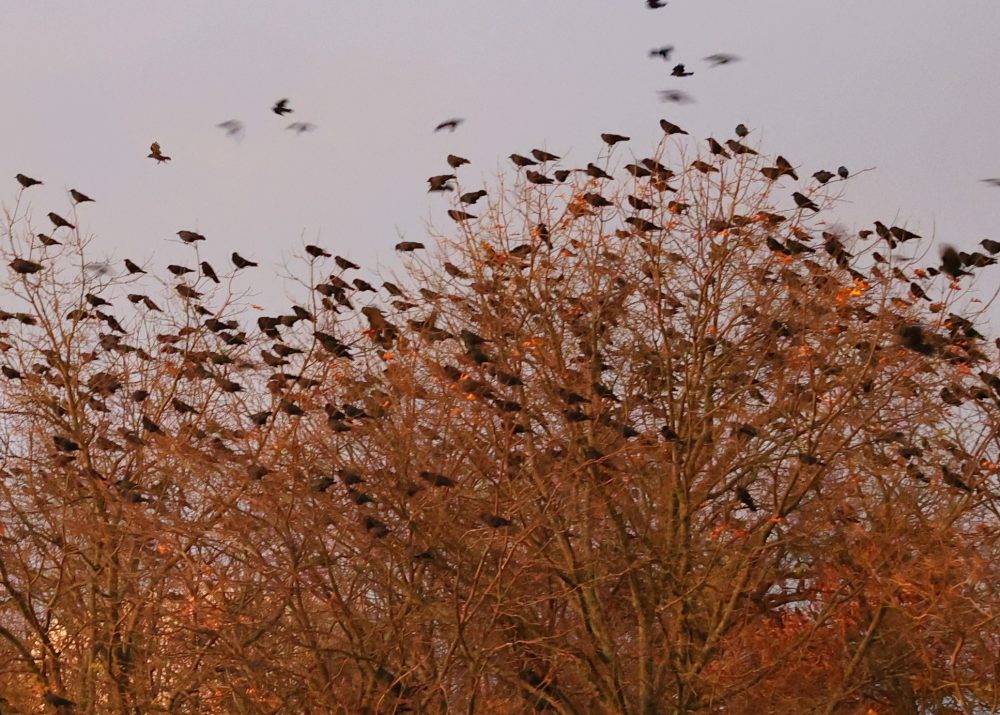 As the Crows arrive in the general roost area, they frequently loiter in small and larger groupings in the nearby area. These groupings may be on the ground, in trees, and on rooftops. Almost always these groupings will break up and consolidate in the overnight roost trees. This image shows an assembly of Crows on a nearby low roof at One Marston Street. The background sunset colors are beautiful and shows the skyline at 41 minutes after sunset time. The vocalizing was very active and continued for at least an hour after sunset time.
While scanning the treetops before leaving Marston Street, had a chance to notice some flight activity farther up the hillside. Made a quick ride up to High Street and the area around the Geisler Memorial Pool complex, and observed lots of Crow activity on the ground, rooftops, and in the trees surrounding the entire pool complex. The image below was captured almost two hours after sunset time. Another amazing night!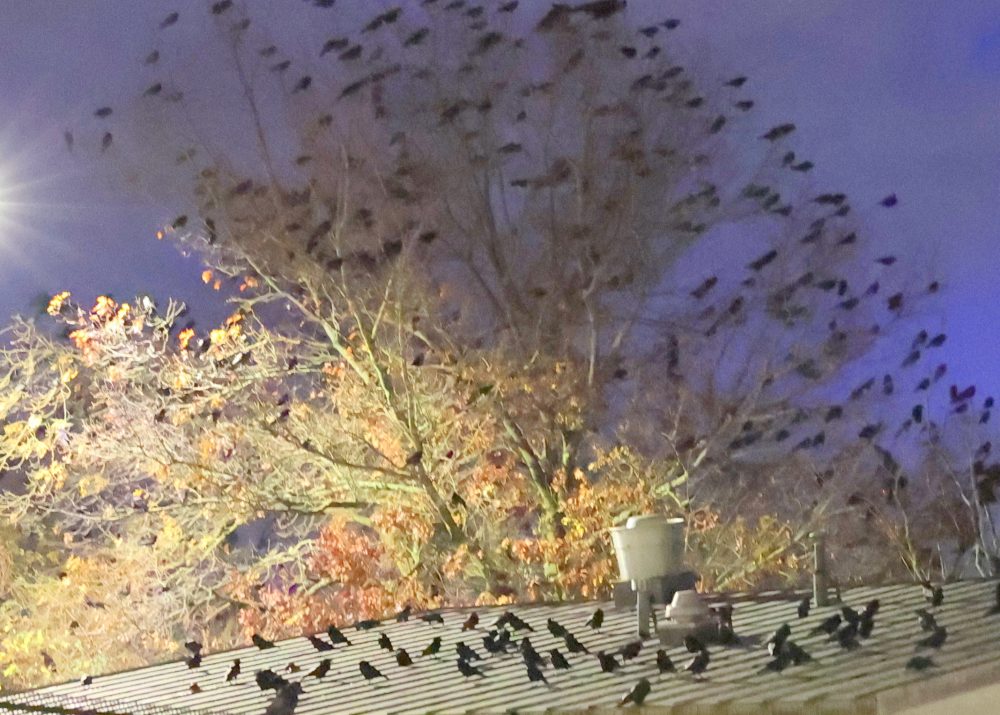 For the 2021 Audubon Christmas Bird Count (CBC) for the Andover Circle, this separate Crow Count was 12,250 Crows. In 2020 CBC Andover Circle Crow Count was 15,200. Many thanks to Donna Cooper who coordinates and compiles the Andover Circle each year!
Note on counts/estimates: we are now using improved methods for counting the large number of Crows while streaming, staging, and in the roost. For all images, we use both a modified open source counting software program, as well as a hand count approach to carefully document our observations and to significantly increase reliability and accuracy of the presented numbers. 
Remember to check out the latest Crow Patrol Podcast with Prof. Sylvia Halkin: wintercrowroost.com/podcast/
Photo gear used for most outings:
Canon EOS 80D with Canon EF-S 18-135mm f/3.5-5.6 IS 
Canon EOS 80D with Canon EF-S 18-135mm f/3.5-5.6 IS (Infrared)     
Canon 1DX MK II with Canon EF Telephoto Zoom 100-400mm f/4.5-5.6L IS II USM
Canon EOS R6 Mirrorless with Canon RF 24-70 f/2.8 L IS USM Lens
Sony AX700 4K HDR Camcorder
Follow us on Instagram: wintercrowroost
Follow us on YouTube: birdsoftheair1
Blog post and photos by Craig Gibson, 2022 Crow Patrol