Crows converging into roost!
Thursday, Nov. 3, 2022 under clear skies, wind SE 5 MPH, temp at 62F; sunset time 5:34PM. Out on Crow Patrol with scouting visits along Merrimack Street observing late arriving incoming flight streams, many landing atop the warehouse roof, and others continuing to the east. This image captured about 18 minutes after sunset time.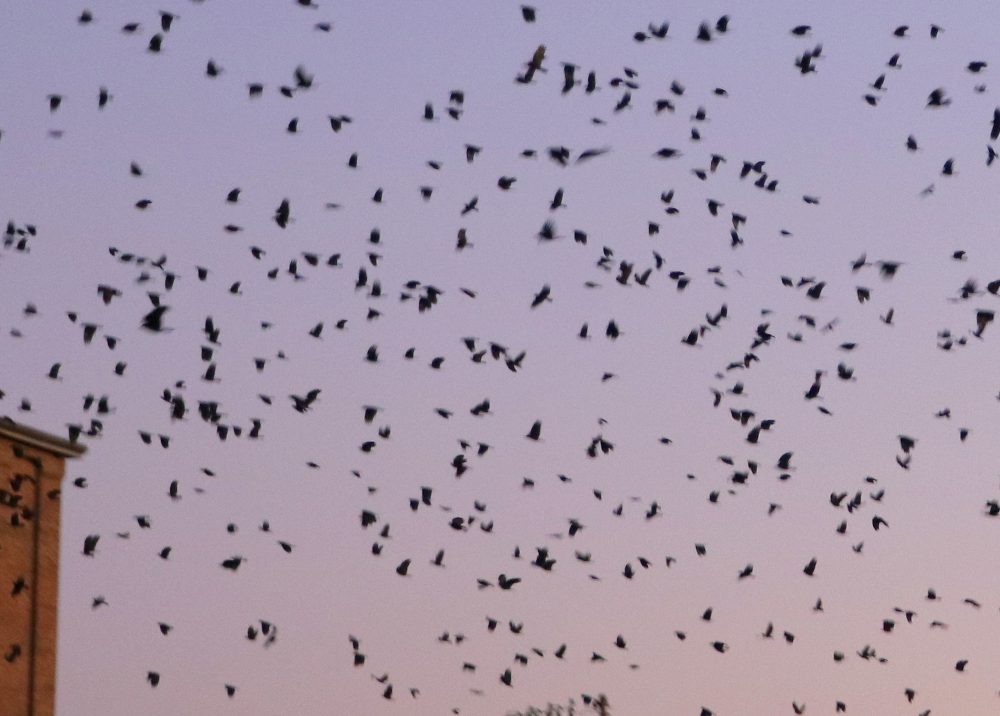 Moved over to the Duck Bridge under spectacular weather conditions, stunning sunset colors, light wind, and watched a great multitude of Crows converging into the roost area with huge flight streams arriving from both upriver and downriver. This image, looking west, captured about 31 minutes after sunset time.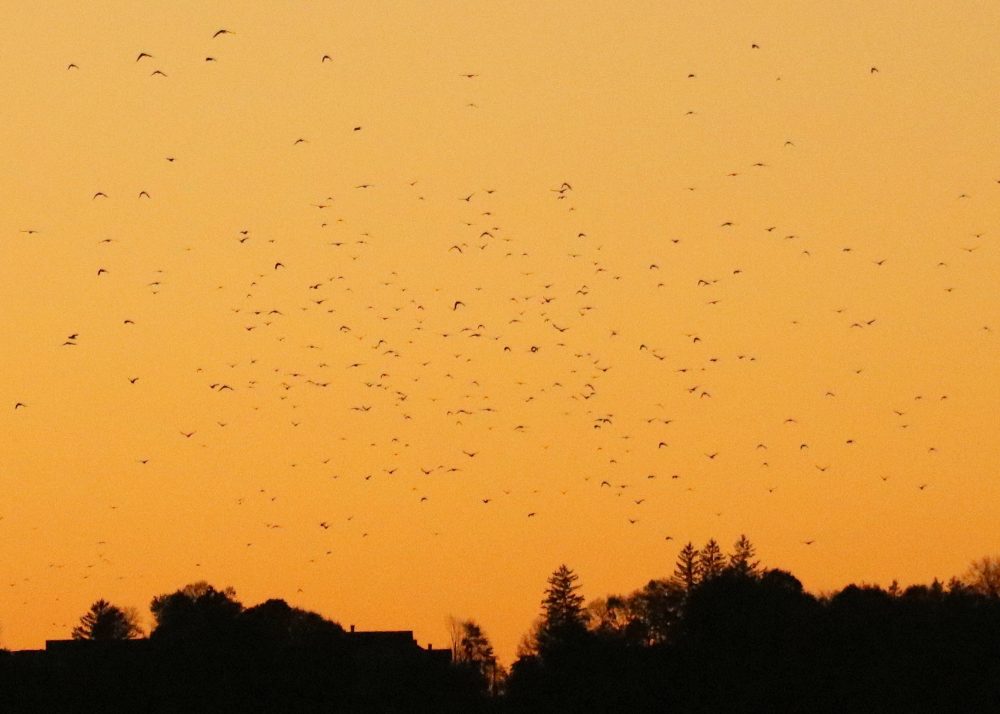 After a massive buildup on the warehouse roof, including late downriver arrivals, the Crows filled the sky around the west end of the New Balance building with the final movement towards the roost with lots of vocalizing. It was breathtaking to watch against the bright yellow orange sunset sky. This image captured almost 40 minutes after sunset time.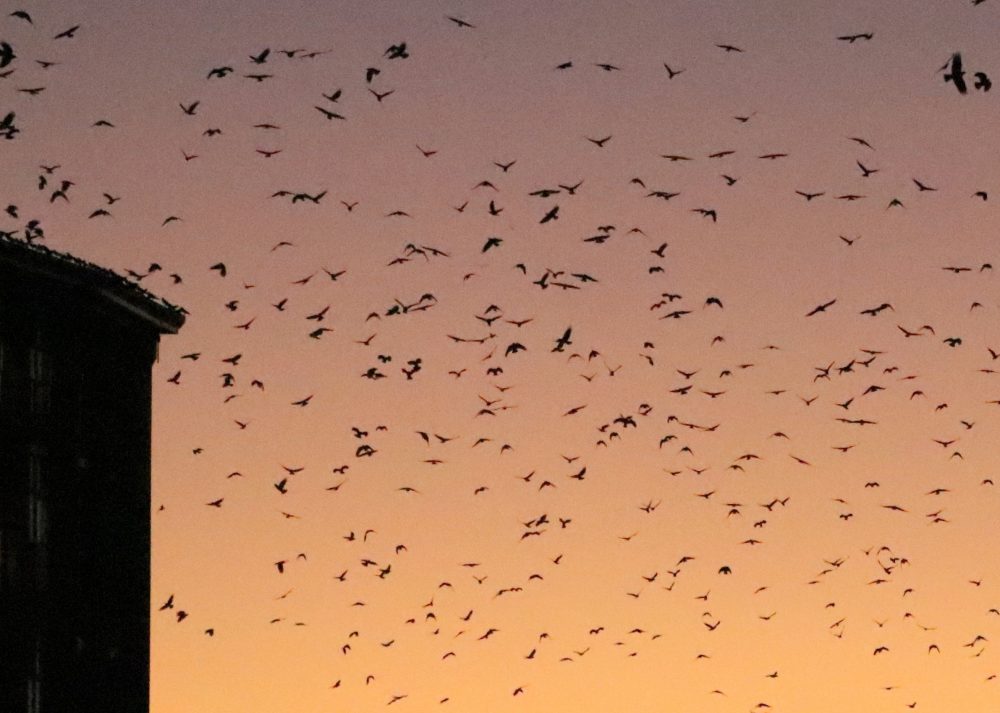 The Crows seemed to settle into the roost quickly and by 75 minutes after sunset the roost area was quiet with very little movement within the roost! Added number of Crows were perched in the trees at the north end of the Duck Bridge and also to the east of the bridge near the New Balance factory store. This image captured almost 45 minutes after sunset time.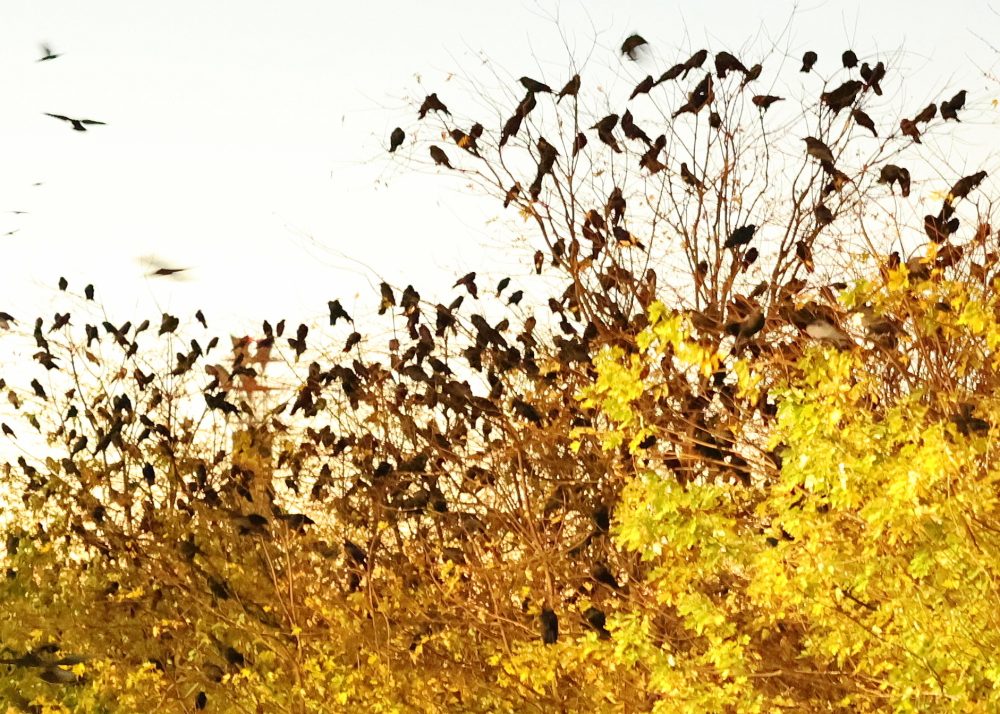 After a break, returned a few minutes after 7PM, more than 90 minutes after sunset time. Had a chance to set up for a few photos at the north end of the Duck Bridge with the infrared camera, with a full length view of the roost. The image shows the Crows in the roost, very evenly spread out, and mostly in the upper part of the trees. This image captured using long exposure and all manual settings magnifies the ambient lighting that likely plays a major role in attracting the Crows to this favorite location. The twinkling stars add a nice touch against the fully lit Clock Tower and the gently flowing Merrimack River below. Another dazzling Crow show!!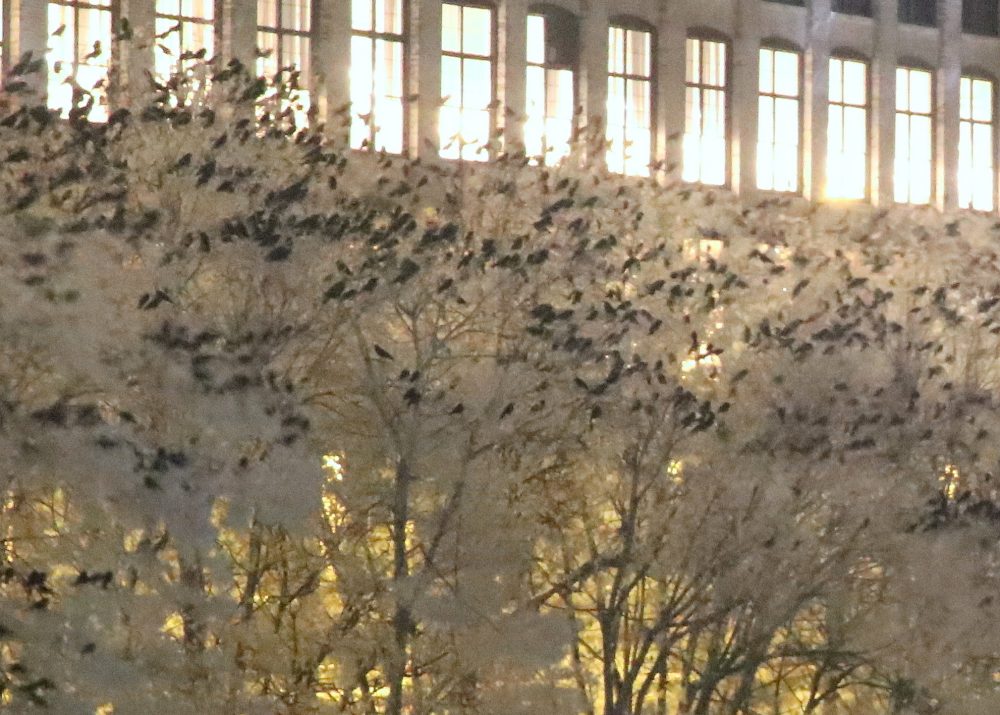 For the 2021 Audubon Christmas Bird Count (CBC) for the Andover Circle, this separate Crow Count was 12,250 Crows. In 2020 CBC Andover Circle Crow Count was 15,200. Many thanks to Donna Cooper who coordinates and compiles the Andover Circle each year!
Note on counts/estimates: we are now using improved methods for counting the large number of Crows while streaming, staging, and in the roost. For all images, we use both a modified open source counting software program, as well as a hand count approach to carefully document our observations and to significantly increase reliability and accuracy of the presented numbers. 
Remember to check out the latest Crow Patrol Podcast with Prof. Sylvia Halkin: wintercrowroost.com/podcast/
Photo gear used for most outings:
Canon EOS 80D with Canon EF-S 18-135mm f/3.5-5.6 IS 
Canon EOS 80D with Canon EF-S 18-135mm f/3.5-5.6 IS (Infrared)     
Canon 1DX MK II with Canon EF Telephoto Zoom 100-400mm f/4.5-5.6L IS II USM
Canon EOS R6 Mirrorless with Canon RF 24-70 f/2.8 L IS USM Lens
Sony AX700 4K HDR Camcorder
Follow us on Instagram: wintercrowroost
Follow us on YouTube: birdsoftheair1
Blog post and photos by Craig Gibson, 2022 Crow Patrol