Conditions: heavy overcast skies, wind W 10MPH, temp at 40F, wind chill 32F: sunset time 4:11PM
Out on Crow Patrol with first and long stop, yet again atop McGovern parking garage. Upon arrival just after 3:45PM, a small number of Crows had begun the staging process on the extended B&D rooftop area and all around the Jackson Lumber complex. Lots of growing vocalizations heard. Image captured about 21 before sunset time.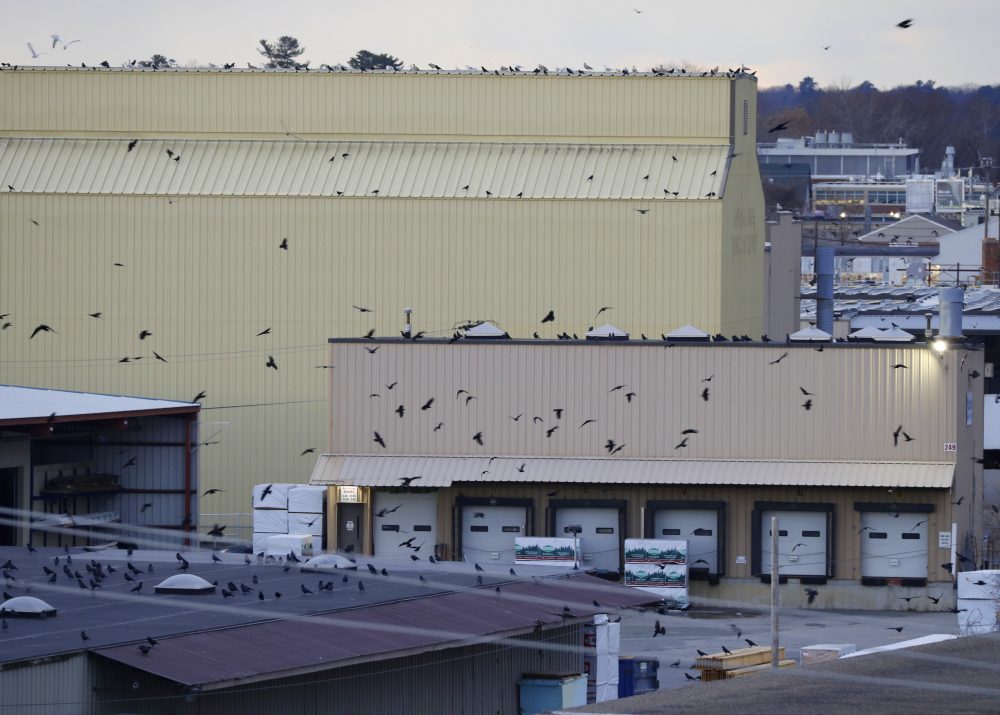 Just before 4PM, massive waves of Crows were seen arriving from NW direction, they just kept coming in, and making me wonder about the location of their last stop on their way in. It is truly a mesmerizing sight to watch these swarming waves work their way in towards the staging areas. This image below was captured about  14 before sunset time.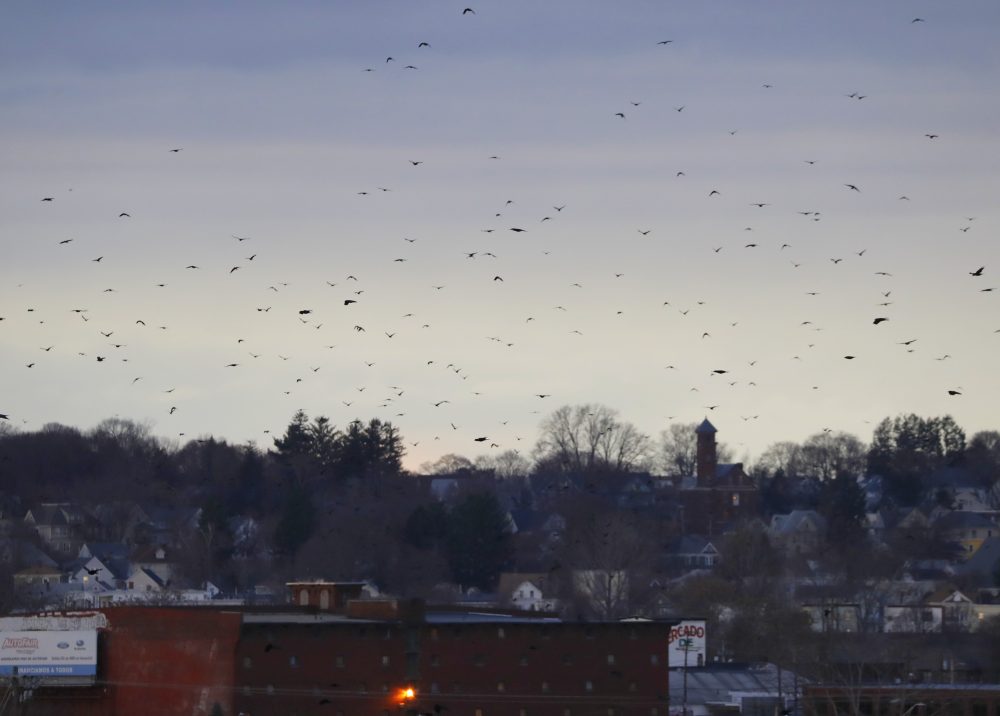 A few minutes after, the extended roof area was loaded with thousands of Crows. A number of times they would rise up in flight, circle around out over the nearby Merrimack River, and then settle back down. This image below was captured about 7 minutes before sunset.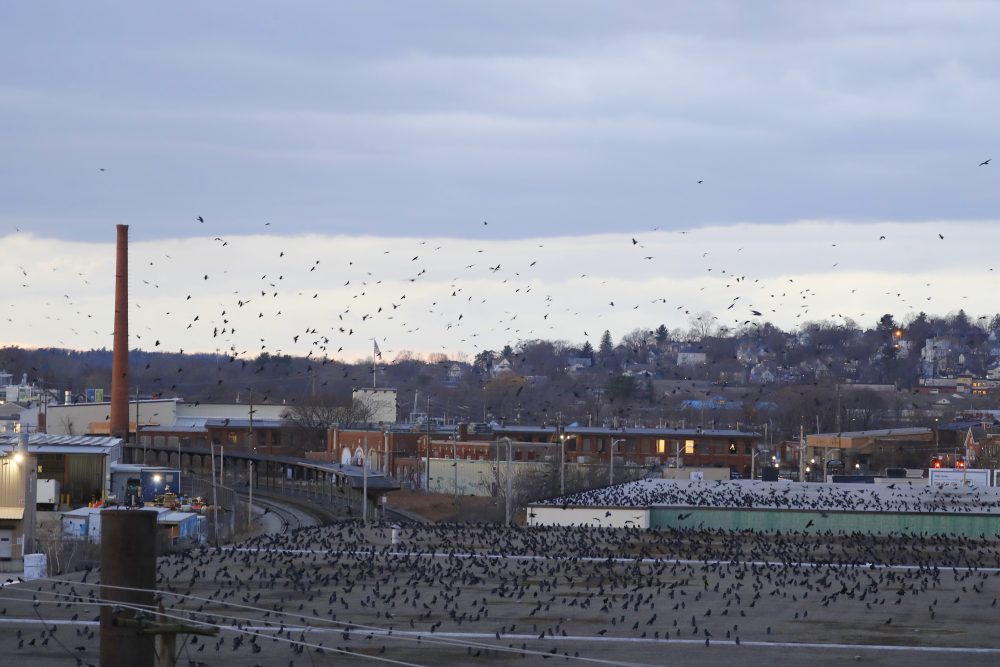 Much later, after a conference call from the car, had a chance to make observations from the Mill240 park area. Over past few days, the roost has shifted back closer to the New Balance building. Wanted to check on how far the roost stretched towards the Casey Bridge, and found the Crows stretched to the back of the truck depot lot and not much further towards the Casey Bridge. This section of trees along the river tends to be unusually dark, but with a long exposure exposure approach and manual settings, was able to pick up enough ambient lighting to capture this documenting image 60 minutes after sunset time.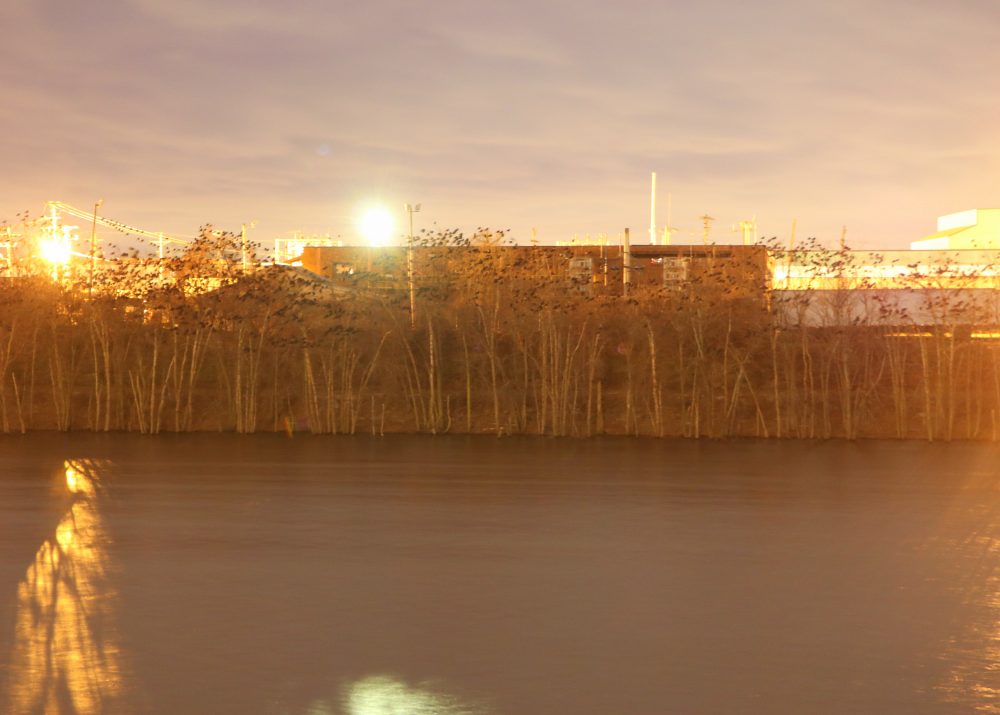 Made a final look back at the roost by New Balance, from the Mill240 park, with the Crows settled in for the night. The loud and raucous vocalizations had subsided by this time. This image below was captured just over an hour after sunset time, with long exposure techniques and manual settings.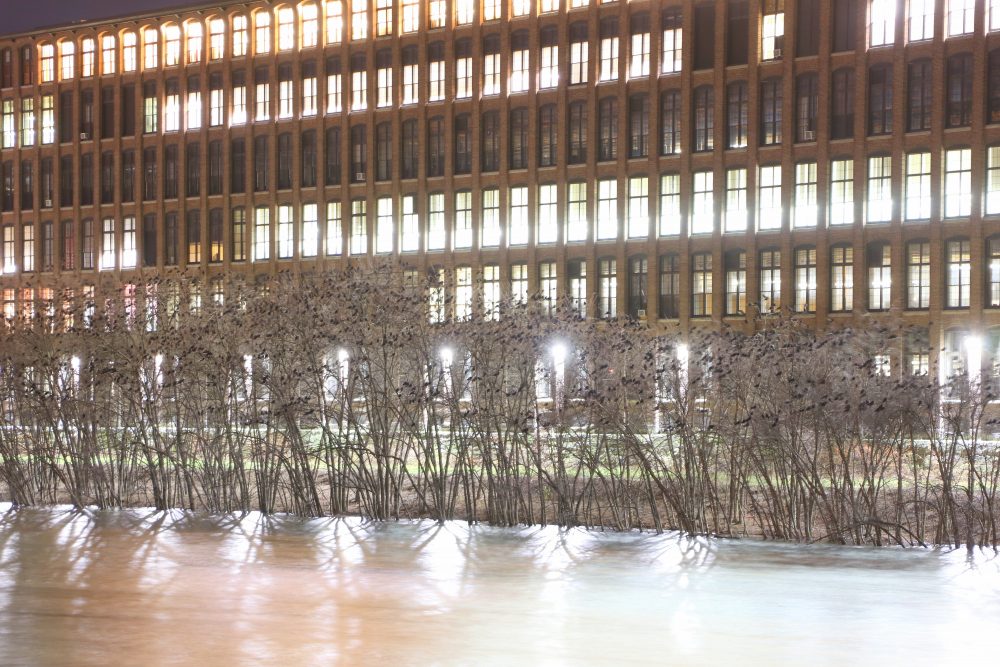 Photo gear used for this outing:
Canon EOS 80D with Canon EF-S 18-135mm f/3.5-5.6 IS 
Canon EOS 80D with Canon EF-S 18-135mm f/3.5-5.6 IS (Infrared)
Canon 1DX MK II with Canon EF Telephoto Zoom 100-400mm f/4.5-5.6L IS II USM
ATN BinoX 4K 4-16x Day and Night Smart HD Binoculars with photo/video
SiOnyx Aurora Pro Digital Color Night Vision Optics
Follow us on Instagram: wintercrowroost
Follow us on YouTube: birdsoftheair1
Blog post and photos by Craig Gibson, 2020 Crow Patrol, Lawrence, MA