Crows in the roost after dark!
Mon. Nov. 15, 2021: mostly cloudy, wind W at 10MPH, 42F, sunset time 4:21PM
Out on Crow Patrol and scouting out staging locations along Sutton Street in North Andover all the way up to the airport. Over 550 Crows are seen in this image below gathering in the western section of the airport, above the Lawrence wastewater treatment plant.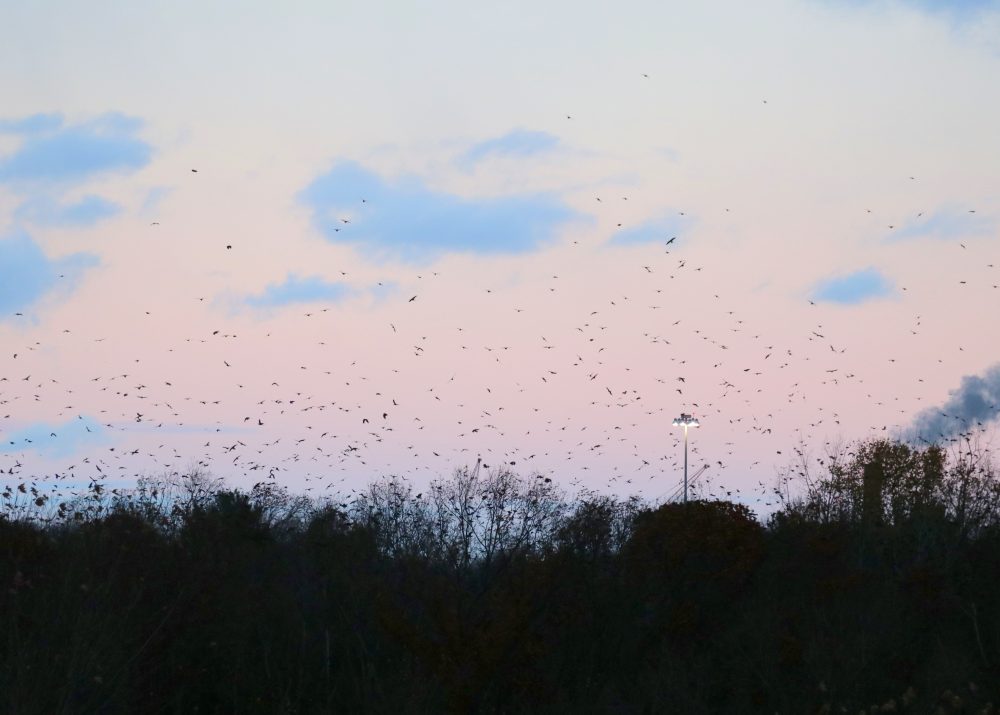 Over the past week, this are has become a major staging location for the Crows prior to roosting time. Moved over to Incinerator Road in Lawrence and up to the top of the baseball field with great views towards the airport, and over towards the trees above the over night roost. This image shows over 200 Crows in light swirls moments before sunset time.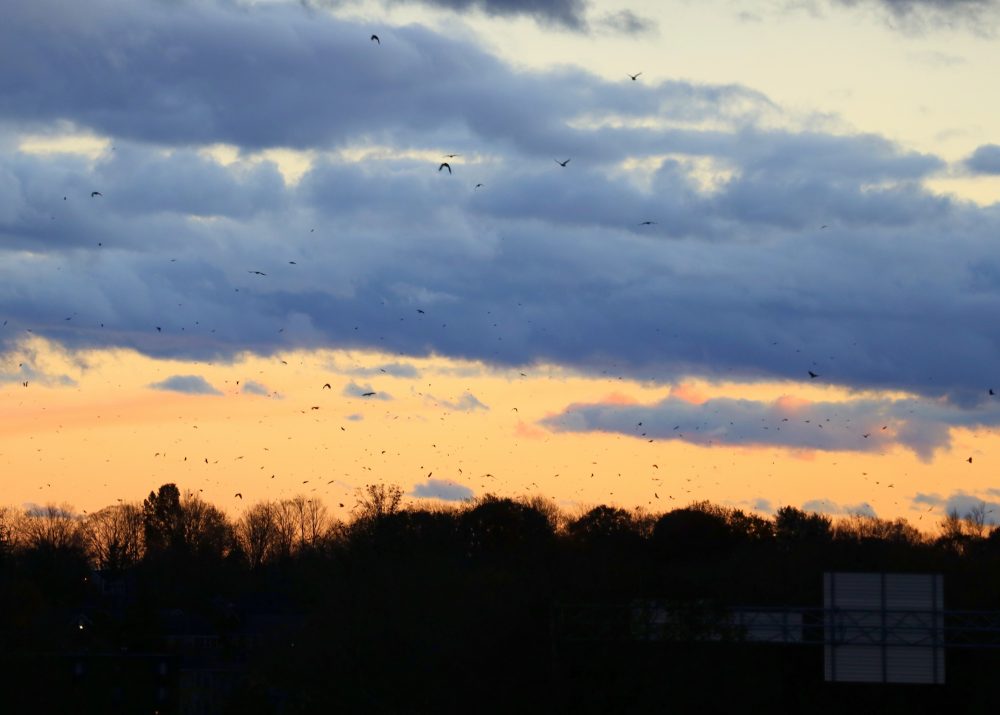 After sunset time, was able to capture a few quick photos from the bridge looking out over the roost trees with growing numbers on Crows arriving into the roost. At 15 minutes after sunset time this image below shows over 900 Crows settled onto the branches and outer twigs of the roost trees!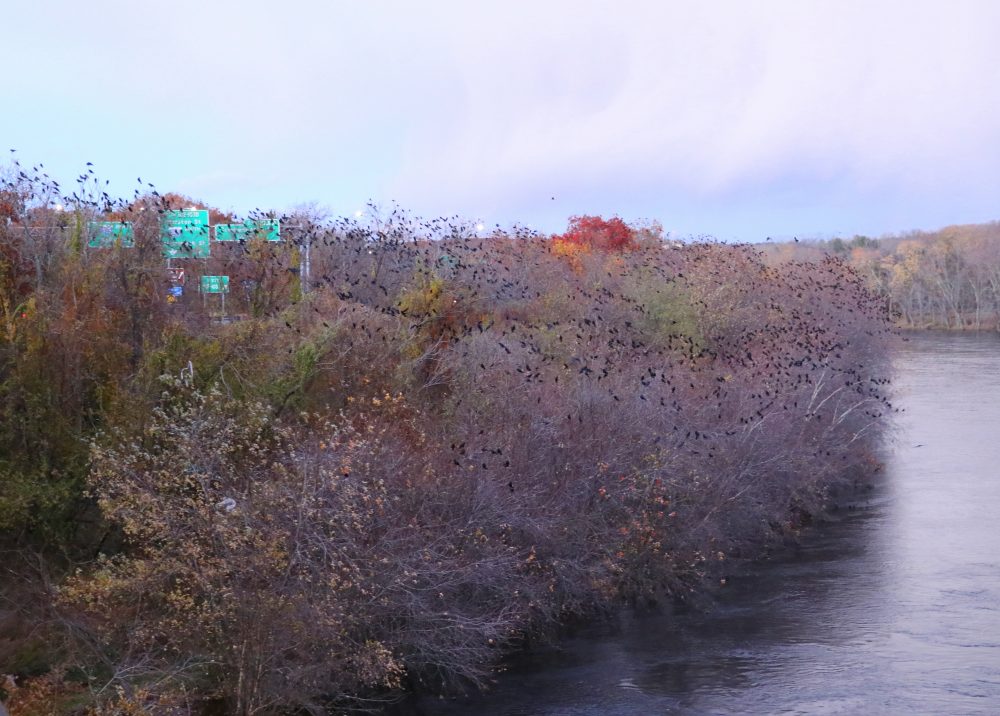 Next, moved down along the southern shore of the mighty Merrimack River for observations of the incoming flight streams. Remained until after dark and brought out the night vision gear to observe and photograph over 500 Crows in their overnight dormitory! With loud vocalizations, it was another terrific outing!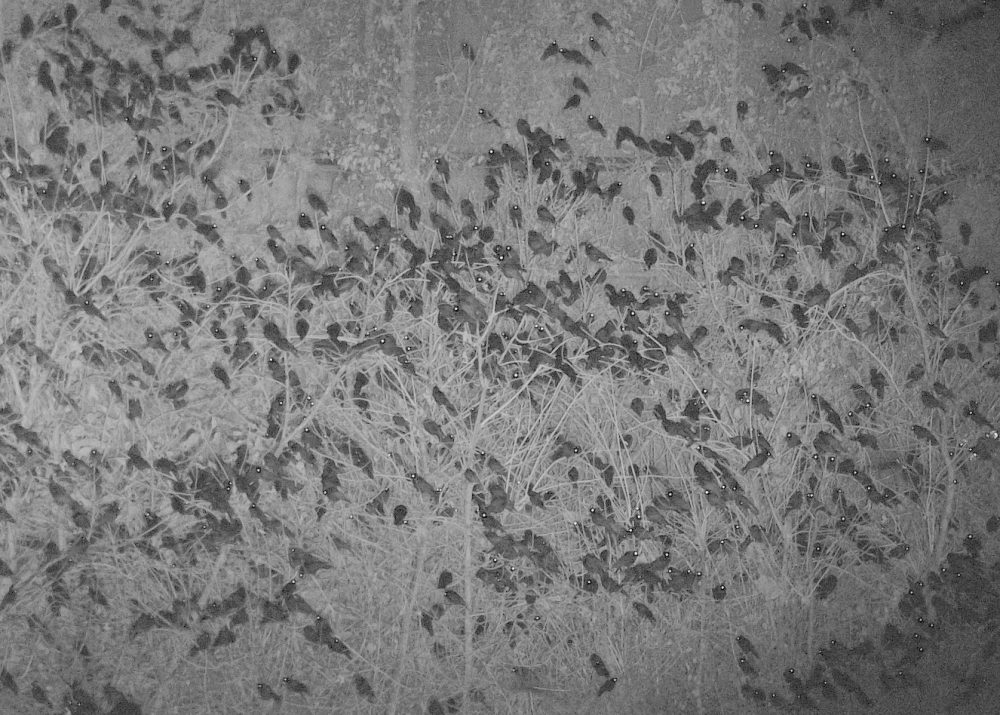 Note on counts/estimates: we are now using much improved methods for counting the large number of Crows while streaming, staging, and in the roost. For all images, we use both a modified open source software program, as well as a hand count approach to carefully document our observations and to increase reliability and accuracy of the presented numbers. 
THE 2020 NATIONAL AUDUBON CHRISTMAS BIRD COUNT (CBC) ESTIMATE FOR THIS CROW ROOST: 15,200
Check out the newly launched Crow Patrol Podcast: wintercrowroost.com/podcast/
Photo gear used for this outing:
Canon EOS 80D with Canon EF-S 18-135mm f/3.5-5.6 IS 
Canon EOS 80D with Canon EF-S 18-135mm f/3.5-5.6 IS (Infrared)
Canon 1DX MK II with Canon EF Telephoto Zoom 100-400mm f/4.5-5.6L IS II USM
ATN BinoX 4K Smart HD Binoculars with photo/video
Follow us on Instagram: wintercrowroost
Follow us on YouTube: birdsoftheair1
Blog post and photos by Craig Gibson, 2021 Crow Patrol