The video above presents an amazing close-up view of the Crow waking up in the roost, and the video below shows a long view of the roost as the Crows wake up and disperse to foraging grounds!
Conditions: overcast skies, calm wind, temp at 55F; sunrise time 6:43AM
Observations: arrived at the Duck Bridge 60 minutes before sunrise time. The first sensory reaction while walking out on the bridge was the loud and raucous vocalizations from the main roosting area in the trees along the New Balance building as well as the two small satellite locations nearby, just on the east side of the bridge, and across the Merrimack River. This image below was captured with IR camera about 47 minutes before sunrise time and shows the Crows utilizing an equidistant spacing in the roost.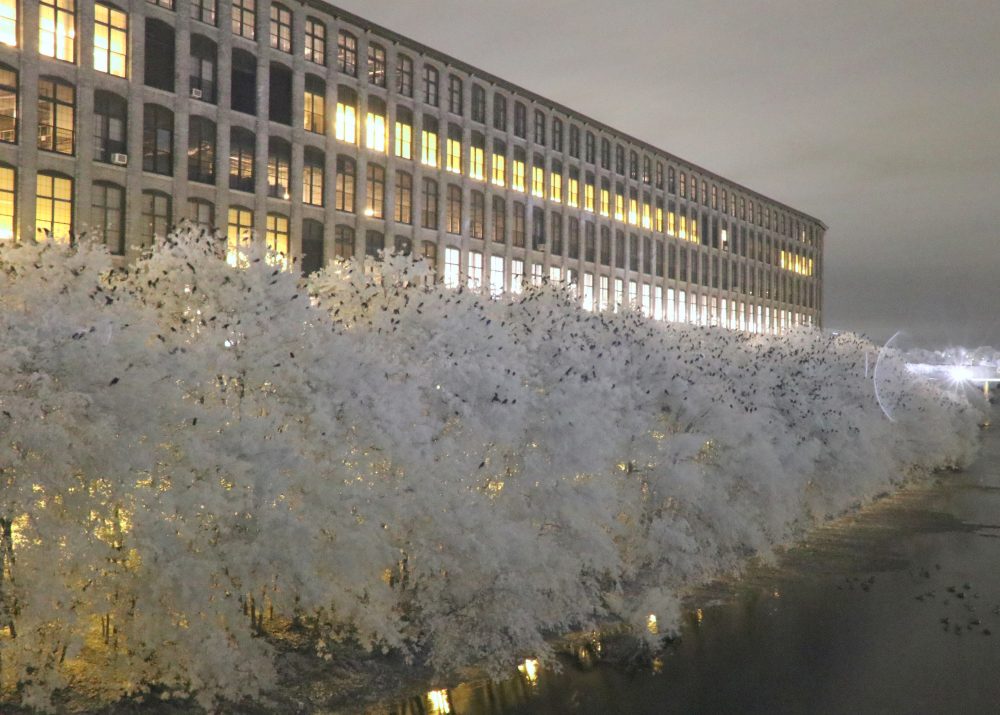 It was awesome to observe the Crows close-up in the main roost with night vision gear. This image from the Duck Bridge shows a clump of over 40 roosting Crows tightly packed together and squawking loudly before morning dispersal. The white eyes come from the crows reflecting back the infrared illuminator.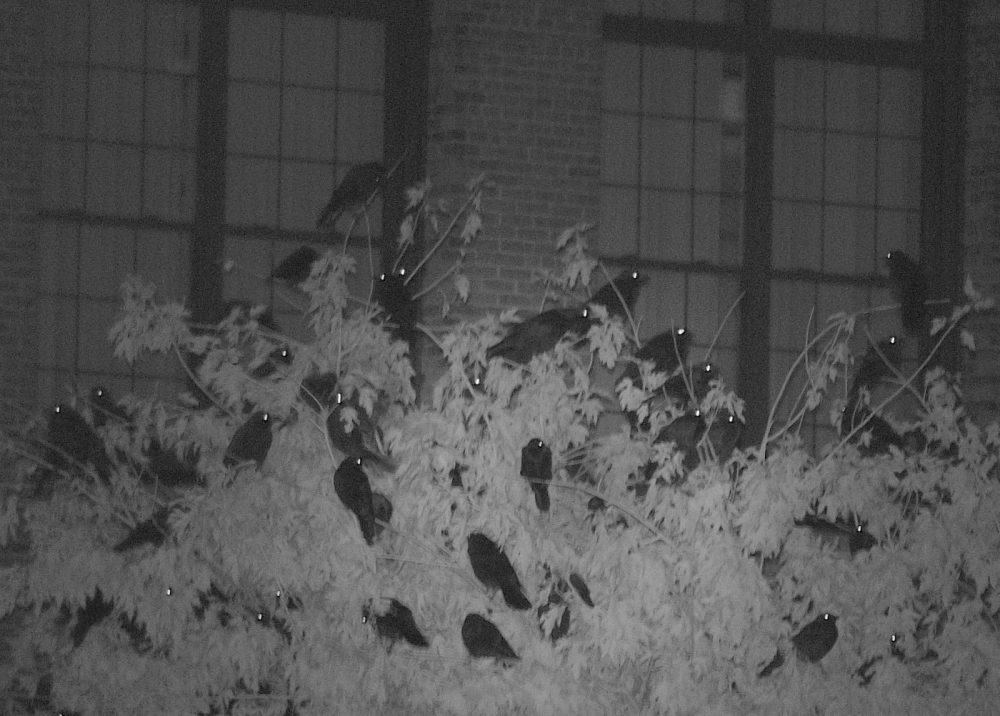 The Crows perched in the trees on the north side and rooftops behind, were well over 250 in numbers. They were vocalizing with growing intensity and some were seen flying back and forth from the main roost.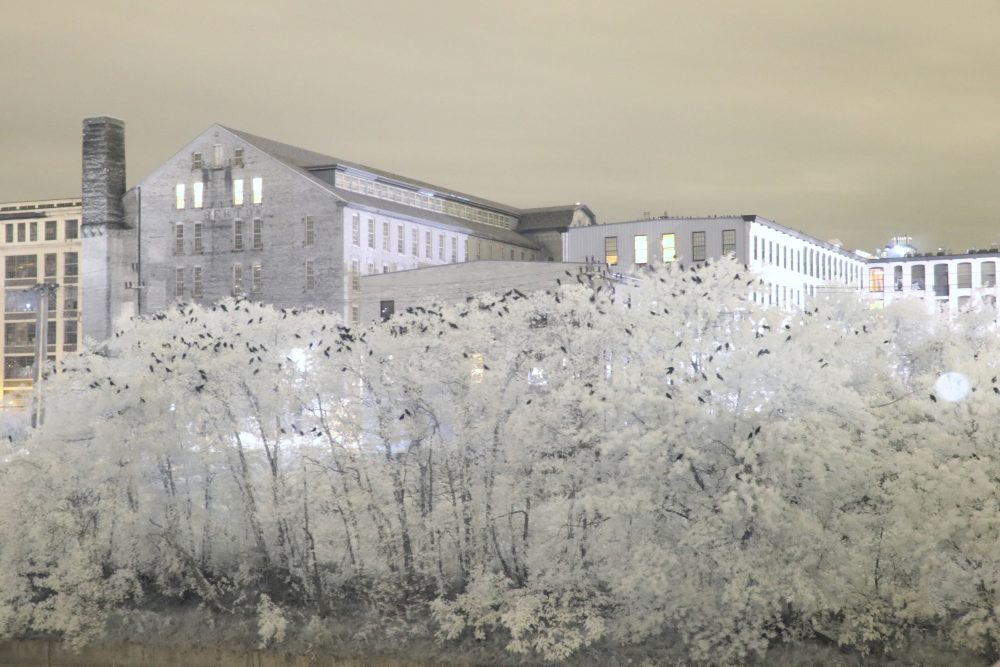 Closer to sunrise, moved back to the very south end of the Duck Bridge to view the trees and roosting Crows from the south side, or inside of the roost trees. It was a surprise to observe so many Crows in this inside area, enjoying the ambient light from the outside lights on the New Balance building. The beacon light on top of the Verizon Tower is on the lower left corner of the photo. This image was captured about 20 minutes before sunrise time.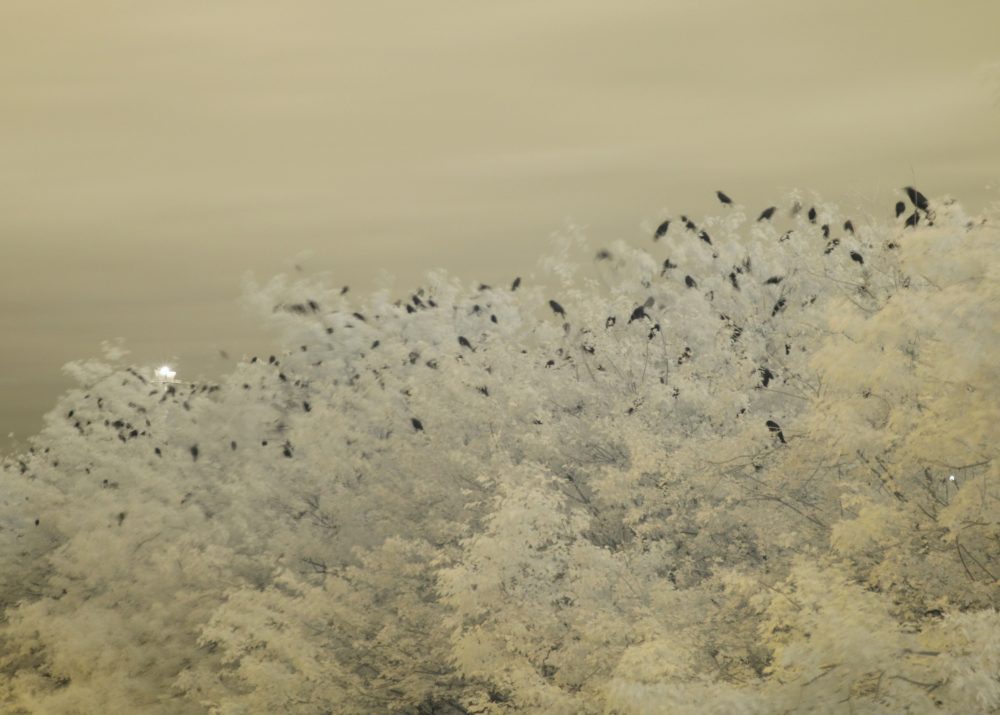 Just before sunrise, witnessed a magnificent flight burst of Crows, with strong vocalizations, from the roost out over the river. Always a challenge to capture flight/action images under extreme low light conditions. This image shows a bit of a blur and was captured about 12 minutes before sunrise time. Another dazzling outing; it only gets better!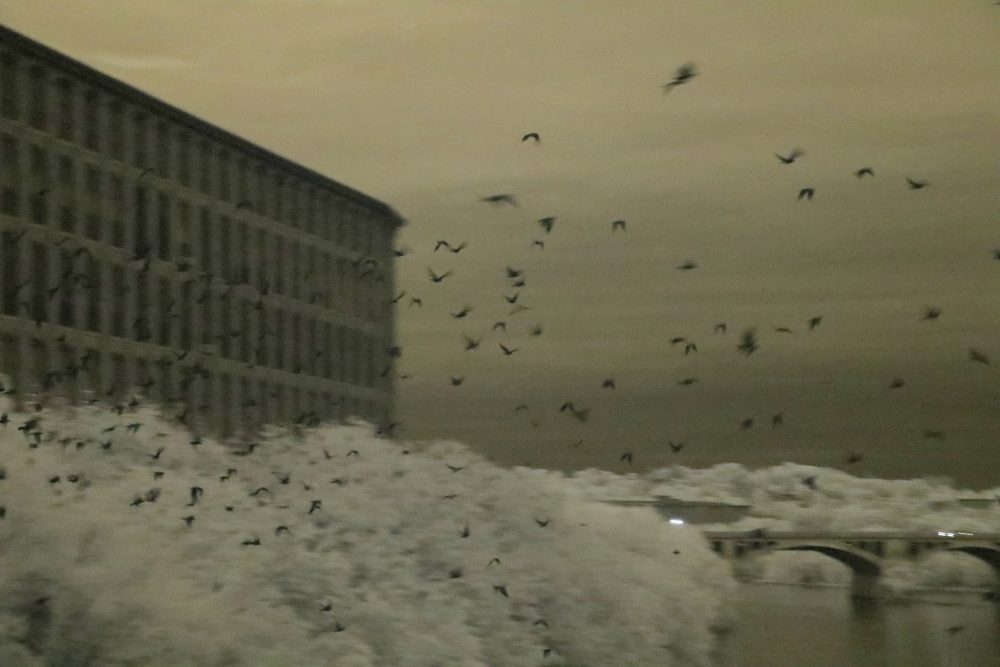 Photo gear used for this outing:
Canon EOS 80D with Canon EF-S 18-135mm f/3.5-5.6 IS 
Canon EOS 80D with Canon EF-S 18-135mm f/3.5-5.6 IS (Infrared)
Canon 1DX MK II with Canon EF Telephoto Zoom 100-400mm f/4.5-5.6L IS II USM
ATN BinoX 4K 4-16x Day and Night Smart HD Binoculars with photo/video
Follow us on Instagram: wintercrowroost
Follow us on YouTube: birdsoftheair1
Blog post and photos by Craig Gibson, 2020 Crow Patrol, Lawrence, MA