Conditions: mostly cloudy, light wind, 74F; sunset time 6:28PM
Observations: many smaller staging groups of Crows seen while surveying a few locations near the roost starting minutes before 6:00PM. Noticed over 80 Fish Crows loitering at the west end of the New Balance parking lot near Parker Street. They were perched and mulling around on the ground. After tossing out a half bag of Corn Curls, it stirred up quite a response and intense vocalizations in no time!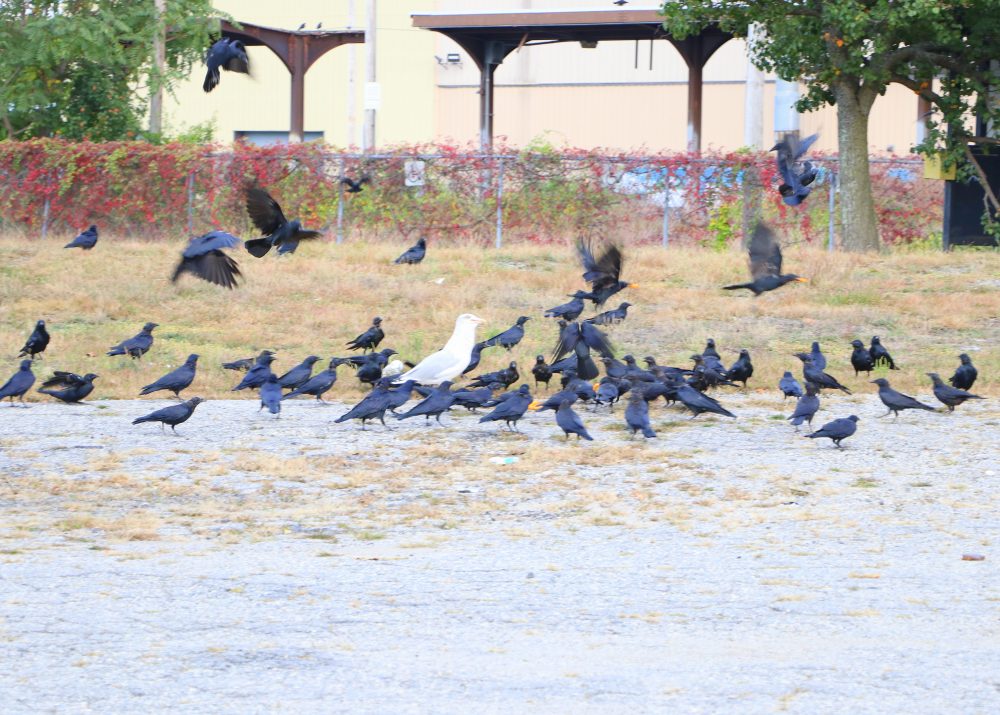 Arrived at Duck Bridge about 30 minutes before sunset to observe the nightly convergence of the Crows into the overnight roost. The Crows, started to converge into the overall roost area minutes before sunset time. The image below is looking west at the far corner of the New Balance building with the Casey Bridge in the background as the crows were starting to stream into the roost minutes before sunset.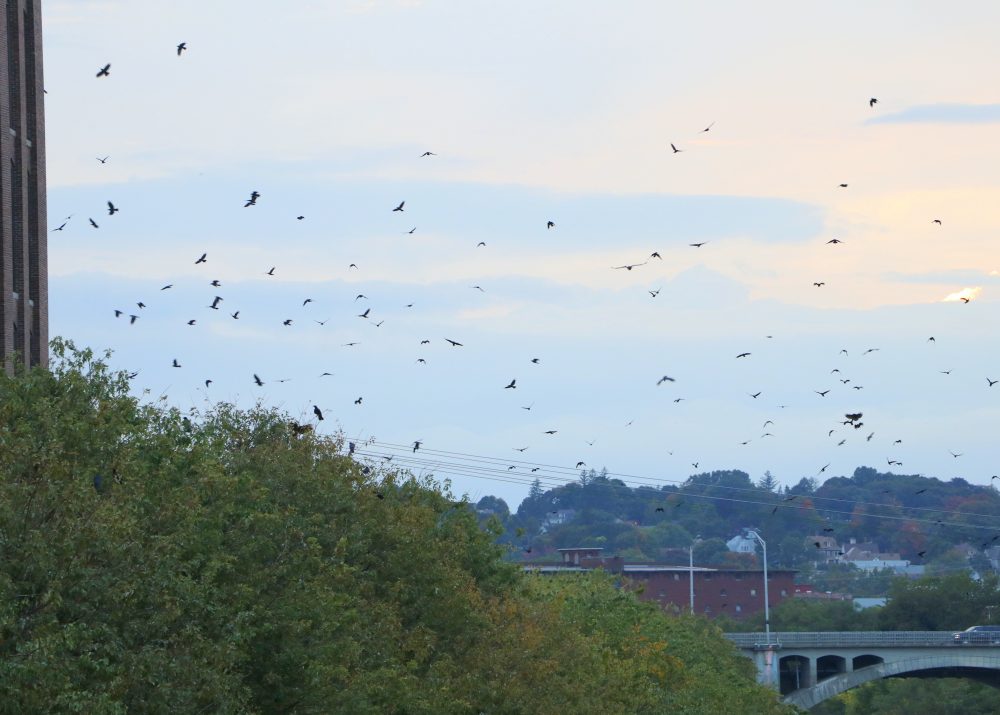 The incoming flight streams continued and grew in size over the next 30 minutes. Although the activity repeats itself each night, the action always unfolds in different and at mysterious ways. How do they know when to start and how long it will take. It seems strongly tied to sunset time and the need to settle into the roost before darkness falls. They almost wait until the last moment to make the move into the roost! This image was captured about 11 minutes after sunset time with an infrared camera which creates a very different effect.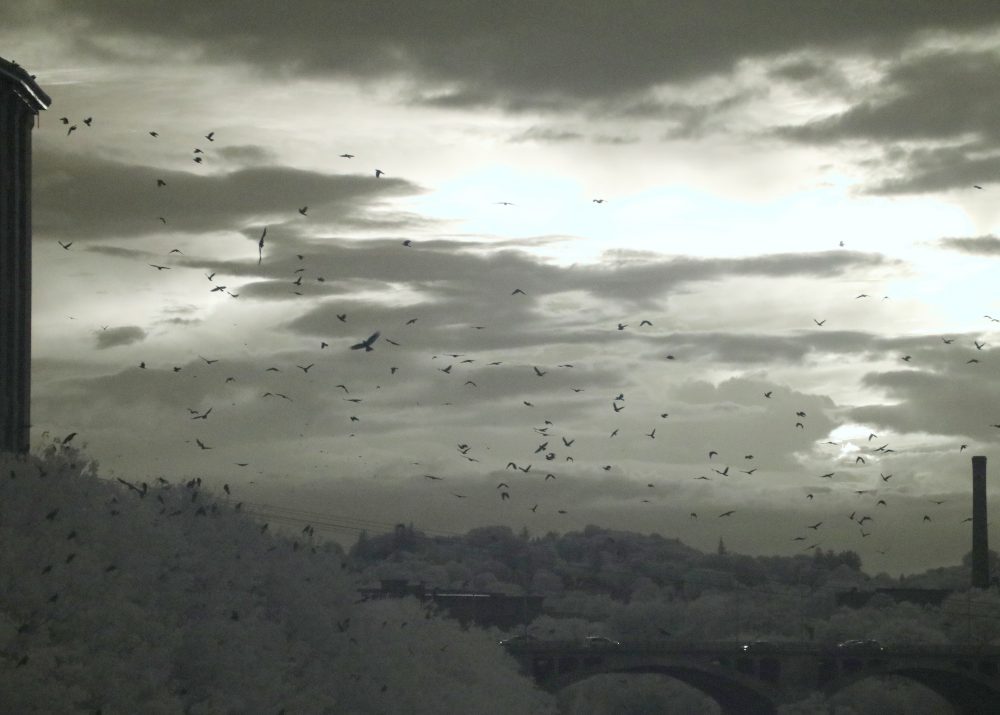 Many of the Crows went right into roost trees with an equal number going up to the edge of the New Balance roof on the north side, as well as other nearby rooftop edges. Tonight the Crows were tightly packed along the new Balance building rooftop edge. Notice just how tightly packed they were at the far end of the roof edge. During this time, we still hear lots of vocalizing from the Crows. This provides them with an excellent vantage point before gently swooping down in flight into the roost. This image was captured about 15 minutes after sunset time with an infrared camera. The Crows pop out in sharp contrast on the tree tops looking like jimmies atop cotton candy!
The Crows were largely settled into the overnight roost by 40 minutes after sunset time. By this time the Crows had completely left the rooftop and moved into the overnight roost. The vocalizations had subsided quite a bit. This is another infrared camera image and it provides a much better contrast between the overnight roost perch trees and the Crows. The Crows are perched on both sides of the trees with plenty of ambient lighting coming from the New Balance building. Terrific show!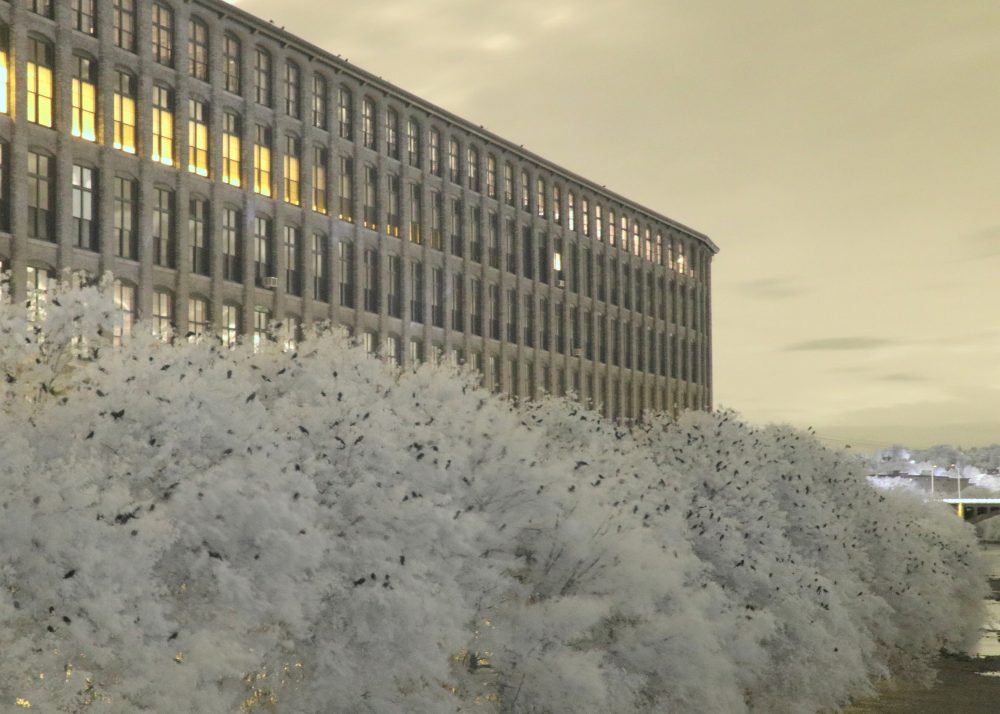 Blog: wintercrowroost.com
Photo gear used for this outing:
Canon EOS 80D with Canon EF-S 18-135mm f/3.5-5.6 IS 
Canon EOS 80D with Canon EF-S 18-135mm f/3.5-5.6 IS (Infrared)
Canon 1DX MK II with Canon EF Telephoto Zoom 100-400mm f/4.5-5.6L IS II USM
ATN BinoX 4K 4-16x Day and Night Smart HD Binoculars with photo/video
Follow us on Instagram: wintercrowroost
Follow us on YouTube: birdsoftheair1
Blog post and photos by Craig Gibson, 2020 Crow Patrol, Lawrence, MA