In January 2020, the Groundwork Lawrence "Green Team" was invited to be a part of a journey in learning about the Winter Crow Roost in the Merrimack Valley. Amazed by this yearly crow phenomenon, the Green Team members, all high school students, have learned about the staging and roosting behaviors of both American and Fish Crows.  In addition, they developed an understanding about the communal and familial bonds within these two common species of Crows.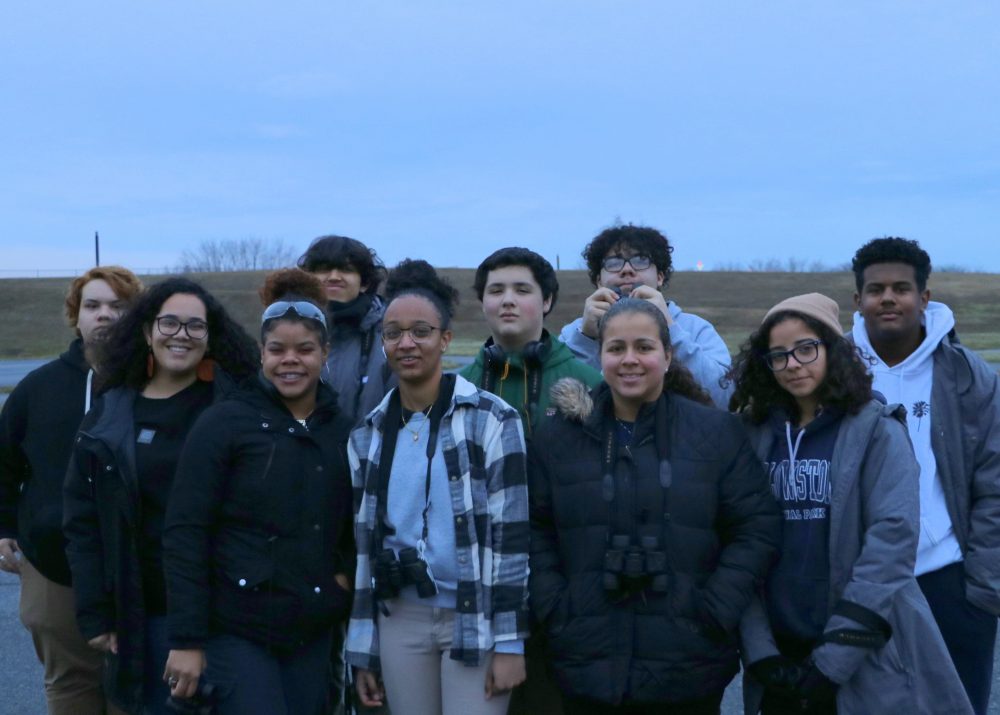 The Green Team started their learning process by taking the Cornell Lab of Ornithology's course on "The Hidden Life of the American Crow," learning how to distinguish a crow from a raven, better understand crow interactions with people, why they congregate in large numbers, and much more. Their observations included taking notes on what times crows come into roost, their flying patterns as they make their next moves, and their support of one another as they move in clusters to tops of trees. In the trees, they've witnessed them nuzzled, one on top of the other, communicating loudly.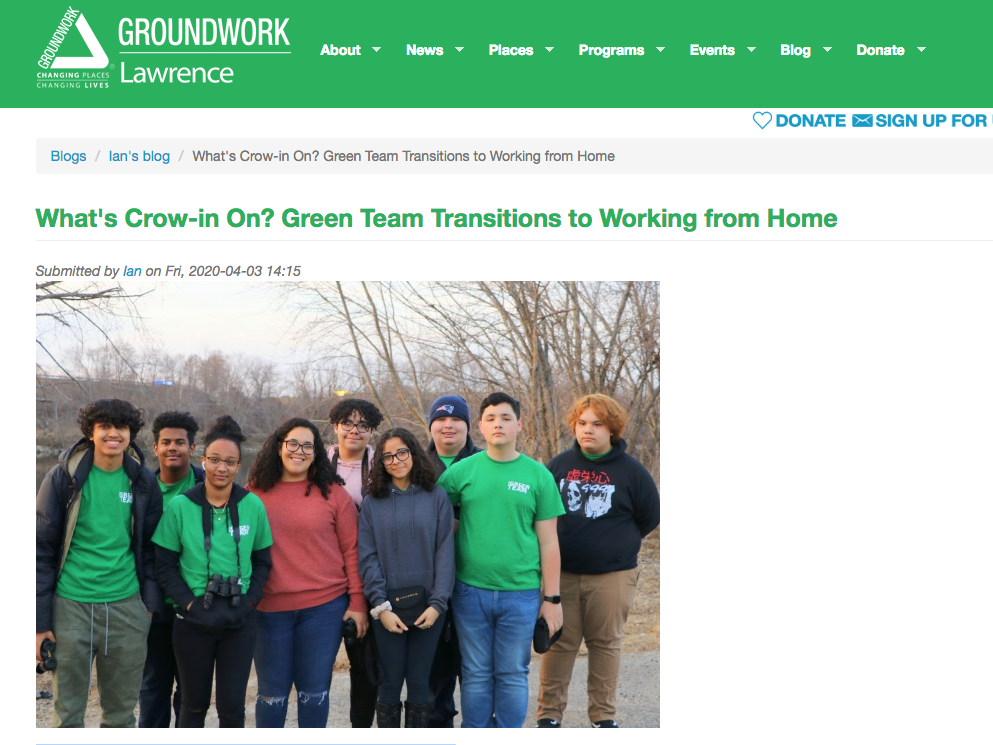 Beyond these observations, they've had the pleasure of collaborating with the Essex Art Center and members of the Crow Patrol in hosting a gallery walk and community talk, where they shared an overview of their citizen science research efforts and joined over 70 attendees to witness crows converge into their overnight roost.
Since working from home, a huge part of their research journey has been initiating a virtual Speaker Series event, learning from expert ornithologists in both Massachusetts and New York. They kicked off the online speaker series with Mass Audubon's Director of the Massachusetts Important Bird Areas Program, Wayne Peterson. He shared insights on what specific habits and patterns to look for when bird watching, calling these features "field marks." Wayne encouraged them to listen for sounds unique to each bird, their behavior, how they fly, and what kind of habitat they are a part of. They were excited to continue the speaker series with Hamilton College Professor Andrea Townsend, who explained migration patterns and the urban adaptations of crows in communities like Lawrence, MA. Prof. Townsend's research includes how urbanization promotes transmission of West Nile virus and food-borne pathogens in crows. Other speakers who had been scheduled, in this series included Cornell University professor Kevin McGowan, creator of Cornell Lab's ornithology courses and Binghamton University Professor Anne B. Clark and her research assistant, Ph.D candidate Connor Loomis. Although Kevin McGowan was unable to make it at the last minute, the joint presentation by Prof. Clark and Connor Loomis was a big hit!
The speaker series allowed the Green Team members to further their understanding of Crows and why they are the way they are. It was an opportunity for them to learn how to engage the community in a wider array of learning that goes beyond mere observation and allows them to challenge who they are, who we are, and how we co-exist.
To conclude their time working on this Crow pilot program, they extended a gracious invitation to the extended Groundwork Lawrence community to join them for a virtual crow celebration on Friday, April 24th from 4:30-6:00PM on google hangouts! The GWL staff, board, and advisory council watched and heard an exciting presentation from the Green team members as they shared what they have learned and how this experience impacted their lives!
Power Point presentation: https://www.wintercrowroost.com/wp-content/uploads/GreenTeamPresentation.pdf 
Here are more details on Groundwork Lawrence and the Green Team:
Groundwork Lawrence, a non-profit organization, has been making change happen in Lawrence, Massachusetts since its beginnings in 1999. Through its environmental and open space improvements, fresh food access programs, youth education, employment initiatives, and community programming and events, GWL creates the building blocks of a healthy community, and empowers Lawrence residents to improve their quality of life. GWL achieves results by engaging the whole community – residents, youth, non-profits, government and businesses – in the planning and realization of its projects. With this collaborative approach, GWL ensures that all stakeholders are mutually invested in its outcomes, the key to stable neighborhoods and sustainable change.
The Groundwork Lawrence Green Team (GT) is a year-round program that offers part-time, paid positions for 42 Lawrence high school aged students each year to help learn about and lead local environmental and healthy community initiatives, grow food, conduct research, raise awareness, challenge their peers to do community service, and participate in hands-on improvement projects throughout the City of Lawrence. The program is intended to promote the protection and restoration of Lawrence's critical ecological systems, natural resources, and public health by engaging teens in advocacy and service-learning efforts focused on the community's parks, gardens, waterways, and vacant open spaces. The Green Team program has dual goals – to prepare Lawrence's youth for a lifetime of environmental and healthy community leadership, and to invest in our community's future and capacity to improve its physical environment.