Conditions: partly cloudy, wind NW 3MPH, 43F; sunset time 5:01PM
Out on Crow Patrol just after sunset time at end of North Main St. in North Andover. Crows seen 1/2 miles in distance staging in trees downriver about 5 minutes after sunset time. This has been a regular staging area as the Crows start the process of gathering in larger numbers closer to the overnight roost.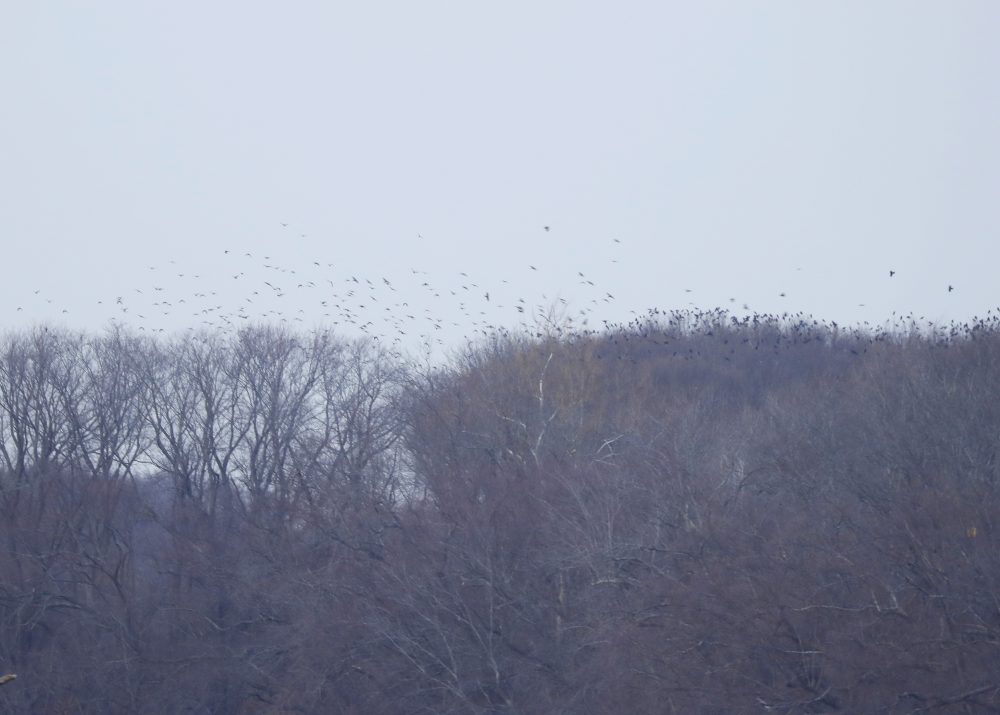 Over the next 15 minutes other Crows were seen streaming in from the WSW and over the Rt. 495 Bridge. This constant stream moved past my viewing area and they continued to gather in much larger numbers in trees nearby, downriver and on south side. It was a beautiful sight,,as seen in the image below with magnificent colors among the clouds int he background.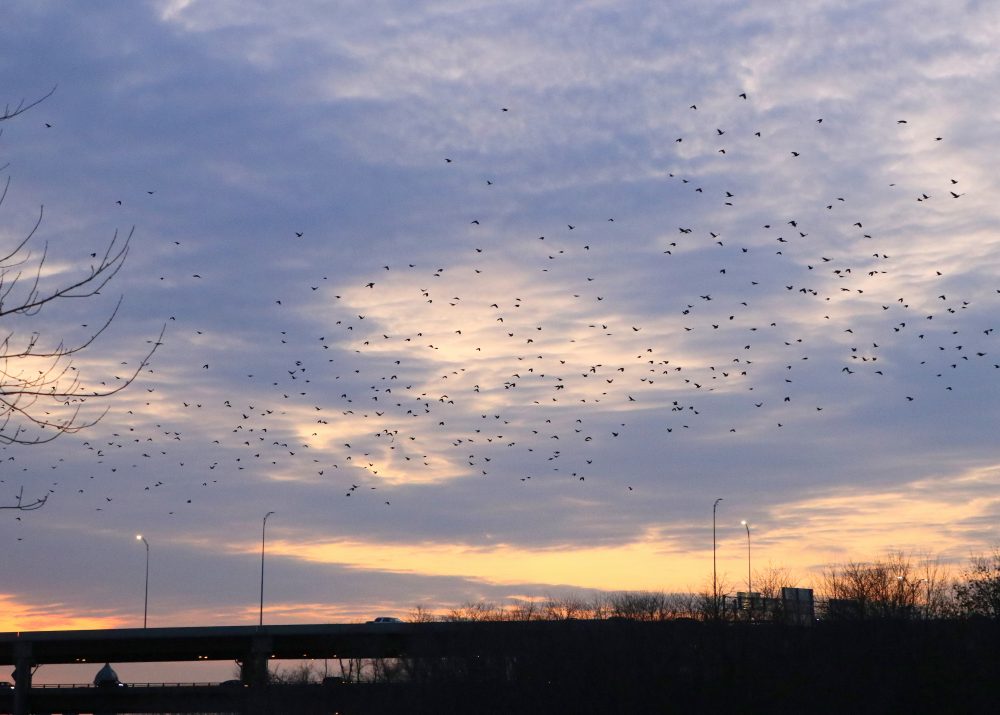 About 20 minutes after sunset time, a massive launch of Crows in flight moved from nearby trees downriver, and towards the overnight roost location. As the number build up, the vocalizations also increase in loudness and intensity. The staging pattern repeats itself, and you know what to expect in a general sense, but each time it unfolds in yet another spectacular way and the sense of WOW, the mystery and the awe takes your breath away every time! The joy of nature in all its glory! The image below shows the takeoff moment as the Crows begin the multiple waves of movements towards the overnight roost.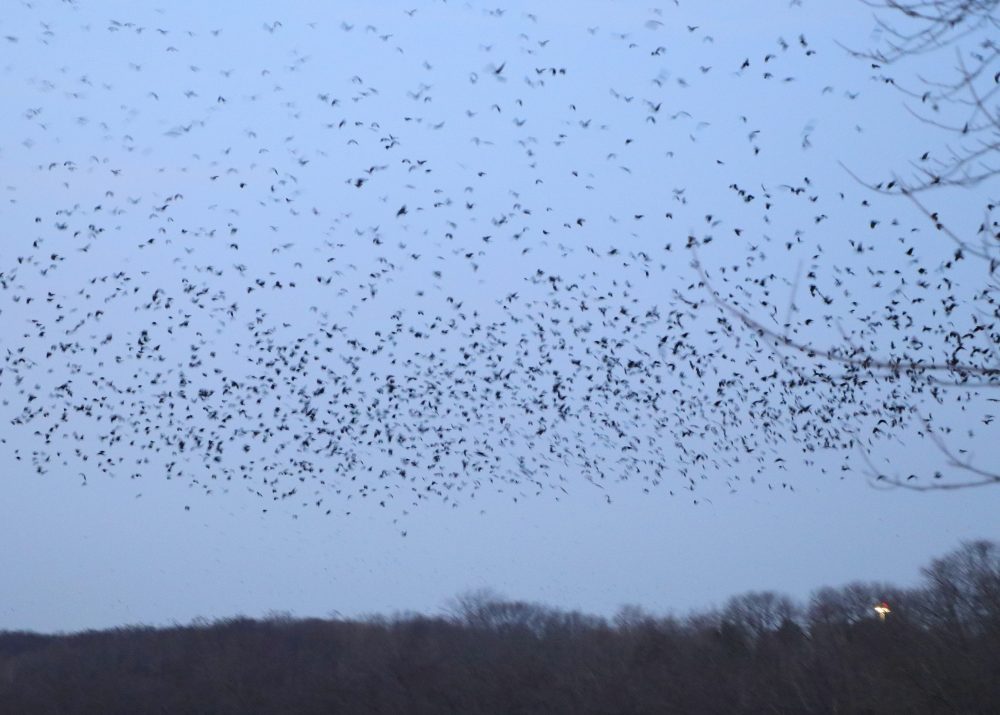 This was followed by multiple flight bursts as well as other large numbers of Crows streaming in from downriver and even more streaming in from WSW. This image below shows the Crows moving over the river.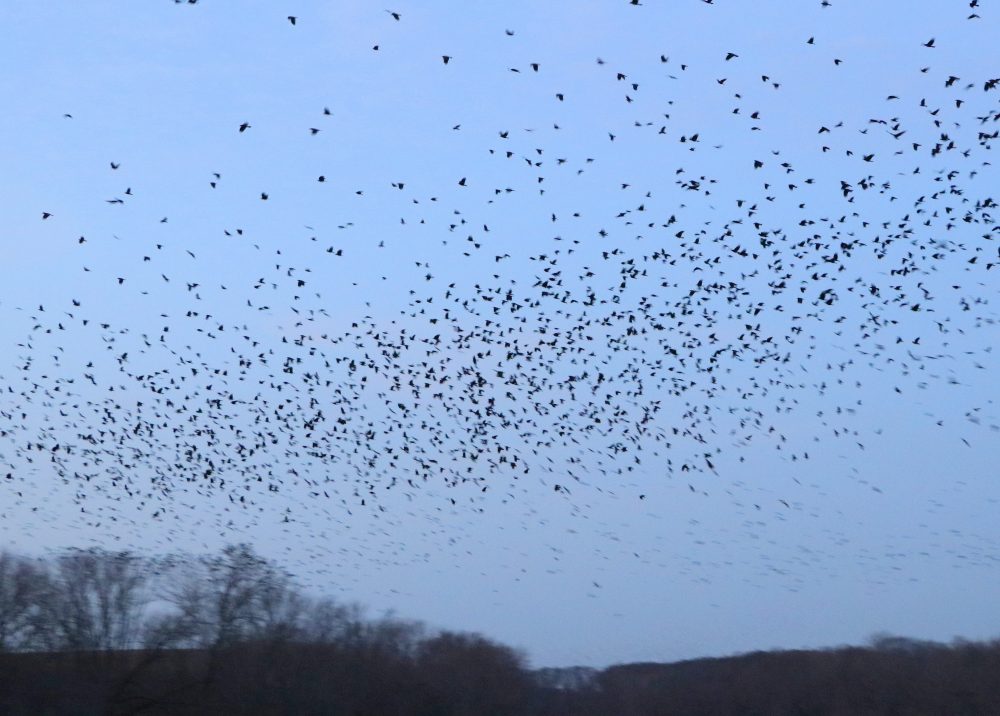 At 25 minutes after sunset time, the Crows begin to perch and assemble in the trees on the north side of the river, but still 250 meters from the final overnight roost area next to the bridge. The recent pattern has been to gather in these trees and then to leapfrog into the overnight roost areas.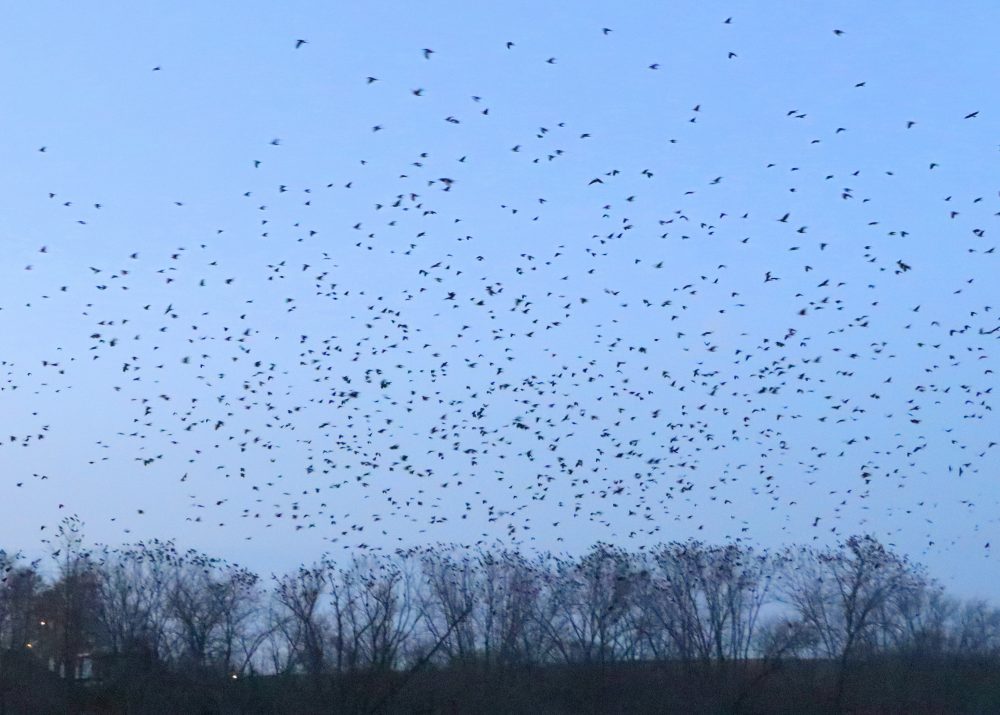 Finally, the Crows start to settle into the trees in the overnight roost area about 26 minutes after sunset time. An initial group typically sets anchor in the roost trees, followed by a massive swarm of activity as other Crows came swarming in, with some landing and others swirling in flight prior to landing!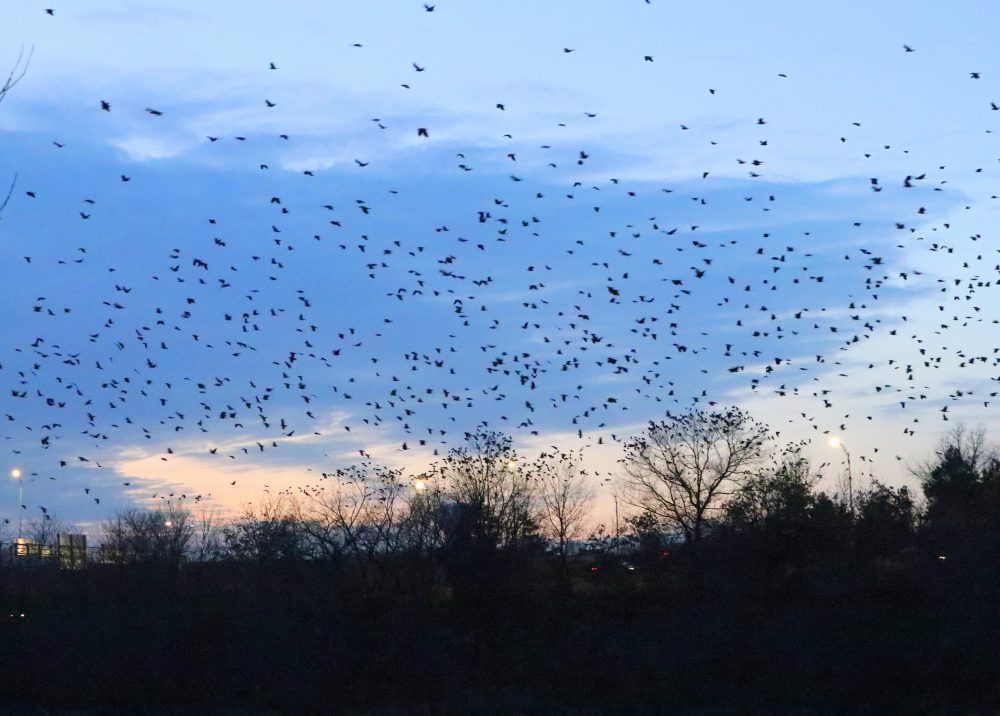 It was another amazing night with calm conditions over the Merrimack River and magnificent colors among the clouds an sky with lingering light well after sunset. Almost 20,000 Crows were part of the estimate for the Crow Roost action tonight. It was another dazzling Crow show!
Photo gear used for this outing:
Canon EOS 80D; Lens: Canon EF-S 18-135mm f/3.5-5.6 IS   
Canon 1DX MK II; Lens: Canon EF Telephoto Zoom 100-400mm f/4.5-5.6L IS II USM
ATN BinoX 4K 4-16x Day and Night Smart HD Binoculars with photo and video
Follow us on Instagram: wintercrowroost
Follow us on YouTube: birdsoftheair1
Blog post and photos by Craig Gibson, 2020 Crow Patrol, Lawrence, MA