Conditions: overcast skies, wind SW 8MPH, temp at 29F, wind chill 22F; sunset time 4:44PM
Out on Crow Patrol with first stop along NE corner of the campus at Lawrence General Hospital with Crows staging in the hillside trees along east side of Prospect Street. This image with the Crows swirling in flight well before sunset time.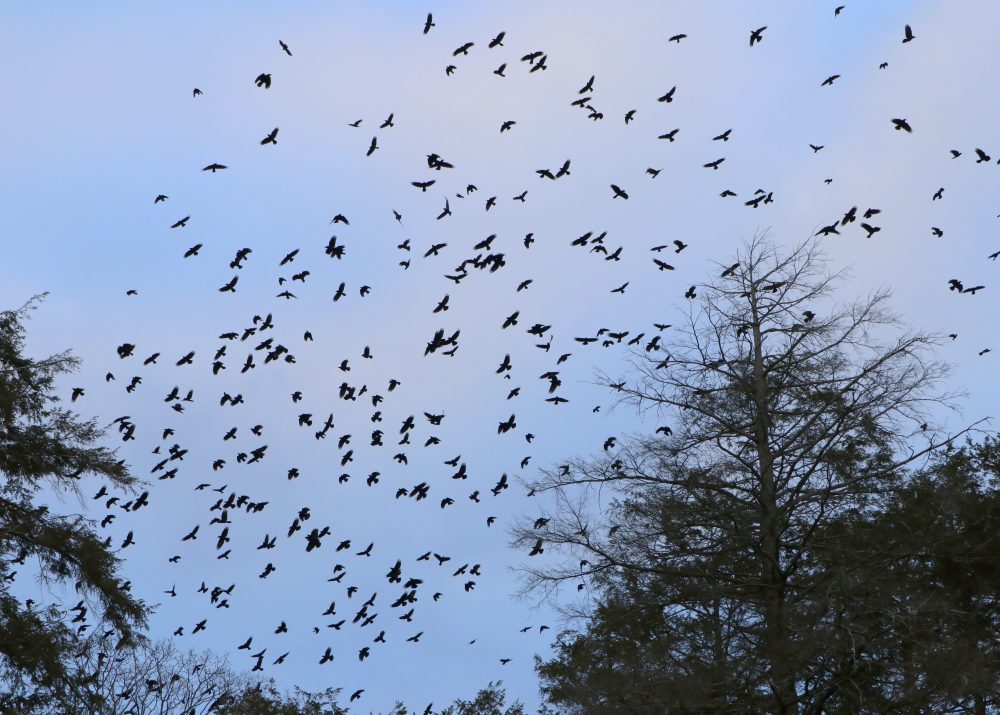 Next stop was along South Canal Street to observe the incoming flight streams, the swirl of flight activity around the warehouse roof from a different angle, and the progression into the overnight roost. The action was amazing with many takeoffs and landings by growing groups of staging Crows nearby, and loud and raucous vocalizations. This image captured minutes before sunset time.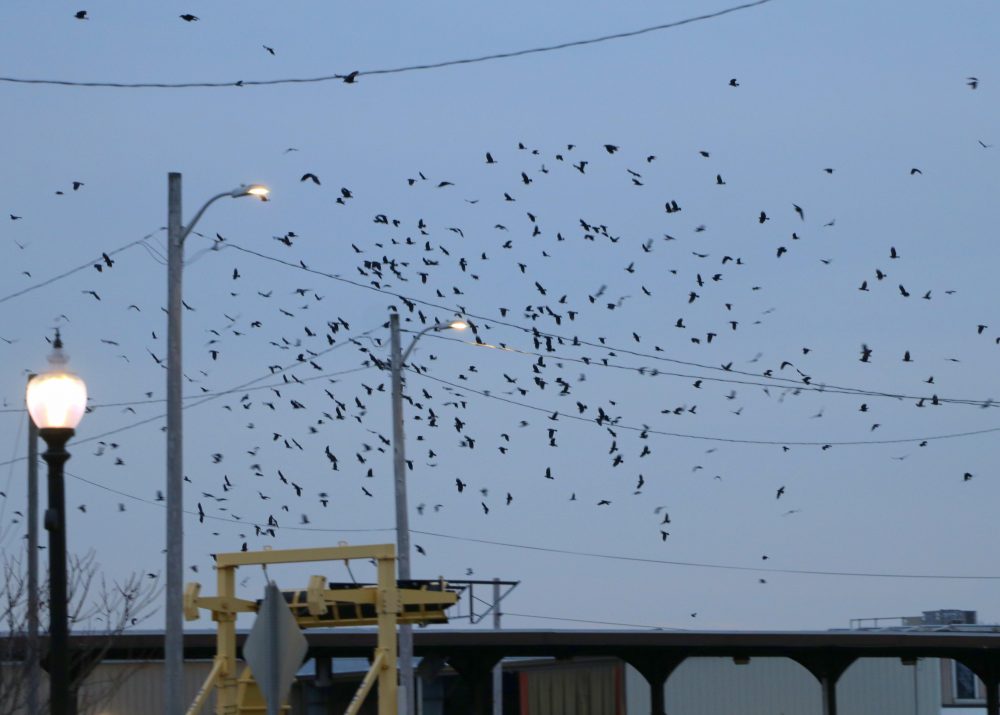 Large numbers were seen assembling on the B&D rooftop as well on other adjacent rooftop areas. The buildup continued until close to 30 minutes after sunset time. Minutes later, they began the nightly flight movement into the overnight roost area in trees and on the ground along the Merrimack River. Over the past number of nights there have been hundreds of Crows seen mulling around on the ground at the truck depot and basking in the golden glow of the overnight security lights. This image using an aerial pole was captured about 35 minutes after sunset time.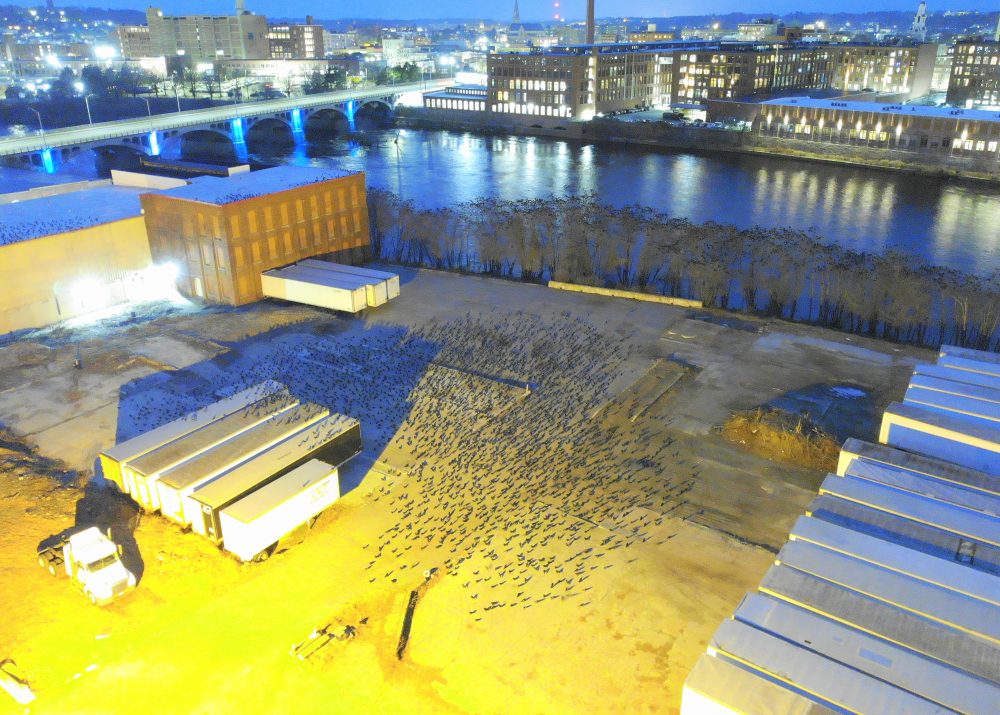 The last stop was at the Mill240 park with opportunity to observe the length of the roost trees and the density of the Crows settling into the overnight roost. This image was captured with long exposure methods using manual exposure and manual focus settings. WOW!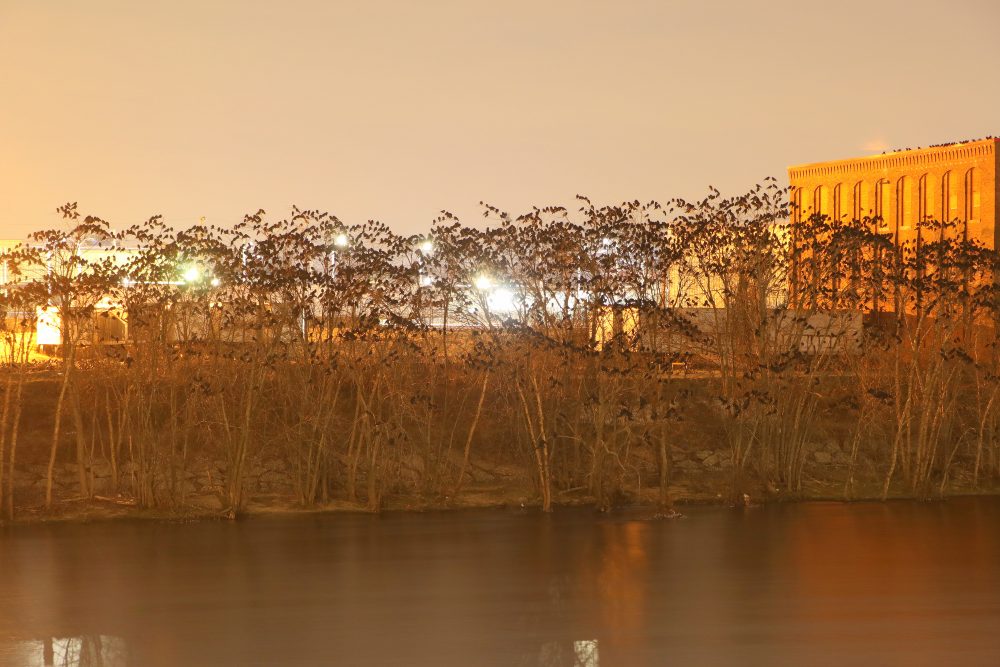 Check out the newly launched Crow Patrol Podcast: wintercrowroost.com/podcast/
Photo gear used for this outing:
Canon EOS 80D with Canon EF-S 18-135mm f/3.5-5.6 IS 
Canon EOS 80D with Canon EF-S 18-135mm f/3.5-5.6 IS (Infrared)
Canon 1DX MK II with Canon EF Telephoto Zoom 100-400mm f/4.5-5.6L IS II USM
ATN BinoX 4K 4-16x Day and Night Smart HD Binoculars with photo/video
SiOnyx Aurora Pro Digital Color Night Vision Optics
Follow us on Instagram: wintercrowroost
Follow us on YouTube: birdsoftheair1
Blog post and photos by Craig Gibson, 2020 Crow Patrol, Lawrence, MA