Dec. 4, 2021: clear skies, wind SW 8 MPH, temp at 39F; sunset time 4:11PM
Out on Crow Patrol along the south side of the mighty Merrimack River behind the dance studio. Crows seen streaming in overhead from the west, along with large numbers assembling and staging in trees along the south shore line on the west side of Charles Street. The image below shows northbound train going by and causing a momentary flight uplift among the Crows about 21 minutes after sunset time.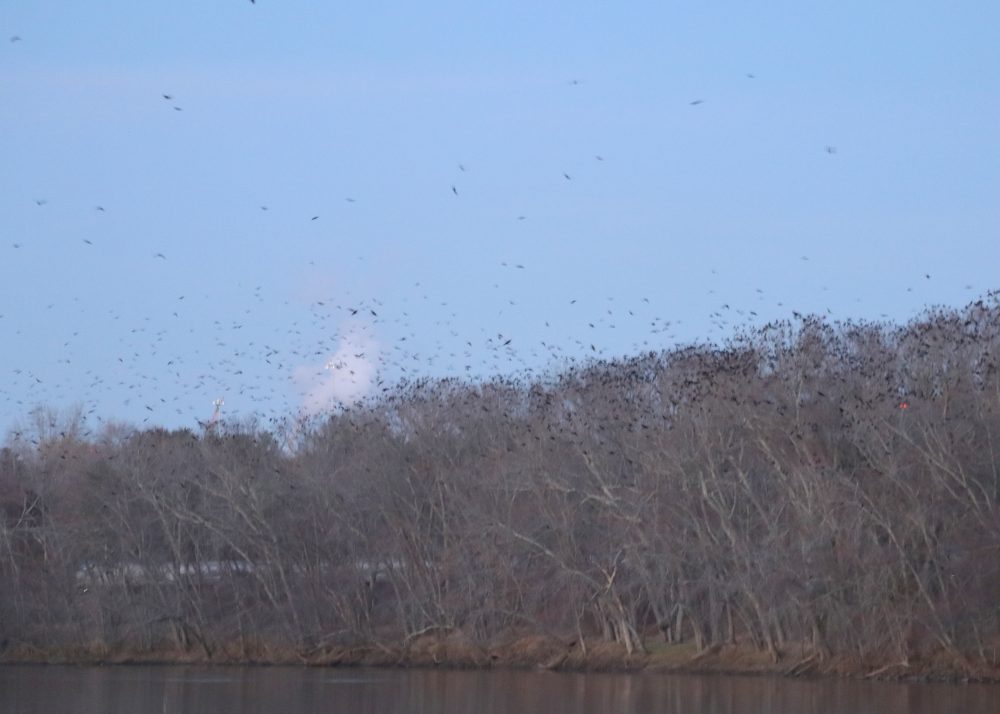 The Crows were vocalizing and many seen in playful chase patterns while streaming in to the final staging area. In the image below, we see a very normal pattern where the Crows make a flight burst across the Merrimack River, and then land in trees on the north side of the river. They assembled in these trees located downriver from the roost, about 21 minutes after sunset time. A bit later the Crows continued to leapfrog towards the roost.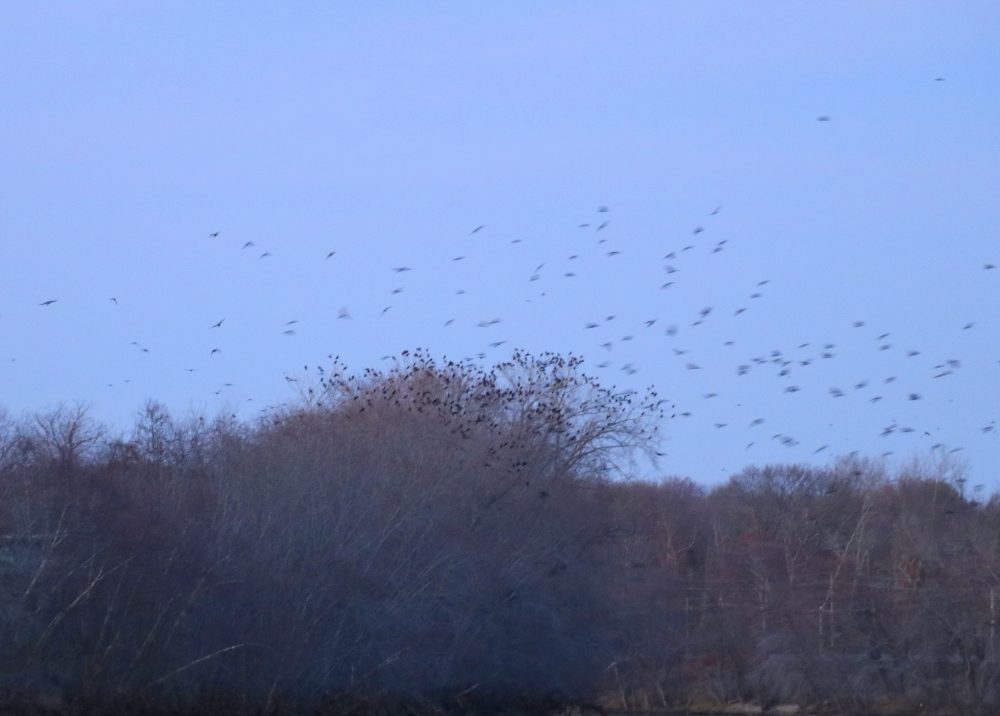 A major flight surge from the distant staging trees downriver and mostly on the south side of the river, to the overnight roost trees unfolded about 25 minutes after sunset time! Each time this happens, it creates another truly amazing moment to behold. This image below shows over 850 Crows in flight, and streaming towards the overnight roost.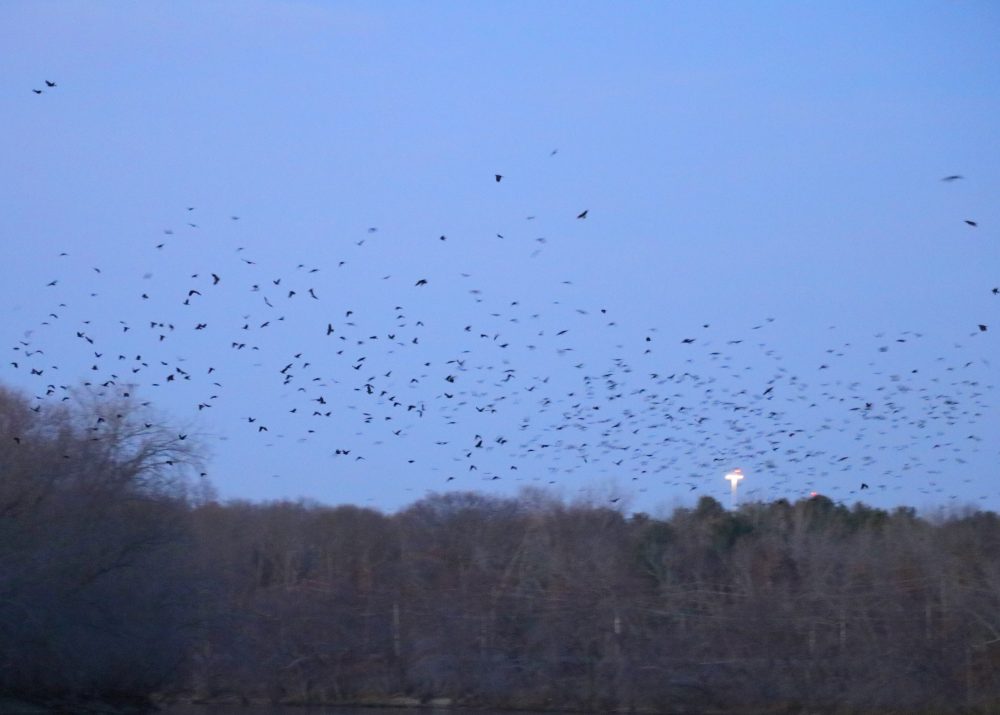 In the midst of all the flight bursts and continued vocalizations from the Crows, the final roost is growing in size. Crows are also streaming from the north and from upriver as well. The roost becomes a beehive of activity as the Crows may move around a lot in the general roost area, before picking a final perch location for the overnight. This image below shows one small tree top section of the roost about 25 minutes after sunset time. Another dazzling show!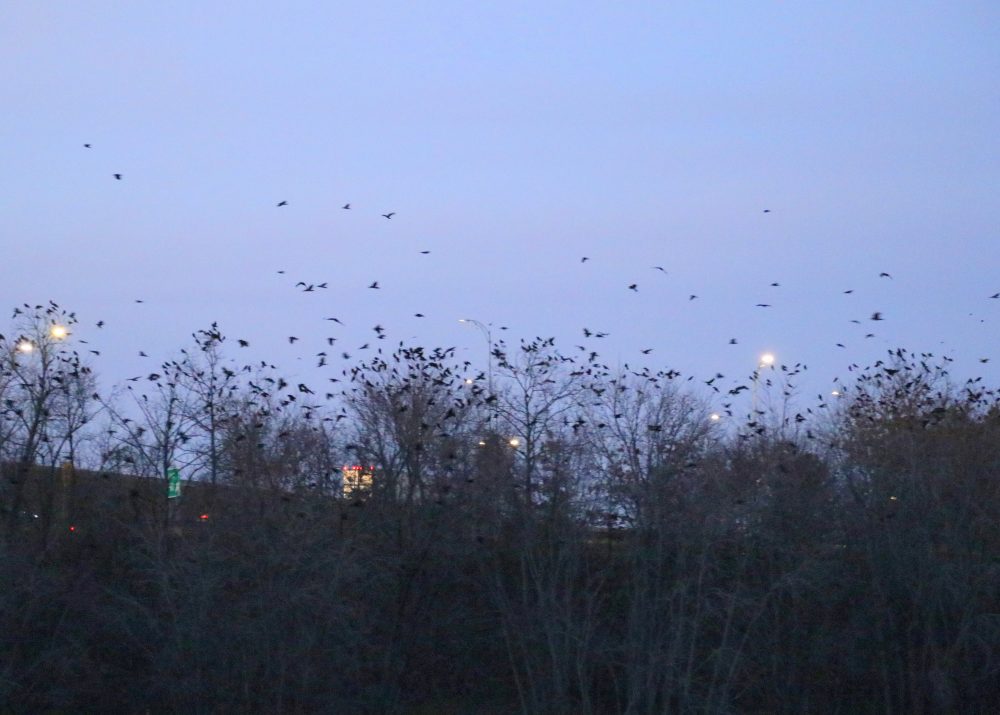 Note on counts/estimates: we are now using much improved methods for counting the large number of Crows while streaming, staging, and in the roost. For all images, we use both a modified open source software program, as well as a hand count approach to carefully document our observations and to increase reliability and accuracy of the presented numbers. 
THE 2020 NATIONAL AUDUBON CHRISTMAS BIRD COUNT (CBC) ESTIMATE FOR THIS CROW ROOST: 15,200
Check out the newly launched Crow Patrol Podcast: wintercrowroost.com/podcast/
Photo gear used for this outing:
Canon EOS 80D with Canon EF-S 18-135mm f/3.5-5.6 IS 
Canon EOS 80D with Canon EF-S 18-135mm f/3.5-5.6 IS (Infrared)
Canon 1DX MK II with Canon EF Telephoto Zoom 100-400mm f/4.5-5.6L IS II USM
ATN BinoX 4K Smart HD Binoculars with photo/video
Follow us on Instagram: wintercrowroost
Follow us on YouTube: birdsoftheair1
Blog post and photos by Craig Gibson, 2021 Crow Patrol