Crows settling in and then after dark!
Nov. 14, 2021: overcast skies, wind SW 6MPH, temp at 47F; sunset time 4:22PM
Out on Crow Patrol with initial scouting stops all along Sutton Street in North Andover while looking for Crow concentrations in staging areas. Only found small gatherings of Crows, including a group on the west side of buildings at 231 Sutton Street. Here we saw about 80 Crows mulling around on the ground with over 125 perched in the trees in the background.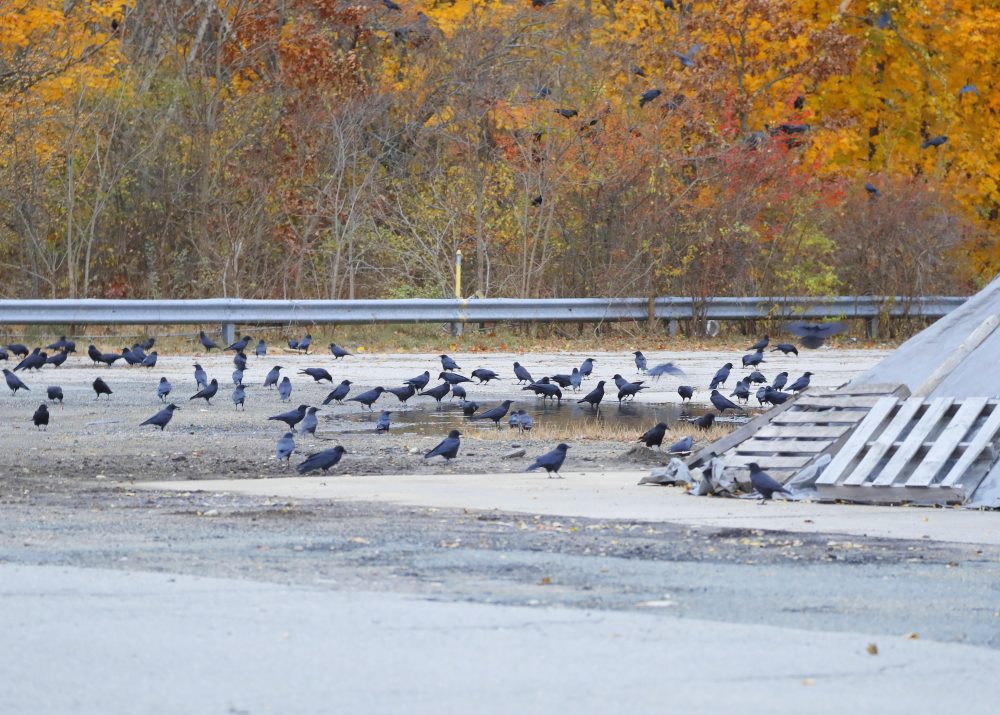 Next stop was along south shore of the Merrimack River. Large groupings came streaming in towards the roost area for about 20 minutes starting about 8 minutes after sunset time. Here is a group of Crows in flight coming from trees along Charles street in a group of about 175 Crows.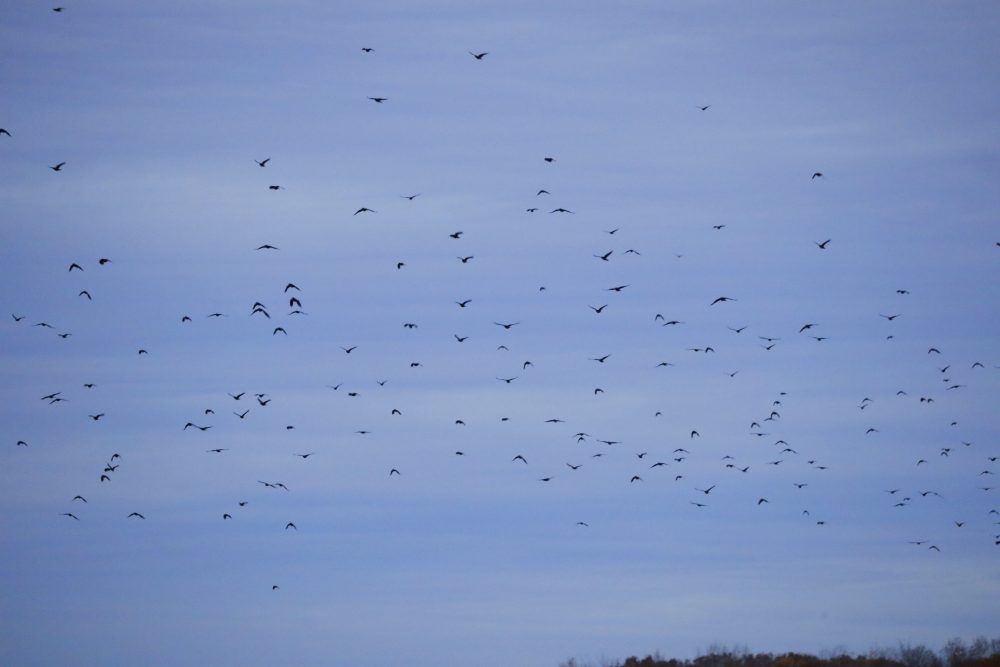 As the numbers tapered off, another flight burst with over 170 Crows filled the sky while heading towards the roost.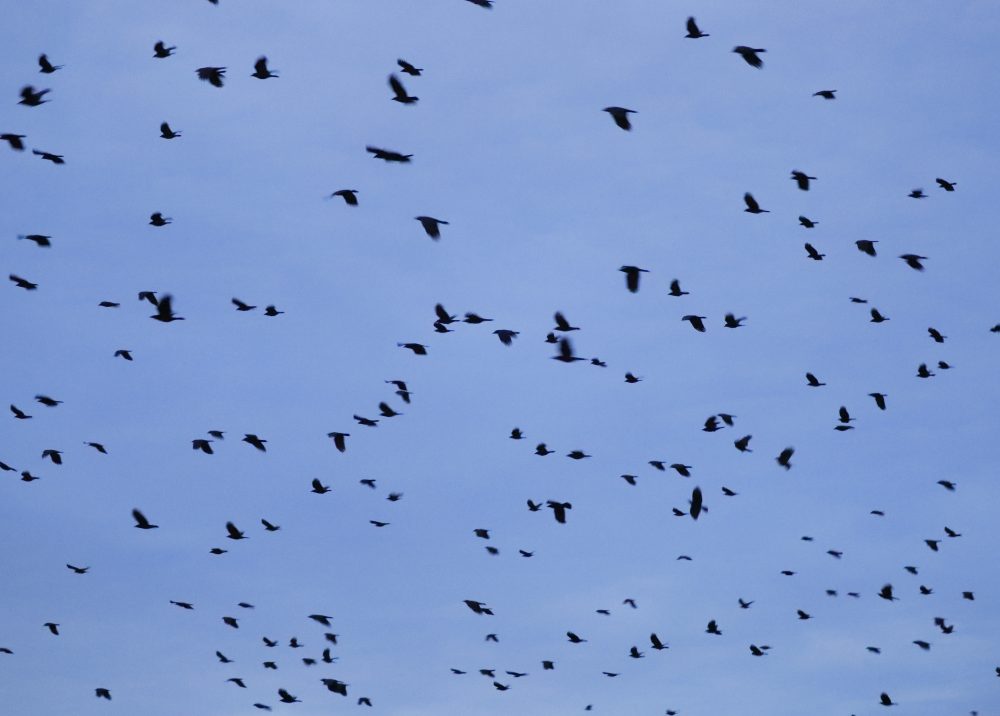 It is always fascinating to observe the Crows swirling in flight over the roost area, and then settling in along the tree branches and twigs. Often times, the lighting conditions make for a challenge for clear views, but the flight action, total chaos, loud vocalizations, and buzz of activity are always a pure and mesmerizing delight, especially against a colorful sunset sky. This image below was captured about 25 minutes after sunset time.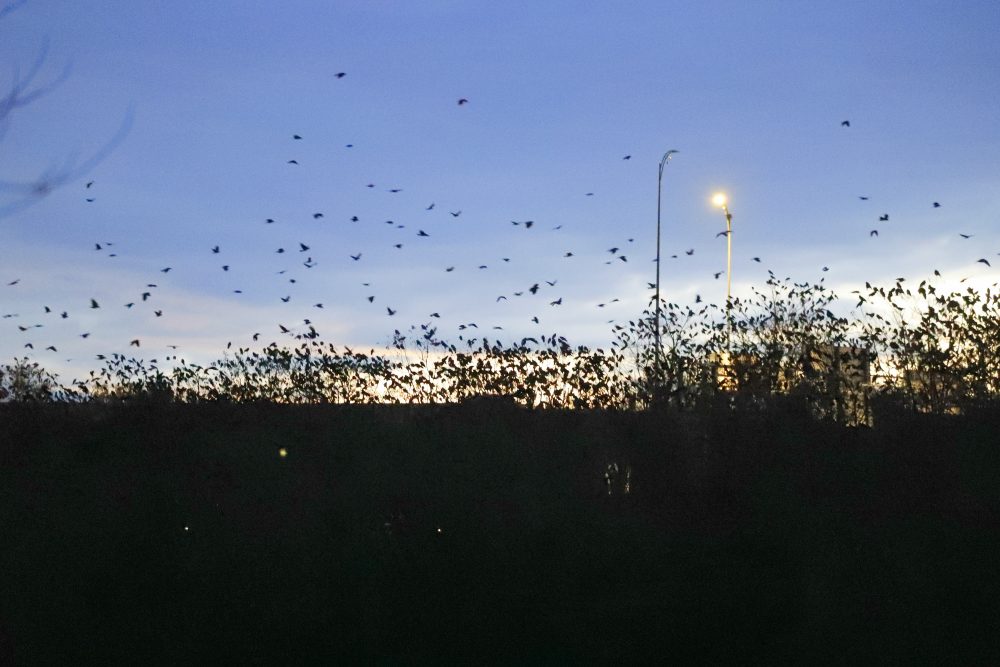 About an hour after sunset time, with darkness fully over the roost, except for the background highway lights, had a chance to observe and photograph a small section of the overnight roost. The image below of a roost section with over 500 tightly packed Crows, shows how they huddle tightly together for the overnight hours!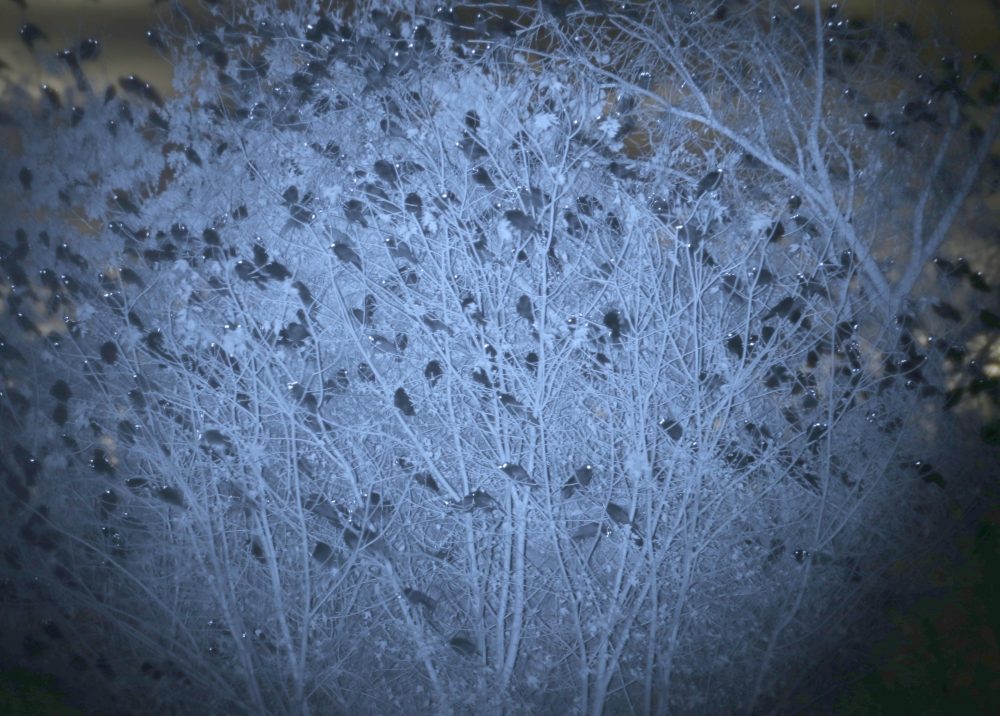 Note on counts/estimates: we are now using much improved methods for counting the large number of Crows while streaming, staging, and in the roost. For all images, we use both a modified open source software program, as well as a hand count approach to carefully document our observations and to increase reliability and accuracy of the presented numbers. 
THE 2020 NATIONAL AUDUBON CHRISTMAS BIRD COUNT (CBC) ESTIMATE FOR THIS CROW ROOST: 15,200
Check out the newly launched Crow Patrol Podcast: wintercrowroost.com/podcast/
Photo gear used for this outing:
Canon EOS 80D with Canon EF-S 18-135mm f/3.5-5.6 IS 
Canon EOS 80D with Canon EF-S 18-135mm f/3.5-5.6 IS (Infrared)
Canon 1DX MK II with Canon EF Telephoto Zoom 100-400mm f/4.5-5.6L IS II USM
ATN BinoX 4K Smart HD Binoculars with photo/video
Follow us on Instagram: wintercrowroost
Follow us on YouTube: birdsoftheair1
Blog post and photos by Craig Gibson, 2021 Crow Patrol, Lawrence, MA