Fascinating video at dawn!
Feb. 20, 2022: clear skies, wind W at 8MPH, temp 14F, wind chill 3F; sunrise time 6:34AM
Out on Crow Patrol at dawn, about 60 minutes before sunrise time. This time is usually referred to as nautical twilight. It occurs when the center of the Sun is between 6 degrees and 12 degrees below the horizon. This twilight period is less bright than civil twilight, which is the period about 30 minutes before sunrise time. and artificial light is generally required for outdoor activities. During this time, most stars can be easily seen with naked eyes, and the horizon is usually also visible in clear weather conditions. The Crows were seen in the trees at the curve along Marston Street as it turns north onto Prospect Street. This image was captured with long exposure settings and with an infrared camera about 41 minutes before sunrise time. It is looking NE and towards the tree tops with the water tower in the background.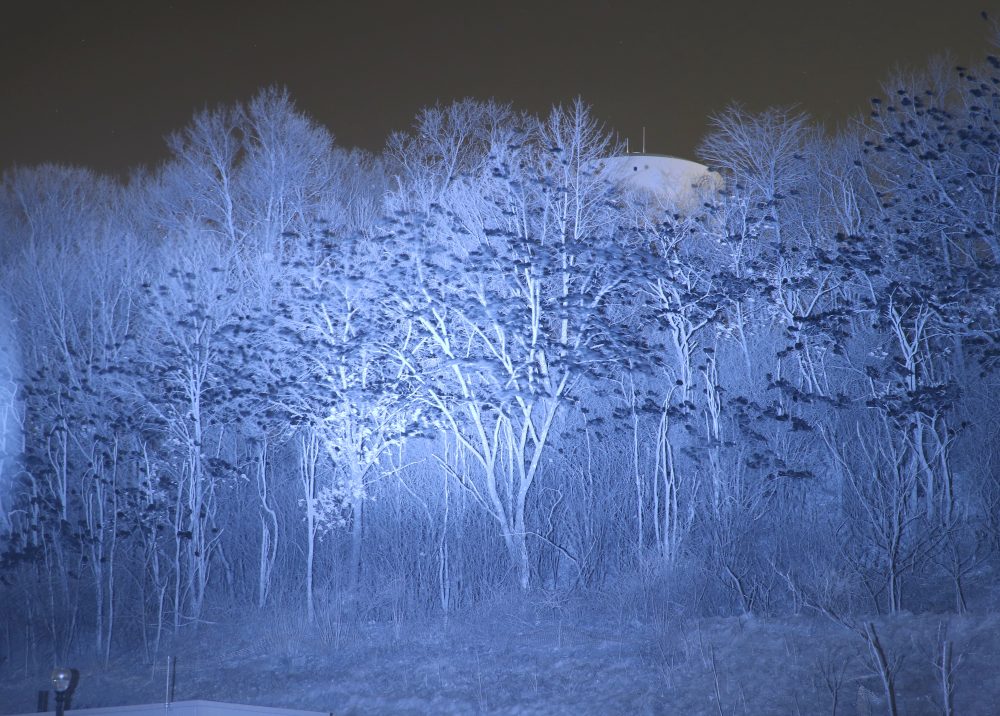 They were vocalizing in a lively, loud, and exuberant way preparing for the day ahead. The Crows were perched much lower than normal, and spread out in the middle and lower canopy of the the trees around the curve. The Crows departed in a series of outbound flight waves, with many moving over to trees by the mouth of the Spicket River below. Despite the frigid temperatures with wind chill close to zero, it was another dazzling Crow Show!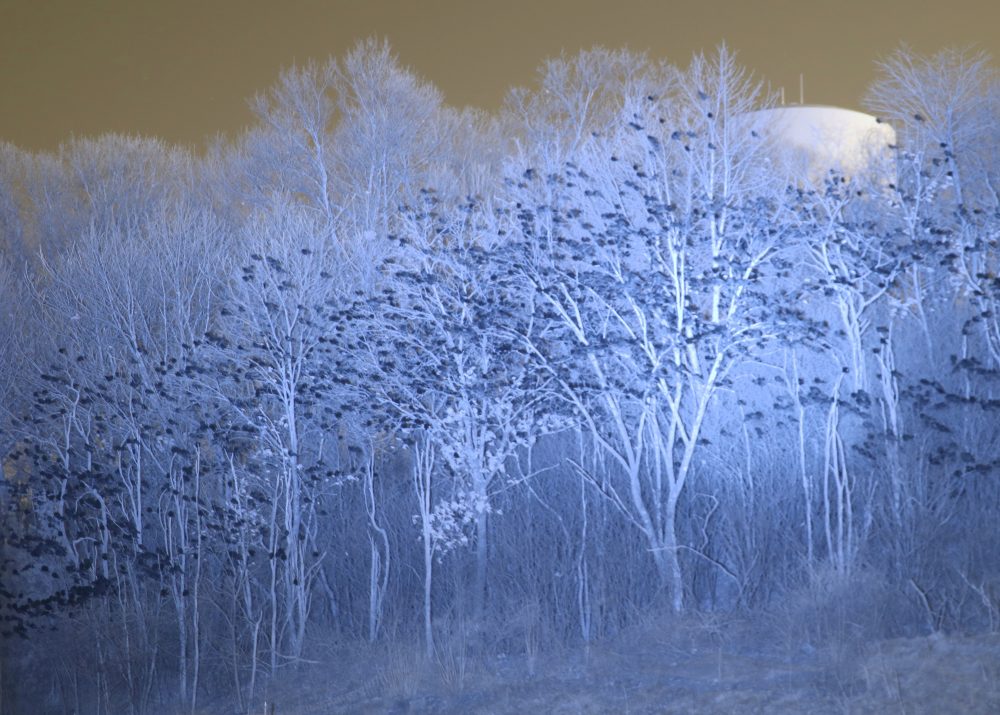 The 2021 Audubon Christmas Bird Count (CBC) for the Andover Circle, for this separate Crow Count was 12,250 Crows. Last year, the 2020 CBC Andover Circle Crow Count was 15,200. Many thanks to Donna Cooper who coordinates and compiles the Andover Circle each year!
Note on counts/estimates: we are now using improved methods for counting the large number of Crows while streaming, staging, and in the roost. For all images, we use both a modified open source counting software program, as well as a hand count approach to carefully document our observations and to increase reliability and accuracy of the presented numbers. 
Remember to check out the latest Crow Patrol Podcast with Prof. John Kricher: wintercrowroost.com/podcast/
Photo gear used for this outing:
Canon EOS 80D with Canon EF-S 18-135mm f/3.5-5.6 IS 
Canon EOS 80D with Canon EF-S 18-135mm f/3.5-5.6 IS (Infrared)     
Canon 1DX MK II with Canon EF Telephoto Zoom 100-400mm f/4.5-5.6L IS II USM
Sony AX700 4K HDR Camcorder
ATN BinoX 4K Smart HD Binoculars with photo/video
Follow us on Instagram: wintercrowroost
Follow us on YouTube: birdsoftheair1
Blog post and photos by Craig Gibson, 2022 Crow Patrol