Incoming Medflight Helicopter!
Dec. 27, 2022 under clear skies, wind W 5MPH, temp 32F; sunset time 4:17PM
Out on Crow Patrol with initial looks from parking lot at Lawrence General Hospital. Incoming flight streams mainly from the W and SE. Smaller groupings started to build up along Prospect Street, but main action was in the trees along the Spicket River behind the hospital parking lot areas. Great eye level views of tree tops from tiered parking levels, and one with Clock Tower in the distance.
A round five minutes past 5PM, a MedFlight helicopter was heard, then seen, on approach to hospital helipad. This caused a major flight burst up and out of nearby trees and phragmites along the river.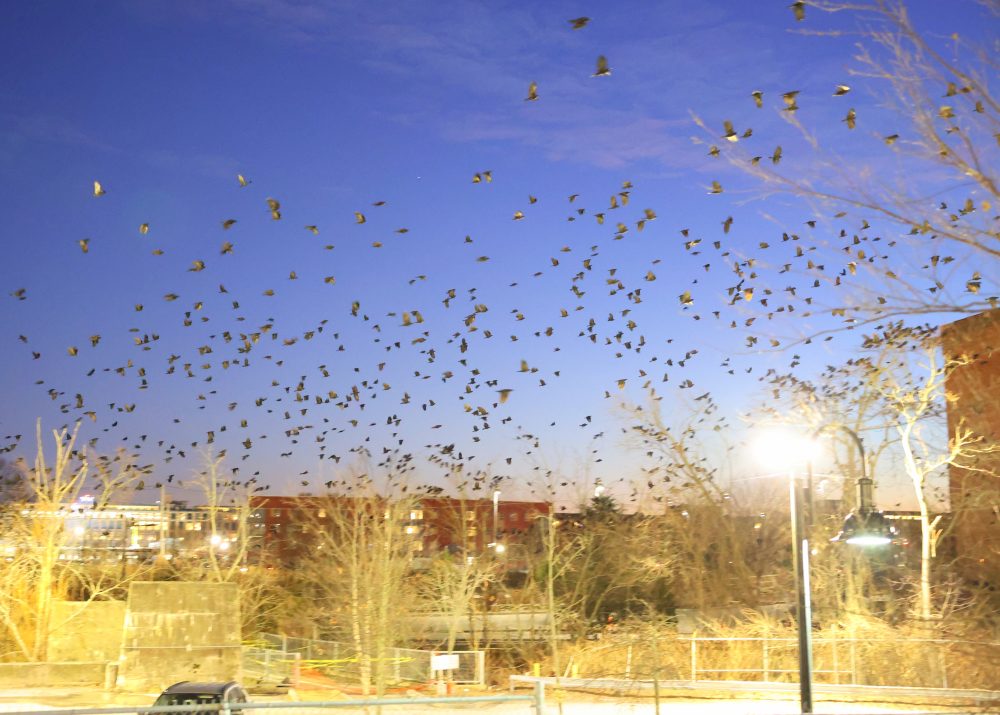 With increasing noise and flashing lights, the helicopter slowly approached the hospital helipad landed and shut down. Image at 49 minutes post sunset time.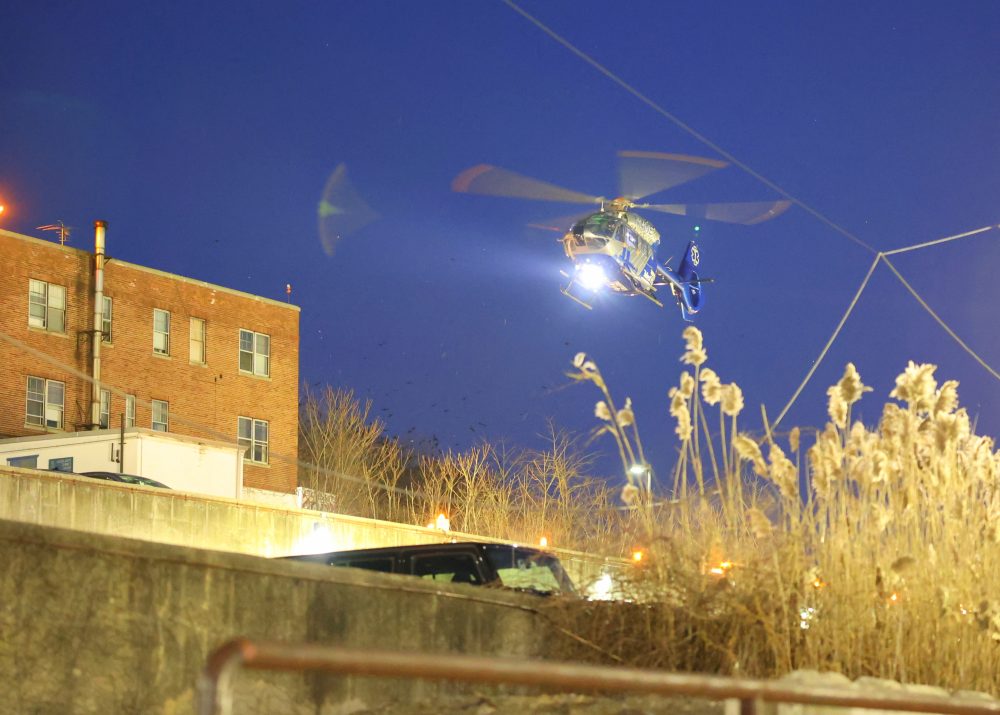 After later takeoff, the Crows slowly returned to the roost area against the dark sky background and bright parking lot lights! Image at 77 minutes post sunset.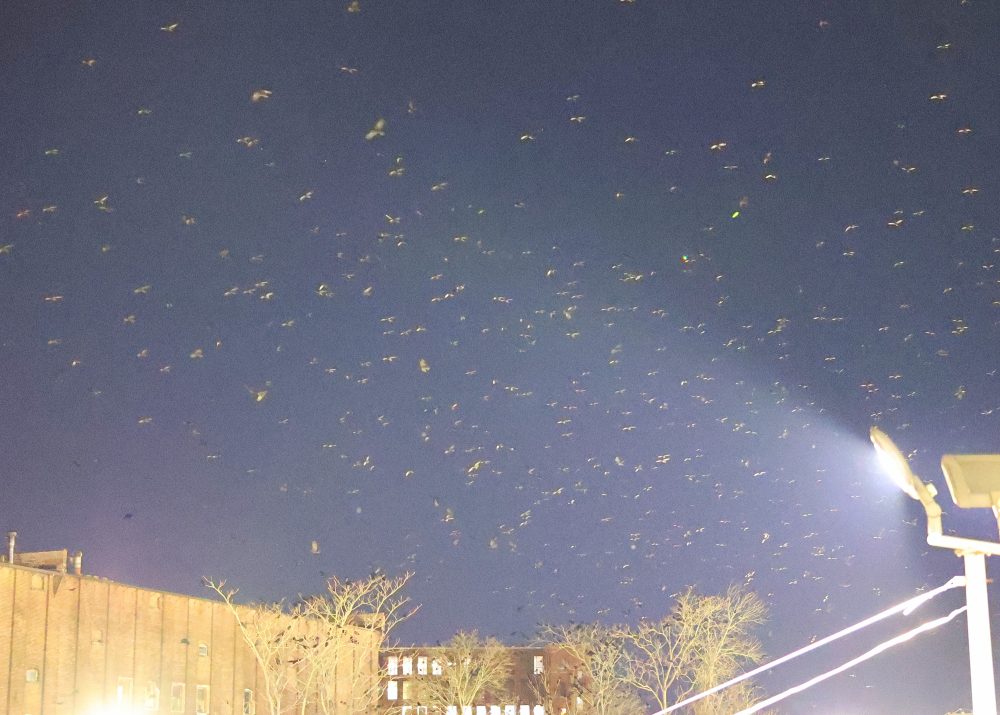 Made a final search around local area for additional Crows, and was rewarded with finding more roosting Crows in the trees along the Spicket River behind the Leonard Middle School on Allen Street, just east of the hospital. Image at 85 minutes post sunset. Another dazzling night!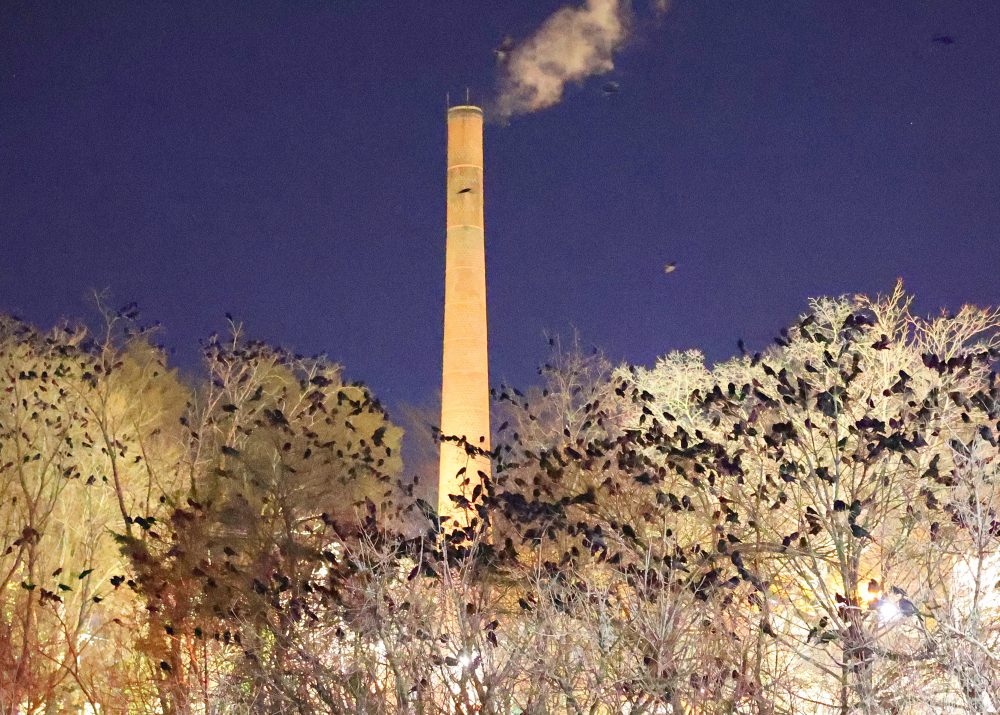 For the 2022 Audubon Christmas Bird Count (CBC) for the Andover Circle, this separate Crow Count was 13,750 Crows. In 2021, the CBC Andover Circle Crow Count was 12,250. Many thanks to Donna Cooper who coordinates and compiles the Andover Circle each year!
Note on counts/estimates: we are now using improved methods for counting the large number of Crows while streaming, staging, and in the roost. For all images, we use both a modified open source counting software program, as well as a hand count approach, while outside next to the roost, to carefully document our observations and to significantly increase reliability and accuracy of the presented numbers. Please refer to our new roost counting guide on main page.
Remember to check out the latest Crow Patrol Podcast with John Macone (Merrimack River Watershed Council): wintercrowroost.com/podcast/
Photo gear used for most outings:
Canon EOS 80D with Canon EF-S 18-135mm f/3.5-5.6 IS 
Canon EOS 80D with Canon EF-S 18-135mm f/3.5-5.6 IS (Infrared)     
Canon EOS R6 Mirrorless with Canon RF 28-70 f/2 L IS USM 
Canon EOS R6 Mirrorless with Canon RF 50 f/1.2 L USM 
Sony AX700 4K HDR Camcorder
Follow us on Instagram: wintercrowroost
Follow us on YouTube: wintercrowroost
Blog post and photos by Craig Gibson, 2023 Crow Patrol