Video in full color with night vision optics showing Crows converging into roost!
Conditions: overcast skies, wind W at 5MPH, 50°F; sunset time 5:43PM
Initial scouting for staging crows along Island St.and Marston St. with light action; crossed over Rt. 495 Bridge and down onto Merrimack Street. Big pickup in activity around the McGovern Parking Garage. Headed up to roof deck with great views to the south and west. 500 Crows seen nearby on trees, utility wires, nearby roof tops, and 50 plus fighting over a pile of bagels on South Union St. At 5:30PM, hardly a Crow to be seen on the B&D Advanced Warehousing roof.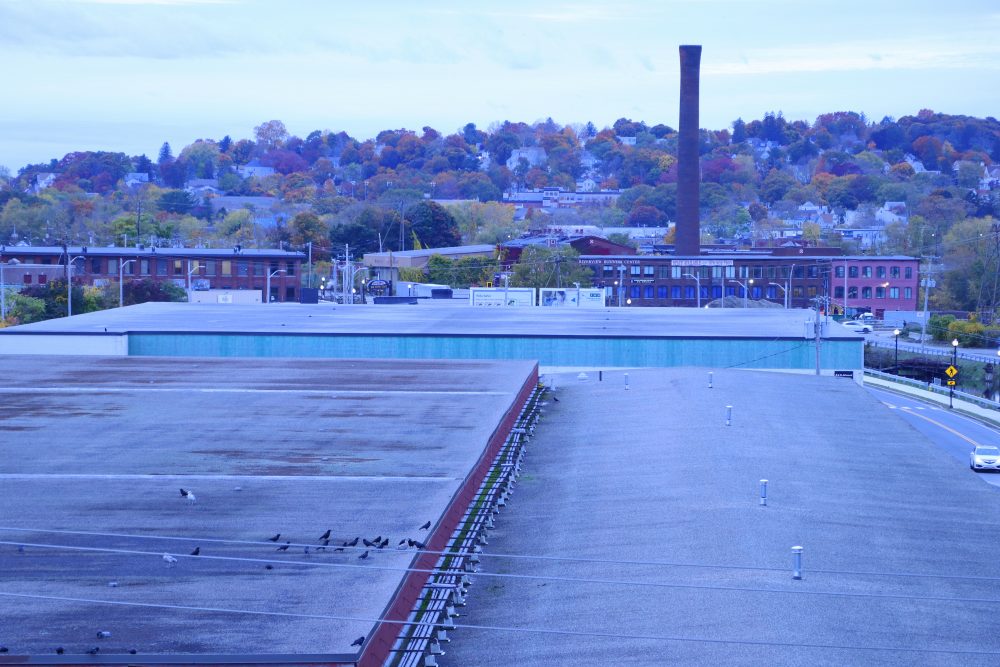 At the same time, 300+ Fish Crows were seen mulling around nearby on top deck of the McGovern parking garage; in the distance a rumbling noise became louder followed by the telltale train whistle around 9 minutes before sunset time. This caused the inevitable WHOOSH, and the Crows lifted up and off into flight. This image below, from the NW corner of the roof deck, shows the liftoff towards the west.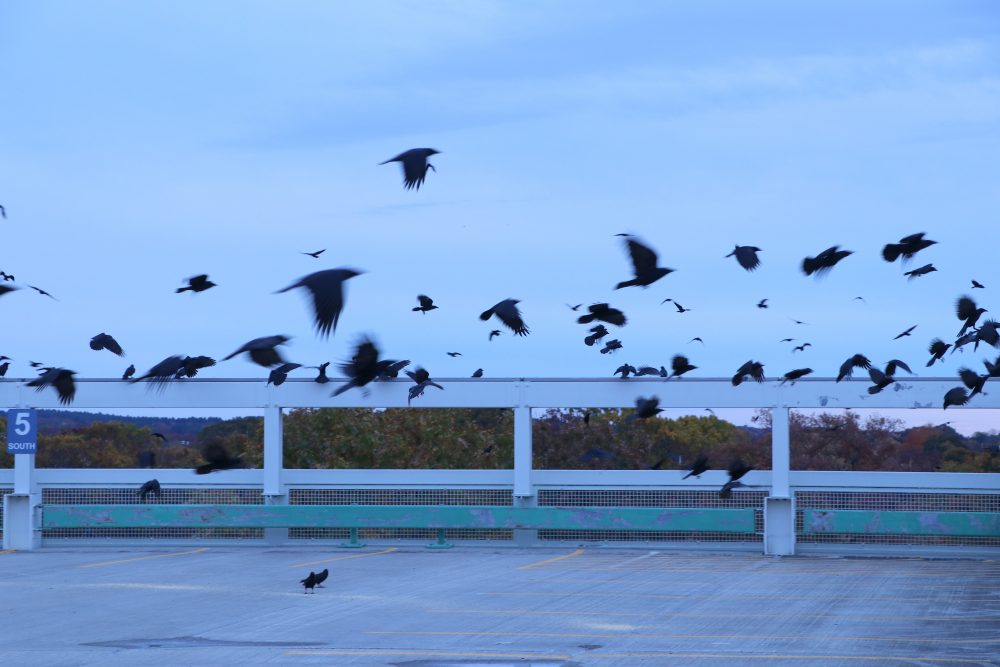 About 20 minutes later, the B&D roof top was filling up with more crows streaming in from the south in major pulse flight movements. This has been a regular staging area over last few weeks. It is fascinating to watch it fill up and then empty out as the Crows move to the overnight roost.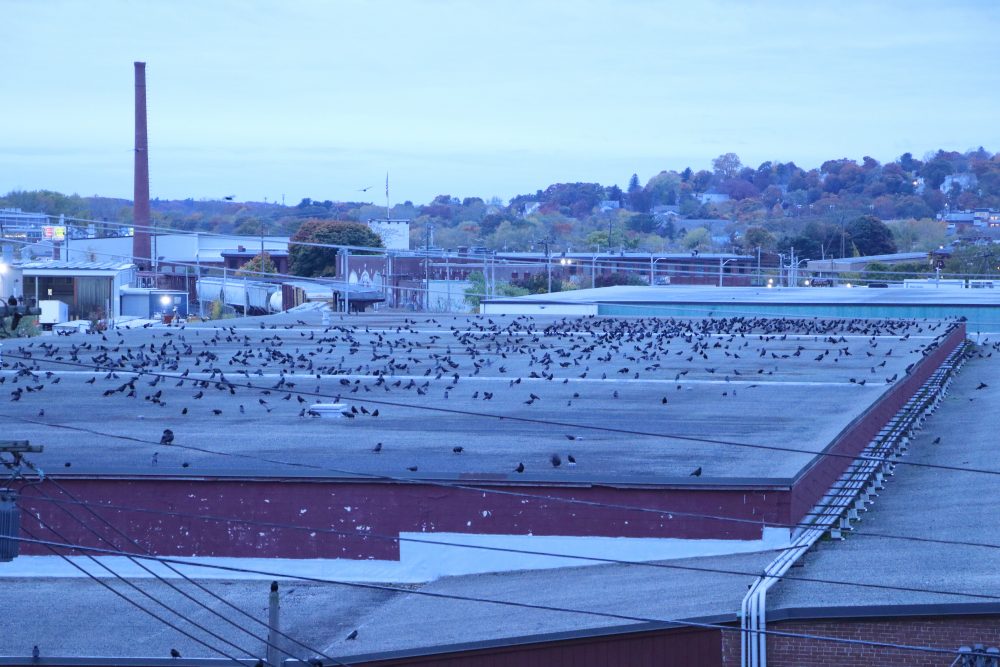 Headed over to west side of Duck Bridge and observed large numbers of Crows vocalizing while streaming in from downriver, and converging into the overnight roost.  This image was captured with the infrared camera about 20 minutes after sunset time. Flight movements, under diminishing light conditions. create more of a blur pattern.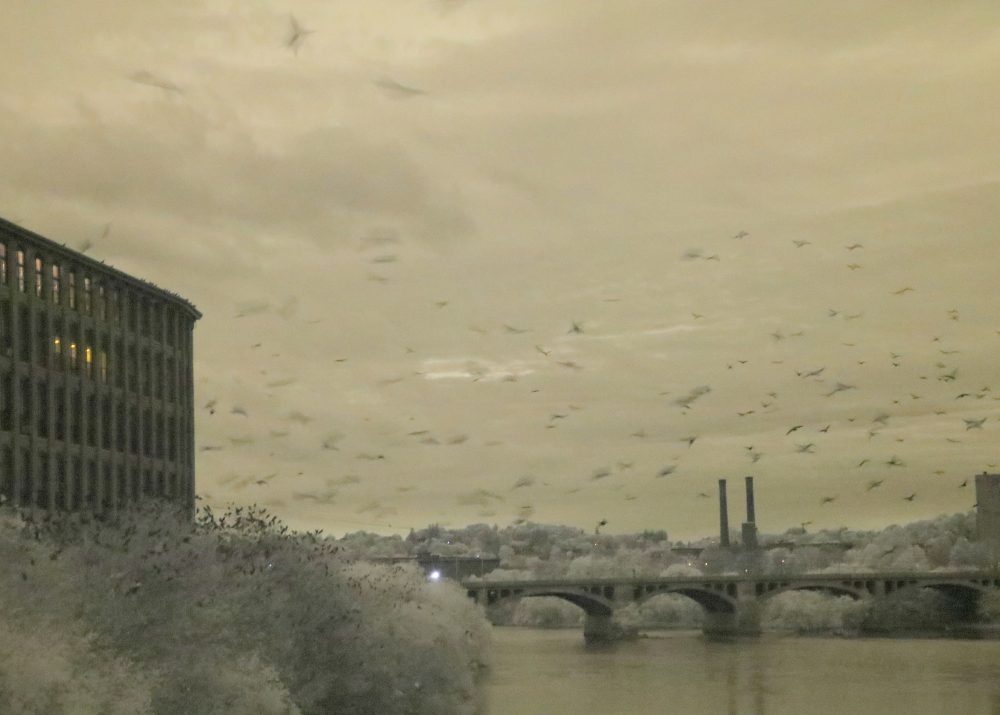 Before departing, made final observations of the overnight roost as things quieted down. Had a chance to capture this final image with the infrared camera about 40 minutes after sunset time. This type of imaging provides a rare glimpse into the roost after dark. Tonight….. another amazing Crow Show!!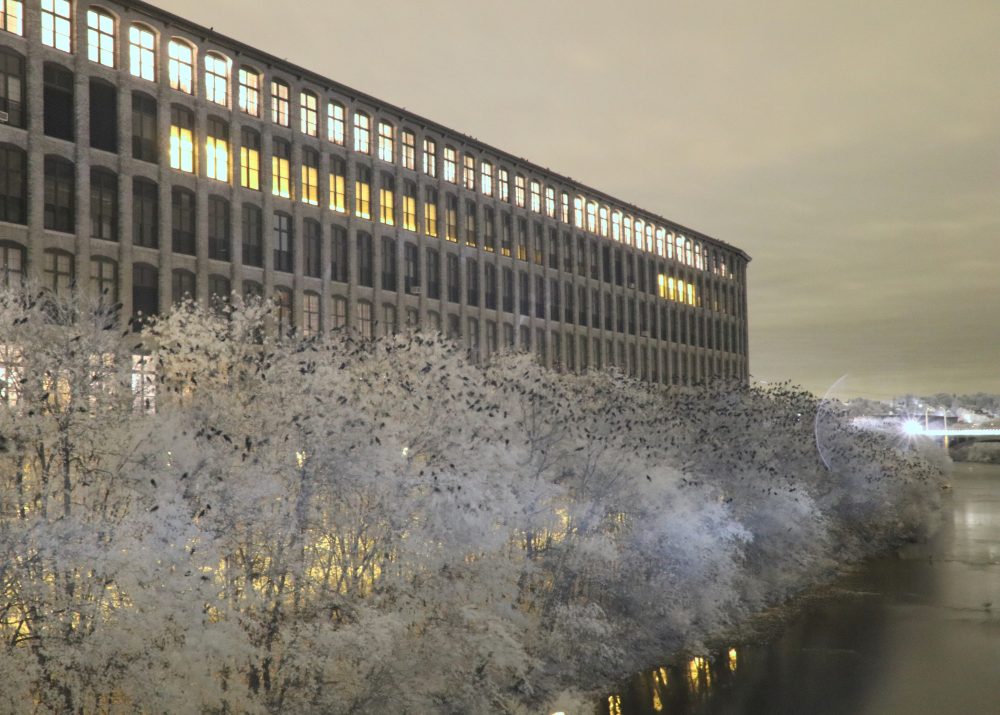 Photo gear used for this outing:
Canon EOS 80D with Canon EF-S 18-135mm f/3.5-5.6 IS 
Canon EOS 80D with Canon EF-S 18-135mm f/3.5-5.6 IS (Infrared)
Canon 1DX MK II with Canon EF Telephoto Zoom 100-400mm f/4.5-5.6L IS II USM
ATN BinoX 4K 4-16x Day and Night Smart HD Binoculars with photo/video
Follow us on Instagram: wintercrowroost
Follow us on YouTube: birdsoftheair1
Blog post and photos by Craig Gibson, 2020 Crow Patrol, Lawrence, MA