This video shows a stunning time lapse sequence of Crows landing in the roost!
Conditions: clear skies at dusk, wind SW at 5MPH, temp 67F; sunset time 4:26PM
Out on Crow Patrol for just over 75 minutes with first stop atop McGovern parking garage, with initial but smaller than normal group of American and Fish Crows starting to gather at the far end of B&D warehouse complex roof top about 8 minutes before sunset time. They rose up in flight and settled back down a number of times.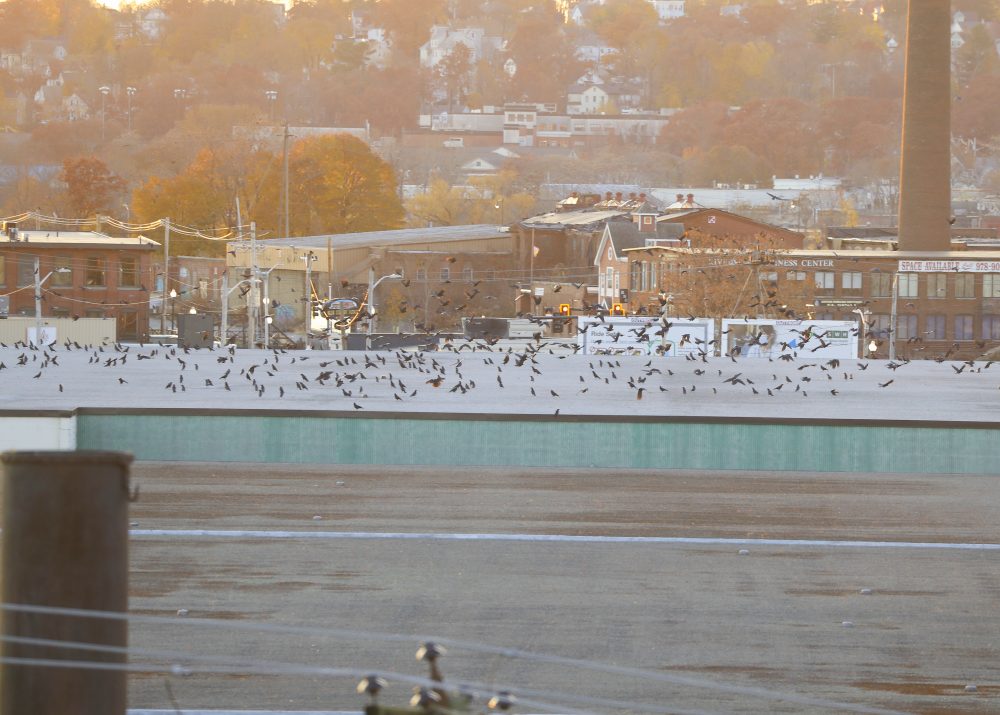 Moved over to the Duck Bridge minutes after sunset and over the next hour had a chance to observe swarms and waves of Crows converging in flight into the overnight roost with loud and raucous vocalizations. At almost 20 minutes after sunset, with plenty of fading light from the clear skies, looked back over my shoulder towards 25 Marston Street red brick medical building and observed swarms of Crows in the trees along the north side of the Merrimack River. they were lingering prior to making the move into the roost.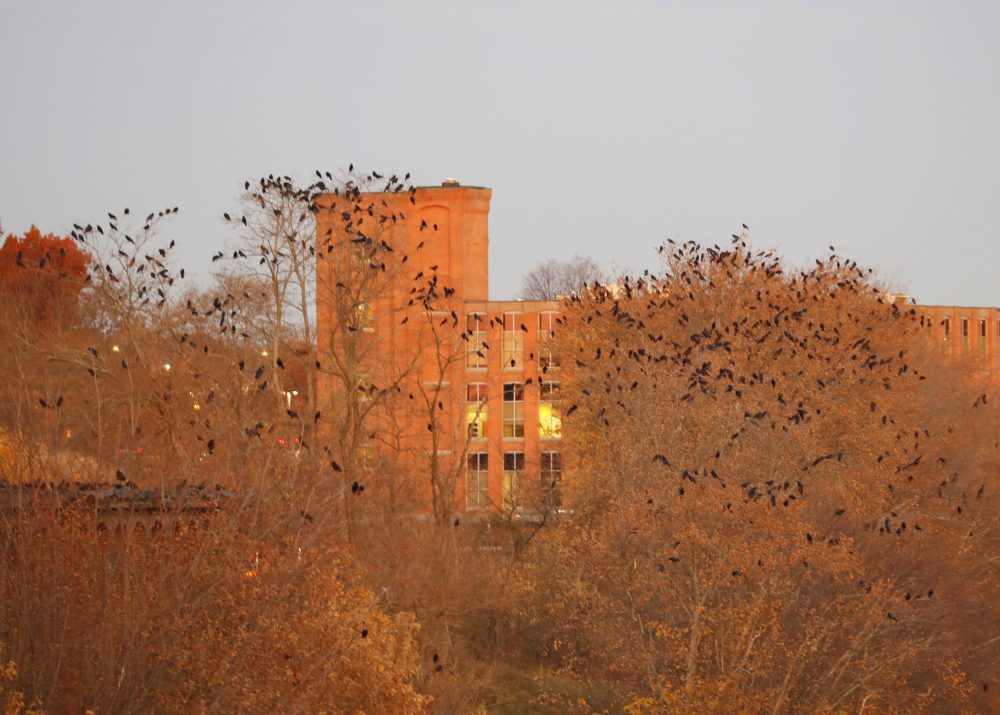 Turning back and looking towards the west, and the far end of the New Balance building just seconds later, a massive swarm of Crows rose up in flight and made their move towards the roost trees. It was an impressive and lasting flight stream. Overall the numbers are growing by leaps and bounds each week as now see clsoe to 10,000 Crows in the nightly roost.  The flight action is becoming very impressive!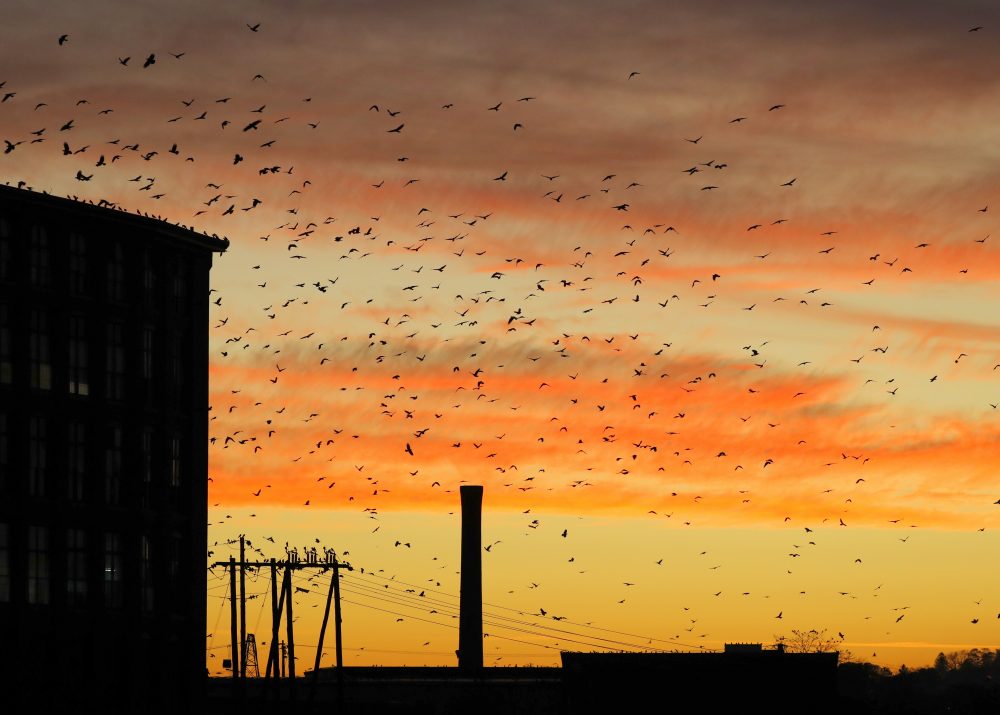 In an effort to look down the line of trees, at the Crows perched on the tops of the trees, moved back towards the south end of the Duck Bridge about 27 minutes past sunset time. The Crows seem to perch in a somewhat equidistant way and tend to cover the top and sides of the crown of the trees. How do they determine social distancing among themselves?
The action continued a while longer with continued vocalizations from incoming Crows into the roost, and movements within the roost. As darkness settled in for the night, had a nice chance to capture a final image with the infrared camera almost 60 minutes after sunset time, from the Duck Bridge, looking WSW down the full stretch of tree tops on the north side of the New Balance building. The Crows almost look like jimmies on top of wisps of cotton candy! It all quieted down by 5:30PM with stunning sunset colors tonight!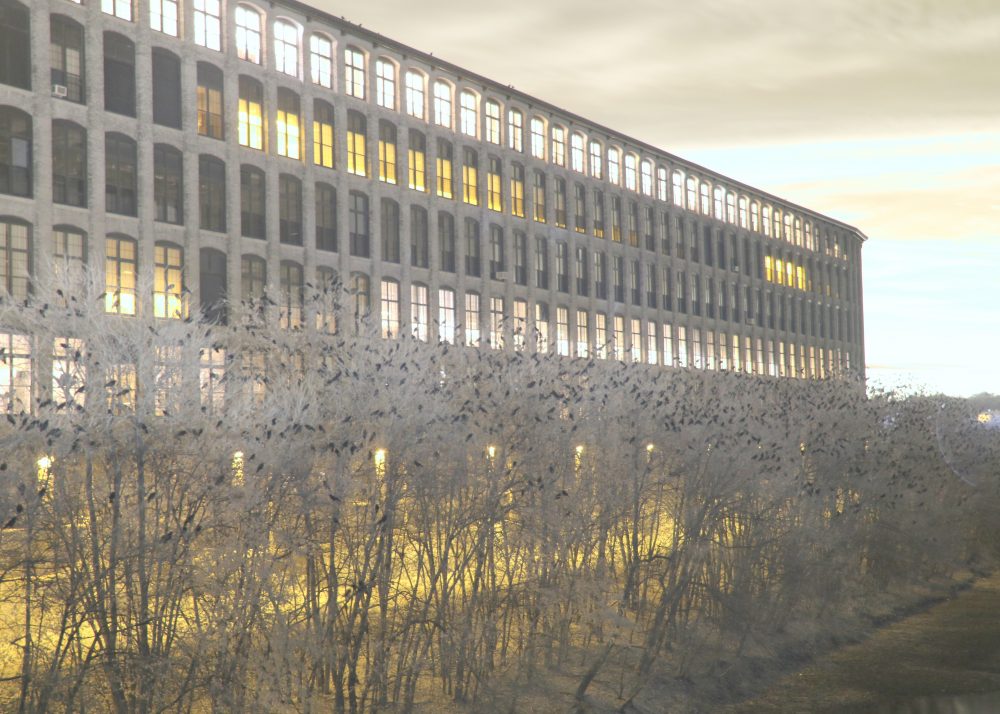 Photo gear used for this outing:
Canon EOS 80D with Canon EF-S 18-135mm f/3.5-5.6 IS 
Canon EOS 80D with Canon EF-S 18-135mm f/3.5-5.6 IS (Infrared)
Canon 1DX MK II with Canon EF Telephoto Zoom 100-400mm f/4.5-5.6L IS II USM
ATN BinoX 4K 4-16x Day and Night Smart HD Binoculars with photo/video
SiOnyx Aurora Pro Digital Color Night Vision Optics
Follow us on Instagram: wintercrowroost
Follow us on YouTube: birdsoftheair1
Blog post and photos by Craig Gibson, 2020 Crow Patrol, Lawrence, MA