This video shows the Crows streaming towards the overnight roost!
Conditions: partly cloudy, calm, 55°F; sunset time 5:55PM
Observations: initial sightings of staging groups seen around 5:30PM at south end of Casey Bridge on both sides; on the ground, rooftop edges, and perched along nearby utility wires; more staging groups were observed behind the New Balance parking lot, located at SE corner of Parker/Merrimack St. intersection, and along the nearby railroad tracks. This is a cute image below of the Crows perched on the outer rim of a dump truck body, and using their own style of social distancing!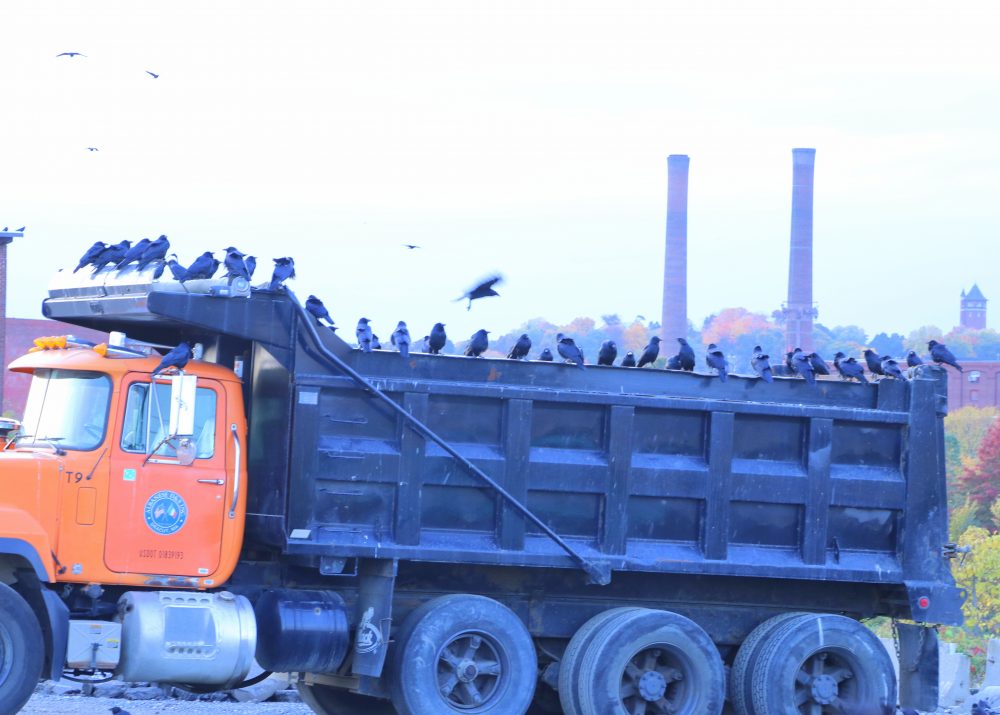 At the same time, many Crows were seen mulling around on ground and then after a number of loud noises, the Crows lifted up in flight to join growing numbers of assembled perching Crows on the utility wires located on the south side of Merrimack Street, stretching from from the CLASS, Inc. building all the way down to Helfrich Boiler Works and just beyond.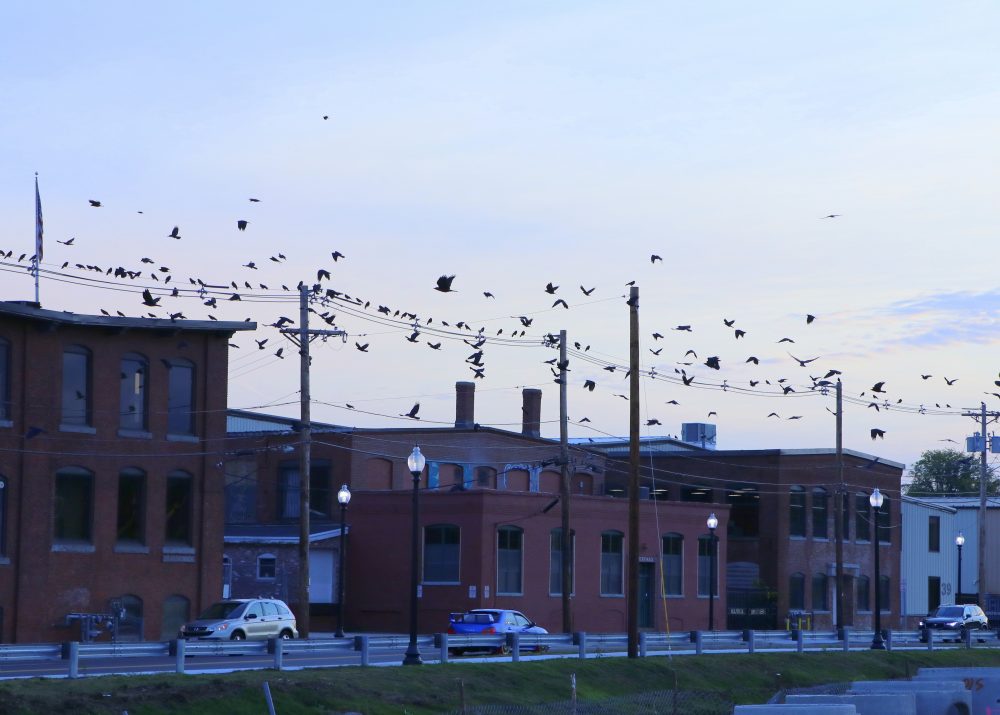 A few minutes later, drove over to the park adjacent to the Mill240 building located on north side of Merrimack River at sunset time; the Crows continued to gather in staging areas, and then began to arrive in flight pulses, with large numbers coming from south of the New Balance building, about 20 minutes after sunset time. They converged into the roost trees, and did so with lots of loud and active vocalizations. This image below was captured about 23 minutes after sunset time.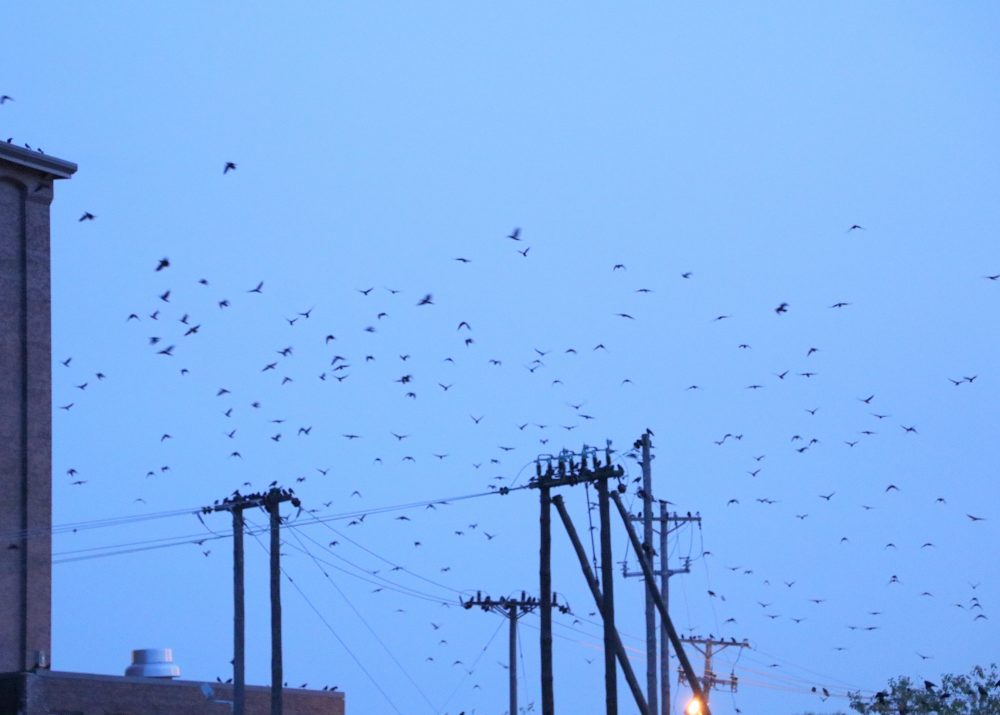 The wild flight action and chorus of calls, all seemed to quiet down about 40 minutes after sunset time. The Crows settled into the roost trees for the overnight roost. Once again, they are well spread out along the 200 plus yards of trees along the Merrimack River and just west of the Duck Bridge. Another tremendous spectacle of nature in the middle of the city! This image was captured with an infrared camera about 43 minutes after sunset time. If you're wondering about the bright in the middle of the trees……it is light being cast across the river from a parked car, facing south, on the opposite side of the river!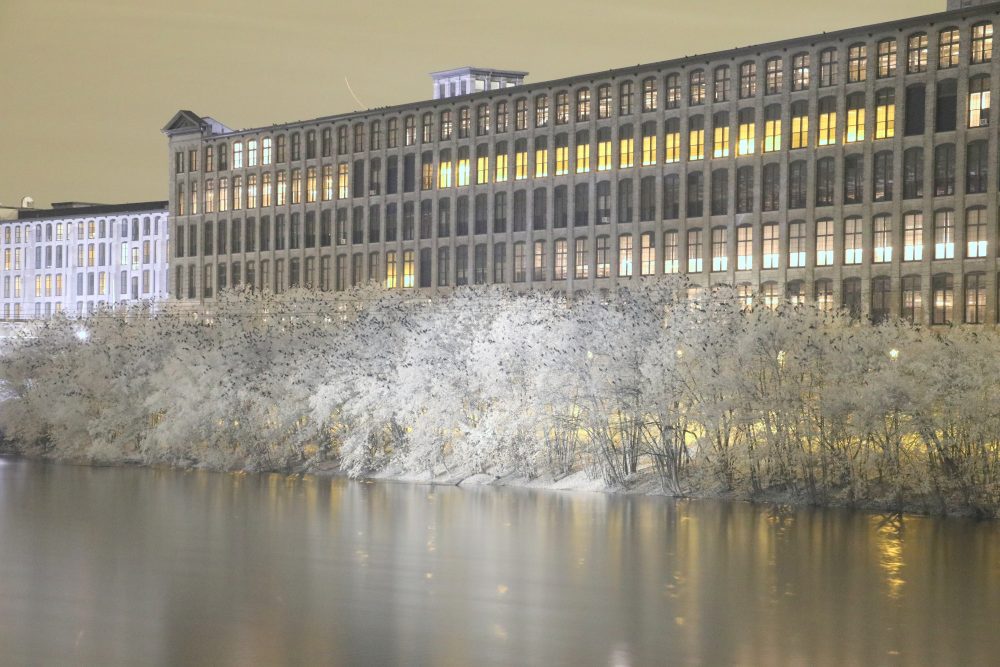 Photo gear used for this outing:
Canon EOS 80D with Canon EF-S 18-135mm f/3.5-5.6 IS 
Canon EOS 80D with Canon EF-S 18-135mm f/3.5-5.6 IS (Infrared)
Canon 1DX MK II with Canon EF Telephoto Zoom 100-400mm f/4.5-5.6L IS II USM
ATN BinoX 4K 4-16x Day and Night Smart HD Binoculars with photo/video
Follow us on Instagram: wintercrowroost
Follow us on YouTube: birdsoftheair1
Blog post and photos by Craig Gibson, 2020 Crow Patrol, Lawrence, MA