Out on Crow Patrol, outside of my car 100% of time, taking in the whole experience including streaming, staging, and roosting activities. First stop along Marston St. to observe staging Crows that were coming in from downriver and to the east. They were perched on branches and rooftops. It was fascinating to watch 20+ Crows attack Asian Bittersweet vines wrapped around a hillside tree. This image was captured just before sunset!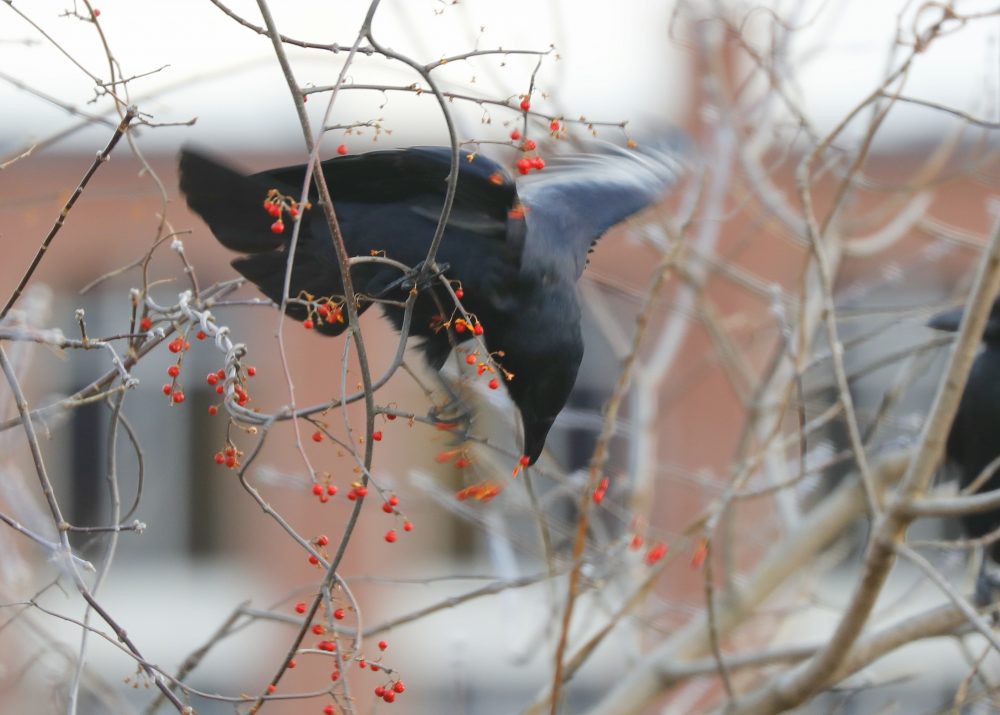 Next stop along Merrimack St. at far end of B&D Warehousing complex just before southbound train flushed them up in large flight bloom. At first, scanned the large numbers of Crows streaming in from the NW. The Crows have been consistent in arriving from the NW, and often the pastel-colored sunset sky provides a glorious backdrop. This image captured about 6 minutes after sunset time.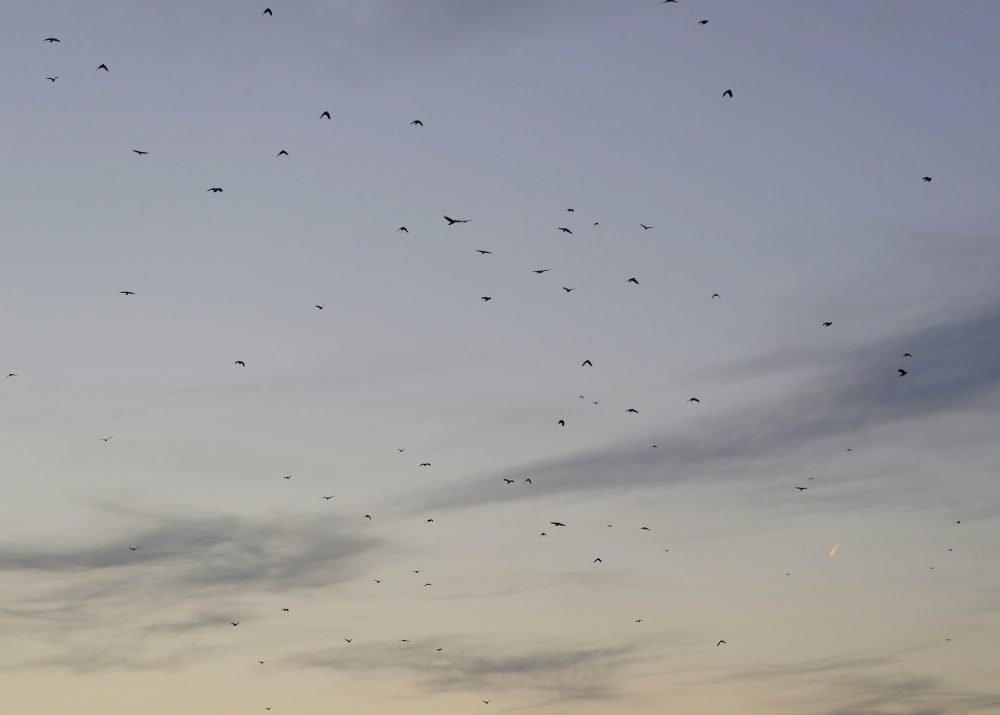 Minutes later, a large swarm of Crows were circling in tight formation behind Jackson Lumber while making loud vocalizations. It was yet another remarkable snapshot moment, seeing unusual group behavior. This image shows the circling group and was captured same time as above.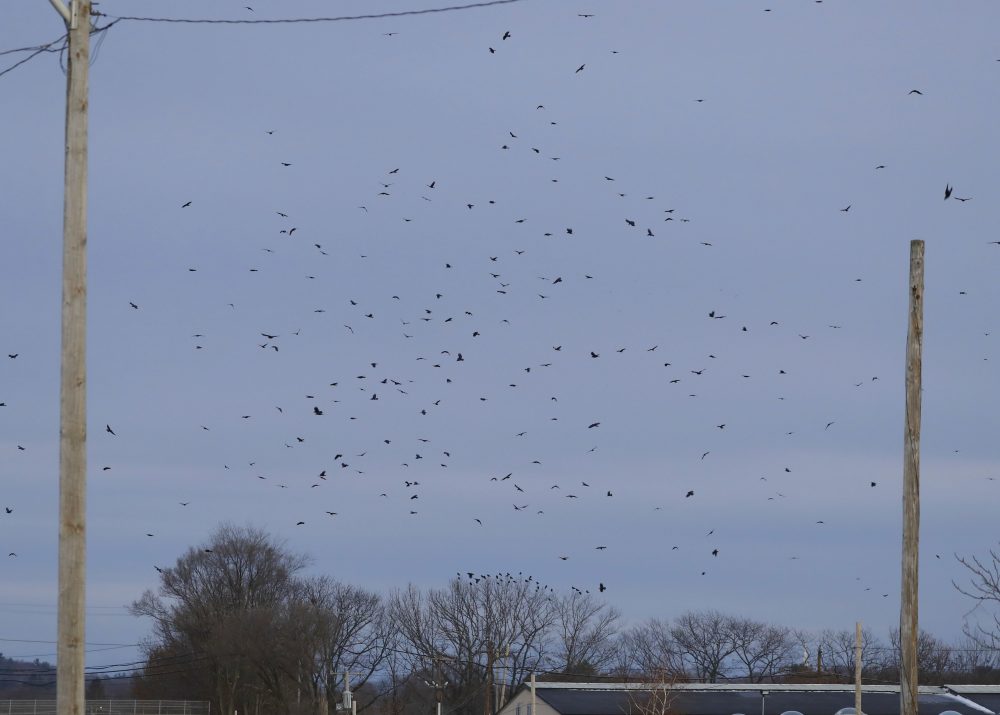 A minute later, the southbound train came roaring through, flushing many of the Crows in a large upsurge of flight action, lifting up and moving north towards the Merrimack River. It is enjoyable to look for the train, the whistle, and the surge in up flight action. This image was captured about 7 minutes after sunset time as the Crows passed by the Clock Tower in the distance.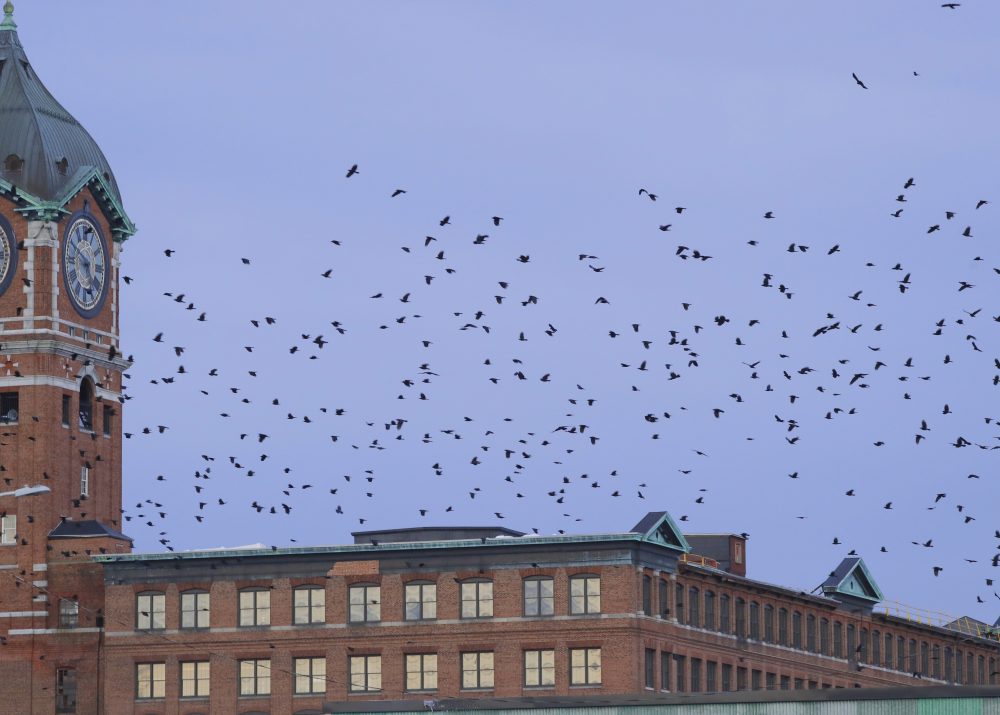 Final stop was out on the west side of the Duck Bridge to observe massive numbers (7,000+) Crows streaming into roost area from downriver and to the east. It makes a huge difference, if possible, to be outside and take it all in, the sights, the sounds, and other sensory inputs. It was amazing the watch the endless number of  Crows streaming upriver towards the general overnight roost area. This view is looking east and was captured about 26 minutes after sunset.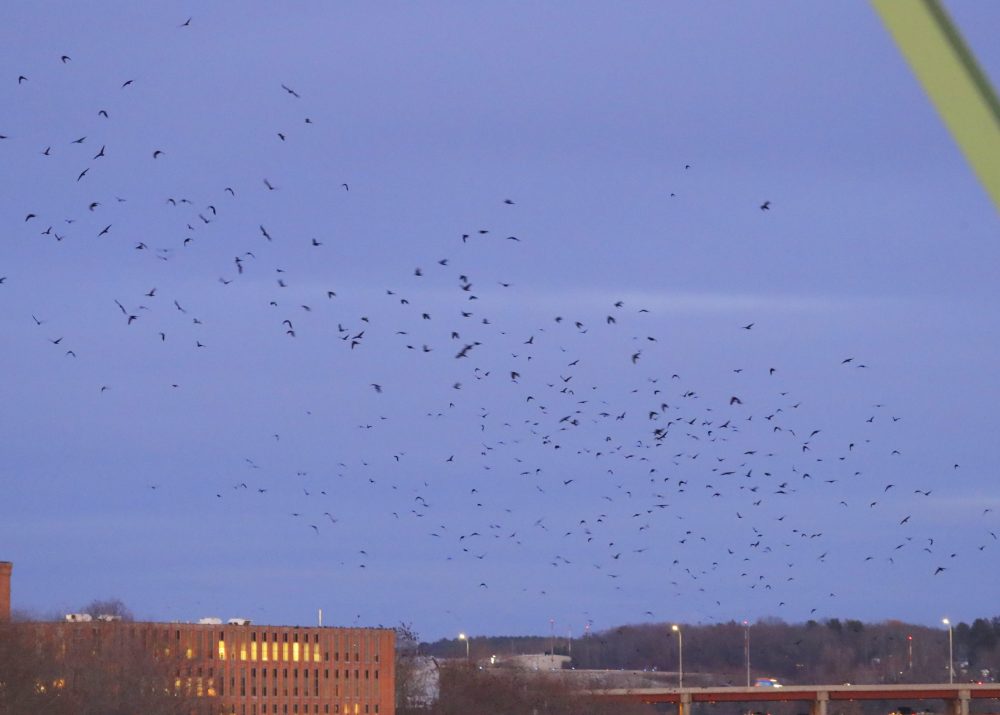 The last look from the west side of the Duck Bridge, was watching the massive numbers of Crows rounding the bend at the west end of the New Balance building while heading to the overnight roost trees. As much as the pattern is similar most nights, it always unfolds in different way. This image captured about 32 minutes after sunset. Another amazing night!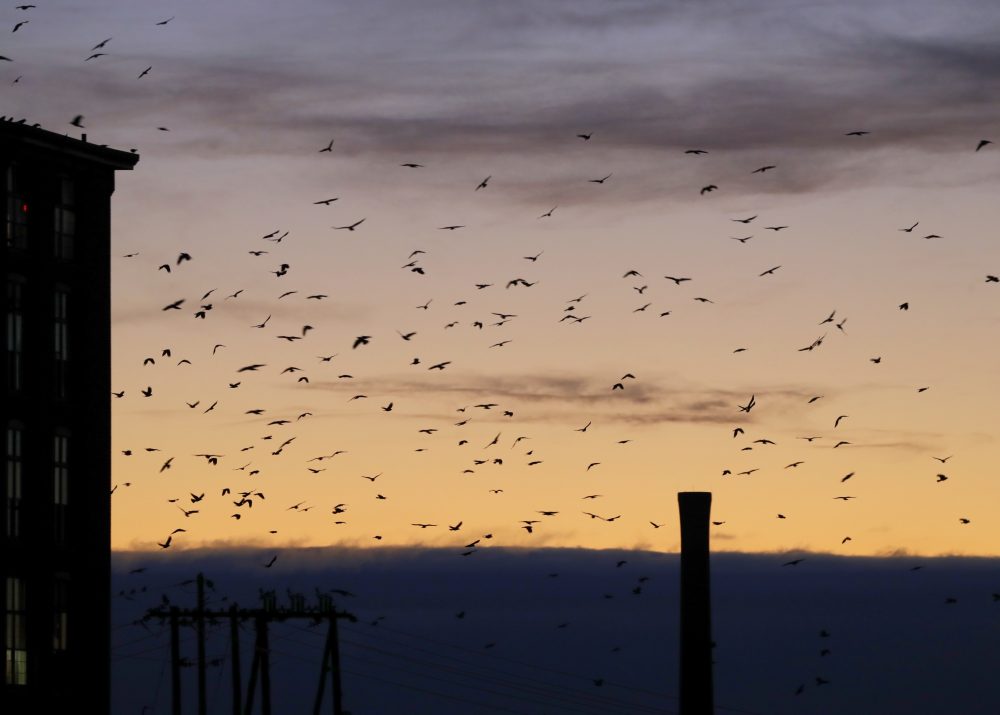 Check out the newly launched Crow Patrol Podcast: wintercrowroost.com/podcast/
Photo gear used for this outing:
Canon EOS 80D with Canon EF-S 18-135mm f/3.5-5.6 IS 
Canon EOS 80D with Canon EF-S 18-135mm f/3.5-5.6 IS (Infrared)
Canon 1DX MK II with Canon EF Telephoto Zoom 100-400mm f/4.5-5.6L IS II USM
ATN BinoX 4K 4-16x Day and Night Smart HD Binoculars with photo/video
SiOnyx Aurora Pro Digital Color Night Vision Optics
Follow us on Instagram: wintercrowroost
Follow us on YouTube: birdsoftheair1
Blog post and photos by Craig Gibson, 2020 Crow Patrol, Lawrence, MA