Conditions: clear skies, wind NW 5 MPH, temp at 27F; sunset time 5:27PM
Out on Crow Patrol with first stops along Prospect Street, up by the water tower, and then in place at west end of Marston Street. The Crows arrived much later than normal with the first waves streaming in from the south almost 15 minutes after sunset time. This image below was captured about 17 minutes after sunset time with endless streams of Crows lifting off in flight towards the roost from the Marston Medical rooftop.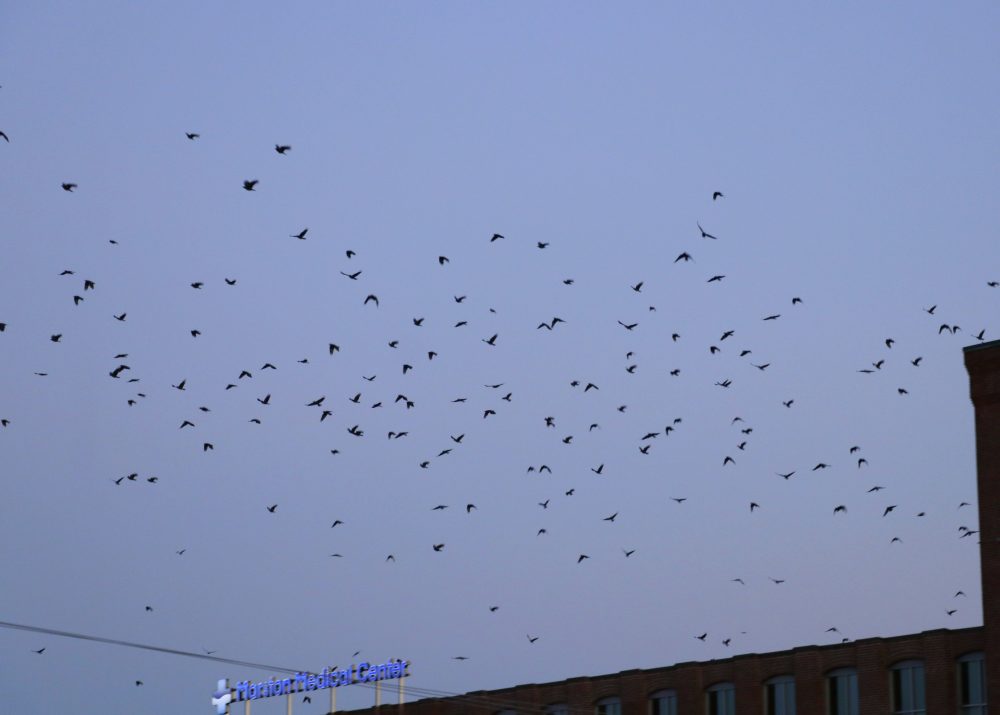 The roosting trees were along the hillside on Marston Street right up to the lights at Prospect Street filled in over the next 20-30 minutes. This image about 25 minutes post sunset time.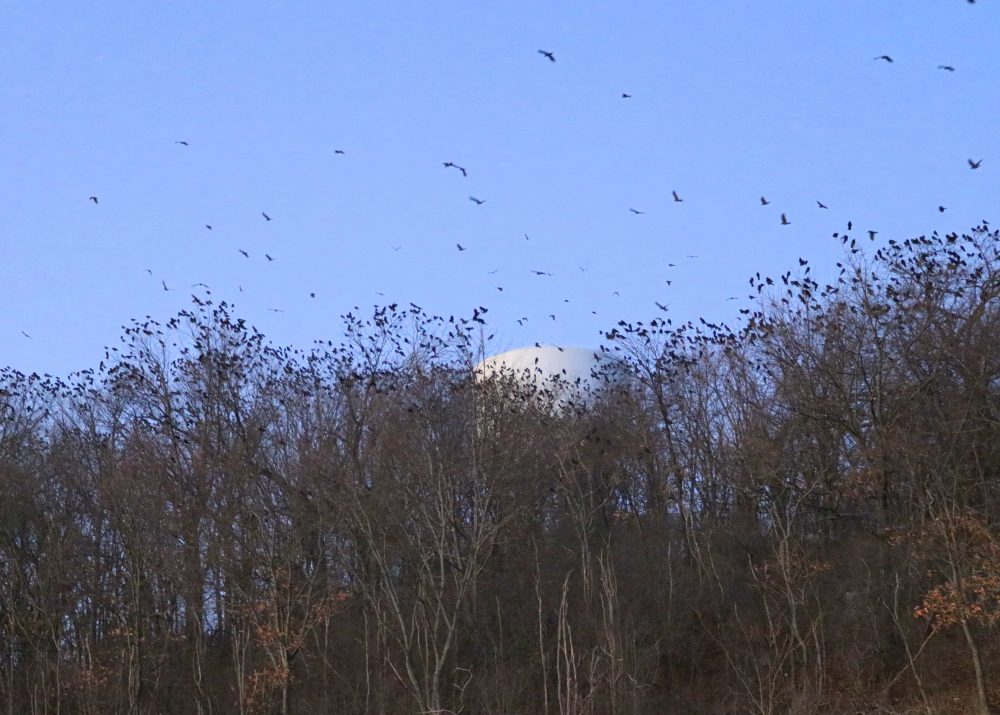 As as the day light fell off, the Crows concentrated in tighter groups, with loud vocalizations. The flight bursts were spectacular and it was a much higher total Crow count than over the preceding few days. This flight burst image captured almost 30 minutes after sunset time.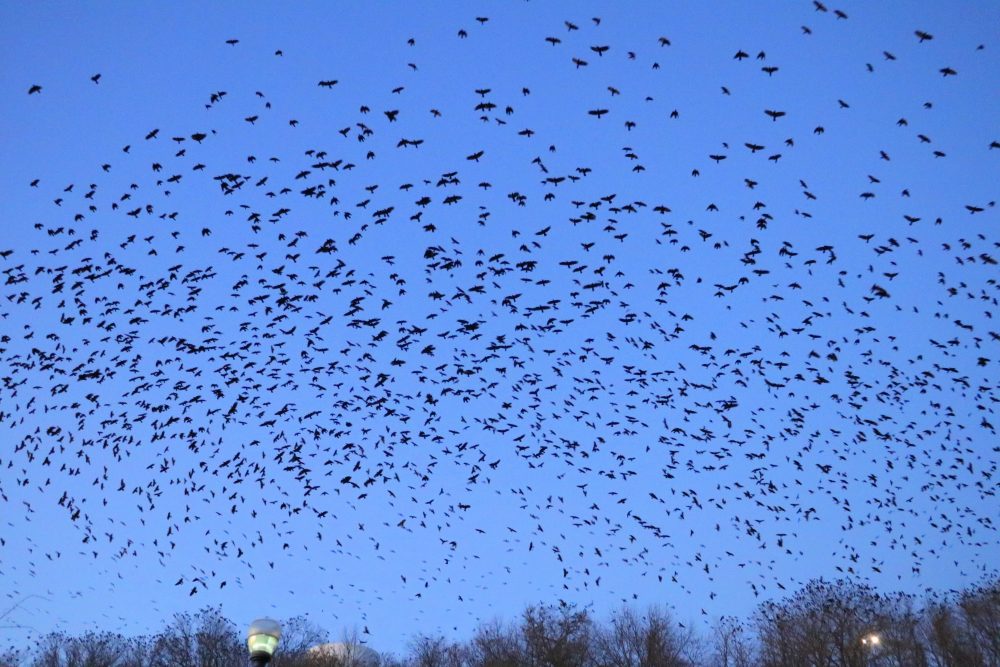 From time to time, we have a chance to hang out a bit longer to soak it all in; the marvel and mystery of listening and watching these Crows arrive and settle in for the overnight roost. Once they get through the inevitable jostling around, they tend to concentrate in tight groupings. To capture what this looks like, we're able to utilize a long exposure process to allow in maximum ambient lighting with manual settings. This allows the photographer to keep the shutter open for an unusually long period of time. So instead of capturing an image in a split second, you trigger the shutter button and wait – often for up to thirty seconds, in this twilight time period. With long exposure, you do not use a flash, which would likely startle the Crows into flight. The results are terrific! This image captured about 42 minutes post sunset time.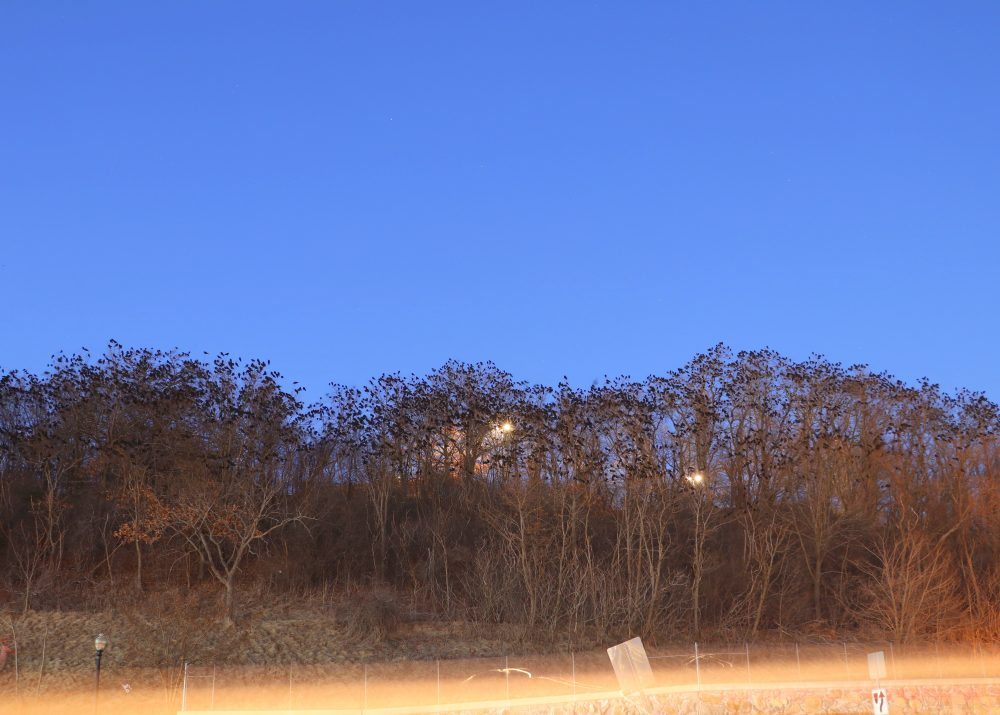 In this last image, captured about 51 minutes past sunset time, with darkness charging in,  we're able to zoom in closer to get a better sense of how tightly packed in these Crows are in the trees. They also arrive and remain in the branches and twigs at the top of the tree before moving lower during the night. This image was captured about 51 minutes post sunset time.  Another dazzling Crow Show!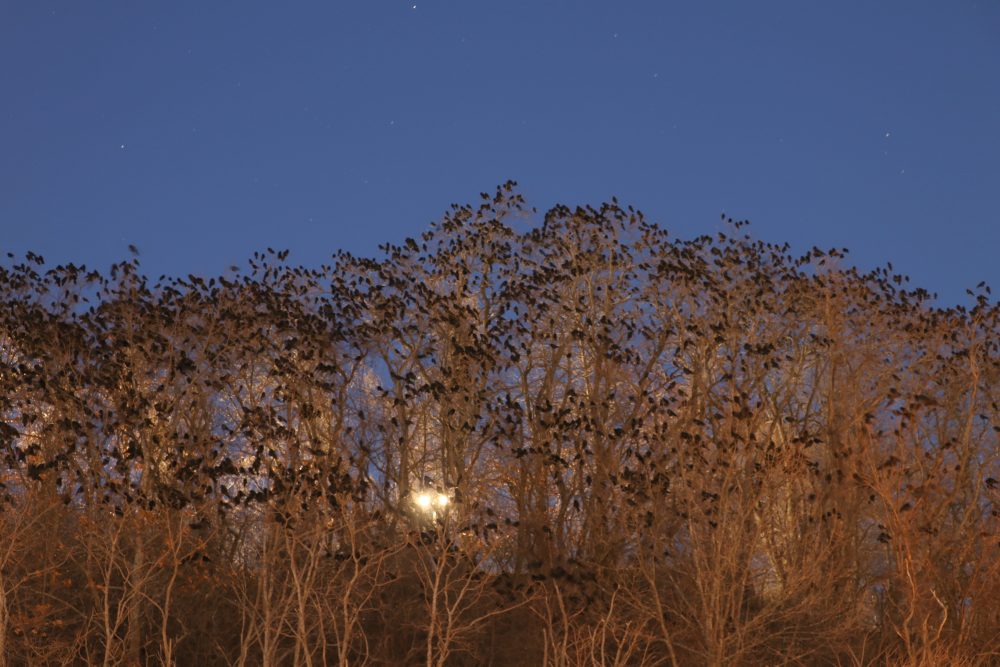 The 2021 Audubon Christmas Bird Count (CBC) for the Andover Circle, for this separate Crow Count was 12,250 Crows. Last year, the 2020 CBC Andover Circle Crow Count was 15,200. Many thanks to Donna Cooper who coordinates and compiles the Andover Circle each year!
Note on counts/estimates: we are now using improved methods for counting the large number of Crows while streaming, staging, and in the roost. For all images, we use both a modified open source counting software program, as well as a hand count approach to carefully document our observations and to increase reliability and accuracy of the presented numbers. 
Remember to check out the latest Crow Patrol Podcast with Prof. John Kricher: wintercrowroost.com/podcast/
Photo gear used for this outing:
Canon EOS 80D with Canon EF-S 18-135mm f/3.5-5.6 IS 
Canon EOS 80D with Canon EF-S 18-135mm f/3.5-5.6 IS (Infrared)     
Canon 1DX MK II with Canon EF Telephoto Zoom 100-400mm f/4.5-5.6L IS II USM
Sony AX700 4K HDR Camcorder
ATN BinoX 4K Smart HD Binoculars with photo/video
Follow us on Instagram: wintercrowroost
Follow us on YouTube: birdsoftheair1
Blog post and photos by Craig Gibson, 2022 Crow Patrol