Conditions: mostly clear skies, wind W at 8MPH, temp at 31F, sunset time 5:40PM
Out on Crow Patrol with first stop along Incinerator Road. Crows were seen streaming in, romping around in playful flight, and perching in trees on both sides of the Merrimack River. Many more Crows were seen up on the flat level ground at west end of the airport. This image below was from just before sunset time.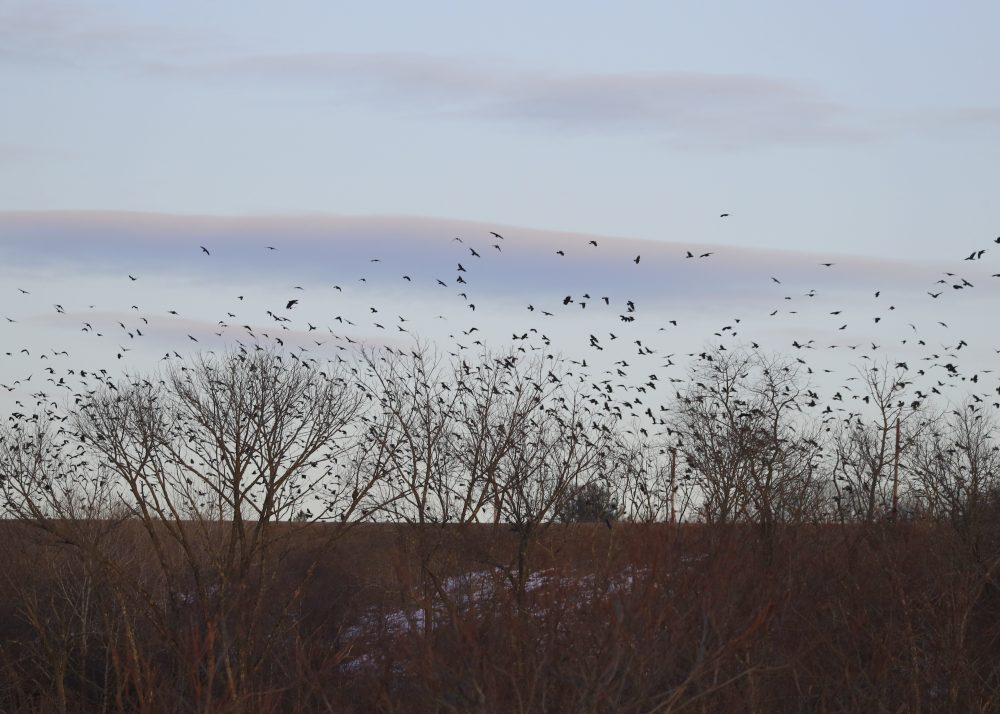 Next stop was back over the Rt. 495 Bridge and over to the south side of the river. From the end of North Main Street, the Crows were going back and forth over the river just after sunset in an unusual pattern. They went back and forth in flight many times against the magnificent orange sunset sky. Thi image was captured bout 9 minutes after sunset time.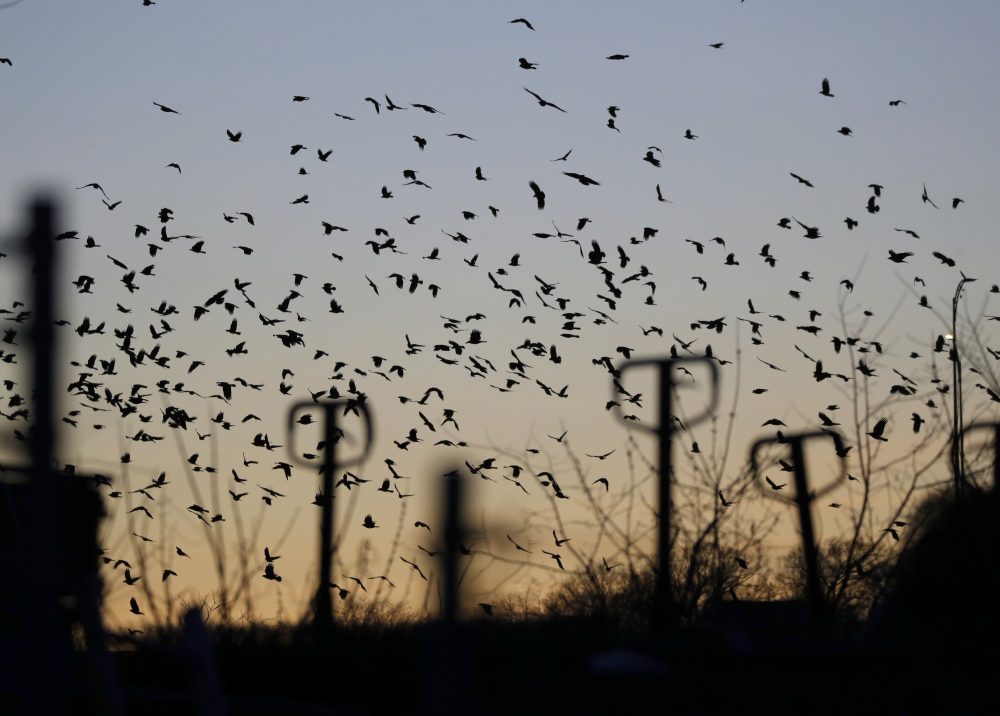 Minutes later, it seemed like there was an out of control massive beehive of flight action and loud vocalizations over the trees above the normal overnight roost location. It was intense and concentrated in a tight kettle like formation, like they were swirling in a blender. This image was captured about 12 minutes after sunset time.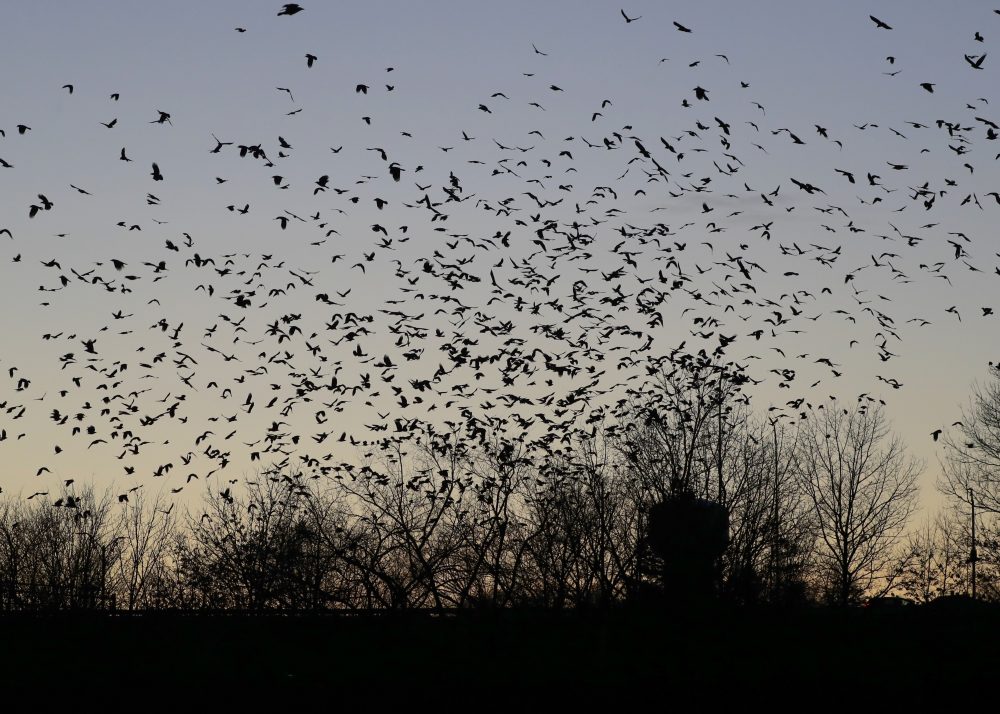 Just downriver, the Crows seemed to advance and then retreat a number of times. At close to twenty minutes after sunset time, there was a major flight burst from the south side of the river towards the roost location, but then they circled and turned away. It turns out that a Red-tailed Hawk was perched on a tree limb, right in the middle of the roost trees, and the Crows became very frustrated. This image captured about 19 minutes after sunset time.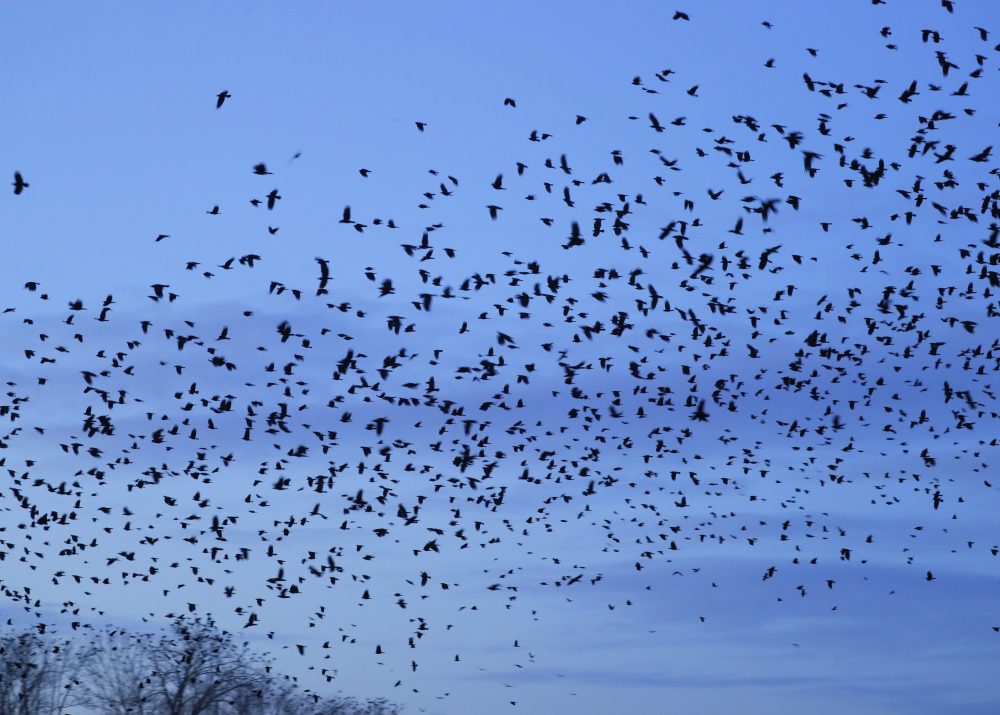 They made all kinds of flight gyrations and intense vocalizations just 200-300 yards downriver on the north side, while landing and shifting in all the nearby trees. Slowly, some worked their way over to the regular roost location, while other large groups circled in large flight clusters, making regular takeoffs and landing. This image below was captured about 35 minutes after sunset time. Another amazing night on Crow Patrol!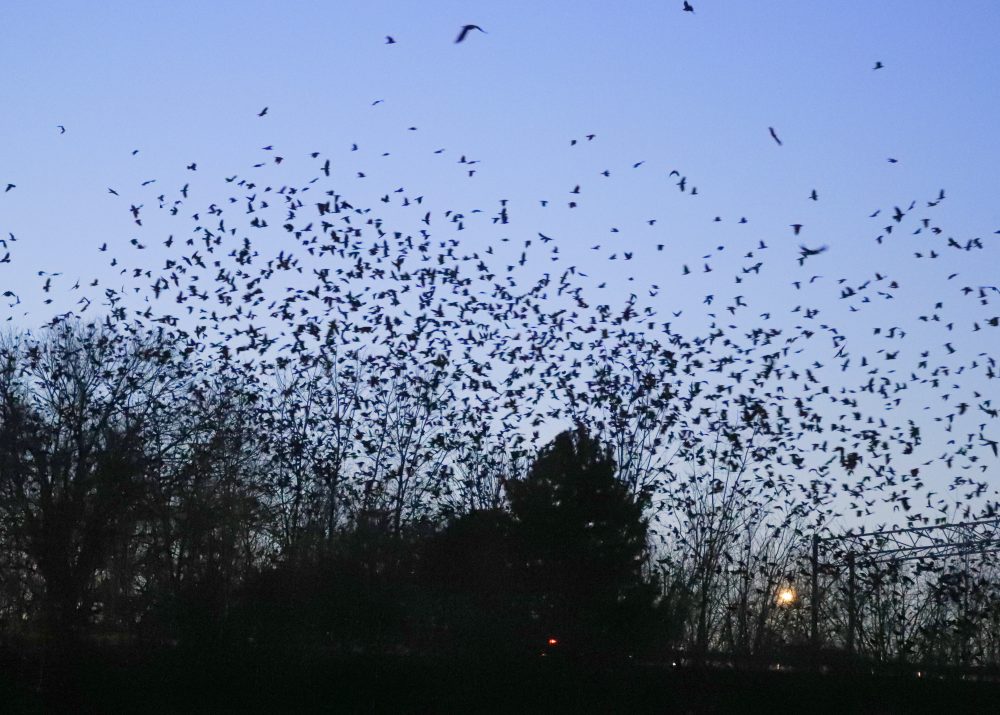 Check out the newly launched Crow Patrol Podcast: wintercrowroost.com/podcast/
Photo gear used for this outing:
Canon EOS 80D with Canon EF-S 18-135mm f/3.5-5.6 IS 
Canon EOS 80D with Canon EF-S 18-135mm f/3.5-5.6 IS (Infrared)
Canon 1DX MK II with Canon EF Telephoto Zoom 100-400mm f/4.5-5.6L IS II USM
ATN BinoX 4K 4-16x Day and Night Smart HD Binoculars with photo/video
SiOnyx Aurora Pro Digital Color Night Vision Optics
Follow us on Instagram: wintercrowroost
Follow us on YouTube: birdsoftheair1
Blog post and photos by Craig Gibson, 2020 Crow Patrol, Lawrence, MA