Conditions: partly cloudy, wind W at 3MPH, temp at 36F; sunset time 4:15PM
Out on Crow Patrol for almost two hours, with initial quick stops scouting for staging areas, including top of parking garage. A few Crows seen streaming in form the W and continuing past garage complex. It was a very unusual pattern and quite different from recent nights. Next stop along South Canal Street with an increase in action both with Crows in flight over the Merrimack River and starting to perch on trees along the river at rear of truck depot.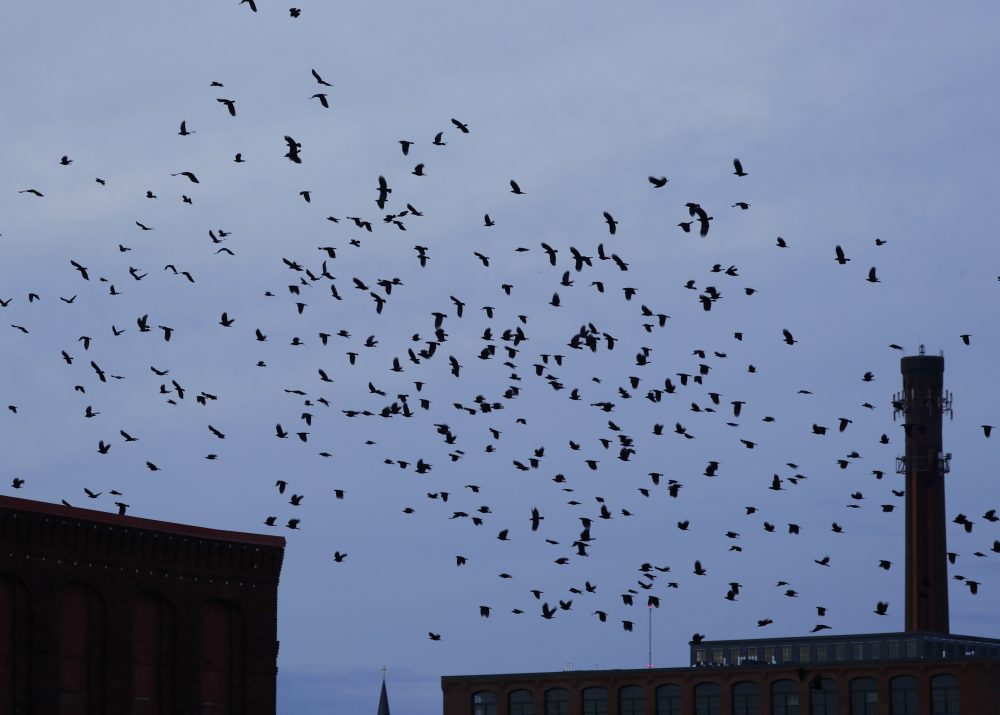 Minutes later, Crows began to stream in from SE/S/W in constant streams with active vocalizations. Made a quick walk up to the Casey Bridge and observed staging Crows on both sides of the river. We had great looks at the Crows perched single file on the utility wires on the south side of Merrimack Street, between Casey Bridge and the O'Leary Bridge with beautiful sunset pastel colors in the background. The image below was captured about 15 minutes after sunset time.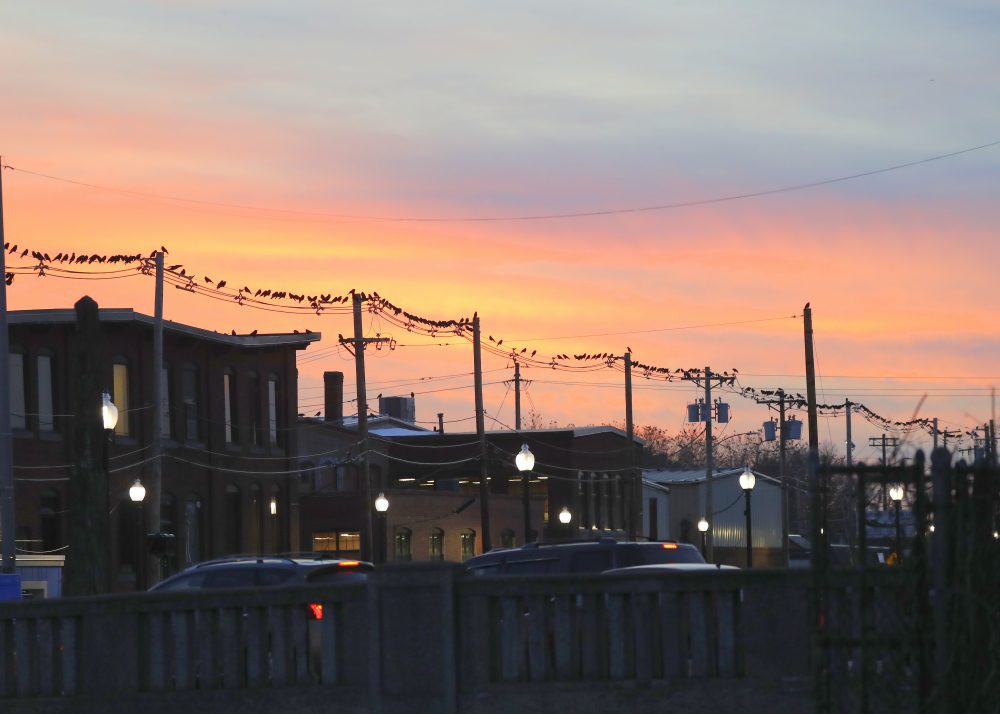 After that, it was total organized chaos with a massive swirl of flight activities and loud vocalizations in and around the extended overnight roost area, the truck depot, National Grid, and over the Merrimack River. The image below about 25 minutes after sunset time.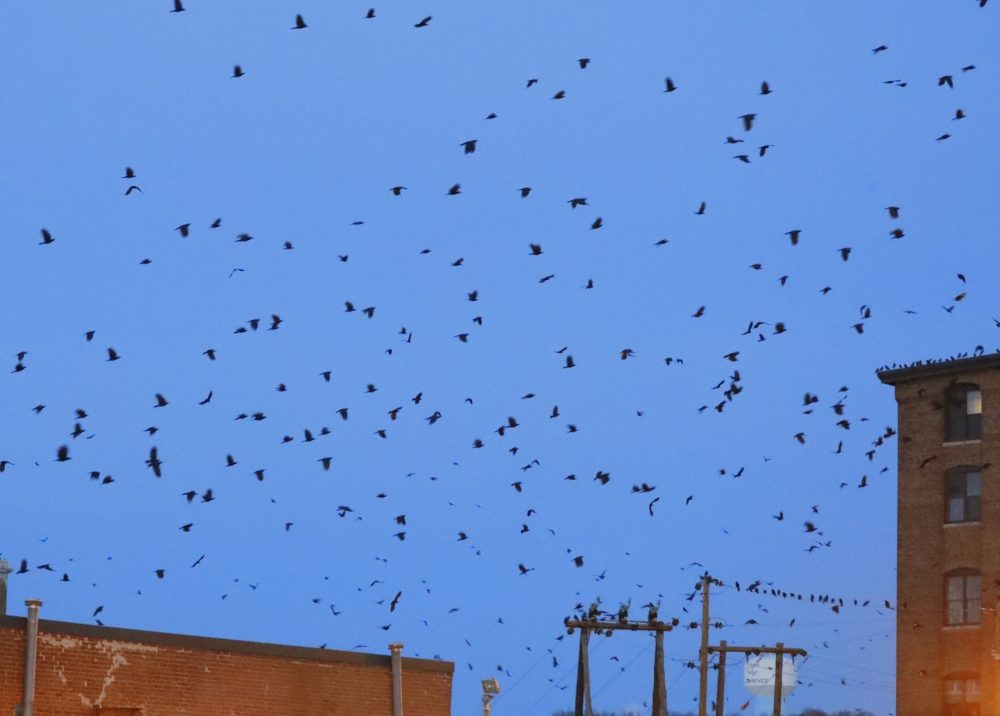 Once they had all settled into the overnight roost, the Crows were perched in trees, on the south side of the Merrimack River, from the Duck Bridge up to the back of the Smart Cube building, with more than a thousand Crows, in and around the National Grid facility with its bright lights. This view was from the Mill240 park on the north side of the river, and provides a very challenging and overly dark view of the buildup of Crows in the trees behind the National Grid facility. Now with long exposure photo techniques, and using manual settings and manual focus, we are able to capture and share these documenting photos.  This image was captured over 70 minutes after sunset time.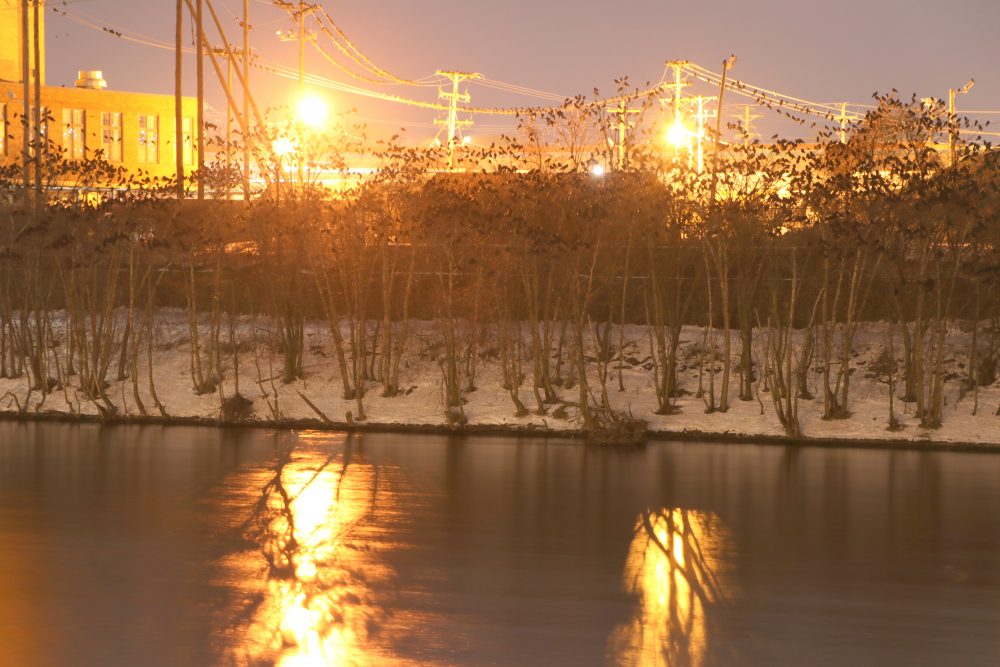 Just a few minutes later, one last image for the night showing the full line of roost trees along the extended New Balance building, looking SE from the Mill240 building. Again, image was captured with long exposure settings. The image was captured about 75 minutes after sunset time. Another stunning outing!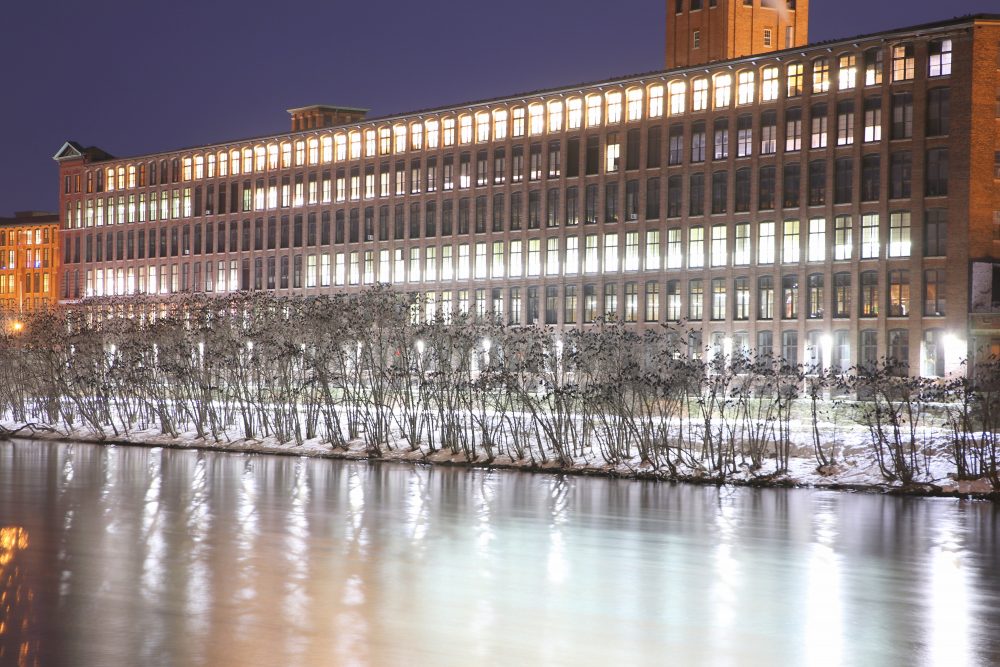 Please note that the reported nightly counts are conservative per eBird guidelines. To really catch the action, it is so important to be out of cars and in the wide open, observing, listening, and experiencing all the action!
Check out the newly launched Crow Patrol Podcast: wintercrowroost.com/podcast/
Photo gear used for this outing:
Canon EOS 80D with Canon EF-S 18-135mm f/3.5-5.6 IS 
Canon EOS 80D with Canon EF-S 18-135mm f/3.5-5.6 IS (Infrared)
Canon 1DX MK II with Canon EF Telephoto Zoom 100-400mm f/4.5-5.6L IS II USM
ATN BinoX 4K 4-16x Day and Night Smart HD Binoculars with photo/video
SiOnyx Aurora Pro Digital Color Night Vision Optics
Follow us on Instagram: wintercrowroost
Follow us on YouTube: birdsoftheair1
Blog post and photos by Craig Gibson, 2020 Crow Patrol, Lawrence, MA