Conditions: clear skies, wind NW 20MPH with gusts to 32MPH, temp at 30F & wind chill 17F; sunset time 4:19PM
Out on Crow Patrol for over two hours with initial visits at regular staging areas and observing light action. Moved on to South Canal Street and observed growing numbers of staging Crows many in large swirling "kettle" type flight circles over the Merrimack River and just west of the extended general roost area. The image below was captured from South Canal Street looking SE, and over the B&D warehouse complex roof at sunset time.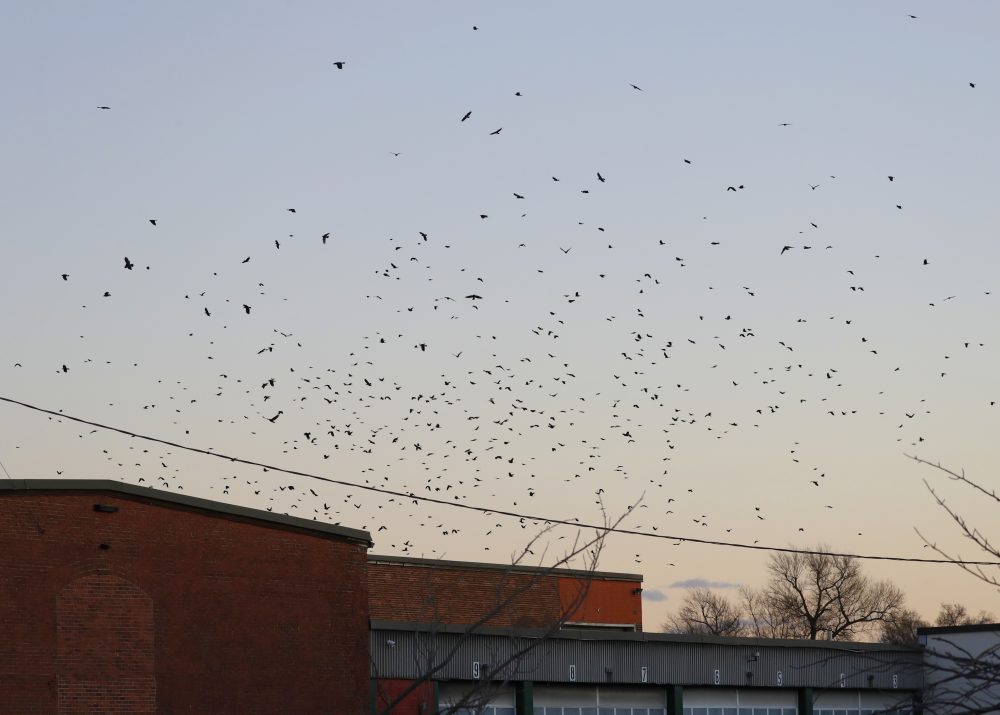 These large swirling "kettle" type flight movements have been seen in recent visits. The image below from South Canal Street, is looking NW and out over the National grid facility at 2 minutes past sunset time.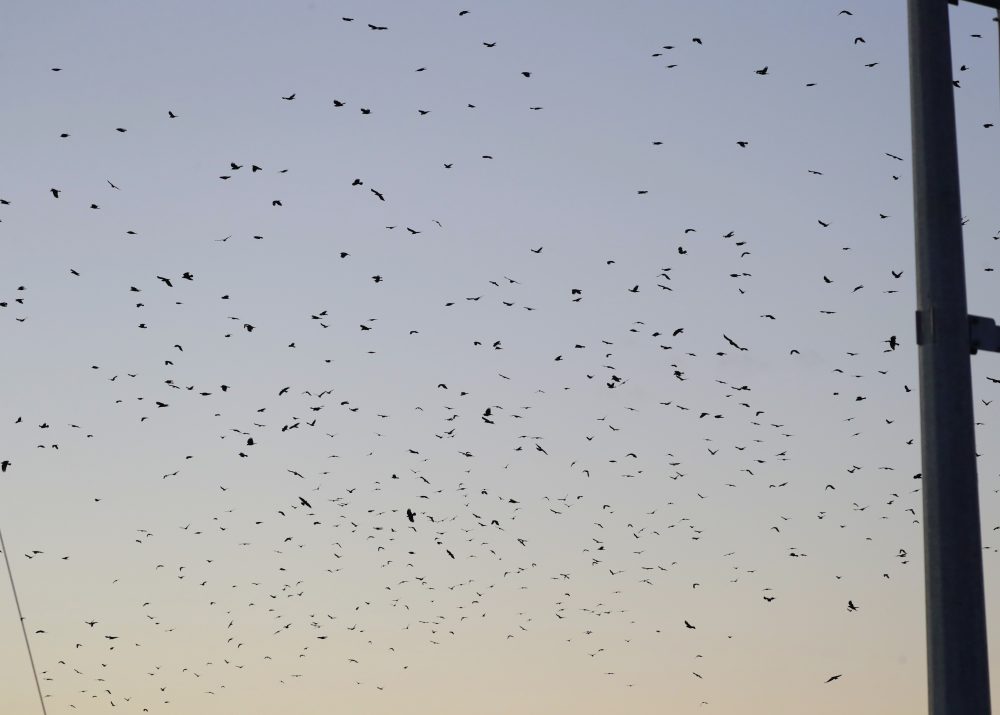 After heading over to the south end of the Casey Bridge, had terrific views up and down the Merrimack River with the full moon rising to the east with mostly clear skies. The Crows were swarming in large number over the river and assembling on the roof edge of the Mill240 building. This image was captured about 25 minutes past sunset time.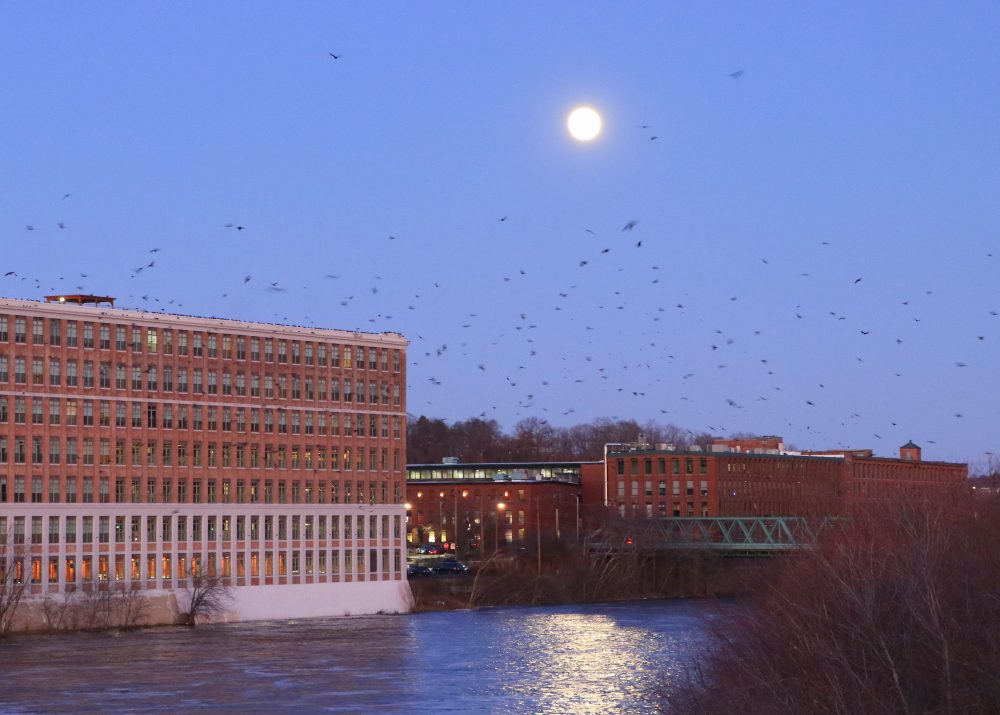 During all of this, with fading light and a stunning orange sunset sky, large numbers of Crows were still streaming in from the west and from downriver. This view from the Casey Bridge, looking WNW, shows the continuing incoming flight stream taking place about 26 minutes after sunset time.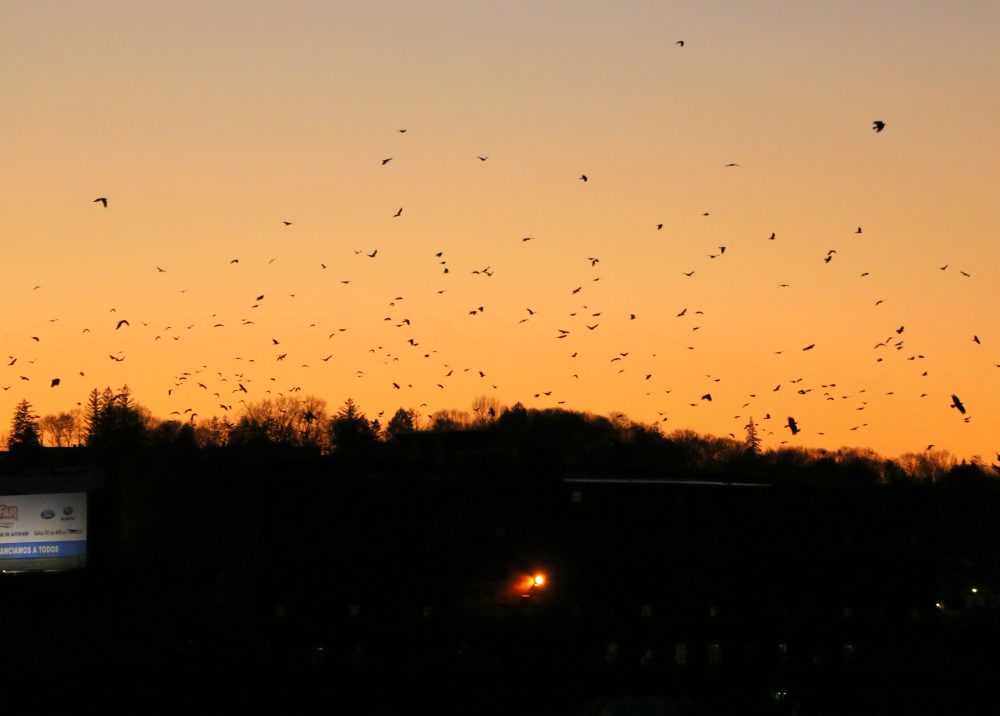 The vocalizations were loud and intense and subsided after dark. Many Crows also settled into trees around the Pemberton Park area at north end and west side and remained there well past dark. This image, looking NW from the Casey Bridge, was captured about 36 minutes after sunset time. Another dazzling Crow show!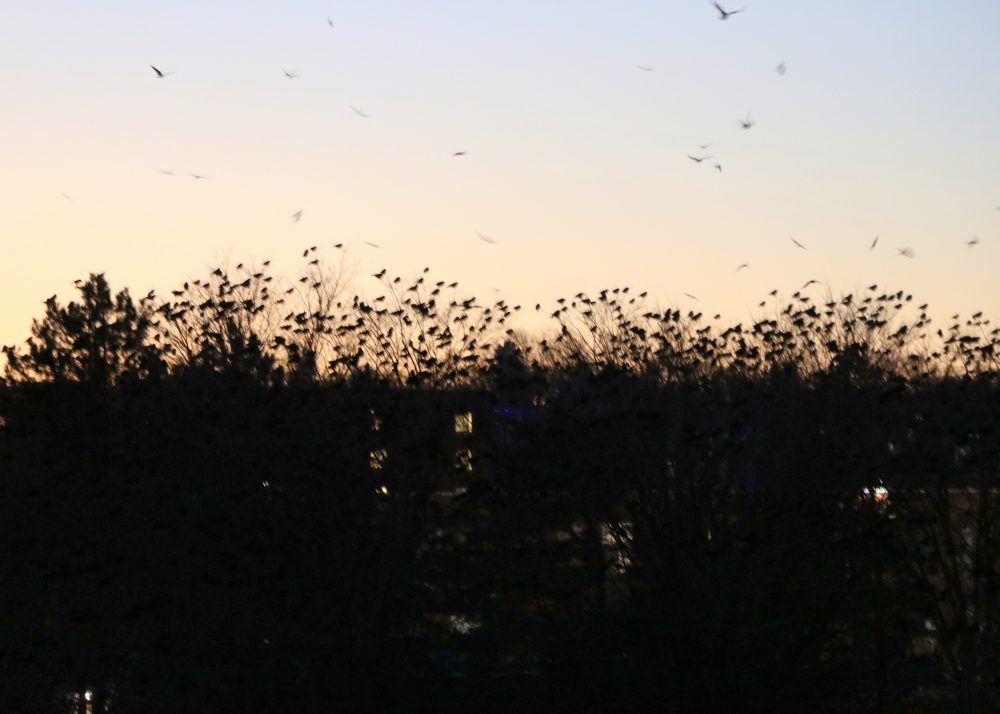 Check out the newly launched Crow Patrol Podcast: wintercrowroost.com/podcast/
Photo gear used for this outing:
Canon EOS 80D with Canon EF-S 18-135mm f/3.5-5.6 IS 
Canon EOS 80D with Canon EF-S 18-135mm f/3.5-5.6 IS (Infrared)
Canon 1DX MK II with Canon EF Telephoto Zoom 100-400mm f/4.5-5.6L IS II USM
ATN BinoX 4K 4-16x Day and Night Smart HD Binoculars with photo/video
SiOnyx Aurora Pro Digital Color Night Vision Optics
Follow us on Instagram: wintercrowroost
Follow us on YouTube: birdsoftheair1
Blog post and photos by Craig Gibson, 2020 Crow Patrol, Lawrence, MA