Exciting look at Crows converging into the roost from under the Duck Bridge!
Conditions: mostly clear skies, wind SE 5 MPH, temp 61F; sunset time 6:18PM
Initial observations were made from the Casey Bridge looking west at the Crows streaming into the extended area; one of the staging areas was on the west side of the Casey Bridge on the ground by the Riverview Business Park and on the utility wires on the south side of Merrimack Street. This image below was taken about 11 minutes before before sunset time with the Crows mulling around on the ground as well as one the nearby dirt and rock piles.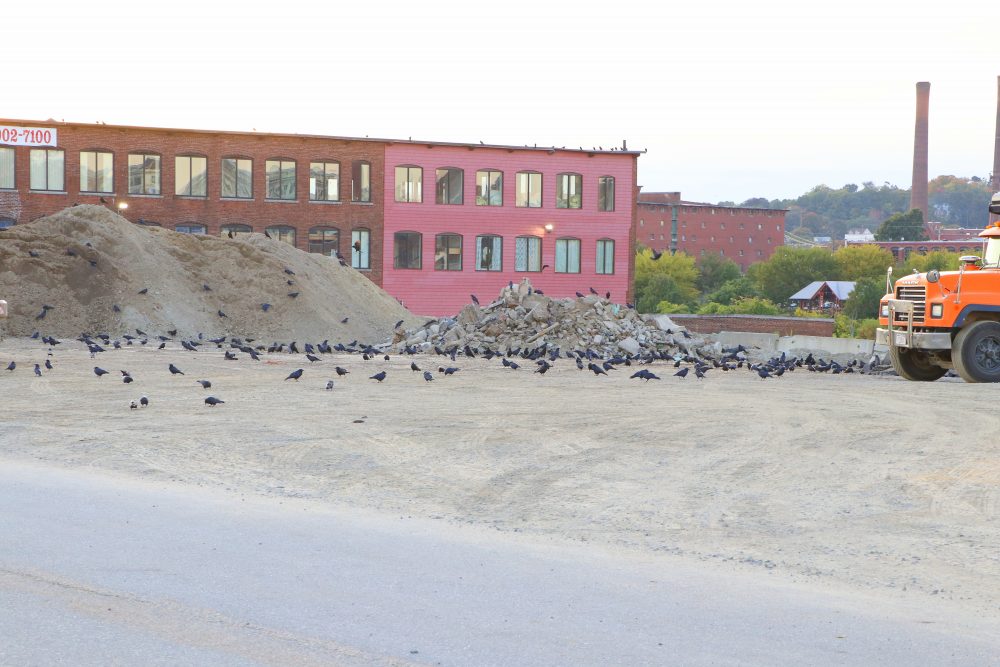 Minutes later, many of the Crows lifted off in flight over the canal along Merrimack Street with spectacular sunset colors on display in the background. Just out of sight are the 100's of Crows perched on the utility wires.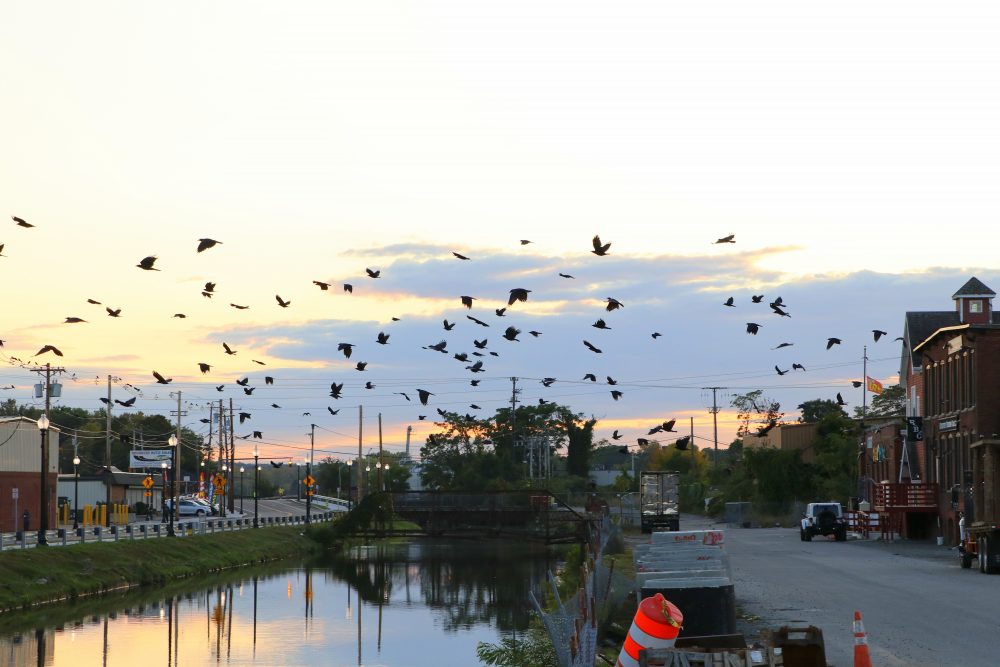 Later moved over to the exposed gravel river bed under the Duck Bridge with Merrimack River water levels at record lows. It was fascinating to watch the Crows streaming into the roost with the largest groups coming in about 20-25 minutes after sunset time. This image was captured about 18 after minutes after sunset time.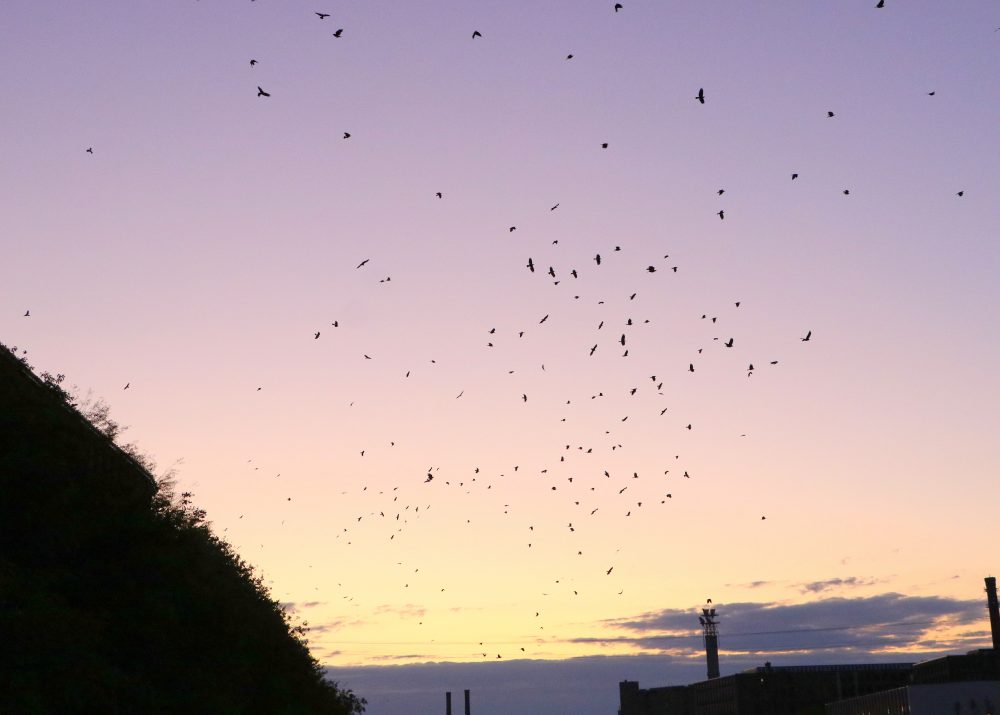 The swirling flight action, with many Crows coming from upriver and off of the roof of the New Balance building continued for 15 minutes before it all quieted down. This image below was captured about 31 minutes after sunset time. The new nighttime downlights on the Casey Bridge are in the distance.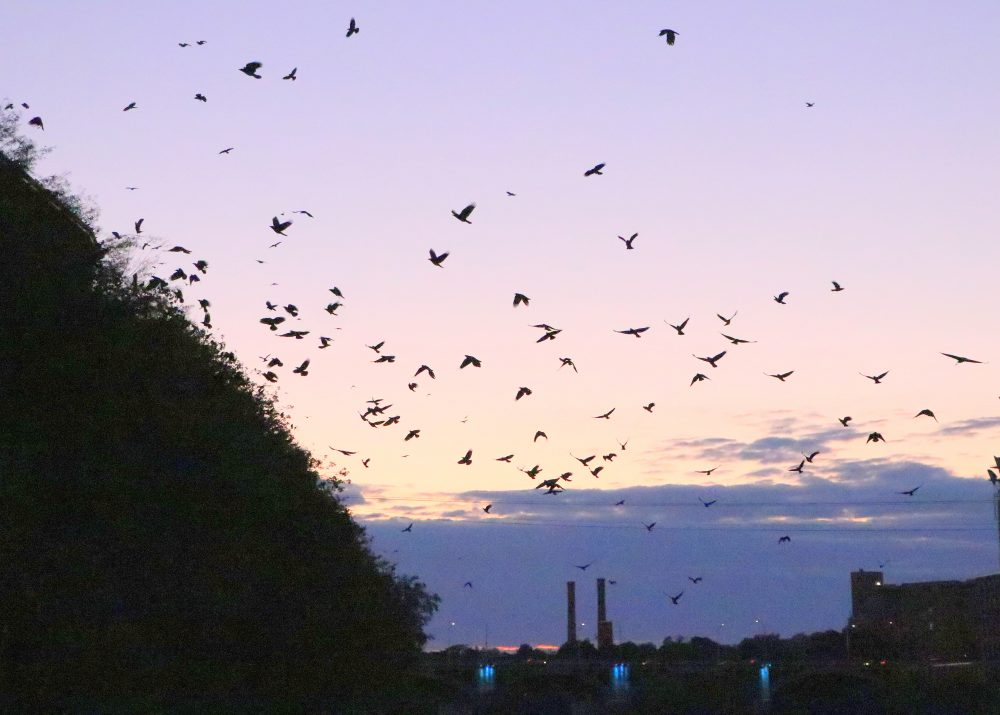 Finally, had a nice walk out onto the Duck Bridge, looking west, at the full stretch of the overnight Crow Roost. Although it is still early in the season, the Crows fill the trees from end to end. This image was captured with the infrared camera about 55 minutes after sunset time. We are breaking new ground with both night vision and infrared photo tools. They help us capture and then share these terrific images well after dark, providing new insights into the lives of the Crows after settling into the overnight roost.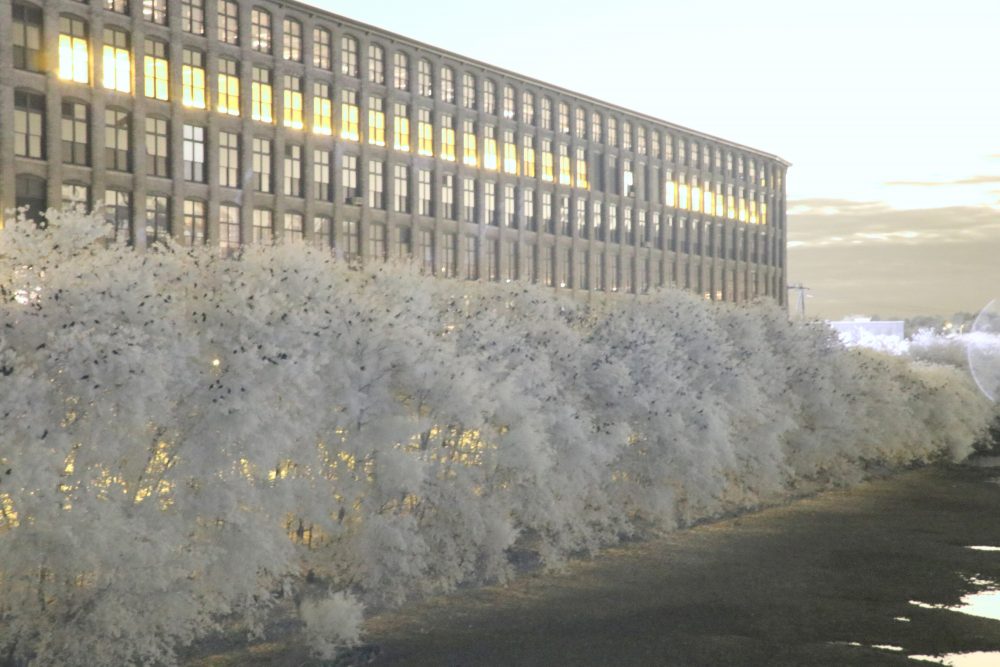 Another enjoyable night out on Crow Patrol and a terrific show with dazzling flight moves and a wide range of vocalizations!
Photo gear used for this outing:
Canon EOS 80D with Canon EF-S 18-135mm f/3.5-5.6 IS 
Canon EOS 80D with Canon EF-S 18-135mm f/3.5-5.6 IS (Infrared)
Canon 1DX MK II with Canon EF Telephoto Zoom 100-400mm f/4.5-5.6L IS II USM
ATN BinoX 4K 4-16x Day and Night Smart HD Binoculars with photo/video
Follow us on Instagram: wintercrowroost
Follow us on YouTube: birdsoftheair1
Blog post and photos by Craig Gibson, 2020 Crow Patrol, Lawrence, MA